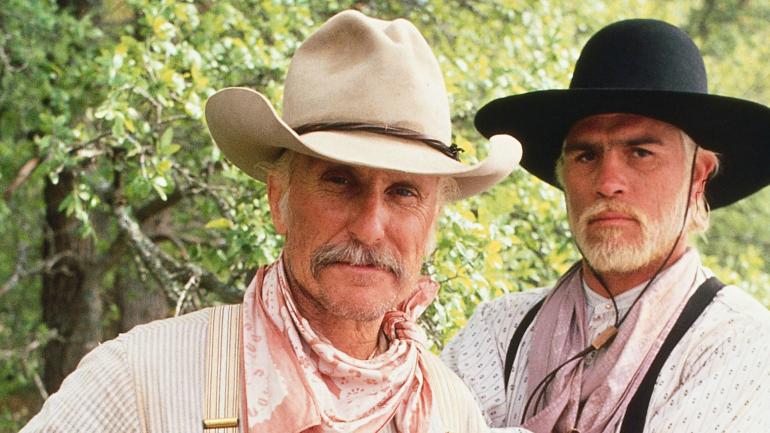 It's no secret that I'm a big fan of Western movies, Western art, Western memorabilia, most things that make up our Montana aesthetic. I think my ideal house would be made of, I don't know, moose antlers. If I had a wallpaper I would most love to have in every room, it'd be snakeskin. I've heard of those folks, not always kids, who go in for dragons and elves and boy wizards and the like. I have nothing against people like that, of course, and to each their own. But you'd have to strap me to the saddle with my hands behind my back before you could get me to watch a Harry Potter movie, and even then I'd still be thinking about how Voldemort would be no match for a Clint Eastwood or a John Wayne, and that instead of all that wand-waving and intoning nonsense words Harry oughta just challenge him to a good honest quick-draw. 
Now, that having been said, if there were a Dungeons and Dragons for cowboys, hand me some 20-sided die and count me in.
I have previously written about one of the modern western TV series, the wildly popular Yellowstone. It's a show I like quite a bit, and it has rightly gained many, many fervid fans. It's got great drama, takes place in Montana, and is very entertaining.  
Yet, it also has a group of folks that do not like it at all. Some think it is not like the real Montana we live in, and, alas, it is not. Very few TV shows, however, depict any reality. In my opinion, Yellowstone is well worth watching.  
But I have to admit that it sure as hell ain't the best Western ever put on TV. I'll bet you can guess what that was.
Many of the made-for-TV titles depicted below you will recognize, if you're a western fan or of a certain age. To my mind, the golden days of westerns, whether movies, or TV series, was in the late 50's early 60's so you younger folks remember them as re-runs, while old folks like me, had to watch an episode each week.  
Walk down memory lane with me: there was Bonanza, Gun Smoke, Wagon Train, The Virginian, Rawhide, The Big Valley, Maverick, The Lone Ranger, Laramie, Have Gun Will Travel, Snowy River, The High Chaparral, and Death Valley Days, even Kung Fu.
In my humble opinion, in the TV show bracket, the race for number one boils down to these three.
Centennial was fabulous until it caught up with modern times, at which point it became a bunch of bell-bottomed city planners droning on about, I don't know, real estate, with very few shootouts or bear attacks to break the boredom. 
Gun Smoke was, I believe, the longest running western series of all time. In order to do that it had to be popular, and I certainly watched it as a kiddo.  
But this writer's favorite was, and is, Lonesome Dove.  
I could easily binge watch it at least once a year.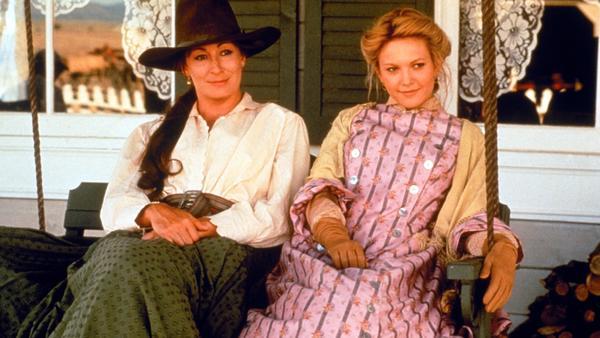 The four-part miniseries, based on the novel by Larry McMurtry, depicts an epic cattle-drive from a Mexico border town all the way to the Milk River Country of Montana. McMurtry based it on the stories of several real people, including a man who would settle in Montana, Nelson Story, as well as Teddy Blue Abbot, another career cattleman, and the famous Texan cattleman Charles Goodnight (who ends up as a character in Lonesome Dove's sequel, The Streets of Laredo).  
If you are familiar with Bozeman at all, you've heard of Nelson Story. At one time, he or his descendants were the largest employer in Bozeman, having retail stores, flour mills, banks, and butcher shops. If I am not mistaken, he has been declared the first millionaire in the area - at a time when a million bucks in his time was serious money. 
Lewistown, my hometown, ended up being near where Teddy Blue Abbott settled and started his ranch. In about 1883, which as a very old man, I sort of dimly remember. That's a joke; I don't remember quite that far back, though my kids like to remind me that I'm pretty darn ancient.  
Lonesome Dove is a true classic, but not just because it was historical; the casting sure helped, too. Captain Augustus "Gus" McCrae was played by a pitch-perfect Robert Duvall. Tommy Lee Jones, whom I also like a lot, played Captain Woodrow Call. Interestingly enough, Lonesome Dove started as an idea for a screenplay in the 1970s, with McMurtry imagining Jimmy Stewart as Gus and John Wayne as Call (with Henry Fonda as their frenemy Jake). As fantastic as that would have been, it's hard to imagine it being an improvement on the existing cast.
The two played former Texas Rangers, retired now but famous for taming the Comanche Indians and putting a large share of Texan Criminals away for good. There were other notable actors, like Danny Glover, who played Deets, Anjelica Huston who played the love of Gus's life, Clara Forsythe, and Robert Urich as Jake. A young Diane Lane played the determined soiled dove, Lorena Wood Parker, who wants Jake to take her to San Francisco but finds herself in the clutches of the sadistic renegade Blue Duck, played with hateful unction by Frederic Forrest.   
The show had a superb cast of characters, all portrayed with skill by their actors, but I think that the biggest part of its success is that it never goes exactly where you think it will. Most Westerns are fairly predictable, and even in masterpieces like The Good, The Bad, and The Ugly follow a fairly standard path as they near the end. The Good will live to defeat the Bad, and the Ugly, depending on how ugly he's been, has a chance at redemption. This is even more true for John Wayne, who except for his murder at the hands of Bruce Dern in The Cowboys (and I gotta tell you, as much as I have to admit Bruce Dern is a great actor, I'm not sure I've ever forgiven him for that), always shoots the bad guy in the end.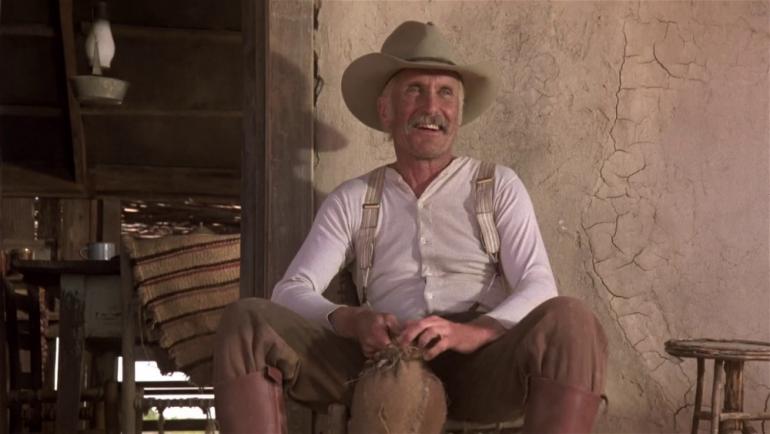 Lonesome Dove is something different, though. As much as we love Gus and Call, and as much as we might loathe Blue Duck, we never get to see them take him down. When Gus gets it, it's at the hands of a small group of surprised Natives, rather than in a glorious shootout with Blue Duck. As for Blue Duck, he dies defiantly leaping to his death out a window at the jail, not staring down the barrel of a vengeful Call. Poor Deets, maybe the most likable character in the entire show, dies after picking up an Indian child to try to comfort him. In almost every way, Lonesome Dove refuses to do what you think it should, or at least what you would expect. So much so that every time I watch it, some part of me is still surprised at what happens, even though I know it well.
My personal favorite scene was when Gus and Woodrow are in old San Antonio looking for a replacement cook to go north with them. They stop in a bar. They were famous a the bar in their heyday - their photo is on the wall, taken in their Texas Ranger days - but now the arrogant young bartender doesn't know who they are. Moreover, the bartender does not show any respect, and gets rude. Augustus smashes the bartender's face on the bar, breaking his nose, then throws the shot glass up in the air, draws his colt, and blasts it expertly. 
Just outside the door, Woodrow says, "you were just mad he didn't recognize you."
They get to Montana with the herd, and in the most beautiful valley you have ever seen in your life, Captain Call stops, and says we are building our ranch right down by that little lake. The perfect ranch, grassland as far as the eye can see, green and watered, well timbered, where else could it be but in Montana?
The Promised Land.
As great as Yellowstone is, it's got nothing on Lonesome Dove; the triumphs and tragedies, the epic scale, the sense of both humanity and brutality that runs through the whole story. There's nothing in Yellowstone as warm as the cantankerous friendship between Gus and Call, or as frightening as Blue Duck and his bloodthirsty band of Kiowa renegades.
I have become a pessimist in my old age, but I had to admit to doubting that we'll ever see another Western as good as Lonesome Dove again. But if I ever do, I'll make you this promise: I'll take a big old bite out of my hat.
P.S. As you can see from this photo of a small cross-section of my library, I love the books as well - in fact, my copy of Lonesome Dove had to be reinforced with tape because I guess that, while reading it, I can't help gripping it like a cowboy grips his reins in the saddle.  If you're the type who likes to read, you can't do better than the Lonesome Dove series.