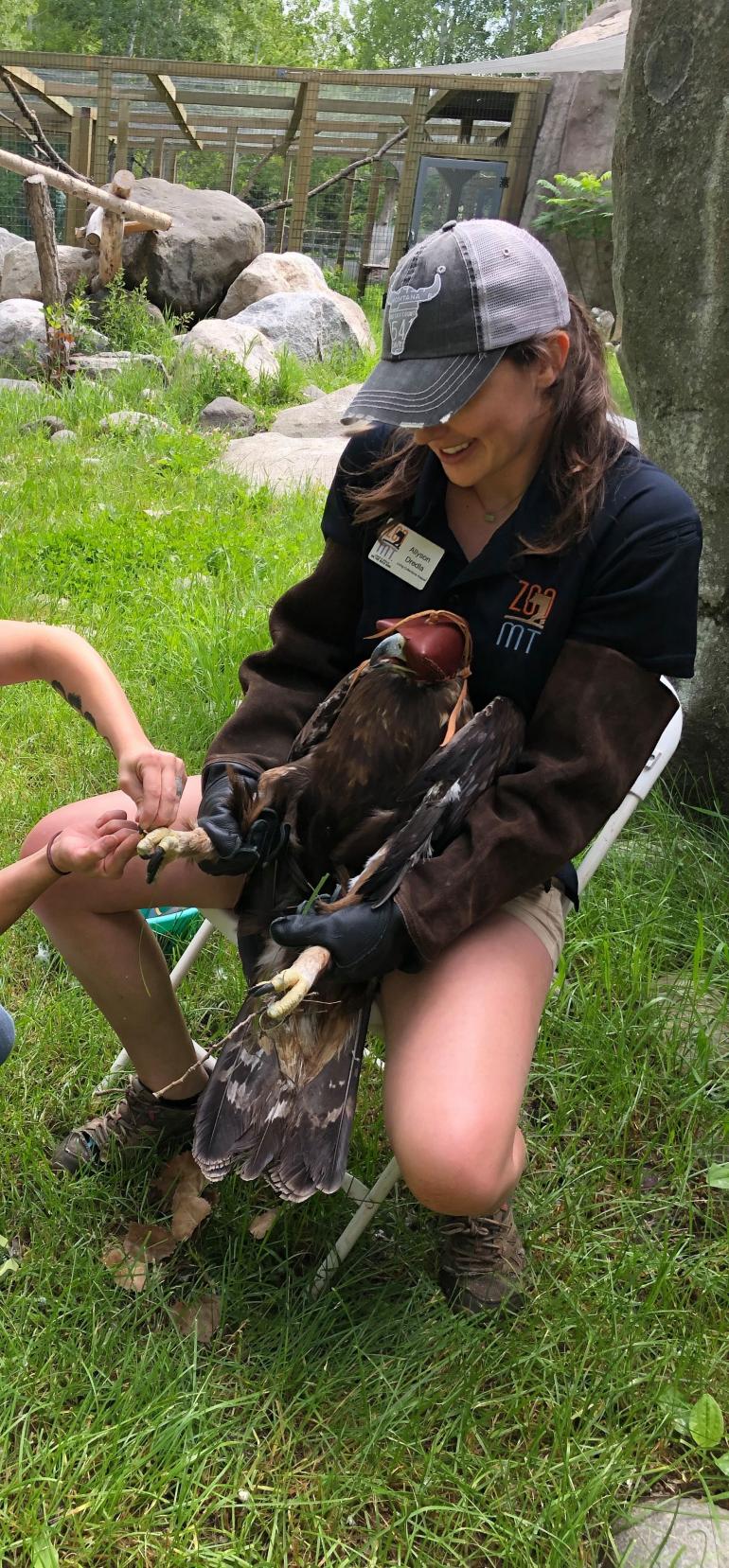 As far back as she can remember, Allyson Dredla has felt a deep passion to work with exotic animals. With her degree in Exotic Animal Training and Management from Moorpark College in California, she moved on to working with ambassador animals at the San Diego Zoo Safari Park after a brief stint training dogs for a television show. From tigers to tamarin monkeys, alligators to American badgers, she's built some skills she'd never thought she'd have. Currently, Allyson is the Lead Wetlands Keeper, and Training and Enrichment Coordinator at ZooMontana in Billings. Here's a glimpse into the largely behind-the-scenes world of her zookeeper life.
5:15 AM – My alarm tells me it's time to wake up and get ready for the gym before work. It might be a surprise, but zookeeping is as much a physically demanding job as it is emotionally demanding. It's a major help to keep myself in tip-top shape and warm up for the day. I grab my lunch and whatever delicious breakfast my boyfriend has pre-made for me and head out.

7:50 AM – The most routine thing about zookeeping is not being able to have a true routine, because animals' moods, and schedules, vary day to day. I arrive a few minutes early to gather what I need to begin my day: my assigned two-way radio, work gloves, Leatherman, space-pen, chap stick, box clicker, ring of zoo keys, bait bag (an ammo/tool/chalk pouch to carry animal treats/tools in for training), water bottle, and a healthy snack. I crack a sarcastic joke at Zoo Director Jeff as he walks by and touch base quickly with my five-man team on the happenings of the day, scheduling animal training sessions, veterinary exams, meetings, etc. As everyone disperses to their assigned areas, I hop onto my work vehicle of choice for the day: a donated four-wheeler.

8:00 AM – Positive checks are first and foremost! I ride throughout the empty zoo checking on the animals in my assigned area, Wetlands, and ensure that there are no animal accidents or human break-ins, and that each animal is BAR (bright, alert, responsive). I relish this time, as the zoo has a beautifully calming, serene nature to it in these early fall mornings. We've just begun our winter hours and must arrive earlier than in the summertime; I'm glad I went to the gym before work to get my body temperature up and ready to go for this frosty morning. I hear the bald eagles, Emilio and Tokata, calling to me as I zoom by. Our swan geese honk and call loudly to the world as they splash into their pond, preening. Our badger Uki is ready to go, as always, and stares at me with her stoic black and white striped face as I check on her through the window. I see our three river otters, Ben, Mia, and Sam, velvety-dry and snuggled up together in their pink kiddie pool full of blankets. I have the urge to get in there and snuggle with them as their little heads pop out from the cuddle-puddle, but then I remember the fury of velociraptor teeth that would meet me if I tried. I say hello to each of our birds of prey: Gable the great horned owl clacks his beak at me; Oro the golden eagle quietly watches from his favored perch; the turkey vultures, Lurch and Gomez, have just begun to stretch out their wings to soak up the morning sun, and Lurch gives me a funny head-roll, which is turkey vulture language for "hi friend!"

8:15-9:30 AM – Animals are shifted from their protected overnight holdings onto exhibit by 10:00 AM for our guests to be able to view them. I go from exhibit to exhibit checking fence integrity, hotwire, skimming ponds, cleaning windows, sweeping viewing areas, giving animals their breakfasts and enrichment, and yep, you guessed it: cleaning up poop! Fun fact: I've seen plenty of poop in my career; I used to think that lion poop was the worst, then I saw bear poop, and THEN I saw river otter "poop" (it's more like jellies and multi-colored snot). Definitely the stuff made of fecal nightmares. I copy the radio calls that tigers and bears are shifted onto their exhibits in another area (safety first) and get back to my task at hand. I don't gag, as I'm used to being a "fecal relocation specialist."

9:30-11:00 AM – I clean the overnight holdings and fill out daily logs on the animals and exhibits in my charge. I'll save you from the gross details.

11:00 AM – All zookeepers meet at our service building to sort the good produce out from the bad from our (almost) daily delivery of donated fruits and veggies. We chat and laugh as we chuck moldy strawberries into the compost pile (and sometimes at each other). I duck as a bag of lettuce is tossed over my head into a box and collect what I'll need to make my animals' diets.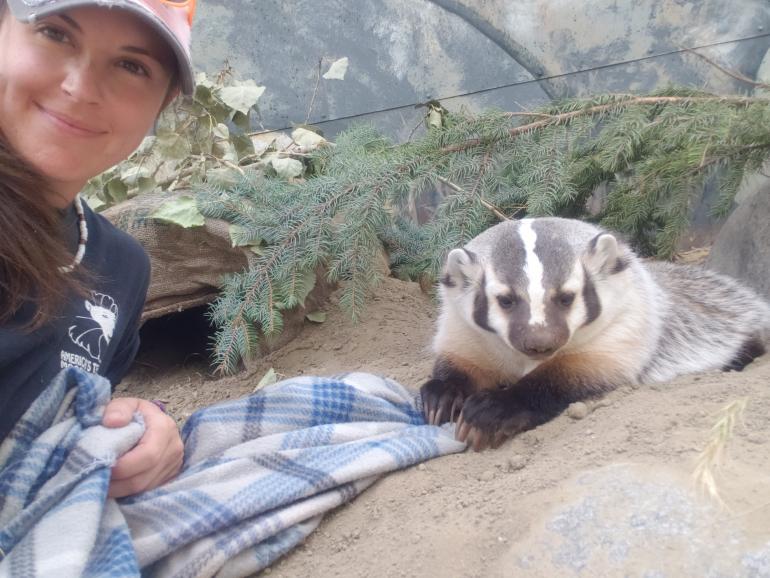 11:30-12:00 PM – I take my new produce treasures back to my Wetlands area kitchen and prepare animal diets while jamming out to some AC/DC.

12:00 PM – Time for our routine zookeeper meeting with our Living Collections Curator with updates on how are animals and exhibits are doing.

12:30 – Lunch (for the humans)! Usually spent relaxing on a grassy hill or in a peaceful hidden spot by the creek, I reflect on how lucky I am to spend my career in the outdoors.

1:00-1:20 – I've signed up to do a Keeper Talk for the public with the bald eagles today. I chat with the (socially distanced) small group of guests about our eagles being permanently injured by flying into power lines twenty-five years ago, and how they are able to live out their carefree "life of retirement" here at ZooMontana. I feel joy and fulfillment in sharing my passion for animals as a guest exclaims, "Wow, I've never heard a bald eagle make a noise before," as Tokata begins to vocalize.

1:20-3:30 PM – Project hour and bonding time with the animals. I feed the river otters lunch and sanitize the otter building. I do a quick free-contact (no barrier between the animal and me) training session with our badger, Uki, asking her to go in her crate, put her paw on a few spread out wooden marks, and touch her nose to a tennis ball on a stick. She happily participates and I give her a quick pat on the back and wave a blanket at her in play (she goes nuts and throws herself playfully around) and then suddenly, she's disappeared into her burrow for the rest of the day. The sessions are valuable for medical procedures.

3:30-4:30 PM – Time to start closing up. Some animals only eat at night, so I give them their meal for the day as they shift inside to their cozy holdings. I know they don't understand, but I tell each one goodnight and that I'll see them tomorrow. I check in with my team and ensure they are done with animal contact before heading home. My day doesn't end there, however, even though I've gotten home. As my border collie thoroughly investigates the weird animal smells on my clothing, I research new and better ways to care for our zoo animals within our ever-changing field. And I'm already looking forward to saying good morning to each of them tomorrow.
Source: Youtube channel Jeff the Nature Guy