Dirty Motorcycle Adventures in Montana
5 Tips for an Amazing Off-Road Adventure
Montana is well known for its mountains.  Mountains usually mean that there are some amazing off-road riding trails, and Montana is no exception.  If you are new to off-road riding in general, or find yourself in Montana with a dirt bike and want to hit some amazing trails, here are some tips to make the most out of your dirty motorcycle adventure. 
1. Find Others to Ride With.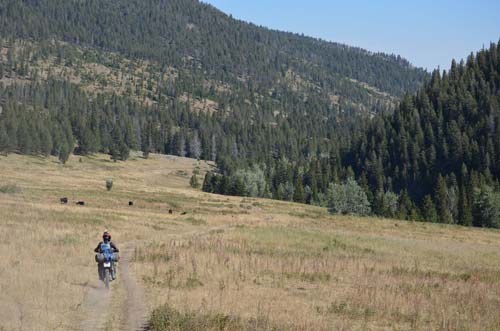 My first rule when off-road riding is to never ride alone. I still get into situations where I cannot get up without help, so finding somebody to ride with is my first priority.  The first group of riders I met up with came from ADVRider.com, which is a forum for adventure motorcyclists. It is a great opportunity to meet other riders in your area.
If you are really stuck finding riders, try heading to your local dirt bike dealer.  They will most likely know where you can meet people, and will have information about local motorcycle events as well.
2. Know the Laws of the Land
If you are going off-road riding, make sure that you are allowed on the trail. Some trails do close to motorcycles at certain points of the year.  Check with the USDA Forest Service to make sure the trails you want to go on are open for motorcycles.  You can check every state that has national forests on their Web site (http://www.fs.fed.us/recreation/programs/ohv/ohv_maps.shtml) and download free maps of the region for Off-Highway Vehicle (OHV) use. If you are going on private land, you do need to ask permission first.
Be respectful and only go on areas where you are allowed! 
3. All the Gear All the Time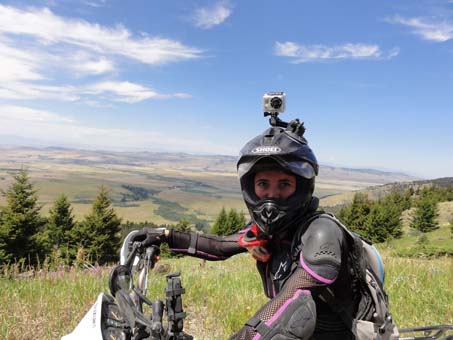 Any type of motorcycle riding is fun, but all of it can be dangerous.  Which is why I'm a big proponent of wearing all of your gear ALL of the time.  Sure, there are a few macho dudes who may not need much gear to ride off-road, but let them be macho and hurt the next day.
For off-road riding good boots are a must.  For women, you can get a small men's size boots or children size, depending on your feet.  They do make some boots specifically for women, but your choices will be limited.
A specialized helmet is ideal for riding off-road.  Off-road helmets are the type you see MX riders wear, and usually a pair of goggles are needed, as off-road helmets do not usually include eye protection.  When you purchase goggles make sure they are anti-fog goggles.  There is nothing worse then being out of breath, getting back on your bike, and not being able to see because your goggles are fogging up!
Lastly, you are going to want knee protection and chest protection. Again, you can get children's sizes or men's, though Alpine Star does make a great chest protector for women.
4. Be Respectful of Others
  As some of you may realize, off-road riders and four-wheelers already have a bad reputation. Known as people who don't care about the environment nor the people around them, that's a perception many in the off-road community want to change.
So when riding, make sure if you see someone with horses to pull over and turn off your engine immediately — you have no idea if the horse is used to engine noises or not.  If you see someone with dogs or kids, pull over to the side of the trail to let them pass, or slow down if it is a larger trail.
When you are respectful of others, not only will you leave behind a good impression, but you will also show them what the majority of off-road riders are like.
5. Tips for Places to Ride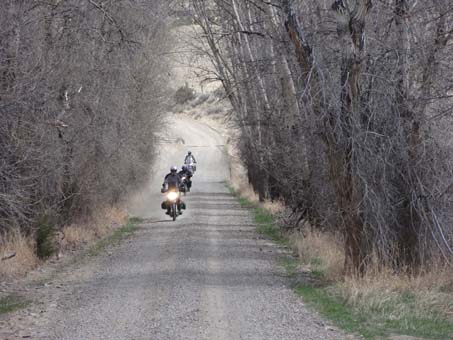 Pretty much any mountain range in Montana is going to be an amazing place to ride. I've been in the Bridger's, Crazy Mountains, and the Tobacco Roots, and I would go back to every single place.  Simply check out the U.S. Forest Service maps (Web address above) and pick a spot nearest to you.
~ Hilary St. Jonn is an Internet Marketing Expert and off-road rider. When she is not riding her Suzuki DR350 or working on her blog about her motorcycle adventures, she educates small businesses about building a solid presence online.