Everything You Need to Know About Stand-Up Paddle Boarding
Over the past few years, stand-up paddle boarding (often referred to as SUP) has taken the summer recreation industry by storm. SUP is an accessible blend of full-body fitness and meditative balance and is a low-investment way for people of all abilities ages to get out on the water. 
SUP Benefits and Health
Stand-up paddle boarding is a full-body workout. It will work your mid-back muscles, shoulders, and arms. Micro-adjustments in your legs and hips are needed for balance, and your core will be consistently activated. Additionally, SUP can be relaxing. Tune into the motion of the water, take in your surroundings, and enjoy the feeling of becoming more natural and efficient at maneuvering the board.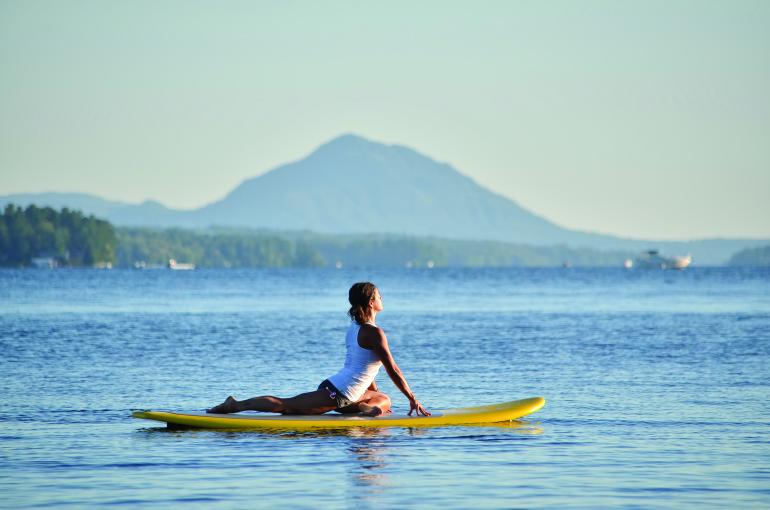 What Do You Need to Get Started?
Unless you want to seriously invest in a SUP setup, you don't need to own anything—the board, paddle, and life jacket can be rented at locations across Montana. Those three items are really all you need to get out on the water. 
Paddle boards come in a variety of styles depending on skill level and intended use. The most common shape for beginner boards are wide, rounded ovals around 10-11 feet long, and 30-35 inches wide. The wider the board, the more stability it will have on the water. Most leisure / beginner boards have a planed hull—a wide, flat front designed for sitting on top of the water. As SUP yoga gains popularity, yoga-specific boards have also become available. These boards are shorter, with a broad deck for balance.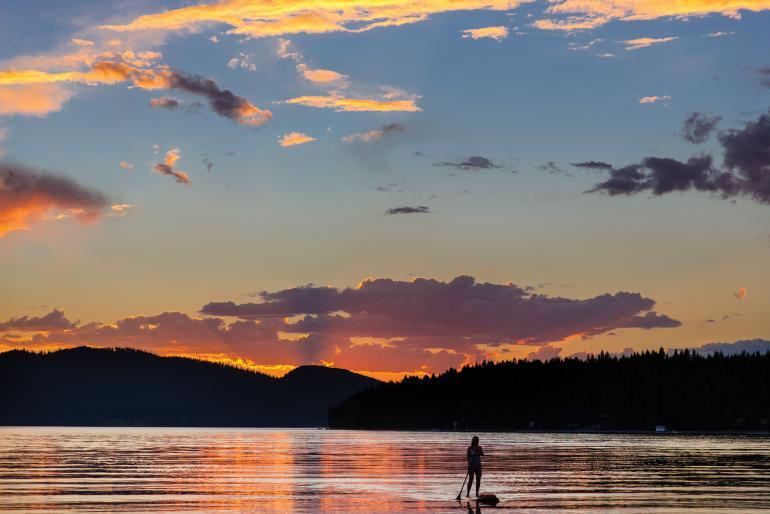 More advanced / specialized boards are built longer and narrower. These move swiftly and efficiently through the water, and are best for fitness-oriented activities and racing. This style of board will have displacement hulls (pointed front ends), similar to a canoe or kayak. 
Most styles of boards come in solid and inflatable versions, and there are pros and cons to both. Solid boards are very durable, built with an EPS foam core encased in fiberglass and epoxy. These offer the best performance on the water for stability and movement. On the other hand, inflatable boards are convenient—perfect for people who like to travel or don't have much storage space. Inflatable boards roll down to the size of a sleeping bag, and can even be hiked into locations if your body of water is down a trail. Both solid and inflatable boards weigh between 20-25 pounds.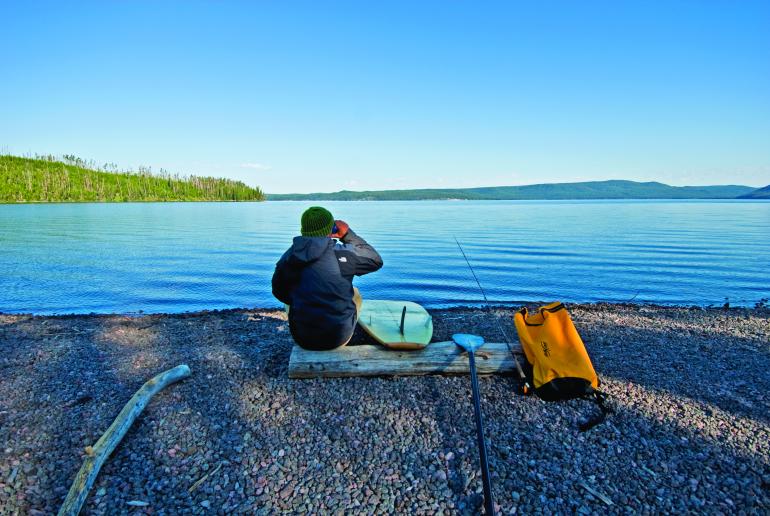 If you're looking to buy, be sure to research the specs for your height and weight. Paddle boards are forgiving, but they do have a weight limit and an optimal size / shape that will help you feel as balanced and secure as possible during use. Paddle boards can be pricey—buying one yourself will cost around $400 for a beginner board, and can run over $1000 for a specialized option. If you're just starting out paddle boarding, rentals are the way to go.
Aside from the board, you'll need a SUP paddle, which resembles an elongated canoe paddle with a teardrop-shaped blade. Life jackets, comfortable clothing, and secure sandals are also recommended. 
Basic SUP Skills 
If you can stand, balance, and execute a paddling motion, you have the skills to SUP. And even that isn't entirely necessary—starting your SUP session by sitting or kneeling on the board is a good way to familiarize yourself with the rocking motion. The movement of the water can make this more challenging than expected, so standing up once you gain confidence is a good solution if you get the wobbles.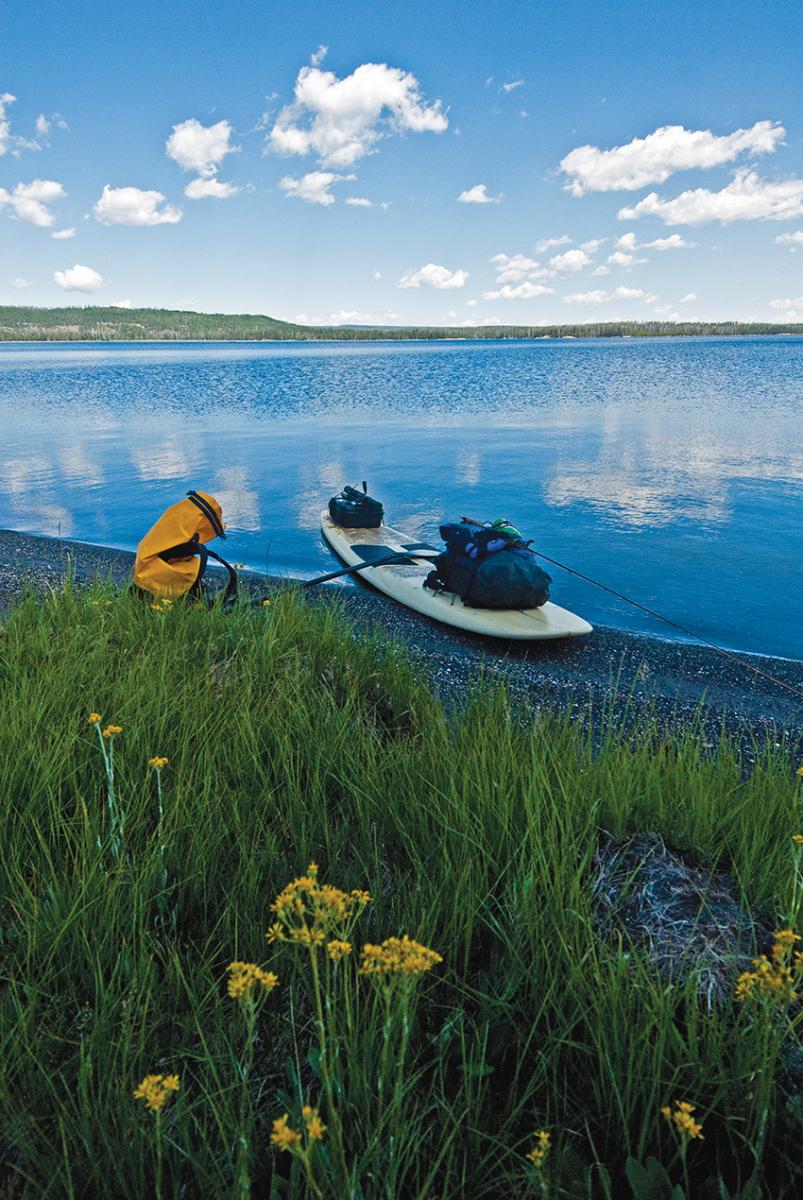 To climb onto the board, stand next to it in knee-deep water. Stabilize the board on either side with your hands, then carefully climb onto it in a kneeling position. Slowly rise up, getting used to the motion of the board as you come to a full standing position. You can now plant your paddle all the way to the ground as you stabilize and prepare to start paddling further into the water. 
Keep your feet hip-width apart, with your knees slightly bent—don't lock them out! Stand in the middle of your board, feet pointed forward, and maintain core tension. This will help keep your back from working too hard, and will help maintain stability as the board moves. Don't look down at your feet—keeping your gaze lifted towards the horizon will help maximize balance. Plus, the view is probably pretty nice.
The actual paddling motion is pretty simple. Place your paddle in the water about two feet in front of you with the blade entirely submerged. Next, pull it back towards you, smoothly lifting it out of the water near your ankle. To stay straight, you'll need to alternate sides when you start to move in one direction or the other.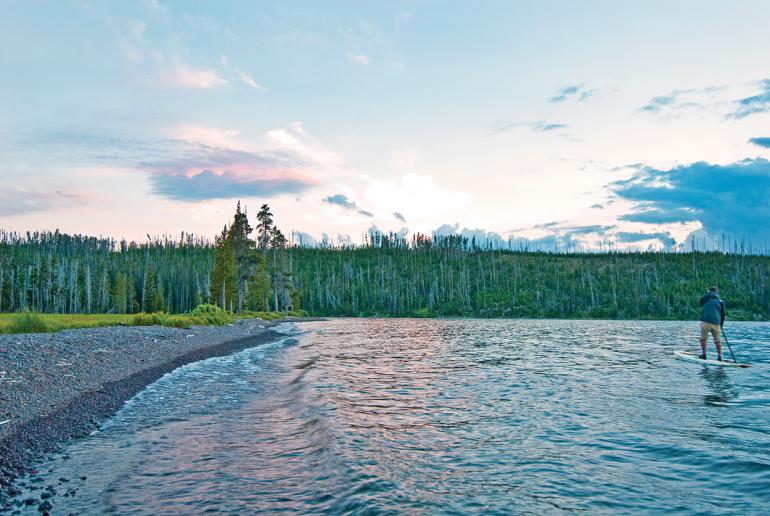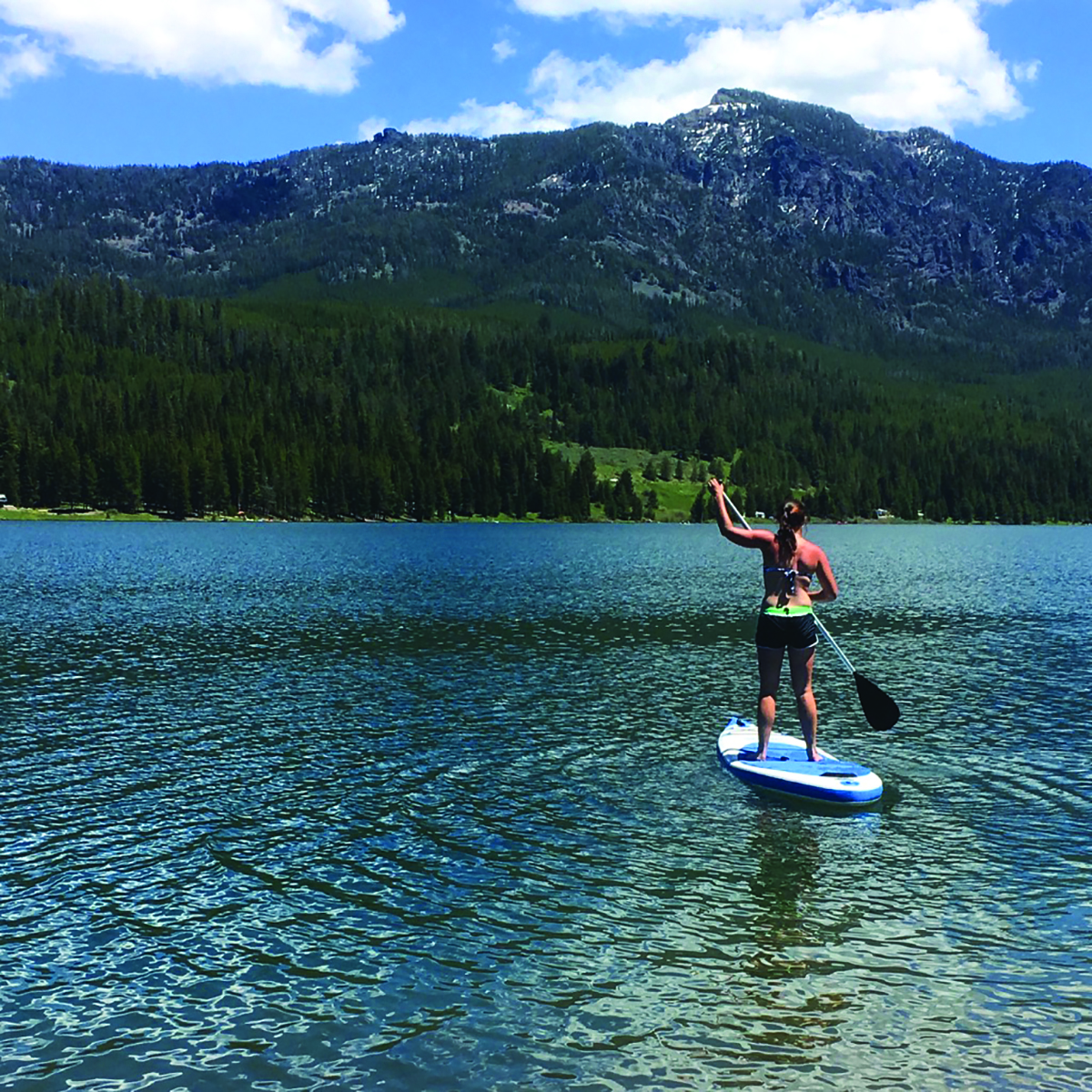 If the breeze picks up or you find yourself caught in choppy water from boat wake, you'll want to become familiar with the "brace stroke," which can be used any time you feel like you're losing balance. The low brace can be done by deepening your stance, and as you start to fall, pushing on the surface of the water with the paddle and using the resistance to bring your weight centered back over the board. 
At some point, you probably will fall off the board. When you do, try to control the fall so you land flat in the water, away from the board. The goal is to hang onto your paddle, but if you lose it, retrieve it before climbing back onto the board. Next, tread water near the center of the board, grab the carry handle with one hand, and pull yourself up until you can reach the other side. Grasp the far side, kick your legs for propulsion, and work your upper body to maneuver all the way onto the board. Graceful? Maybe not. Efficient? Certainly. Now you're ready to stand up and start paddling again. 
Where Can you SUP Around Montana?
If you're just starting out, take your SUP session to calm, flat water. A small pond will be best, then you can move to lakes or inlets as you gain confidence. Here are a few of the most beautiful spots around Montana for your summer SUP sessions.
Hyalite Reservoir, Bozeman: A haven for year-round recreation, this stunning area south of Bozeman is surrounded by woods and cliffs. Quiet shorelines give way to open water, and there is a no-wake rule so you won't have to worry about too much chop. 
Canyon Ferry, Helena: Located 20 miles from Helena, this reservoir has 76 miles of shoreline and is one of the most popular bodies of water in Montana. Motorboating is allowed, so watch out for wake… or get ready to practice your brace stroke.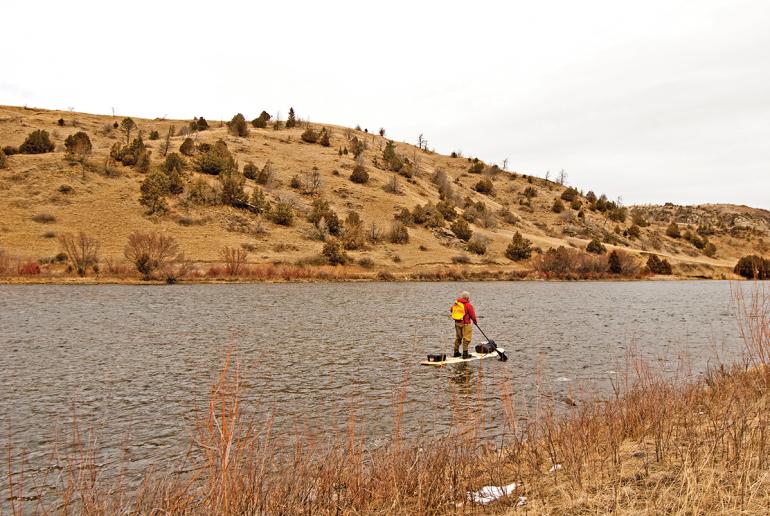 Ennis Lake, Ennis: Another easily accessible and popular location, Ennis Lake has several inlets and quiet shoreline areas perfect to get used to your board. Watch out for boat wake here as well. 
Whitefish Lake, Whitefish: Camp, fish, and bring your paddle board here to enjoy everything this area has to offer. This lake has very little wind, and is a great spot to get your feet under you. 
Flathead Lake, Kalispell: This is the largest natural freshwater lake west of the Mississippi in the contiguous US. There are 13 managed recreation sites, and plenty of places to get the board out for a spin. 
Rentals, Tours, and SUP Yoga
Many facilities and gear shops in Montana rent boards, guide tours, and even lead SUP yoga classes. Rentals cost between $30-60, and tours range from $60-100 depending on location and duration. 
Paddle Board Outfitters: SUP rentals (Somers, 406-212-2300)
Big Boys Toys: SUP rentals (Bozeman, 406-587-4747)
Madison River Tubing: SUP rentals (Bozeman, 406-209-8384)
Base Camp Bigfork: SUP rentals (Bigfork, 406-871-9733)
Pink Cowboy: SUP rentals (Helena, 406-475-3723)
Montana River Guides: Rentals and tours (Missoula, 406-722-7238)
Sea Me Paddle: Rentals and tours (Lakeside, 406-249-1153)
FLOW Outside: SUP yoga (Bozeman, 406-600-0888)
Yoga Hive: SUP yoga (Whitefish, 406-862-1571)
Loft Studio: SUP yoga (Helena, 978-375-3103)