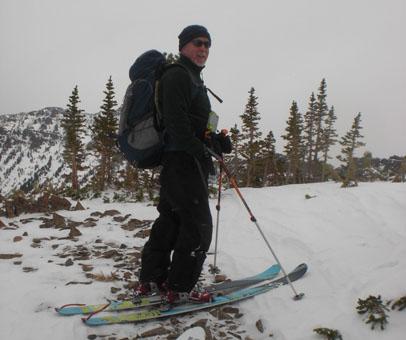 Long ago people discovered the pleasure and utility of sliding on snow. An intact ski was found in Sweden dated to 5,200 years ago, older than the Pyramids. Montana, with its long winters, deep snow and endless mountains, naturally lends itself to skiing. Early hunters in Montana may well have used some form of ski to navigate the cold winters of the late Ice Age. The word "ski" derives from the Norse word skio, meaning "stick of wood." Skis and ski gear have come a long way since early hunters scraped around on sticks and animal bones.
Cambered, side-cut skis were invented in Norway in the mid-1800s by Sondre Norheim, allowing for lighter skis that were easier to turn, which eventually led to downhill skiing. The first recorded skier in Montana, Sven Peterson, was killed while skiing alone near Helena in 1868, pointing to the need for well-designed ski equipment from the get-go.
Skiers soon developed skis of harder, stiffer hickory and laminated wood. Miners in Montana and elsewhere traveled and raced on long, hand-made wooden skis for fun and competition. Metal edges were introduced in 1928, and sturdier, three-layer skis with better glue were available in Montana by 1932. Through the 1930s and 40s, ski builders experimented with aluminum and various types of plastics, such as Bakelite, to improve ski performance and durability.
Montana was and still is at the forefront of skiing, with sixteen downhill ski areas and a huge variety of backcountry ski terrain. More than 60 developed downhill areas have operated at one time or another in Montana, including gems like Beef Trail, Karst Kamp, Z Bar T, Bear Canyon, Diamond Mountain, Pipestone Pass, Wraith Hill, and Hairpin Hill. Our modern resorts grew from mostly humble beginnings — Ski Whitefish was once called Hell Roaring; Great Divide started as Belmont; Red Lodge was Grizzly Peak; Maverick Mountain started as Rainy Mountain; Showdown began as Kings Hill; Snow Park became Montana Snowbowl. Early ski areas were modest, due to rather basic equipment and rudimentary ski lifts, built on what today would be considered intermediate or beginner terrain.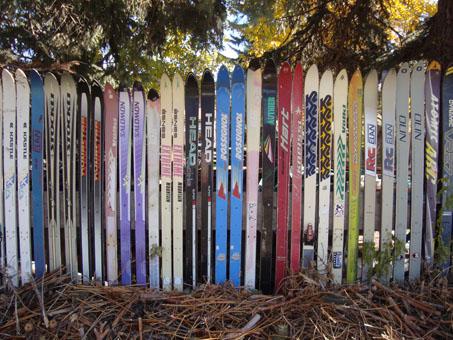 Skiing as a sport started to take off in Montana in the 1930s, with ski jumping a major draw. Casper Oimen, Montana's first ski champion, set records in ski jumping and competed in the 1932 Winter Olympics. Events like the Winter Carnival in Anaconda helped to popularize skiing in Montana and encourage sale of ski gear. The Mercantile in Missoula offered, in 1937, "Splitkein Laminated Skis" with steel edges, "Lund Topflight Hickory Skis", and "Gerber Brothers Geared Cable Bindings."
World War II and aircraft technology led to advances in ski gear. Howard Head's famous Head Standards were introduced in 1950 with a plywood core, aluminum top and bottom, plastic sidewalls and one-piece full metal edges. These high performance skis were sometimes called "cheaters" and "banana skins."
In the 1950s, P-tex and fiberglass came into their own for ski manufacture, and ski builders introduced other high tech materials such as carbon fiber and Kevlar through the 60s and 70s. Plastic bases reduced the need for waxing. In 1990,
a revolution in ski shape began when Elan and Kneissel introduced deep-sidecut "shaped" skis, often called Parabolics.
The first powder skis were Atomic Powder Plus, made by sawing a snowboard in half lengthwise and adding edges and bindings. Sidecut began to expand in the 1990s with skis like K2's Big Kahuna and Elan's SCX (SideCut eXtreme). Into the new century, skis got phatter and camber was replaced by rocker, with the ski base bending downward. Volant offered the first rockered ski, the Spatula, in 2003 and the concept caught on big time. Rocker works best in deep, soft snow, like Bridger Bowl's Cold Smoke, allowing for easier turn initiation.
Downhill ski shape and design has evolved in every direction imaginable, with skis designed for women, kids, powder, hardpack, off-piste, big mountain, pipe and park, alpine touring, freeride, and racing. Many skiers are using twin-tip skis designed for riding both directions, as skiers have adopted and adapted many of snowboarding's moves.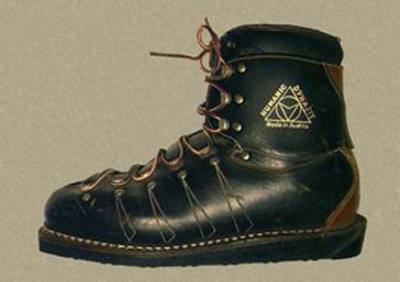 Bindings — From Traps to Safety
Ski bindings were originally designed solely to hold the boot to the ski, with no release mechanism. Stiff heel cables were the norm, with steel plates to hold the toe. The sport got a reputation for injury, with an estimated 10 per cent of skiers injured each season. This did not help the growth of an otherwise very inviting sport. Hjalmar Hvam, a Norwegian immigrant and ski champion, came up with the design for the first releasable downhill ski binding, the Saf-Ski, in 1939 while under anesthetic after breaking his leg skiing. Goodman Skicraft of Missoula offered, around 1940, "the new Jet Safety Line" of ski bindings.
About 1950, the Look binding was invented, pivoting to absorb shock. Marker developed a more sophisticated adjustable release binding. Ski brakes, invented in the U.S. in 1961, eliminated the need for ski leashes and helped lower injury rates even more, but they were not accepted at most resorts until 1976.
The most common ski injury now is not broken legs, but torn or ripped ligaments. Releasable bindings properly set can prevent most injuries. Bindings are now thoroughly adjustable, with industry standards known as DIN settings. They should be adjusted by professionals, but are safer than ever and easy to step into and out of.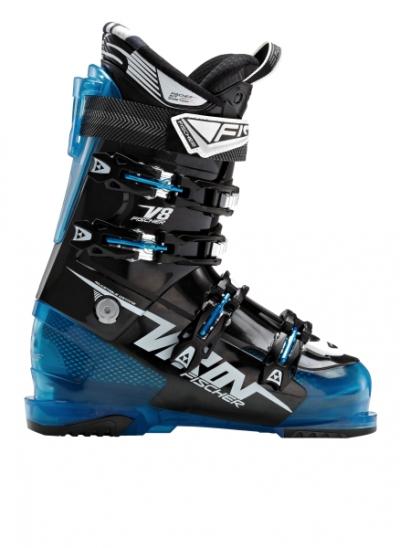 Booting Up
The first major innovation in ski boots design was the buckle, originally installed on leather boots. Like many new technologies, buckles took time to catch on, with skiers deriding buckle boots as "galoshes." Eventually skiers got sick of getting frostbite while lacing their boots with bare hands. The buckle was the perfect closure device for plastic ski boots, introduced by Lange of in 1965. Rear-entry boots, introduced by Salomon in 1984, were popular for a while. With the innovation of heat-moldable, custom-fit ski boot liners, ski boot comfort entered a whole new realm. Skiers can now even get heated boots!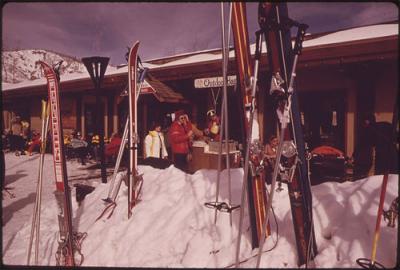 From One Pole to Two
It's hard to imagine now, but early skiers used but a single pole for propulsion and braking. No doubt some early poles doubled as weapons. Double ski poles, used for balance, timing and propulsion, advanced from wooden sticks to bamboo, then to steel, and in 1959, Ed Scott introduced tapered, lightweight aluminum poles. Nowadays composite materials allow for light, strong poles. Baskets — essential to keep the pole from sinking into the snow — grips and straps have all undergone many innovations. In faster racing disciplines, poles may bend around the skier to reduce drag.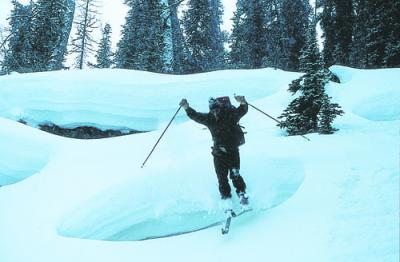 Helmets Come of Age
Following horrific ski accidents in 1997 involving Sonny Bono and Michael Kennedy, helmets became de rigueur as a skiing accessory. Now skiers and snowboarders look like rubes if they fail to wear a helmet. The growth of extreme skiing and the explosion of ski and snowboard films means more riders and skiers are going fast and big. This makes helmets even more important.
Montana skiers today are likely to wear baggy synthetic clothes and sleek helmets as opposed to the tight spandex of the 70s or the wool sweaters and knit caps of the 50s. Younger Montana skiers focus on terrain parks and jumps, their posture low and aggressive, their talent and drive exciting to watch.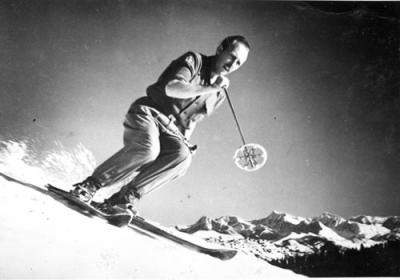 Get Out There
Ski equipment is available for any and all Montana skier. It's as safe, comfortable and adjustable as you could ever want. As you schuss down the slopes this winter, remember those ski pioneers who brought about the great advances in equipment and made it a sport we all can enjoy.
 "The newest and best thing in ski gear is the "early rise tip" or "all mountain rocker" which is being crafted in more and more skis, making the whole ski experience a world apart from the old equipment.