Quick, before that first snowflake flies, it's time to do some serious fly-fishing. You'll face hungry trout, find faint insect swarms, and wade into cooler waters that can possibly mean more active fish. And if you take the time to glance up, you'll see colorful leaves and scenic fall vistas. So, what are you waiting for?
When it comes to fly-fishing, fall is the "forgotten season." Most folks with an outdoors bent start hunting, and others head to organized sporting events. The great news is that this leaves the rivers nearly vacant and many trout eagerly awaiting your offerings. And the less hectic fall fishing pace means a more enjoyable trip. And did I forget to mention that those trout have added inches over the summer—in both length and girth—and are now large bruisers that can fight back and tug your line until the reel screams?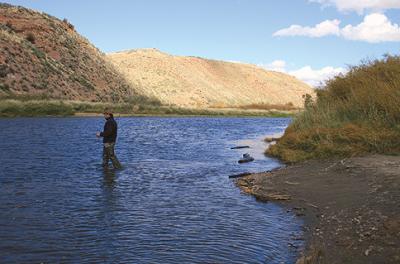 With absent crowds and few anglers, you'll find numerous rivers to wade into and cast over. Some rivers that have been crowded on summer days are now void of action altogether. If you're planning to hire a guide, plan ahead. Many guides head back to other jobs after the Labor Day weekend madness. Trout are also a much different opponent during the fall.
Fish that have been lethargic because of high summer temperatures—or secretive because of constant angler pressure—are now ready to begin the serious business of eating. These fish are looking for anything that will help them build the needed reserves that will mean survival through the leaner winter months ahead. The bigger trout now become eating machines.
Don't overlook this exciting opportunity.
The Trout Takers
Fall is the period when big fish—a foot long or better—become aggressive and prowl far and wide. You'll find browns out of their hiding spot and feeding in pools, riffles, and under foam-covered eddies. And in an effort to be more energy-efficient, these prowlers look for large foods that deliver more energy for effort extended. In most cases the big trout are looking for small fishes that are now out of the side channels and pools and swimming in the mainstream. Predatory browns earn their fame during the fall fishing season.
Obviously, the first consideration in the "what to cast" category is anything that looks like a small fish or a larger morsel. To imitate the small fries, concentrate your fishing efforts with streamer patterns and fish imitators like the Hornberg. Woolly buggers and muddler patterns can also earn their place in your fly box in the fall months. Flies that imitate leeches will also solicit strikes. The heavier conehead patterns also offer advantages; they dive deep and deliver an attractive flash with a brass head. Zug Bugs can also be noticed—and attacked. Again, think big food sources, and big hungry trout.
And while big is in, don't overlook the region's popular insects and other food sources on warmer fall afternoons. You'll still spot local hatches of mayflies and that occasional grasshopper. Most insects are out and about until the first prolonged and serious deep freeze in the region. Walk along the river and through the nearby grasses; take the time to look around and take note of what insects are near the water. You'll note that as a rule, late season insects tend to be somewhat smaller. This will require possibly foregoing a size 12 Blue Wing Olive and tying on a size 18 or 20 BWO. The insects will be there if the air and ground temperatures are warm; you'll just need to search with diligence. The fish are searching for—and noting—the insects and other food sources.
Remember, fall is a season of change. So what works in the morning might not be as readily noticed on a warmer afternoon when other food sources are out and abundant. Don't overlook some of the popular summer patterns, but carry more of the streamers.
And just like the many colorful leaves that are streamside, you'll need to have a colorful fly box with large, medium, and small flies.
What to Wear
It's a fact, fall days mean colder water and chilly air temperatures. You'll need to change your angling wardrobe to stay warm and be more functional in the cold temperatures. For some anglers, breathable waders seem too cool and possibly clammy. Those anglers make the switch to thicker neoprene waders. Just be certain that you can walk safely and comfortably should you apply numerous layers under these less forgiving waders. And anything added on the outside can also restrict your mobility.
While chest packs helped body heat escape on hot summer days, a full-sized fly-fishing vest can now be worn for added comfort and more body heat retention. The standard angler's ball caps can now be replaced with beanie or watch caps. If you'll face a very frigid morning, Under Armour's Heatgear watch cap or the one offered by Heatmax with pockets for air-activated warmers will keep the frost off your ears. Additionally, the proper garment underlayers can now mean more comfort and the option to fish for longer periods. Your body will spend less energy staying warm, which means more energy for casting. Inner layers of synthetic clothing like RedHead's Enduraskin, then fleece that's covered with a barrier shell, or lined with Gore Windstopper, will keep chilly winds at bay. And consider pulling on thin, waterproof neoprene gloves with rubber-faced exteriors so you can grip the small stuff and comfortably control your rod on casts.
Staying warm in the chilly fall means keeping moister—including river water and body sweat—away from your skin. Wicking garments can help you stay warm, dry, and comfortable. And several thin layers are easier to manage than wearing a cumbersome parka. It's a good idea to look at the weather forecasts for the region—and altitude—where you'll wade and fish. There's a big temperature difference between the prominent cities where more forecasts are given and the higher altitude locations like those encountered in Yellowstone National Park and other popular fly-fishing destinations. And plan to tread carefully.
While the same felt-soled wading boots worn in summer can help you grip and go on slick rocks in the fall, studded wader boots might help you negotiate that occasional icy patch on the trail or atop a rock. Ice happens, and expect it on frigid fall mornings. And if you are wondering how cold it is outside and whether ice might be a problem, pack and study a thermometer to be properly prepared.
The Top Trout-taking Tactics
Now that you are properly dressed and have some good leads on what the trout are consuming, it's time to go get them. Before you wade in, however, note that fall fishing tactics are much different than spring and summer when you finessed flies onto the water's surface. Heavier flies or streamers now mean your fly line and rod is moving more mass, so you might want to move up from a 6- to an 8-weight fly rod.
Once you have the best rod in hand, where should you cast? Fall is a season when it's best to generally switch directions and fish downstream. Brook and brown trout can often be found in the back of pools as spawning is underway. A best practice is to cast down along the side of a pool and pull the fly or streamer across in a sweeping J-pattern. Cast in an ever widening arch to cover the areas where a trout could be—or be watching from. Hungry trout will move ahead a few feet to grab what they perceive to be a minnow that's spotted them and suddenly turned to flee. And fall is a season of generally clearer waters, so you'll want to go unnoticed as you cast into the trout faces.
A top tactic is to keep low and concealed as much as possible. Kneel down upstream and on sandbars or behind walls of vegetation. Remember that most trout lie facing upstream to watch for foods that wash by, and they'll be watching you if you move too close. Trout that have been pursued all summer do not want to encounter more anglers—they just want to eat.
Now about that catch-and-release...!
~ Michael D. Faw, past Bozeman resident, is Director of Communications at U.S. Sportsmen's Alliance in Columbus, Ohio. Mike is an inveterate outdoorsmen who enjoys hunting, fishing and writing news and views on America's wildlife and conservation. He is an active freelance writer and photographer, the author of two books and the editor of several other titles related to hunting and fishing topics. He is also President of the Professional Outdoor Media Association.