From traditional, natural bamboo rods to the varying weights of 20th-century graphite rods, fly fishing line colors are carefully chosen. Then they are artfully threaded onto the angler's atlatl. It is here from which the line is sent forth in its trajectory. It dances with artistic dazzle as it curls and loops through the air above the fisherman. With one hand maneuvering the rod, the other hand "strips" the line into perfect length for catching the ultimate fish. It is re-launched to perfection, time and time again. Hook and line gracefully touch the water as the line is stretched and unleashed into its final burst of energy.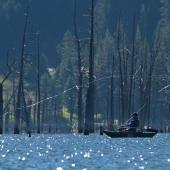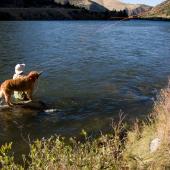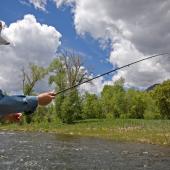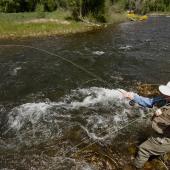 With animated frivolity in the early morning sun, the lyrical line is hypnotic and seductive to the spectator's eye. It curves, rolls, and coils before the fly is completely released. The thin, snakelike thread sparkles within the backlit scene. All the while, the hands are in constant rhythm with line, rod, and reel. It gives motion as compared to the contemplative, vertical stance of the angler and their horizontal canine friend who waits patiently for the first strike.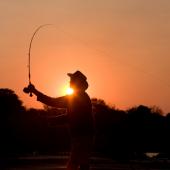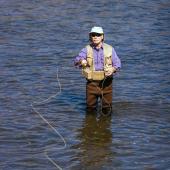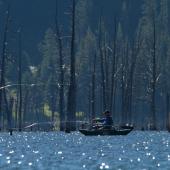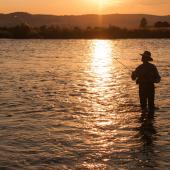 The razzmatazz of threaded line weaves around the fisherman's body as though he were spinning his own web. And yet, like a spider, the angler knows where every fiber of his web should be placed. As though he is enfolded within the supple line, it is gradually reeled in revealing a distinct angling figure. There is an aesthetic rhythm between hand and line as the silky thread is once again stripped and left dangling from the angler's hand.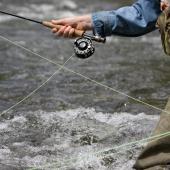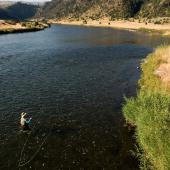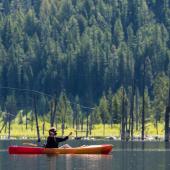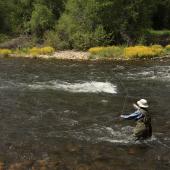 Again and again, before the fly finds its way to the water's surface, it darts across the body as though a knife were slicing through the pristine air. With the slightest of ripples upon the still body of water, reflections mimic the source from where this action is coming. Within perfect and poetic harmony, from rippling reflections to the tip of the rod and onto the curving line, the fisherman is in sync with his art of fly fishing.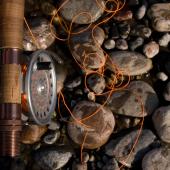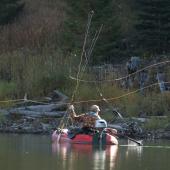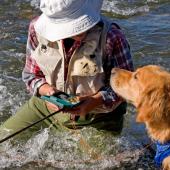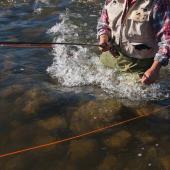 Bonus Feature: Enjoy this HD video of fly fishing in Dillon, MT.