The Future Is Bright: MSU's Solar Car
Montana State University's Bridger Solar Team Builds Tomorrow's Car, Today
"Your future hasn't been written yet. No one's has.
Your future is whatever you make it. So make it a good one."
Doc Brown, Back to the Future
As of October 21, 2015, Back to the Future was in the past. Hoverboards and questionable fashion statements included, the fodder of our decades-old imaginations has been realized tenfold. And then some. But, little did anyone realize how much technological advancement—particularly in the realm of transportation—would be driven by ecology rather than aesthetics. Just as artificial intelligence marches the work sector toward automation and an evolving future for employment, technology is transforming the manner and means of transportation in ways both innovative and environmentally sound. And that future may very well be solar. An inquisitive multidisciplinary team from Bozeman's Montana State University (MSU) sure thinks so. The Bridger Solar Team's (Team) solar-powered car is soon to give the time-hopping DeLorean a near zero-emissions run for its money.
"This is about the lowest emissions car you can make," remarks electrical engineering junior and Team President Scott Smith. "A cornerstone of our club is promoting environmental sustainability." In addition to developing technology applicable to everyday travel—such as Tesla's Cybertruck, for example, which is offered with optional mounted solar panels—the car provides members with critical experience for future work in the renewable energy sector. While the production of necessary parts and materials used in the vehicle is not emission free (these parts represent the most substantive expense in its creation as well), the vehicle produces zero emissions and is inexpensive to operate once built. "Solar could be a viable option in the future," continues Smith. "With some modifications, these could charge up to forty miles of range per day for free, which would more than offset the distance that most people travel."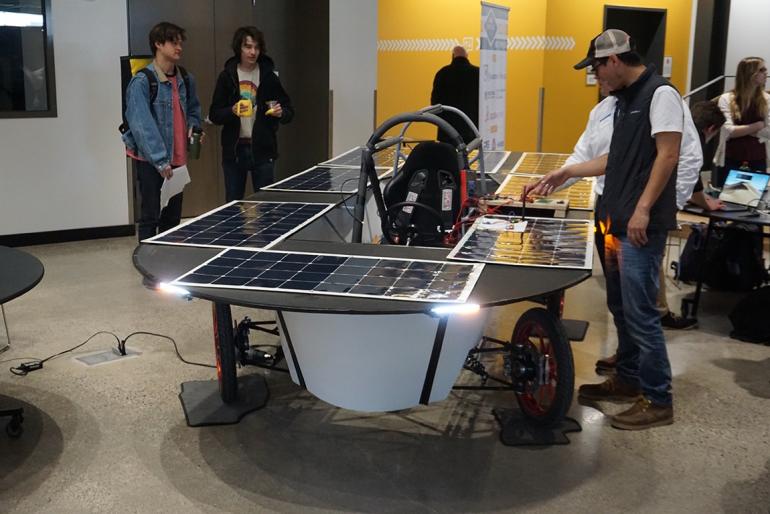 The Team has been hard at work on the solar car for the better part of three years, ever since recent MSU alum and founder Levi Allery returned from the 2017 World Solar Challenge inspired to establish an MSU solar team for the first time in twenty years. While the team loses a few members each year to graduation, its numbers have been steadily growing over the past three years. The current team of twenty-five represents a diverse collection of majors and skill sets—from engineering to film to business—which allows for all aspects of the design, production, fundraising, and PR for the team to be handled effectively, efficiently and in-house.
The inaugural competitive showing for the Bridger Beamer was slated for this past July at the 2019 Formula Sun Grand Prix. The three-day race in Austin, Texas, involved teams from across the country racing three eight-hour days in single- and multi-occupant vehicles on Austin's Circuit of the Americas 3.426-mile Formula 1 racetrack. At nearly 400 pounds and fourteen feet long, the Beamer was replete with a Mitsuba motor, steel tubular frame, 800W silicon array and a 5.18 kWh lithium ion battery (or 408 individual batteries). However, issues arose during the manufacturing process of the car in the spring of 2019 that resulted in safety concerns surrounding its overall integrity. The Team made the difficult decision to forgo the Formula Sun to redirect those additional travel resources toward an improved vehicle for the 2020 race.
The vehicle's current iteration incorporates those strategic and mechanical lessons learned. "It will be safer, lighter, and more aerodynamic," remarks Smith. "We expect it to have a maximum speed of around 65 mph and a range of over 100 miles."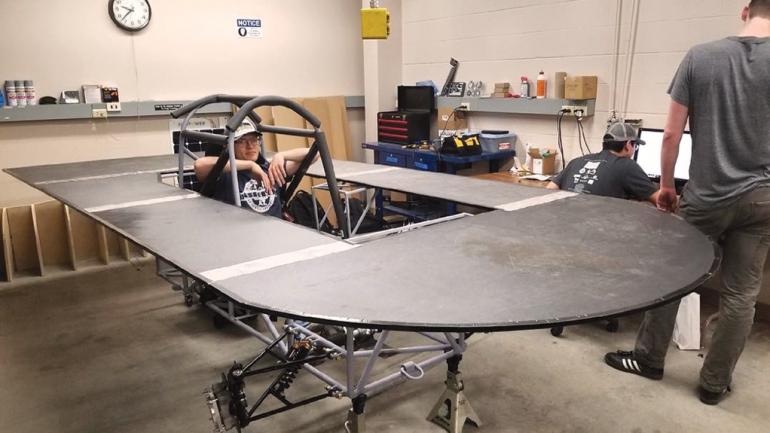 The solar car's road from concept to concrete has certainly been fraught with its share of potholes. The "solarmobile," the first solar-powered mode of transportation, was a quadricycle introduced at the Tour de Sol; in Switzerland in 1985. While some of these cycles used full solar power while others used a solar/human combo, the few solely solar bicycles later built included large panels or trailers and were cumbersome and impractical. The agility solution proved to be a dissection from the power source: solar charging stations equipped with substantial panels at home now charge modern electric bicycles and motorcycles.
But the same solution is not so easily applied to cars. Innovative designs were compromised by the utilitarian need to cover all possible square footage with the photovoltaic (PV) cells that would convert sunlight into electricity and drive their electric motors. This limited power in turn limited the weight and other design features, requiring that all elements be efficient and lightweight. The resulting ultralight composite bodies were, unfortunately, questionably safe and far less convenient.

Still, manufacturers have persevered. In 2013, Solar Team Eindhoven—a multidisciplinary group of students from Eindhoven University of Technology in the Netherlands—built Stella, the first solar family car. Since then, they have introduced Stella Lux, Stella Vie and Stella Era, all built to compete at the World Solar Challenge in Australia and all sporting successively more nimble applications of cutting-edge solar and design features. Some of these students founded a startup to take the technology to the street. They announced plans this past June for production of the Lightyear One, a prototype all-electric solar car with production scheduled for 2021. Pre-orders are currently being taken for the $135,000 all-wheel-drive, hatchback solar plug-in hybrid. Hyundai also recently launched a vehicle with rooftop-mounted solar panels capable of generating electricity to charge the car's batteries. Future transportation industry innovations include designs for trains, ships, buses, and more.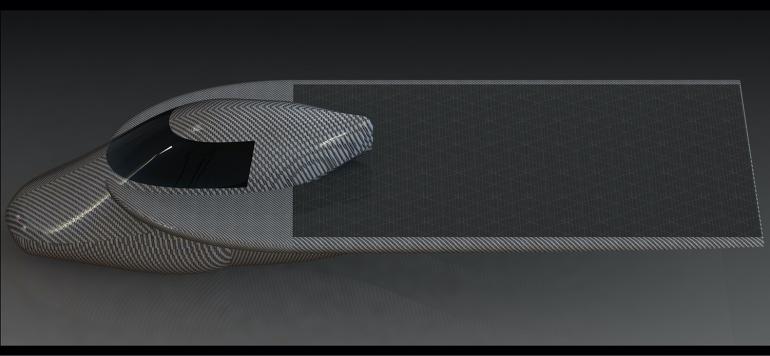 As solar and ecologically sound technologies become more agile, so do their applications. And, while the Team would like to continue competing in the American Solar Challenge and growing MSU's reputation as a top engineering school, its members are committed to working toward solutions for larger world problems, such as electrifying transportation and realizing the significance of renewable, clean energy. The Team is currently exploring concepts for future projects that might impact transportation on a larger scale. "We are looking at the possibility of turning our project into something that could be used for short/medium range, on-demand travel [where it could] eventually have a real impact on society, not just an annual collegiate competition," Smith stresses. "This concept would combine the utility and range of an Uber with the convenience and cost-effectiveness of renting a Bird or Lime scooter, all while producing zero emissions and reducing the cost of use."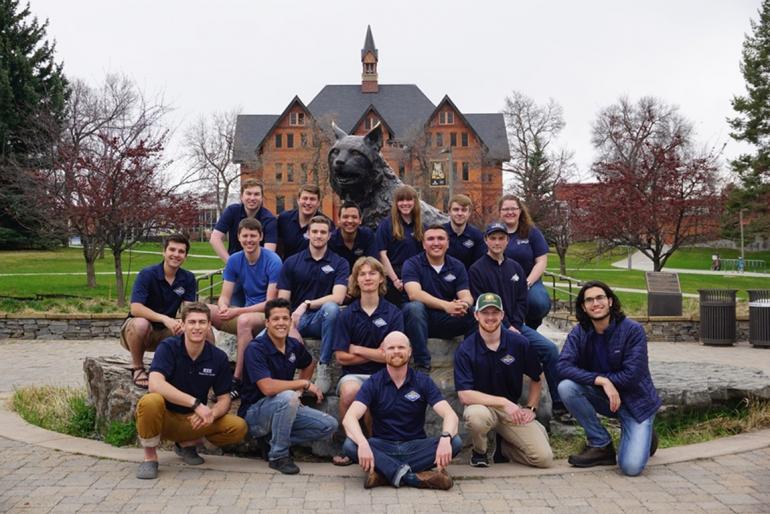 Founded with the intention "to provide motivated MSU students with a platform to apply themselves to real-world challenges," the Bridger Solar Team continues to help members reach new standards of innovation and gain invaluable experience. The project provides hands-on design experience, while supporting renewable energy solutions, networking students within the university, and developing lasting relationships with the local community and beyond. Already, Team alum have earned elite jobs and internships at industry leaders like Tesla, NASA, and Quantum Design. As Smith reiterates, "The value this project add[s] to graduating students is immeasurable, and it maintains Montana State University's legacy as Montana's flagship institution."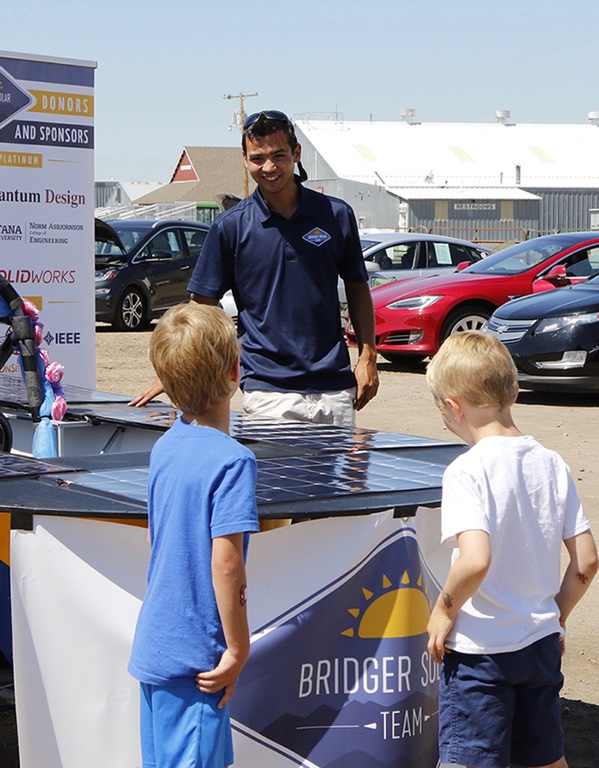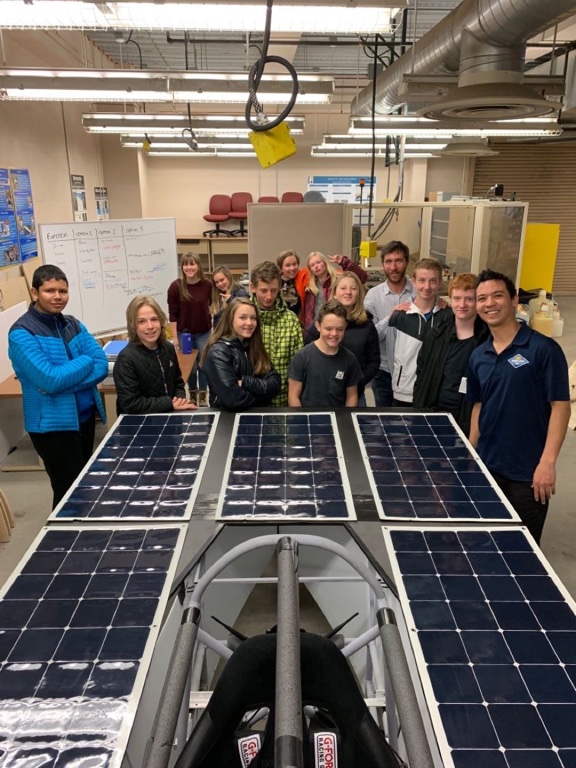 ---
If you are looking to invest in the leaders, role models, and engineers of tomorrow, look no further. This is where change in the solar industry begins, but it cannot happen without your help. The budget required for projects of this scale is significant and no team accomplishes this feat without support and generosity from outside the University. Bridger Solar Team will gratefully accept materials, design mentorship, certification services, software licenses, and monetary donations. If you are unable to donate at this time, please spread the word to colleagues, family, and friends. Your consideration is greatly appreciated, and the Team is excited to hear from you. If you would like to know more or are ready to support the Bridger Solar Car, please visit www.bridgersolarteam.com.