During dinner at the Gallatin River Lodge recently,  my ear caught a line at an adjacent table.  Two couples at the table next to us were debating what to have for dinner, torn between red meat and seafood. Finally one of the gentlemen said, "Well, I can shoot my own bison, but I can't shoot scallops." It was meant to be funny, and it was. The threesome lingering over the menu choices of locally-raised lamb, free-range pheasants, pear and walnut salads, and Manhattan clam chowder seemed to be old friends spending a few hours  together in modern Western elegance.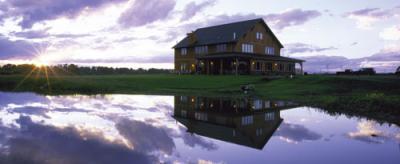 The main dining room at the Gallatin River Lodge, located off Thorpe Road between Four Corners and Belgrade, encourages relaxed conversation. With fir floors and small copper lamps  on white table cloths, the room is complemented by a wall-long floor-to-ceiling bar from the old courthouse in Big Timber. Just seven tables seat guests with views of tall cottonwoods along the West Gallatin River, a pond, and sunset hitting the Bridgers. Adjacent rooms expand the dining capacity to forty-eight. 
The small space works well to create an atmosphere of intimate  conviviality. Instead of a host,  our waiter for the night, Thad,  greets us at the entrance and throughout the evening provides all the services normally delegated to separate cocktail waitresses, food servers, and busers. It makes for a pleasant evening feeling attended to rather than feeling like a revolving staff is eager to get the next dollar, table, and out the door. In fact, one of the first things everyone I talked with who has eaten at the Gallatin River Lodge says is that it's a place you can go to when you want to take your time. 
According to general manager Chris Pfadt, the dining room at the lodge (the Gallatin River Grill) attracts numbers of local diners and tourists even in the Summer, while serving mostly locals in the lodge's slower Winter months. June through September are prime-time for the fly-fishing crowd to which the lodge caters. 
Owners Steve and Christy Gamble completed the lodge in 1999. It sits on 350 acres along the West Gallatin River, views five mountain ranges, and houses a heron rookery. The Gambles still live on the property, which they owned for years prior to deciding to build the lodge. Christy rides the pro rodeo circuit and her horse shares fields and the riparian corridor with whitetail deer, beaver, mink, fox, pheasant, osprey, and sandhill cranes. 
A deer dines in the golden sunlight while inside our meal starts with lightly pan-fried oysters and a glass of Chateau St. Jean Chardonnay. Chef Mitchell Kayser's training at the Western Culinary Institute in Portland, Oregon, taught him a light touch. The breading accents rather than overpowers the mollusk. Perhaps the most notable aspect of the meal is Kayser's fine sense of balancing flavors and textures. The field greens weren't lost to the chevre and the pheasant wasn't masked--didn't need to be--by the gravy. Each plate provided a satisfying mix of aesthetic presentation and gustatory comfort. It's the perfect mix for sophisticated palates and sufficient energy to replenish one after a day spent outdoors. 
The Gallatin River Lodge specializes in guided fly-fishing vacations, although they also offer horseback tours, intimate weddings, and corporate retreats. The Grill is open to the public seven nights a week, year-round, with the full bar opening at 4:30 and dinner service starting an hour later. Six rooms on two levels at the lodge accommodate guests needs with wireless Internet, satellite television, Jacuzzi baths, and Mission-style furniture. Both Bridger Bowl and Big Sky ski resorts are approximately forty minutes away,  downtown Bozeman or Belgrade closer. Golfing, shopping, and hot springs are all nearby as well as concerts and theater. 
The second-floor library of the lodge is filled with comfortable Morris chairs, interesting volumes, and a fly-tying table. On the main floor,  a great room with a large stone fireplace facing the trout pond and the Spanish Peaks mountain range provides another area for guests to visit and unwind. 
Local artwork adorns the lodge. Jeweler Sam Ferraro's work is shown just outside the dining room, complementedby Bob Burkhart bronzes and paintings by various artists. In the main bathroom a full-length mirror framed by colorful old cowboy boots is for sale. It's the creative talent of one of the long-time wait staff, Jessica Boerger. The lodge's newsletter compliments Boerger and Barbara Wheeler as "two of the biggest draws to our restaurant." 
Just a ten-minute drive from the airport, the lodge has three major rivers and numerous private spring creeks within five- to sixty-minute drives. Six fishing guides take patrons on floating and wading trips through over seventy miles each of the Gallatin, Madison, and Yellowstone Rivers. Each guide is seasoned with decades of experience. Together their lines have landed in waters from Florida to Alaska and the Boundary Waters to Mongolia. Their lives are dedicated to knowing Montana's hatches and runs, but they are also cabinetmakers, rare carnivore biologists, and corporate escapees. Steve Gamble specializes in knowing how to pair personalities between his guides and clients to ensure a positive day on the water. 
Steve spent twenty years guiding fishermen, hunters, and equestrians in Montana and Yellowstone National Park. He was a chef and outfitter at Lone Mountain Lodge in Big Sky before forming his own company, Yellowstone Mountain Guides. It was the success of that venture--and time to quit sleeping on the ground at high altitude--that led to the creation of Gallatin River Lodge. 
Detailed notes about Browns, Rainbows, Cutthroats, and Cuttbow hybrids are found on the lodge's Web site, along with notes for each month's hatch, best fly, and catch. Information about licenses, flies, and tackle is presented as well as the current flyfishing report. Gamble emphasizes the goal is "to provide professional expertise" while striving to fulfill the type of fishing the guest prefers. Guide service is available to anyone, whether a guest of the lodge or not. And Gamble also links guests to guides on rivers out of his staff's reach. 
A few thousand people stay at the lodge each year, according to manager Chris Pfadt. People find them on the Internet and by word of mouth and quickly become regulars. A high percentage of their clientele is repeat business, he says, both for overnight stays and for dinner. 
Pfadt, like Thad in the dining room and Mitch in the kitchen, is warm and willing to go the extra mile for the people he meets. On a Sunday afternoon he is returning from an airport run -- he'd just as soon pick up a guest as have them rent a car. He brags that his four-year-old daughter has a mean cast already, and, like all of the staff, he can answer any question about the history of the lodge, the caddis fly hatch, or a day on the slopes. The staff is professional yet unpretentious. It's a wear-your-blue-jeans but eat-Brie kind of place. And tell tales. 
By the time the main course of lamb and pheasant arrived, talk around the room floated between the romantic, parenting, and, of course, fishing and skiing. In late spring in Montana, any given day could have one or the other or both. Two children in the restaurant wandered away from their mothers to have a look at the rest of the room, only to be effortlessly guided back by the wait staff as seamlessly as if they were sheep being tended by a border collie. It is a dining room with good acoustics so conversations are easily heard across the table and the ambiance is lively, yet private. Thad personifies excellent service: unobtrusive to the couples engaged in deep conversation yet kneeling next to the tables ready for lengthy banter and a laugh. 
Even the bread is good. It is a light, moist white bread with a slighty nutty flavor and fresh herbs. Chef Kayser makes a different bread each night and prepares the desserts as well. It's not that common to find a chef who is also skilled as a baker. The table next to us lands the last of the "world-famous" vanilla bean creme brulee. Things might have taken a barroom turn for the worse, but the chocolate flourless torte was truly moist and rich enough to satisfy Willie Wonka's imagination. 
Kayser's ease with the guests and willingness to discuss ingredients right down to the sage garnish on the plate bely his knowledge and skill. He packs none of the ego chefs are famous for, nor does he seem exhausted at the end of his shift. He even answers the phone while the server is busy with a table. Like Thad and Chris, he seems happy to be doing what he is doing, where he is doing it. He seems equally invested in a slow night during the off season and the impending weddings and busy summer season. 
Like many Montana restaurants these days, Kayser seeks locally raised produce and meats as much as possible. He credits his grandmother in South Dakota for fueling his early interest in cooking. After earning a degree in History and looking around for what to do with his life he arrived at his present calling. He says, "You don't find cooking, cooking finds you." 
The mission of the Gallatin River Lodge is to "welcome discriminating adults who appreciate quality service, unique accommodations, and fine cuisine in a secluded yet accessible setting." They achieve this well, for tourists and locals alike. Find them on the Web at www.grlodge.com, by phone at 406.833.0148, or in person at 9105 Thorpe Road, Bozeman.