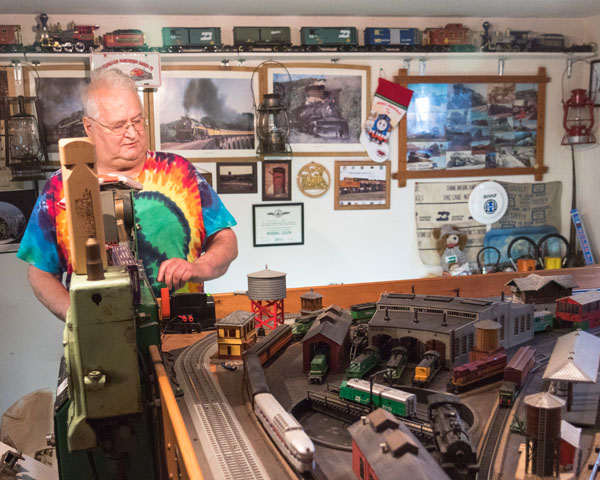 In 1951, a locomotive was on its way through Selby, South Dakota, to rescue a derailed boxcar. The crane it was pulling was too tall and destroyed a highway overpass, sending concrete crashing down on the cab. Luckily, the crewmen bailed and barely survived. A young Willis Hall, whose grandfather's farm bordered the tracks, stood in awe before the destroyed locomotive. 
Boyish curiosity and an early fascination with trains led him to the wreckage. His earliest memories include playing with wind-up train sets and buying a red caboose to start his first model train collection. 
Hall, 70, is still obsessed with trains today. A custom-built train diorama fills an entire room in his basement and is controlled by an working locomotive control panel. Train memorabilia is piled high in each corner of an adjacent room. Railroad signs, lights, countless model trains of all sizes (or gauges), and dozens of framed train puzzles and photos cluster every inch of the walls.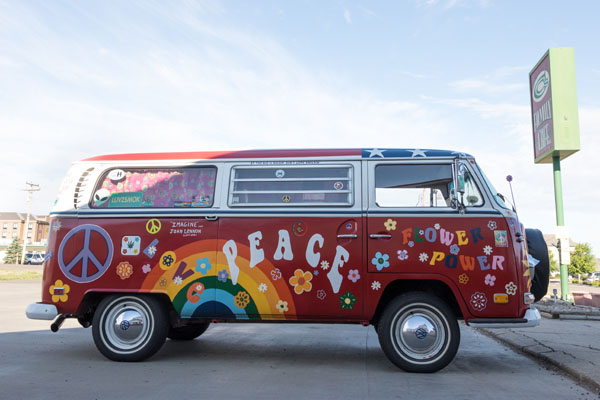 He even has a bench from the train station in Glendive, the town where he now lives with his wife, Dee. Their front yard is a local landmark, where Hall hand-built a full-size caboose along with a miniature locomotive. It took him about five years to make the caboose using scavenged and donated parts.
Neighboring the caboose is his garage, which houses his other steel obsessions—Volkswagens. He owns a restored Volkswagen Bus from 1970, the same year he was married to his wife, and two Volkswagen Beetles. 
In another basement room, Hall displays his other vehicles. Hundreds of toy cars that vary in size hang from the walls in their original packaging or sit neatly on shelves. One special 1970 Beetle that topped his wedding cake sits behind glass. 
Hall's VW passion began in the late 60s when he worked for the German automotive giant, driving cars between dealerships. He loved it and after seven years, he started troubleshooting fuel injection systems as a mechanic.
Hall eventually began welding locomotives and working on diesel engines for the Burlington Northern Santa Fe Railroad in 1978, but he never stopped working on his own Volkswagens, or anybody else's.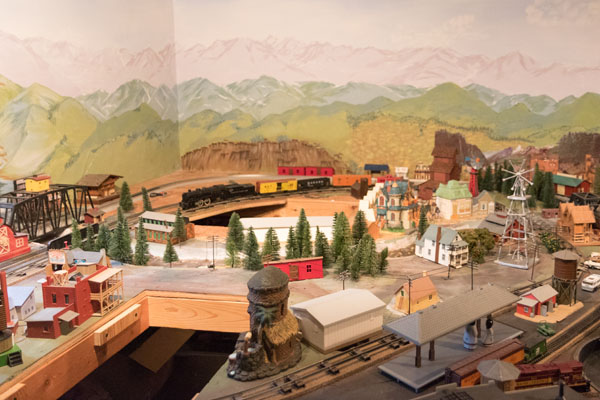 If someone drove a run-down Volkswagen through Glendive, Hall offered to fix it up with spare parts that he kept in his garage. 
Hall's hand-painted "hippie bus" features an American flag on the roof and a strong red, white and blue—and tie-dye—theme throughout. Inside the engine compartment, he painted marijuana leaves around a 1600 dual-port engine, which Hall installed himself.
The back is reserved for colorful bumper stickers that say things like, "Legalize it!," "Psychedelic State," and the fan favorite, "Don't laugh, your daughter could be in here." 
When Hall bought the van, he stripped the interior and refurbished everything. He installed gold shag carpeting on the headliner and glued glow-in-the-dark planets and more marijuana leaves on the shag. Tie-dye curtains with peace signs block the hot sun. 
Every once in awhile, the bus rolls up at a car show and it is always a hit. Hall rolls fake joints using catnip and places them on the dash, where they're always stolen. 
Although Hall loves his vehicles, he is no longer able to work on them or his model train set. A heart attack left him unable to move around well, making fitting into cramped engine compartments or underneath his train diorama impossible.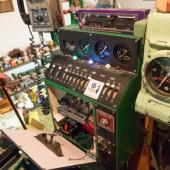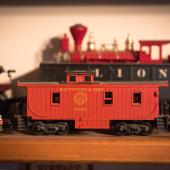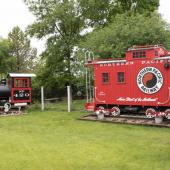 He hadn't been down to the basement for months until I visited him. At one time, Hall said, people would visit all the time. The local school would take field trips to see his collection and the local newspaper, The Glendive Ranger, even wrote an article about him. 
Now, the tiny museum sits in the dark, collecting dust. "It's my life," said Hall. "But I don't much have the get-up-and-go to do it anymore."