Happy Trails for Cyclists
Biking in Big Sky Country...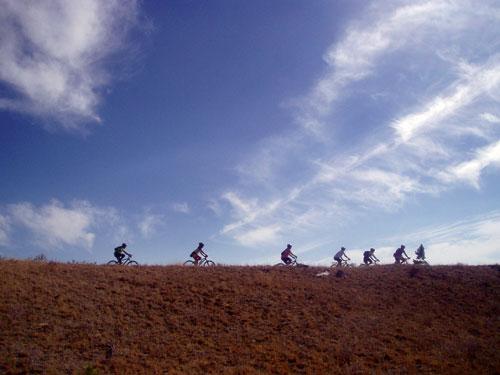 What to do in Montana...
Cyclists in Montana have a bittersweet experience. 
Some of the best rides – on pavement or off road – exist in Big Sky Country. Breath-taking (literally and figuratively) climbs through mountain passes. Beautiful scenes ranging from alpine lakes to rugged mountains to grassy plains. Wildlife including deer, big horn sheep, elk, bald eagles and more.
But, the cycling season is painfully short. It begins in April when intrepid road riders head to Yellowstone National Park to ride with the bison for the three weeks or so when the roads are clear of snow, but not open to motorists. It ends in October or whenever the snow starts flying in earnest. It's truly impossible to choose the top 10 bike rides in Montana. What Distinctly Montana has done is compile a list of 10 rides that represent the variety and beauty of the roads, byways and trails that criss-cross our state. 
The Bangtail Divide Trail, North of Bozeman (Mountain)
What: One of the gems of the Gallatin National Forest trail system and specifically designed for mountain bikes, it stretches 26 miles. Its starting and end points are the Brackett Creek Road Parking Lot and the Stone Creek Road Trailhead, both off of MT 86.
Why: If the views of the Bridger Range directly opposite the Bangtails or the glimpses of the Crazy Mountains aren't enough for you, the Bangtail Divide offers a chance to do a challenging, yet "do-able" longer ride for intermediate mountain bikers. 
Where: There are a variety of access points. To reach the Northernmost point, drive approximately 18 miles up Bridger Canyon Road (MT 86) to reach the Brackett Creek Parking Lot (on Brackett Creek Road, a dirt road just off to the right of MT 86) or drive 14.5 miles on MT 86 and make a right onto the Forest Service's Stone Creek Road to reach the end point that's closest to town. 
Route: My personal favorite ride is about 13 miles and starts at the Brackett Creek Parking Lot Terminus. Ride on Bridger Canyon Road (towards town) to the Olsen Creek logging road (a left just about four miles south). Climb the logging road to the top. Continue riding through an open field. To find the trail, look for a marker on your left just after you've entered the Gallatin National Forest. Ride the Bangtail Divide trail back down to the parking lot and your car.
Of Special Note: The trail, which is mainly single-track with a few double-track sections features 60 switchbacks – more than 20 at the Stone Creek end. Some mountain bikers grumble about leg-tiring, white-knuckle grip switchbacks that are on the Stone Creek end while other riders see it as a perfect opportunity to hone their turning skills.
Beartooth National Scenic Byway between Red Lodge and Cooke City
What: A 65-mile trip (one way) over the Beartooth Pass (10,947) and Colter Pass (8,000) which overlooks mountains in two states. This is a mountain bike ride in spirit complete with gnarly switchbacks, but it's paved for skinny tire folks with a good set of lungs.
Why: Forever immortalized by CBS journalist Charles Kuralt as the "most beautiful drive in America." It also happens to be one of the most beautiful bicycle rides in the country. It passes through Alpine plateaus, Alpine lakes and has spectacular mountain views. 
Where: US 212 between Cooke City and Red Lodge.
Of Special Note: Dirt slides and road washouts from heavy rains in 2005 kept US 212 closed for all of last summer, but it reopened last October. Because of its extreme elevation, it is wise to be prepared for sharply cooler and stormier weather up top. Although the highest part of the ride is in Wyoming, the Montana section is still high enough to make it the highest paved road in the state.
Big Sheep Creek Back Country Byway near Dell (Dirt Road best for mountain biking)
What: A two-lane, 50-odd-mile dirt road on Bureau of Land Management (BLM) land that's part of the Great Divide Trail that Adventure Cycling has fashioned out of 2,470 miles of trail and dirt road that runs on or near the Continental Divide. 
Where: Located west of Dell, Montana and 24 miles north of the Montana-Idaho border.
Why: "It's just a really spectacular and remote piece of road that makes you feel like you are in Alaska," says Michael "Mac" McCoy, Adventure Cycling field editor and author of Cycling The Great Divide Guidebook (The Mountaineers, Seattle.) The Big Sheep Creek Back Country Byway is certainly out of the way, which makes it untouched and the path not taken. You'll pass beneath high rock cliffs of Big Sheep Canyon and ride near Big Sheep Creek. Bighorn sheep and deer are common sights while people and cars are not. There are no towns or rest stops, but that's the point. Some camping is available.
Of Special Note: According to Author McCoy, the Big Sheep Creek Back Country Byway used to be a supply route to the gold mining town of Bannack, which is now one of Montana's famous ghost towns.  
Buck Ridge near Big Sky (Mountain)
What: Buck Ridge Trail is on a huge sub-alpine ridge filled with wild flowers in the early summer months.
Why: A mountain bike ride for the rest of us. It offers beautiful views of Lone Mountain, the Gallatin Range and the Sphinx, but it is double-track and easier to ride than a technical single-track. It starts with a good initial climb (and that's starting at the trailhead where you are already at 8,500 feet.).  "This ride is very friendly and is in an absolutely spectacular setting," according to Phil Knight.
Where: Just south of Big Sky and the turn off to the ski area. To reach Buck Ridge, drive on Forest Road #2599 to the Doe Creek Trailhead. (A high-clearance vehicle is recommended. Only travel when the road is dry as gumbo mud can be hazardous to you and your vehicle.). 
Route: You'll start on Trail #10, which  takes you high up on Buck Ridge across vast meadows and it eventually hits Trail #8. Your options include doing an out-and-back (turning around at the Muddy Creek turn off) or to do a loop by riding into Buck Creek or along Inspiration Ridge into the Taylor Fork.
Of Special Note: Mountain weather is changeable so bring rain gear and keep an eye out for foul weather. 
The Double Divide Ride from Helena to Lincoln and Back (Road)
What: A two-day road ride from Helena to Lincoln and back.
Why: It's 139 miles (83 the first day and 56 miles the second) that features rolling hills, tranquil valleys and challenging mountain passes.
Where: Riding out from Helena, cyclists ascend the MacDonald Pass then ride to Avon and pass by Nevada Lake. The final leg heads towards Lincoln on the highway through the Blackfoot River Valley. Spend the night in Libby and then ride back to Helena via the Flesher Pass.
Of Special Note: This ride traditionally was an organized tour in mid-August put on by the Helena Bicycle Club and was so-named because it crossed the Continental Divide twice. 
Going to the Sun Highway  in Glacier National Park (Road)
What: The Going to the Sun Highway is the famous paved road that runs through Glacier National Park. If done in its entirety from Apgar on the western side of Glacier to Saint Mary on the eastern side of the park, the route stretches for about 56.5 miles. 
Why: It's in one of our most beautiful national parks and is a Mecca for road cyclists.
Routes: Reportedly riding East to West is the harder climb, but both are beautiful and can be done by experienced cyclists. Many cyclists do an out and back using Logan Pass as their destination.
Of Special Note: Because of heavy motorized travel during Summer months – those RV mirrors can take off a cyclist's head – it's best to do this ride early or late in the season. The road is currently being renovated, so check with the park to see what's open to cyclists and when. One way to avoid the traffic: do as local bikers do and go for a night ride during the full moon. "Glacier's peaks are astoundingly magnificent washed in moonlight," says John Juras of the Great Falls Cycling Club.  "No cars at night, just possible elk and grizzlies to enliven the trip down the mountain."  Check with local bike retailers in Great Falls to see if there are any organized rides you can join.
The Helena Ridge Trail  (Mountain)
What: Eight miles of sweet single track.
Why: Favorite ride of Helena residents. 
Where: Start at the Park City Trailhead (about six miles up Grizzly Gulch Road). Once you hit Mount Helena you have a choice of several trails that end up at Adams Street Trailhead (main parking lot for Mount Helena) or you can drop off early via Dump Gulch. The Helena Ridge Trail can also be ridden as a loop from town (about 14 miles).
Of Special Note:  Courtesy of a bike rack financed by the Helena Bicycle Club you can take the downtown trolley from the Women's Mural downtown to the upper trailhead and eliminating riding six miles of pave/gravel roads or the need for a car shuttle.  
Rimrock Trail, Billings (Mountain)
What:  A 4.5 mile (or longer depending on what option you choose) mountain bike ride with options suitable for all skill levels and views that can't be beat. 
Why:  Billing's Little Moab features slick rock and an odd mixture of urban and rural. Beautiful surroundings, yet you can hear the planes taking off from nearby Logan International as well as see Billing's taller office buildings rise up from the valley.
Where: Just outside of Billings. Ride from town via the Black Otter Trail from Boot Hill Cemetery (corner of Airport Road and Main Street). Then head to Zimmerman Park – where the easiest portions of the Rimrock trail are accessible -- and get on Rimrock Trail West.
Of Special Note: On a clear day, you can't see forever, but you can spot five mountain ranges: the Pryors, Bighorns, Beartooths, Snowies and the Crazies. 
Three Forks Loop (Road)
What: This approximately 60-mile road ride starts and ends in Three Forks. It features miles of riding alongside the Jefferson River as well as gentle climbs among isolated ranches and their fields.
Why: An intermediate road ride that's sure to please. During the Jefferson River portion, riders may well see pelicans and other river fowl by the river. On the arid prairie land between Three Forks and the Lewis and Clark Caverns you'll see antelope as well delightful views of surrounding mountain ranges.  
Where: Starting in Three Forks, the ride follows Route 2 along the Jefferson River past the Lewis and Clark Caverns until reaching Caldwell. The ride than turns southeast and follows Route 359 to US 287 just north of Harrison. Take US 287 back to Three Forks. 
Of special note: The Lewis and Clark Caverns makes a fun pit stop.
West Yellowstone Loop Past Quake and Hebgen Lakes. (Road)
What: Affectionately dubbed the "Tour de Quake" by a local bike club, this approximately 60-mile loop takes riders across two mountain passes and two lakes: Quake Lake (formed by the 1959 earthquake, the strongest quake that Montana has experienced) and Hebgen Lake. 
Why: This trip is hilly to rolling. The two passes – Targhee and Reynalds – are surprisingly mellow climbs. Aspen and sage of the Montana high country provide a scenic backdrop and once you turn off US 20, traffic is generally light.
Where: The ride starts in West Yellowstone and follows US 20 into Idaho and over the Targhee Pass until the junction with Idaho/Montana Route 87. The ride then follows Route 87 over Reynalds Pass to the junction of Route 287. It then continues on US 287 past Quake Lake State Park, along the shores of Hebgen Lake, before turning south and returning back West Yellowstone.
Of Special Note: Beware of heavy traffic during the peak summer months on US 20. Stop by the Quake Lake Visitor Center to learn more about the 1959 earthquake and don't forget to enjoy the long descent after climbing the Targhee Pass.
Get Organized – Group Rides Offer Added Fun and Support
Organized bike rides have the added advantage – for a fee or getting pledges – of rest stops (food and Porta Potties), as well as roadside assistance and comrades to cycle with.  Look for information at the first sign of Spring and sign up early because rides fill fast.  Upcoming rides include:
RATPOD (Ride Around the Pioneers in One Day) is a one-day, 157-mile road ride that benefits Camp Mak-A-Dream, a cost-free camp for young people with cancer. The ride takes place on June 24 in the scenic Big Hole Valley and goes through and around three mountain ranges. It starts and ends in Dillon. The surrounding area is known as where road racer and 2005 Tour de France Fifth Place Finisher Levi Leipheimer first took up cycling. Participants can go the entire distance or organize a relay with friends. For more information visit www.ratpod.org 
The Payden Memorial Foundation's Blazing Saddles V, which takes place on July 15, is taking a new route this year. It's starting and ending in Livingston. The route heads over the Bozeman Pass and goes onto Jackson Creek Road and over to MT 86. Riders than climb Battle Ridge and descend and pass through Wilsall and Clyde Park before returning to Livingston approximately 81 miles later. Shorter lengths (and a 100-mile option) are available. The road ride raises funds for the foundation which helps Montana families with children with cancer. For more information, visit www.payden.org. 
The Gallatin Valley Bicycle Club's Second Annual Three Rivers Century (August 26) is a perfect entrée to the world of century riding. It's late in the season when your legs are in their best shape and (for Montana) the route is relatively flat with only a few hills. The ride starts and finishes in Belgrade and the route follows or crosses three rivers  – The Madison, The Gallatin and the Jefferson – as well as a section that goes through the Headwaters State Park. For the less adventurous, there is a shorter metric option (about 108 Km, or 67 miles). (Visit: www.gallatinvalleybicycleclub.org for more information.)
The York 38 Special (Late August) is a 38-mile mountain bike tour/race (your choice) in the Big Belt Mountains that benefits the York Volunteer Fire Department. York is a tiny town about 20 miles east of Helena and it is where the ride starts and finishes. Most of the course is gravel road with a small, four-mile stretch of single track, which makes it accessible to any off-road rider. This scenic ride takes you through the Helena National Forest. It is gorgeous and unspoiled with little or no automobile traffic. If the ride and its toothsome treats baked by locals don't convince you, then the grand finale at the York Bar which features burgers, chips, a beer and a York Peppermint Pattie should lure you to sign up. (Visit: www.york38special.com for more information.) 
Want a multi-day ride that extends beyond the weekend? Adventure Cycling in Missoula offers dozens of support and self-contained routes, ranging from seven to 93 days (250 to 4,300 miles in length). Reach Adventure Cycling at [email protected] .
~ Freelance writer Jenny C. McCune has ridden on Montana's roads and trails for the past six years and is currently president of the Gallatin Valley Bicycle Club in Bozeman.