Canyon Ferry Lake is frozen again, a silver mirror reflecting miles of quiet pine forest. The wind blowing in from the north has brought freezing temperatures, and a group of adventurers have been eagerly anticipating this day. It's late December and the ice is finally thick enough. David Gluek throws on one more warm layer, pulls on a pair of gloves, and steps into his 30-foot Skeeter: a T-shaped burgundy craft with a long, horizontal plank at the back. There are two runners on either side of the plank and a runner at the bow that allow the boat to skim across the ice. He points his nose to the wind and he's off, gliding across the frozen plane at a comfortable 50 miles an hour.
Imagine the adrenaline rush of dashing across the solid surface in one of these ice boats, the freezing wind cutting through that third layer of down, watching the trees whizz by at lightning speeds (the fastest iceboats top out around 70 mph), hearing the snapping of the sail overhead, flying from one end of the lake to the other. This is an exhilarating reality for a surprisingly large group of people here in Montana — ice sailors who brave the cold every winter in exchange for memories that will last a lifetime.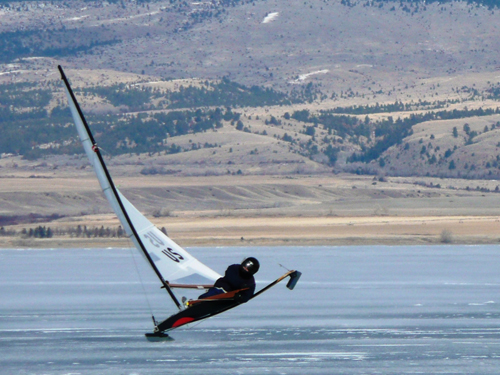 In the 1970's, Carl Harper brought ice-boating from the Midwest to Montana, launching a way of life for men such as Gluek and the other sailors who can be found on the ice between Christmas and the beginning of March. Ice sailing might be a relatively new phenomenon in Montana, but it has been a prominent fixture on the frozen lakes and rivers of the Midwest since the 1800s when freight and produce were transported on the ice-bound Hudson River. Gluek, a third-generation ice-sailor, has been sailing for over 40 years. His parents used to call him and his brothers out of school on cold windy days, and today he and his wife spend as much spare time as they can out at Canyon Ferry during ice-sailing season, often sleeping in their vehicle so they can get more time on the ice.
Gluek declares that ice sailing is a safe sport, as long as a few basic sailing techniques are used. An ice boat can go in only two directions, either upwind or downwind; if you can make the critical moves to change from one direction to the other, "You're home free." Another important move on Canyon Ferry is to avoid the 20-foot methane gas hole, often decorated by a Christmas tree and aptly named "Dave's Hole." On a number of occasions he has not been able to avoid it and ended up getting fished out by the ice fishermen who gather around the hole.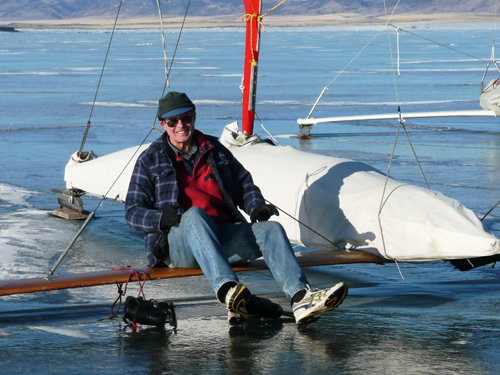 Ice-sailing is a sport for true adventurers, because much of the time it's a spur of the moment event. Sailors from Butte, Helena, Bozeman, and as far away as Spokane rush toward Canyon Ferry when they hear that the conditions are good. In 2007, an Ice Regatta took place on the lake with over 55 boats racing, but there hasn't been one since because it's impossible to predict exactly when the environment is going to be right — windy, with at least two feet of ice on the water. Still, Gluek praises the semi-arid climate of Canyon Ferry for being one of the best places in the world to ice-sail because of its length, dryness, and lack of snow on the ice.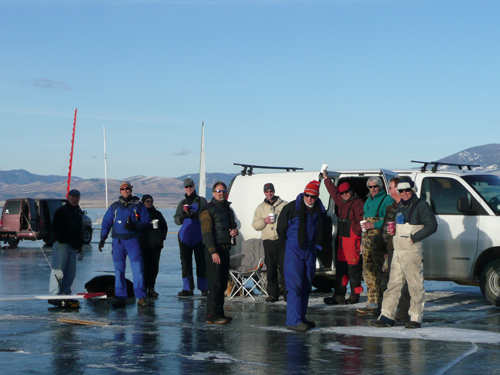 On Canyon Ferry, ice-sailing truly is a family affair. While there may only be 20 or 30 ice boats out, there are often many people enjoying the ice: skating on the remarkably smooth surface, playing hockey, skate-sailing, ice-fishing, and picnicking. When the ski hills are crowded, you have no sense of being hemmed in on Canyon Ferry. Because the lake is about five miles wide and 13 miles long, it is possible to achieve solitude as well as community this time of year.
Anyone who has spent a winter in this state knows how amazing Montana is this time of year, and ice sailing is an invigorating, 
low-impact alternative to the traditional days spent on ski hills.
An added bonus is that the friendly ice sailors are often willing to take along a rider in their two-seater rigs.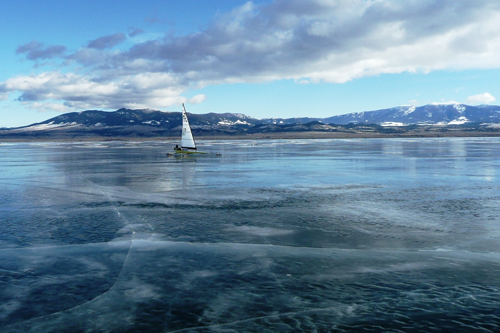 Gluek cautions would-be sailors to dress warmly. On an average day, he will wear four-five layers on his bottom half, and six-eight layers up top, ending up looking like a warm, but very round Michelin Man. He recommends cleats for walking on the ice, especially on windy days. Gluek speaks fondly of a terminally ill young man in a wheelchair several years ago who had the opportunity to ride in an ice-boat with his father. Sadly, that young man passed away recently, but Gluek spoke of how thrilled the man was by the experience, claiming, "Once you ride in an ice-boat, you'll never forget it."
Want to check out ice sailing on Canyon Ferry Reservoir?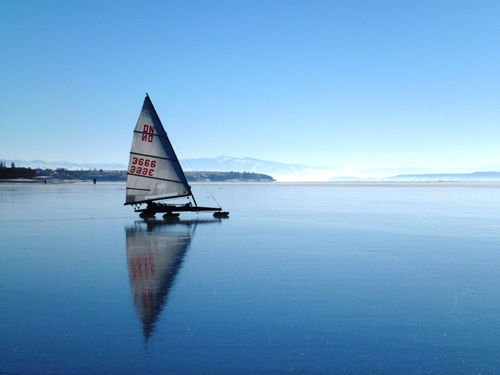 The Reservoir is located 25 miles southeast of Helena on Highway 12. The boat launch, where the ice boaters are set up, is located 7 ½ miles north of Townsend. Take Silos road until it branches, take the fork to the right, and follow the signs to the boat launch and picnic shelter, looking for the big horse trailer that the Bureau of Land Management graciously allows to be parked for storage purposes during the season.
Grab your skates and the hot chocolate, I'll see you there!
~