Insider's Guide to 15 Montana Ski Areas
For downhill, alpine, big-mountain skiing...
What to do in Montana...
Montana has a lot to offer in the way of ski areas (15 in all).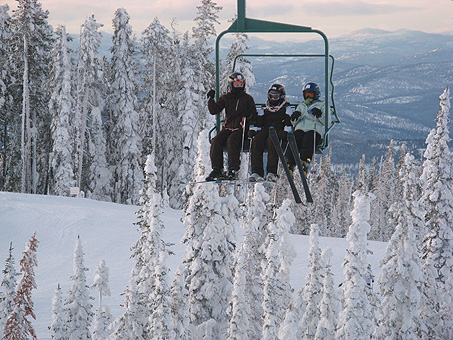 The small ski areas are unpretentious, each unique in its own way.  The value of many of the areas is exceptional compared to the popular ski area giants, falling short only in the latest fashion.  This article intends to bring you up to speed on each of the mountains, what to expect there, and what not to miss on your trip.  
Check Web sites for current ticket prices and remember that a season pass holder at any Montana ski area only pays the half-day rate at any of the following areas.
Turner Mountain
Where: Libby
Size: 2,110 ft., 20 trails
# Lifts: 1
Terrain: υ10% ν20% λ70%,
Yearly Snowfall: 250"
Vibe: Always uncrowded, here you'll find mostly local industry workers, including loggers, miners, and farmers.  With substantial vertical and high proportion of advanced runs, Turner should not be overlooked.
Don't Miss Pizza and Brewskis at the Red Dog Saloon on the way home.
---
Blacktail Mountain
Where: Lakeside
Size: 1,440 ft., 24 trails
# Lifts: 3
Terrain: υ15%  ν70% λ15%
Snowfall 250"
Vibe: Cruise blue groomed runs above beautiful Flathead Lake at Blacktail Mountain Ski Area.  The namesake Lakeside run is a locals' favorite.
Don't Miss The views of the Glacier, Mission, and Whitefish mountain ranges from the top.
---
Snowbowl
Where:  Missoula
Size 2,600 ft., 39 trails
# Lifts 2
Terrain: υ20% ν40% λ40%
Snowfall:   300"
Vibe:  When Snowbowl gets a dump, the terrain here is second to none, with 2,600 ft of sustained pitch vertical.
Don't Miss:  The view of Missoula is majestic from the peak of Snowbowl.
www.montanasnowbowl.com
---
Lost Trail Powder Mountain
Where: Conner
Size 1,800 ft., 45 trails
# Lifts 5
Terrain υ20% ν60% λ20%
Snowfall 300"
Vibe: At Lost Trail you won't find fancy ski clothes or equipment, just down home skiers who like to ski powder—deep powder.  Like many of the other smaller ski areas Lost Trail is closed mid-week, so Powder Thursday is the best day to find the goods.
Don't Miss:  The abundant natural hot springs down the road would make for a great two-day trip.
---
Discovery Ski Area
Where Phillipsburg
Size 1,670 ft., 63 trails
# Lifts 6
Terrain υ20% ν30% λ50%
Snowfall   210"
Vibe   While it appears that Discovery does not get as much snow as other areas mentioned, the snow tends to come in big dumps. Discovery is halfway between Bozeman and Missoula, so it's a great place to meet your Griz friends for a day.
Don't Miss:  The backside bowls hold snow for days after a storm and have a north aspect (read: lighter powder, less sun.)  These offer some of the best steep and glade skiing in Montana.
---
Maverick Mountain
Where Polaris
Size 2,020 ft, 24 trails
# Lifts 1
Terrain 20% 40% 40%
Snowfall 180"
Vibe

Tucked away in the Sapphire Mountains and accessed by the Pioneer National Scenic Byway, Maverick is as much about the beauty surrounding it as the skiing.  That said, the advanced runs are steep and the 2,000-ft. vertical drop is long enough to make even the fittest skiers sore

Don't Miss The Patagonia outlet store in Dillon on the drive out is a great place to get good gear cheap.
---
Great Divide
Where: Marysville
Size: 1503 ft, 140 trails
# Lifts 5
Terrain υ10% ν40% λ50%
Snowfall 180"
Vibe Great Divide is a must-see for any terrain park enthusiast.  With three parks, Great Divide offers the best park skiing outside of Big Sky for less than half the price. The all new Wildwood terrain park features wooden hits that twist through a secluded glade.  Their snowmaking is so good that they have already had slope-style competitions this season.
Don't Miss The half-price punch card that can cut the price of tickets to $18 when traveling with a group.
Showdown Montana
Where Neihart
Size 1,400 ft, 34 trails
# Lifts 3
Terrain υ30% ν40% λ30%
Snowfall 240"
Vibe: Showdown is as western as western ski areas get.  You are just as likely to see cowboy hats as Northface jackets.  It just goes to show you that Showdown has a little for everyone with great groomed runs on the front side to world-class powder and moguls on the back.  After a few runs, the lifties will probably ask for your name—and remember it.
Don't Miss: Glory Hole is Showdown's famous double-black bump run, offering 1,000-ft. zipper lines and some of the best moguls in Montana.  Around noon, stop at the base lodge for tacos that would make any ski area cafeteria proud. Stop in White Sulphur Springs for a soak in the rustic namesake hot springs.
---
Teton Pass
Where Choteau
Size: 1,010 ft, 26 trails
# Lifts 2
Terrain υ19% ν35% λ46%
Snowfall 300"
Vibe Inbounds Teton pass is pretty tame, offering blue cruiser skiing and some confidence-builder black diamond runs.  With such a low ticket price and no lines, this is a great area for a beginner or first time skier.  Advanced skiers see below.
Don't Miss: From the top lift at Teton Pass, skiers so inclined may hike up an additional 1,200 ft to the top of Mt. Lockhart for avalanche-controlled, side-country skiing.  The wind is known to push snow around up top, so look for chutes with the best snow. Skiers who trek out must be equipped with avalanche rescue gear, including a beacon and shovel.
---
Bear Paw Ski Bowl
Where Rudyard
Size 900 ft., 25 trails
# Lifts 1
Terrain υ19% ν35% λ46%
Snowfall: 140"
Vibe: Bear Paw Ski Bowl is an entirely volunteer-run ski area.  The skiers here herald from ranches and farms across the Hi-Line and Carhartt is in vogue.  For you ladies who are hard up for the $20 ski ticket, a bikini run gets one free.  Male bikini runs pay double.
Don't Miss Augie Dogs and Hermie burgers for lunch and then Group Therapy on the mountain after the hill closes.  We are not exactly sure what "group therapy" is, but it probably involves high-proof cinnamon schnapps.
---
Red Lodge Mountain Resort
---
Big Sky
---
Moonlight Basin
---
Whitefish Mountain Resort
---
Bridger Bowl
"Skiing combines outdoor fun with knocking down trees with your face."
Dave Barry