The season of renewal is upon us and it cannot come soon enough, especially after I've just cleared the snow from my driveway.
For me, the definitive dish to celebrate Spring is Pasta Primavera. If you're not familiar with the nuances of Italian cuisine lingo, primavera means Spring. And it's made with both pasta and vegetables that suggest the very season it's named for.
Traditionally, the dish is made with farfalle (bowtie-shaped) pasta. But when I see farfalle with these spring veggies, I think of them more as butterflies.
The sauce—or condimenti, as it is called in Italian—is light, as well. In my version, I quickly sauté the vegetables, remove them from the pan, then add a spare amount of half-and-half with some of the pasta water to create just a slightly thickened sauce. The veggies go back in, along with the drained pasta, and all are tossed together just before serving. Even the garnish is spring-like: chopped fresh tomatoes and snipped chives.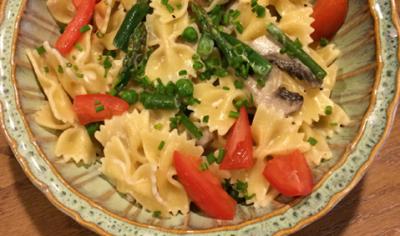 Here's how to make four servings of Pasta Primavera:
RECIPE
12 ounces farfalle pasta
¼ cup unsalted butter
½ cup haricots verts (French-style green beans)
½ cup asparagus tips
½ cup fresh peas
½ cup button mushrooms, sliced thin
salt and freshly cracked black pepper
½ cup grated Parmesan cheese
1 cup half and half
4 ripe Roma (plum) tomatoes, seeded and diced
2 Tbsp snipped chives
METHOD
1) In a large deep skillet, placed dried pasta and a quart and a half of cold water. Heat at medium high until boiling and reduce to a moderate boil until pasta is al dente.
2) Drain the pasta, place in a bowl and reserve about 3 Tbsp of the pasta water and set aside. In the same pan, melt the butter and sauté the haricots verts, asparagus, peas and mushrooms. Season with salt and pepper.
3) Add the half and half, along with some of the pasta water and let the sauce thicken. This should take about 4 or 5 minutes.
4) Add the pasta to the pan, sprinkle with Parmesan and toss well to distribute the vegetables and sauce evenly.
5) Serve the pasta in shallow bowls and garnish with the freshly chopped tomatoes and a sprinkling of the snipped chives.
NOTE:  The pasta cooking method in this recipe works just as well as boiling a large pot of salted water. It's less cumbersome, however, and saves you from having to clean a second pot.