Montana's highways and byways really are perfect for podcasts.  Thousands of miles are coiled along our beautiful state's long and winding roads.  Even with the radio on, and beautiful scenery to distract, our lonesome, dusty roads can stretch interminably into the distance.  The right podcast can shorten them for you considerably.  Trust me on this.  I never drive anywhere, not even the grocery store, without one playing.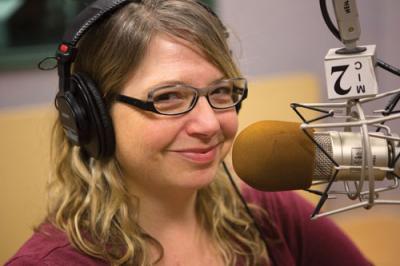 "Last Best Stories Podcast" is a bona fide Montana original bringing together a diverse variety of voices to feature stories you couldn't tell in any other state: inspiring stories like "Madmen, Poets and Singers," which tells the story of David Poole, a Townsend native paralyzed in a mountaineering accident who refuses to give up his love of exploring the backcountry — or his mobility.  Intimate stories like "Blobs + Heartbreak" about a young man who didn't think he wanted to be a parent and considered running away before seeing his daughter's face and afterward knowing that he had found his purpose.  My own favorite story is in the very first episode, "Grandpas + Grenades," which explores an eastern Montana woman's evolving sense of Westernness after she moves away for college and begins receiving letters about home from her wily Grandpa. 
Jule Banville teaches at the University of Montana School of Journalism and produces the show with the help of her students and other reporters.  She started recording and releasing "Last Best Stories Podcast" in 2015, with the idea of telling "stories about Montanans, mostly by Montanans." With all respect to people who love or enjoy them, Banville says she "really doesn't want to put out to the world  cliché cowboy stuff or boring reports.... We live in a place with so many people you really should hear!  This is one place to hear them."  
Banville's favorite episode of "Last Best Stories Podcast" is episode 8, an ambitious piece of reporting entitled "The Plane Crash."  Ask a local with a long enough memory about the crash, and, as Banville says, they're likely to reply "Oh yeah... that plane crash."  But for many people, myself included, this was my introduction to the event.
Co-written and co-produced by Banville and Michael Wright, a reporter for the Bozeman Daily Chronicle, "The Plane Crash" tells the story of recent attempts to find and memorialize a 1962 accident that claimed four lives on Emigrant Peak, in the Paradise Valley.  The bomber had already flown past Dillon and was supposed to be headed northeast when something unknown went wrong.  Four Air Force servicemen were killed when the B-47 bomber struck the face of the mountain during a training mission.  To this day there has never been an official explanation for the disaster.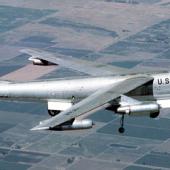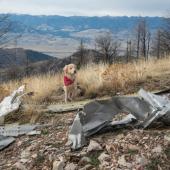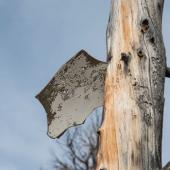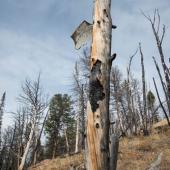 But what makes the episode particularly poignant is that it tells two stories — the tale of the tragedy itself, and another about the folks who have been changed by it.  In 2016, a 61-year-old resident of Old Chico named Bryan Wells set out to mark the wreck and the victims with a public memorial.  Wells had heard of the wreck when he was 15, had hiked to it and been moved forever by what he found.  Ever since then the man has been haunted by the sacrifice of the B-47's young crew.  Eventually, Wells was able to construct a gazebo and a plaque to honor them at nearby Chico Cemetery.  
Though interesting and cathartic, the experience of reporting on the story was also decidedly dangerous.  As Banville told me, after hiking to the spot with Wells, Wright, and others, the party took a questionable path down the peak and "had to slide down this really unstable slope, and it was hairy."  In fact, she said, "we could have died getting off the mountain while reporting!"  Even so, she admits, it was "also worth it."  
Like all of the features on the "Last Best Stories Podcast," the story may be national in its scope, but it is also uniquely Montanan.
When I tell her that I think the show has a feeling that I can only describe, clumsily I'll admit, as Montana-tude, she's glad. 
She tells me that is "definitely" what she's trying to achieve, though she notes, modestly, that "I think that just comes out of people who are here and do stories about others who are here.  We all have thoughts about where we live and make our lives, and how we ended up here."  She tells me that Montana is a place where everyone's got thoughts about what it takes to get here, live here, stay here.  I'm sure that comes through, even when the stories are not directly about that."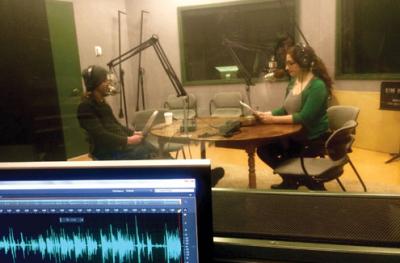 So while the stories are all Montanan, they are certainly not all typically Montanan.  In Banville's words, she feels that "trying to say what is 'typically' Montanan is a fool's task."  As such, her stories tend, don't so much evade the usual narratives of what it is like to live here, but to complicate them. 
"There is definitely a romantic notion of who we are and where we live, a lot of it justified," she says.  Many episodes, including my favorite "Grandpas + Grenades," are attempts to look deeper at those "romantic notions", and to compare them, not always unfavorably, with the reality of that life today in our state.  If Montanans are known for being self-reliant and outdoorsy, "Last Best Stories Podcast" tells us that they are also complex and diverse.
Though "Last Best Stories Podcast" is a fairly recent addition to the field of podcasts, it has already found an avid listenership.  She says most of the subscribers that the show has already drawn are Montanans, or as she says, are "connected to it, likely as an alum" of, if not the University of Montana, of Montana itself.
In other words, even though the stories are the kind that could only be told by Montanans, they can be heard anywhere.  The thought of someone who used to be from Montana, and has found themselves for whatever reason driving down some other state's road, some other stretch of I-90, perhaps, listening to "Last Best Stories Podcast" and Banville's other collaborative program, "Rest Stop Radio," shows that Montana is not just a place to live in and treasure, but an idea and a story we can share.  Jule Banville, her students, and her storytellers are bringing the complicated texture and quirky experiences of Montana to the rest of the country, and the world.
So what does she think of listening to the show while we drive?  "I've had people tell me they've binged my episodes while on a road trip in Montana. That's cool. I like that idea," she reports.  But, prudently, she also notes that, even in Spring, Montana's roads "are more icy than dusty... so just be careful out there!
MORE MONTANA PODCASTING
If you've got a really long road ahead, you might need some other shows for after you've exhausted "Last Best Stories Podcast." Jule Banville's got some recommendations for you.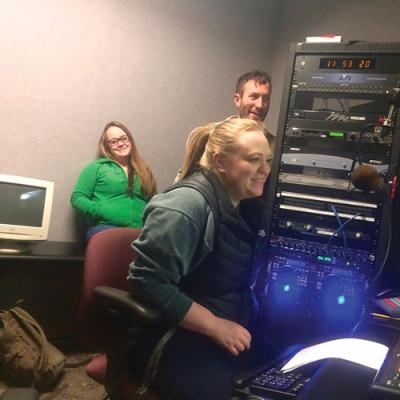 First, she loves "Jamie and Travis Present." As Banville says, it's just what most people think Podcasts should be: "fun and funny people in a room with a mic just talking and putting it out there."
And there's also another podcast that Banville and her students worked on, called "Rest Stop Radio." Banville's students go to rest stops along the stretch of I-90 and ask strangers disarming questions like "Who do you miss most" and "Tell me about the time you were happiest."  Like "Last Best Stories," its peculiar strength is in catching you off guard.  
Finally, I have a recommendation of my own: "The Write Question," a Montana Public Radio program (also released as a podcast) with a literary bent.  Produced by Chérie Newman, the show features a variety of Montana and Western writers who discuss their craft.  
Happy driving, Montanans.