Is there a right way to fish? A right way to recreate, to relax? Indeed, is there a "right way" to enjoy Montana? If there is a "right" way to experience the best of what Montana has to offer, perhaps John and Krista Sampson have found it, though they would tell you that they are still working at it. We would agree. Something very different is happening at the Sampson's Madison Double R.
Yes, the RR is a fishing lodge, but a lodge which belies that description in its business model, where emphasis on visitor experience stretches across hundreds of acres, a myriad of pursuits; and finds its nurturing spirit in the welcoming nature of the staff and the rustic yet elegant ambiance of its cottages and common areas.
The Madison River Ranch is situated along what local fishermen refer to as the "Miracle Mile," a beautiful section of the world-class Madison River. First opened in the summer of 2019, it already has become a choice destination for fly-fishing enthusiasts, as well as guests who would like to experience the best in outdoor recreation and indoor conviviality. But, truth be told, there is much more to know, much more to appreciate, with the Sampson's three-tier approach to lodge management and visitor experience.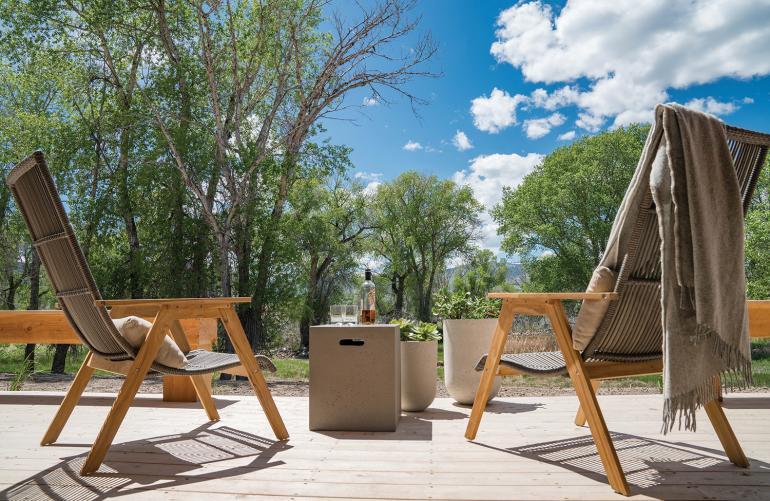 Conservation
Over 600 acres of the ranch's land, has been placed in conservation easement with the Montana Land Trust Alliance, whose stated goal is to "promote and support excellence in private voluntary land conservation in Montana." Buffering the conservation easement is a vast stretch of state land and a neighbouring cattle ranch. Open space and the iconic "big sky" seem to stretch forever in every direction.
The Sampsons also support the idea of Madison River use restrictions, as the numbers of fishermen, boaters, tubers and paddlers of all sorts are beginning to weigh on the visitor experience. "This river is a treasure for everyone. We can't afford to treat it poorly, or allow it to deteriorate," says John Sampson.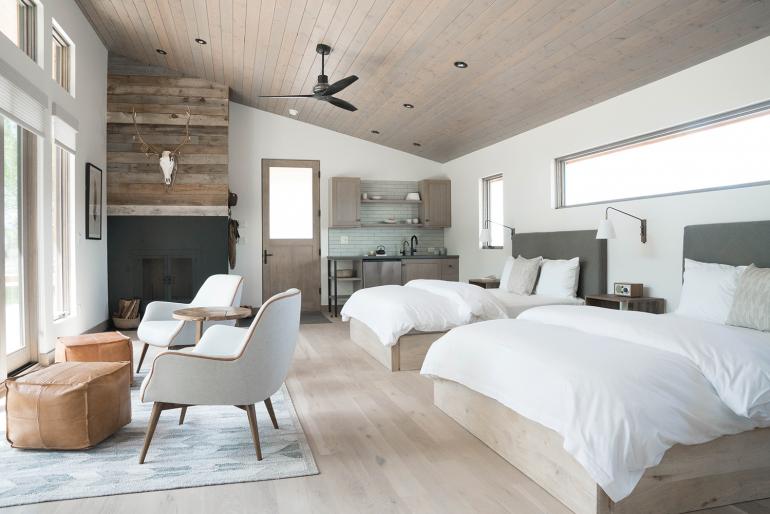 Sustainability
While sustainability is a core goal of many lodges and outfitters in Montana, it is a practiced goal at the Madison RR. A key element is to spread guest experience across the region, relieving fishing pressure on the Madison by including the Ruby, Big Hole, Beaverhead and Jefferson rivers as well as nearby lakes, all with excellent fish counts and opportunities for beginners and experts alike. Forays into Yellowstone are also arranged when requested. Notably, the lodge itself was purposely built 700' from the river bank to respect the visual landscapes and vistas of passing fishermen.
But "sustainability" is not restricted to the landscape and rivers. Much attention is given to the subtleties, not always recognizable to the casual visitor. The very lodge construction was entirely performed by local craftsmen. High quality, energy-efficient windows and doors were used throughout. High density insulation, supplemental solar power and simple, low-energy light bulbs add to the responsibility quotient of the lodge. Day-to-day operations are environmentally sensitive, evidenced by the use of disposable plastics, filtered water and superior cuisine prepared with farm-to-table meat, vegetables and other local edibles.
Experience
Imagine yourself, as one does, drifting lazily down a glass-clear river, with the morning still a bit cool, but a brightening sun warming your back as you lift your fly rod to your shoulder, snaking the line back, then out across the sway of your drift boat, meeting the waterline where a shining cutthroat rises and snaps hungrily at your cast. Many have described the experience as Zen-like, a moment of perfect harmony and peace. This is the quintessential marvel one hopes for during a Montana fishing adventure.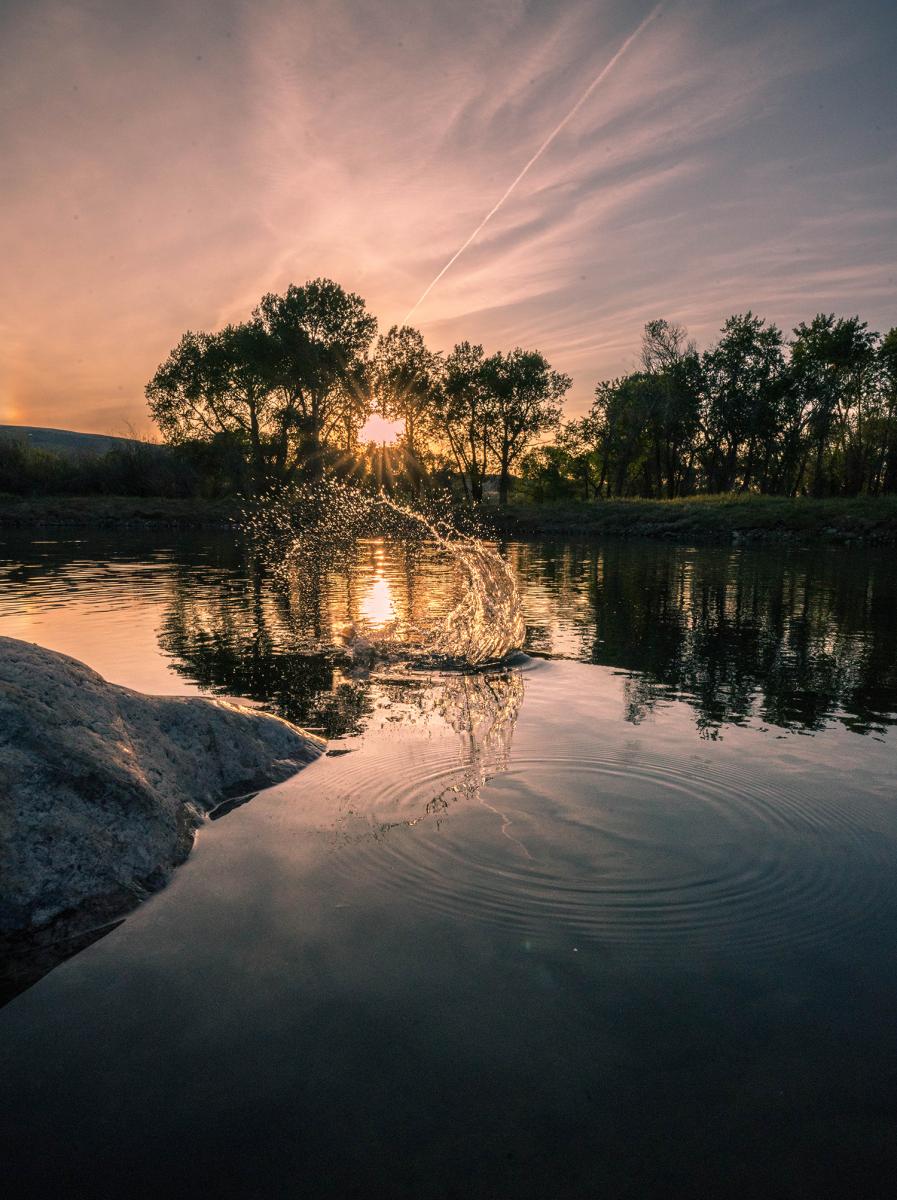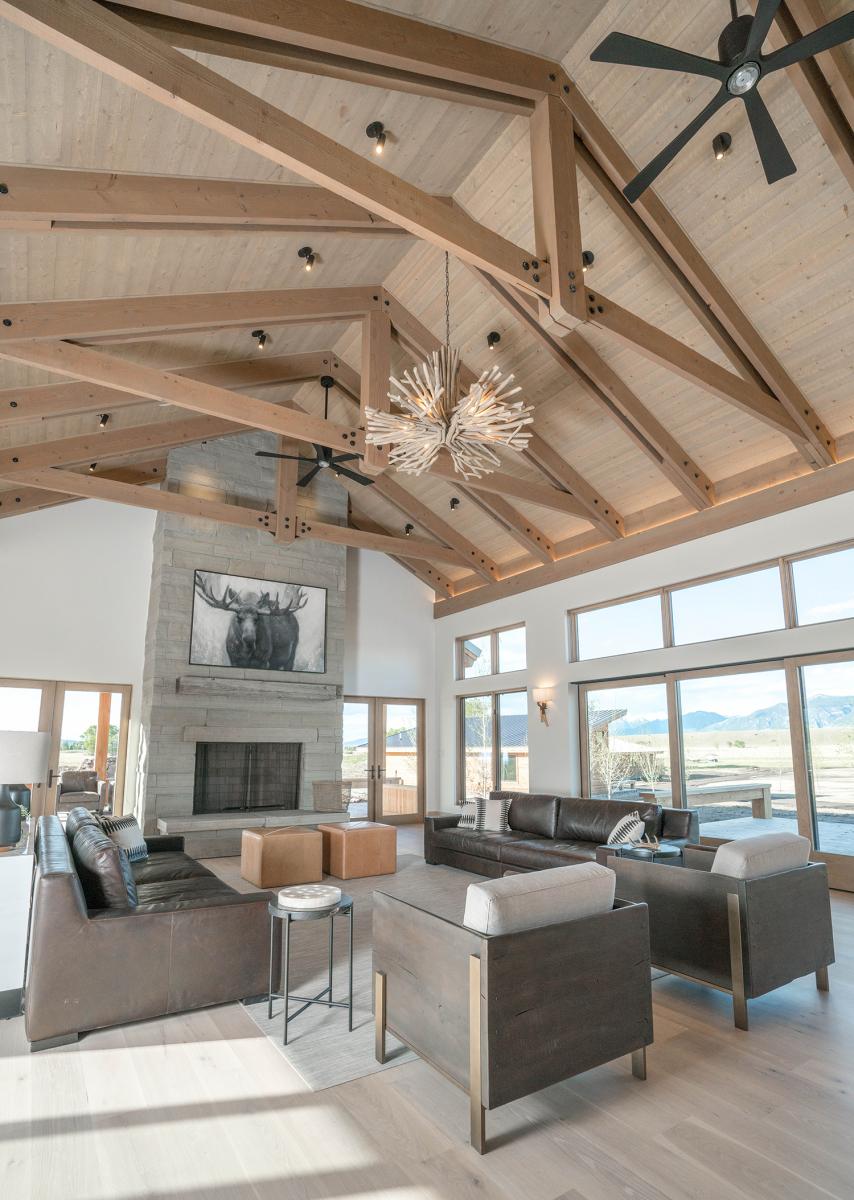 With fishing guides selected for their savvy and likability, the lodge guest can be absolutely confident that a day on the Madison or nearby waters will be exceptional. "We love introducing people to fly fishing," allows Krista. "Whether you're expert or just starting out, we can find the right guide match and the right river to meet your expectations."
Need a day or two to take a break from fishing? What makes the RR unique among fly lodges is its wide selection of activities other than fishing. Shiny, rugged mountain bikes are parked at your door for quick spins or long pedals through the countryside. Skeet shooting is available on the grounds, as is bird-watching; or feel free, really free, with a long horseback jaunt or a great hike to simply re-charge. A visit to Yellowstone can also be arranged with our licensed, professional guides.
Feeling low-key? The Madison RR does not miss a beat. Relax on your private cedar deck with a good book or a bout of yoga. More social? Pop up to the lodge in your personal golf cart to enjoy the open bar, a roaring fire, and to mingle with staff and other guests. One thing we can promise. Your day will be full—lively and lovely.
While you're at the Madison Double R find some time to chat with John, Krista, or any of the staff—from Susie and Russ, lodge managers, to the fishing guides to the housekeepers, and you will certainly get a sense of mission that all share. "Visiting and fishing Montana is a life-changing experience," John says, "and we always hope that every person staying at the double R leaves with a sense of peace and renewal. We are really just trying to do it right."
For more information, please visit http://madisonrr.com/