"I had two goals for today. My first goal was to wake up this morning. My second goal was to ski my hundredth run [of the season]."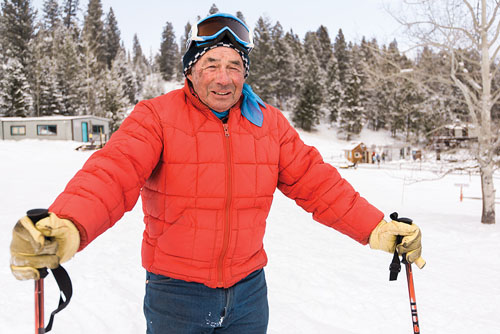 Every ski hill has its resident long-timers. Eighty-two-year-old rancher Robert Marchesseau of Polaris is likely one of the few who can claim to have helped build his favorite ski area. Decades ago, his draft horses dragged the logs that would become the first lift posts at Maverick Mountain in Southwest Montana's Grasshopper Valley, west of Dillon and about one-hundred miles from Butte. Today, Marchesseau rides the mountain's sole chair on the honor system: two dollars per run, paid directly to the ski area owner at the end of the day. Schussing in Wranglers, work gloves and a red puffy jacket older than most of his companions on the chairlift, Marchesseau embodies the "Maverick Magic" of his home mountain and the mom-and-pop charm of Montana ski areas, where you're likely to share a chair with a Carhartt-clad farmer, and where winter is a throwback to the old days--including the ticket prices.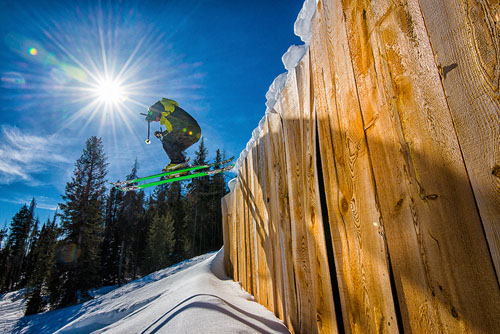 A single chairlift to the top of 9,000-foot Maverick Mountain services 24 runs through the high and dry Douglas-fir forest of the Pioneer Mountains. But the mountain is deceptively large for only being serviced by one chairlift, and it feels even larger by virtue of its vistas: of the vast sagebrush draws of the Grasshopper Valley and of the long arête of Highboy Mountain and its East Pioneers neighbors. It's not an overly manicured ski area, and the scattered aspen groves and gnarled whitebark pine limbs — and the lack of crowds — reinforce the wild feeling. 
 "The views are the best in the state," says Dillon native Cory Birkenbuel, a professional actor who has also worked alongside ski-movie pioneer Warren Miller.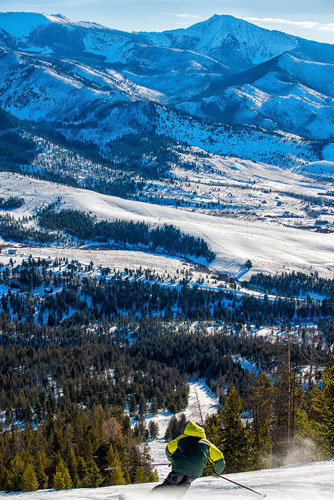 The Dillon-born Birkenbuel might justifiably have some home-hill bias, having skied at Maverick since he was two weeks old — his mother, a ski patroller, threw him in her pack and toted him around the hill as soon as she was back on her feet after his birth. But Birkenbuel also created and completed "Montana's Sweet Sixteen," in which he skied the state's 16 ski areas in 16 consecutive days, a few years ago, so he has a unique perspective on Maverick's merits.
Says Birkenbuel, "Sometimes you have a whole run to yourself. Then you come back up and you're the only person on the run again."
"Sometimes I'll be able to ski the same dump of knee-deep powder for a week. That's what makes Maverick special, these hidden areas; I find a new zone every year."
Owing to his location in the dry Pioneers, Maverick receives particularly dry and fluffy snow — some 250 inches a year. The presence of the Big Hole Valley to the west, a giant moisture sink, seems to further contribute to quality powder.
"Some of our powder stashes can hold up for a week or so because it's so dry," says Birkenbuel. "From the early season into February, we have some of the best powder in the state."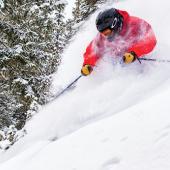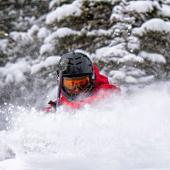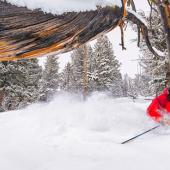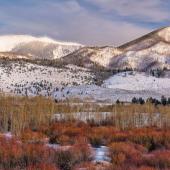 Befitting the name of its mountain range, the Pioneers require visitors to be a little rugged and self-sufficient. There are no ski-in condos or trendy après-ski hangouts. The closest thing to a spa is tiny and rustic Elkhorn Hot Springs three miles up the canyon.
You're going to have to rough it a little bit. "There's no crying at Maverick Mountain," laughs Birkenbuel.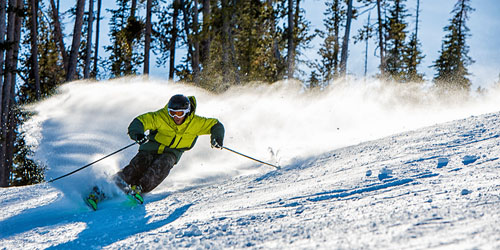 But there is a sense of small-town cul-de-sac community.
"You can drop your kids off, and there's only one way up and multiple ways down, but someone is going to help your kid get down," says Birkenbuel.
That spirit is the legacy of long-time owner Randy Shilling, who sold the ski area in December after having run it for 25 years. Shilling had set out to climb a mountain and ended up buying one instead: he had saved up money to climb Mount Everest, but on a visit to Whitefish someone told him about a cool little mountain in southwest Montana he had to ski, and once there the then-owner offered to sell it to him. So he invested his Everest nest-egg in a mountain a mere 20,000 feet shorter.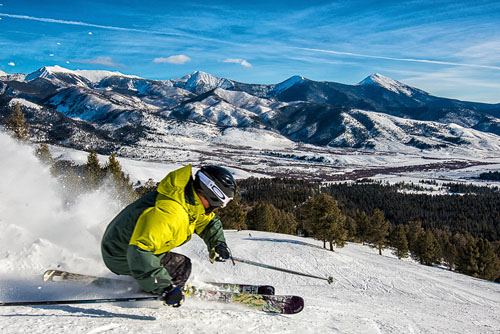 It's also a vestige of small-ski romanticism that stretches back only to the interwar ski boom but feels deeply embedded in American sport. It's a business model that's rapidly disappearing, owing to the proliferation of ski mega-corporations that have gobbled up small resorts, changing ski-consumer attitudes and several years of poor snowpack: a report by respected ski industry executive Bill Jensen last year predicted that nearly a third of the 470 ski areas in the United States will fail in the not-far-off future. 
New owner Erik Borge, a former ski racer and graduate of Montana State University-Bozeman, and his wife Kristi and their business partners — Borge's friend Isaac Flemmer and fellow ski racer Matt Migel — inherited a small operation in a fickle and weather-dependent seasonal industry. But they also inherited a community of employees and regulars committed to keeping the ski area afloat. 
"I've been skiing at Maverick for pretty much 38 years, and I feel like there's a lot of pride that goes into that," says Birkenbuel. "My dad ran the lift; my mom did ski patrol; my brother started the first snowboarding program. I taught skiing there."
And Birkenbuel's lift-line lineage is not unique.
 "Everybody gives back there," says Birkenbuel. "I consider it my mountain. And if you ask the next guy he'll say 'It's my mountain,' too." 
I've skied at Maverick only a few times, but I consider it my mountain too. Each time I've visited, I've returned raving to my ski buddies about the little ski hill in southwest Montana that they must ski to believe. When I skied there last, on Super Bowl Sunday, a group of local women had prepared a huge — and complimentary — buffet spread. A six-hour drive home ahead of me, I begged off, but the ladies urged me to stay and then sent me home with a to-go box and a passel of Rice Krispy treats wrapped in napkins.
It was the kind of community camaraderie that's in rare supply these days, whether at a ski lodge or city square.
But, no matter how often out-of-towners like myself spill the beans about skiing's little Shangri-la, Maverick will always put the "community" in community ski hill.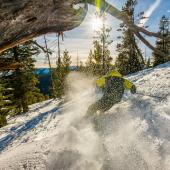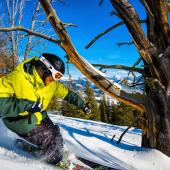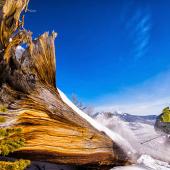 "What keeps Maverick going is Dillon, Montana. You pass it on to the next generation," says Birkenbuel. "Maverick is still in my dreams and hopes of skiing there the rest of my life. I hope I'm like Robert [Marchesseau] when I'm in my eighties."
"[Shilling] always said, 'It's the way skiing used to be.' And I talked to Warren Miller about it once and he said 'No, it's the way skiing should be.'"
Video Description: Powder day at Maverick Mountain. We had a blast shredding the gnar.