Here's a leg of lamb recipe that proves a point that I frequently make: Simple is always best.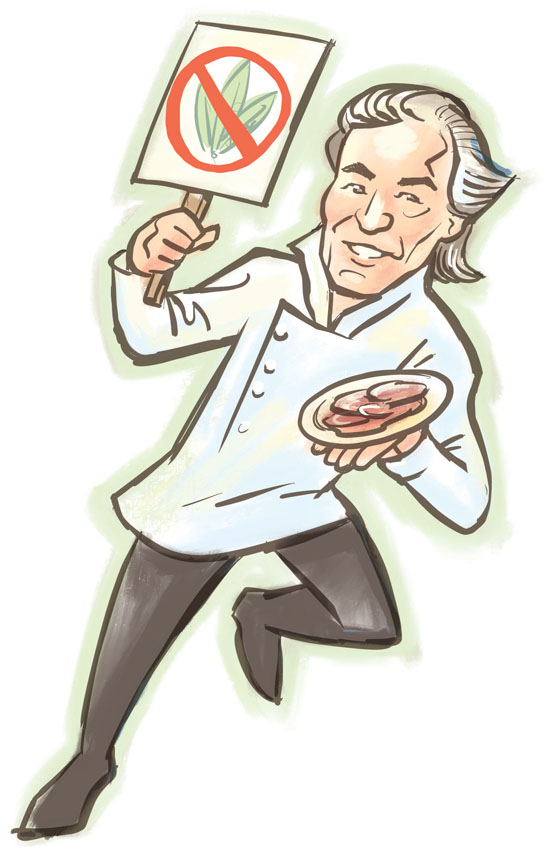 You can find bone-in and boneless leg of lamb in most supermarkets these days and it's one very delicious cut of meat. Many people believe that the pronounced flavor of lamb is a bit much for them, but this recipe, with an assertive stuffing is—to me—the perfect way to serve lamb that just about everyone will appreciate.
My leg of lamb has a very definite Mediterranean look and taste and one that could easily be claimed by Italy, Greece or Lebanon. It's stuffed with a tapenade, that ubiquitous spread you'll find in the cuisines of all of the aforementioned countries.
So if you are looking for something a little different than the traditional Easter ham or the Passover brisket, serve this stuffed leg of lamb and, for goodness sake, don't put mint jelly on the table!
Here's how to make it:
For the Tapenade:
INGREDIENTS
3/4 cup pitted Kalamata olives
1/4 cup rinsed and drained capers
4 to 6 anchovy filets
1 small shallot
2 tsp fresh thyme leaves
2 Tbsp Italian parsley
1/3 to 1/2 cup extra virgin olive oil
METHOD
Combine all ingredients except olive oil in the bowl of a food processor or blender. Chop the ingredients with several pulses, then with the processor running, slowly add the olive oil until a thick paste forms. You may have to scrape the sides of the bowl to make certain that all of the ingredients are incorporated.
For the Leg of Lamb: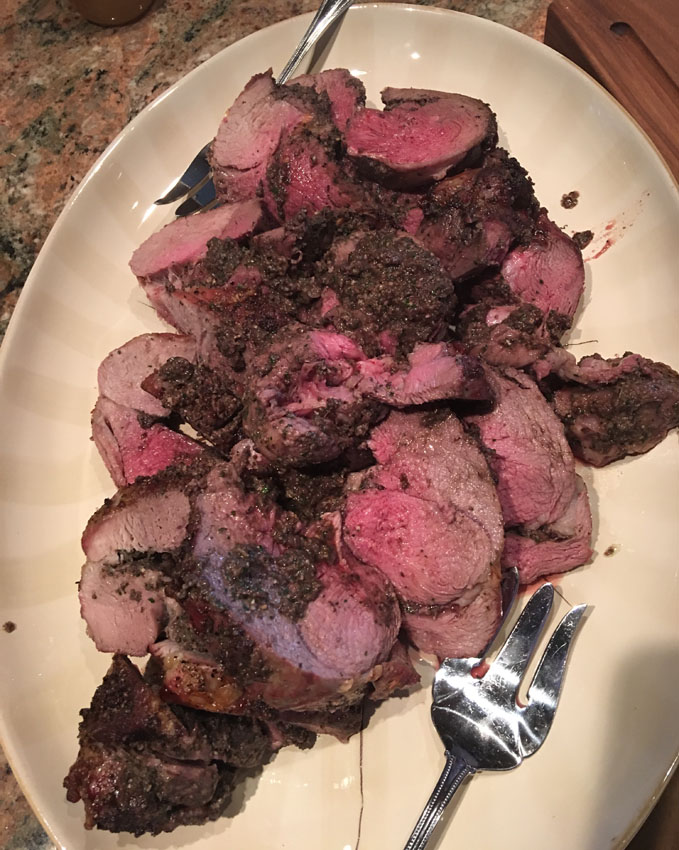 INGREDIENTS
1 4-6 lb. leg of lamb, shank bone removed
4 cloves of garlic, sliced thin
2 tsp finely chopped fresh rosemary leaves
1/4 cup extra virgin olive oil
Salt and pepper
METHOD
Unroll the leg of lamb and, with a meat mallet, pound the meat as best you can so that the thickness is fairly consistent. With the meat laying flat on your counter, salt and pepper liberally and then spread the tapenade over the meat leaving about a 1/2 to 1-inch border. Spread the tapenade in a thin layer. If it's too thick, the meat will be difficult to roll.
Preheat the oven to 425°. Oil a small roasting pan and place a rack in it. Carefully roll the leg of lamb and tie it with kitchen twine in 1-1/2 to 2-inch intervals. Then tie the leg horizontally. Place it seam side down on the rack.
With a sharp paring knife, cut slits into the top of the of the meat and insert the garlic slices into the slits. Put a thin coating of olive oil on the meat, sprinkle with finely chopped rosemary leaves, then roast for 20 to 30 minutes until the exterior browns. Reduce the temperature to 325° and continue roasting for about another 30 to 40 minutes or until a meat thermometer reads 125° to 130° for medium rare. Remove the lamb from the oven and cover with foil and let rest for at least 10 minutes.
Slice thinly and present on a platter.