Across Montana groups of women are banding together for a little physical exercise and a lot of companionship. These hiking and running groups are made up of all levels of athletes—from walkers to five-minute-milers and peak baggers, but they have one thing in common: the desire to experience the outdoors with other women.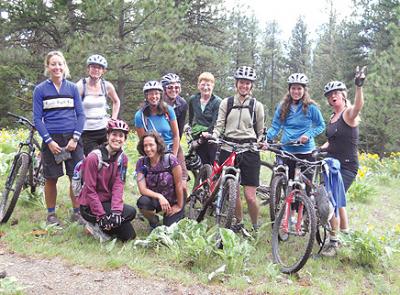 Sure, they want to share adventure and camaraderie, but these gals are also learning new skills, developing confidence, and making friends. Sometimes they are pushing themselves to new levels of athleticism, other times they are working off a glass of wine or reducing stress. 
In addition to the groups listed below, there are clusters of friends all over the state that meet occasionally or regularly to hike or run. Some are in training for races or expeditions, others are hiking with their babies. Ask around to find the perfect group for you, and if you can't find one, start your own.
BWAGs—Bozeman
While hiking wasn't one of the original activities, it has become one of the most popular.
Monday and Tuesday hiking groups meet at the Museum of the Rockies at 8:00 or 8:30 a.m. Contact trip leaders from their Web page for details. The group is open to any woman who wants to join. http://bwags.home.bresnan.net/
Montana Dirt Girls - Missoula
The Dirt Girls formed in 2001 as a means to enjoy the outdoors with other women. The group of Missoula-area women get together each Tuesday evening to mountain bike or hike. Join the mailing list or check the Web site for meeting locations as they change weekly. 
The Dirt Girls begin biking after the time change in the spring and start hiking when daylight savings ends in the fall. All women are invited to join. http://mtdirtgirls.tripod.com/ 
Prairie-Chix - Colstrip
This southeast Montana running group came together to train for a relay race in 2009 and have stuck together ever since. In addition to training for that event, their group grew out of a desire to promote mental and physical health through exercise and fun. They enjoy a common bond of faith, family, friendship, and love of life. Because they think mental health is boosted by physical health and that women need to take care of themselves, their motto is "Ain't nobody happy if Mama ain't happy." 
In addition to training for races, the Prairie-Chix host safety clinics, raise funds for their neighbors in need, and look for ways to get themselves and their families involved in the community.
Prairie-Chix is open to any woman with a love of life and a love of the outdoors. Contact them through their website.  http://www.prairie-chix.com/ 
Bitch and Wine - Ennis
This casual group hikes and runs around the Madison Valley. Some members are walkers or joggers, while others are very active. Bitch and Wine members run because they also like to eat and drink. Members post outings on their Facebook page and anyone who wants to join in is welcome.
They also use their Facebook page to announce area races and review races. https://www.facebook.com/groups/153607678035557
~ Melynda Harrison is a writer, naturalist, wife, mom, cross-country ski enthusiast, hiker, reader, herbalist wannabe, knitter, jungle gym, napkin, Malamute lover, and head-over-heels about being outside with her family. To read more about Melynda's outdoor adventures visit her blog TravelingMel.com.