Robert Staffanson in his 94 years, has been a cowboy, creator of the Billings Symphony, conductor of the distinguished Springfield Symphony, founder of the American Indian Institute in Bozeman, and author of Witness to the Spirit. His renowned advocacy for indigenous people will leave an indelible legacy of cross-cultural communication and an awareness that we are all responsible for one another.
* * * *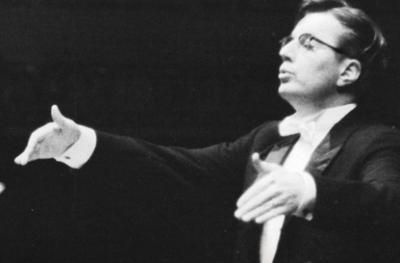 My most vivid childhood memory is… of my first horse, a "mustang" pony.
The most important thing I've learned in my life is… to love.
Growing up on a ranch taught me… discipline and self-reliance.
I have no idea… how I became a conductor having had no early preparation.
What I do know about the Native American people is… that they are misunderstood and badly maligned.
Probably the most interesting person I've met in my life was… Julius Hereford, Princeton professor, who was one of the finest musicians and human beings I have known.
If I could come back in 100 years … I'd like to see a world at peace and all races and ethnicities accepted.
My career as a musical conductor… gave me spiritual depth.
I never expected that my experience in a Blackfoot medicine camp… would change my life from a career as a symphony orchestra conductor to one working with and for traditional Native Americans.
Living for a time as a ranch cowboy… was essential to ground me in the reality and rewards of physical work in accord with the natural world.
If I could change one thing about myself… I would not change but continue to refine my moral and spiritual outlook which has been a lifelong experience particularly in the latter half of my life.
My worst habit is… driving to the post office every day for the mail when I could have a mailbox by my door.
If I could have lunch with one person in the world today, it would be with… Barack Obama to convince him to use the power of the federal government to recognize and support traditional Native Americans.
The best advice I ever got from my mother… was "be true to yourself".
I'm always surprised when… difficult challenges succeed.
I have a real weakness for… western art and stories.
The composer whose work I most admire is… Beethoven.
Looking back now, it's hard to imagine… my present position given my origin.
The five best words to remember me by would be:  honest, kind, loving, spiritual, creative.
I find it remarkable that… human beings have never made a concerted effort to overcome the divisions and barriers that separate us.