The funniest thing about robots is... 
the perception you have to be smart to work with robots. You just have to have patience and the will to get it done.
My kids will never understand how I... lived in my pre-kids days because we will never tell them, right?
If robots could talk they would tell us... If they could talk? Looney talks to me every day, and he tells me how wonderful I am, because that's exactly what I program him to tell me.
The strangest thing about being both a robotics engineer and a comedian is... that there is nothing strange about it. Every day I hear "Oh great, another typical Robotics Engineer Stand-Up Comic; if I had a dime…"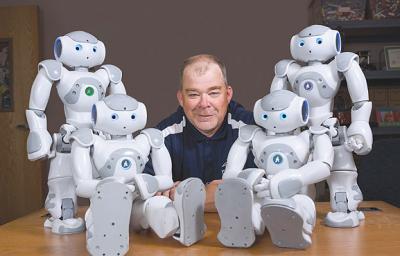 The one thing that really surprises me about robots is... when they work. When you work with robots you see them fail so many times that when they finally work it's shocking.
Behind my back, I think my students are saying... nothing — they say it right to my face.
Most people don't realize that one day robots will... be able to legally marry humans. I mean they will act as a Justice of the Peace and marry a man and woman , not a robot marrying a person; that would be odd.
My awards from the Robo-Olympics prove... God has a sense of humor.
There is no more tempting snack for me than... when I go on the road, I see a vending machine and think, "That's where I'm eating dinner tonight".
There is nothing in my world more important than... easy question. My wife and kids.
If I need a really good laugh I... give my students a pop quiz. I love the look of shock and awe.
The best comedian I ever saw was... Bill Cosby, so simple, so clean and yet the crowds love him. I love clean, intelligent, original comedians. These days I really respect Jim Gaffigan. The older I get the more I respect "clean" funny.
No one knows that I secretly... have no secrets. If I have something secret and embarrassing in my life, I usually tell it to an audience full of strangers.
To this day I can't believe that I... don't get paid more.
Performing in a comedy club and in a classroom are similar in that... both audiences are paying to be there. 
Comedy club audiences are in the process of getting drunk. Classroom audiences are in the process of sobering up.
Students believe my maturity level to be... profound.
People don't know that my chief robot, Looney, can... win an arm wrestling match with most humans in his weight class...15 pounds.
For inspiration I... take a shower. I write most of my comedy or weird inventions when I'm in the shower. Something about me being naked is really funny.
My mother would never stop telling me... "Don't waste your time, computers are just a fad, they'll be gone in a year." My mom is very funny. 
Hunter Lloyd is an award-winning Professor, business owner, inventor, author, comedian, and family man. For six years he postponed his college career to perform as a stand-up comedian with acts, such as Jerry Seinfield and Tim Allen, and appear on MTV, VH1, and The Comedy Channel. He returned to school to study engineering and computer science, which led to robotics. Hunter is now a Professor of Robotics at MSU. Hunter and his students with their Montana MULE robot outperformed schools like Carnegie Mellon and Harvard to capture the 2010 NASA Robotics Championship. In 2012, Hunter and his Robot, Looney, took home five medals at the Robot Olympic Games. Hunter also founded a robotics company that helped develop the RangeWatcher and WatchKeeper technologies for the Predator Unmanned Aircraft group. He also plans to market small robots that can perform tasks for individuals. Meanwhile he continues to perform the Robot Comedy Show to promote math and science. See www.looneytherobot.com