Montana's Annual Autumnal Gold Rush
Aspens and Cottonwoods in Glacier National Park
Montana has long been a land of literary superlatives. In comments pertaining to the effect that Big Sky Country exerts upon the human psyche, nature writer Ellen Meloy astutely observes that, "This much space has nurtured a healthy Cult of Place in which people find perfection, even divinity, in the landscape." Her assertion is most thoroughly applicable to late September and early October.
If Mother Nature then chooses to fully cooperate, visitors to Glacier National Park may conclude that Montana's annual autumnal gold rush surpasses even New England's fabled fall color, given the grandeur of Glacier's mountains and the stark contrast between color values that characterize fall foliage in the northern Rockies. Should your first prolonged exposure to the Crown of the Continent occur under these circumstances, as did mine, that experience most certainly can become spiritually addictive. As John Nichols, author of The Last Beautiful Days of Autumn, proclaimed, "I live for autumn… It is the most alive, the most heartbreakingly real season."
In northwestern Montana, this first crescendo of color is produced primarily by aspen and cottonwood stands. These showy hardwoods are most common on Glacier's east side. For motorists in this region, high-priority targets include the following sectors: U.S. Highway 2 from Marias Pass to East Glacier Park; Looking Glass Road (Montana Highway 49); the eastern half of Two Medicine Road; the gravel road to Cut Bank Campground; and portions of U.S. Highway 89, most notably where it parallels Lower Saint Mary Lake. Pockets of fall color are prominent along the easternmost section of Going to the Sun Road, near Singleshot Mountain, Two Dog Flats, and Rising Sun. Concentrations of fall foliage also can be found in Swiftcurrent Valley and, most importantly, near Chief Mountain, the summit of which towers more than 3,000 feet above enormous groves of aspens.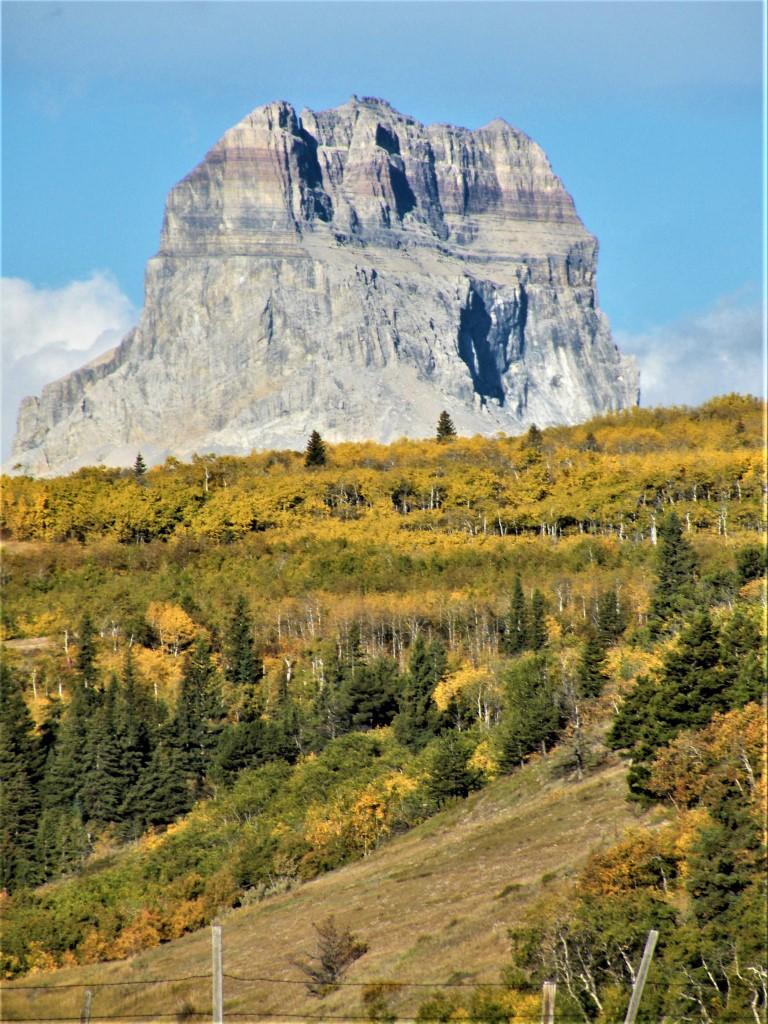 Chief Mountain International Highway (Montana Route 17), which begins 4.3 miles north of Babb, provides access to the single largest display of fall foliage in Glacier National Park. A pullout, located only 2.2 miles from the road's junction with U.S. 89, affords the best vantage point to view the sheer, east face of Chief Mountain and the ocean of aspens at its base. At peak color, this iconic landscape is absolutely breathtaking. In terms of photogeneity, it is rivaled within the park only by the North Fork's larch forests, which add the final flourish to fall color in Glacier. Unlike other renowned fall-foliage destinations, such as the Oxbow Bend in the Tetons or Maroon Lake near Aspen, Colorado, Chief Mountain's beauty can be savored in solitude. We did not encounter another soul at this pullout on any occasion that we stopped there to photograph this glorious spectacle.
First-time visitors to the park are often most impressed by the spectacular scenery in Many Glacier. The chalet-style architecture of Many Glacier Hotel, nestled against the shores of Swiftcurrent Lake, with the distinctive profile of Mount Gould dominating the skyline, instantly evokes visions of the Swiss Alps. An extensive network of trails emanates from this area and accesses such glaciated gems as Cracker, Grinnell, Iceberg, and Josephine lakes. With research, this trail system facilitates backcountry itineraries that are equivalent to a seven-course dinner, one that samples the very best of this alpine paradise. Autumn offers an additional incentive to those planning a visit to this picturesque valley. Then framed by a colorful corridor of aspens and cottonwoods, Many Glacier Road becomes a yellow-leafed beacon to the high country.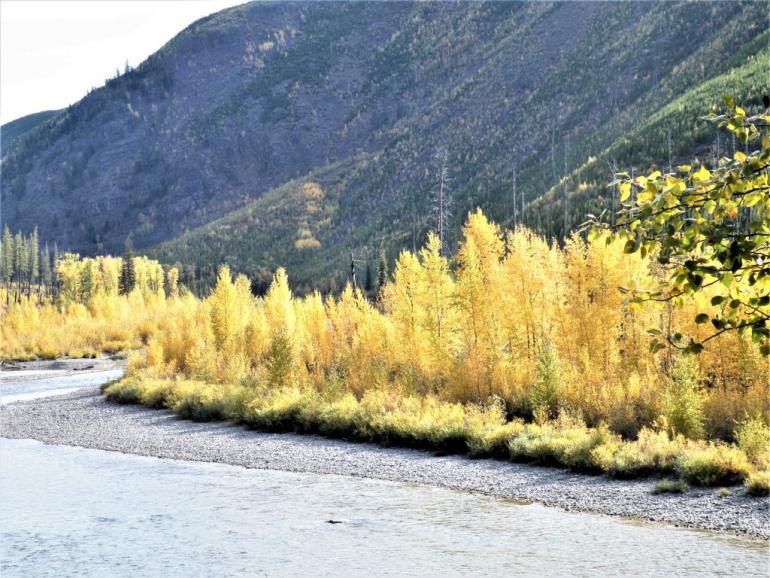 Less heavily trafficked than its counterpart in Many Glacier, Two Medicine Road covers 7.8 miles from its junction with Looking Glass Road to the large parking area on the east shore of Two Medicine Lake. Aspen stands on the eastern half of this route, including those adjacent to Lower Two Medicine Lake, produce impressive fall color. Views from Two Medicine Lake, with Sinopah Mountain towering beyond its western shore, are always stunning, but only a few shoreline cottonwoods there accentuate predominantly coniferous forests. However, trailheads for the Dawson-Pitamakan Loop and Two Medicine Pass trails, which rank among Glacier's finest, are nearby. Both trails feature long, challenging climbs and spectacular views from points on the Continental Divide. Aaron Theisen, author of Day Hiking Glacier National Park and Western Montana, describes terrain visible from the highest portion of the Dawson-Pitamakan Loop in eloquent but graphic terms: "If Glacier National Park is the backbone of the world, this is the giant's skeleton laid bare." 

Montana Route 49 is, for leaf peepers, one of Glacier's unheralded gems. Known locally as Looking Glass Road, this highway begins at East Glacier Park and ends at Kiowa Junction, twelve miles to the north. For much of its length, adjoining topography is virtually carpeted with aspens. Indeed, aspen stands along this road exhibited the greatest color saturation of any that we observed during our 2021 trip to Glacier. Views of fall foliage are particularly impressive when you crest the ridge traversed by this route and look to the east, where lowlands protected from the wind are heavily covered by a mosaic of aspens in island-like patterns. Road conditions here dictate slow driving speeds. At higher elevations, this highway follows a serpentine course, pavement is desperately in need of repair, and guard rails are virtually nonexistent. So, exercise caution, especially in inclement weather, and enjoy the drive.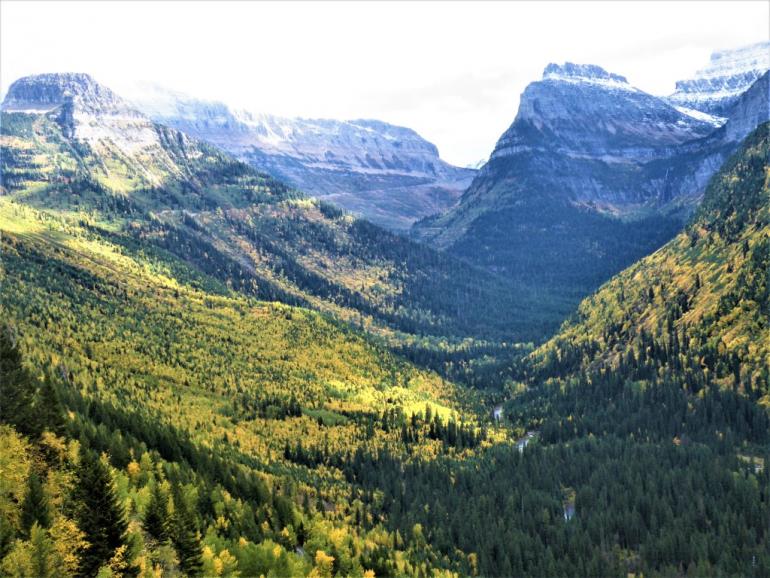 As previously noted, Glacier's largest concentrations of fall color are typically found east of the Continental Divide. However, travelers on the Going to the Sun Road will discover that views from the alpine segment west of Logan Pass superbly illustrate an exception to that rule. Eastbound motorists, as they gain altitude, encounter increasingly expansive vistas that extend up the length of McDonald Valley and reveal large swaths of aspens that cascade down mountain slopes for hundreds of yards on either side of McDonald Creek. Seventeen pullouts, located between The Loop and Logan Pass, provide ample opportunities for contemplation and photography. The grandeur of fall foliage encompassed by these sweeping lines of sight becomes even more evident when one looks back to the west and sees the Going to the Sun Road and McDonald Creek, at some places, 2,500 feet below! During our visit, an overnight dusting of snow on the Garden Wall added the final touch to Mother Nature's masterpiece.
 
The remote North Fork area is best known for its dense population of western larch, a deciduous conifer that usually reaches peak color in late October. Nevertheless, aspens are more common in this region than is generally recognized, and they attain significantly greater stature than those found in groves east of the Continental Divide. Mixed stands of cottonwoods and aspens frame the riparian corridor of the North Fork of the Flathead. Photographers may want to emphasize the distinctive compositions formed at this time near pockets of grassland north of Polebridge. Big Prairie, for example, is bordered by an island of aspens which, at peak color, contrasts sharply with adjoining stands of lodgepole pines and the towering peaks of the Livingston Range to the east. Enclaves of alpine larch also punctuate portions of the high country, such as the Boulder and Siyeh Pass areas, with brilliant displays of color, ones that largely coincide with the climax of lowland hardwoods.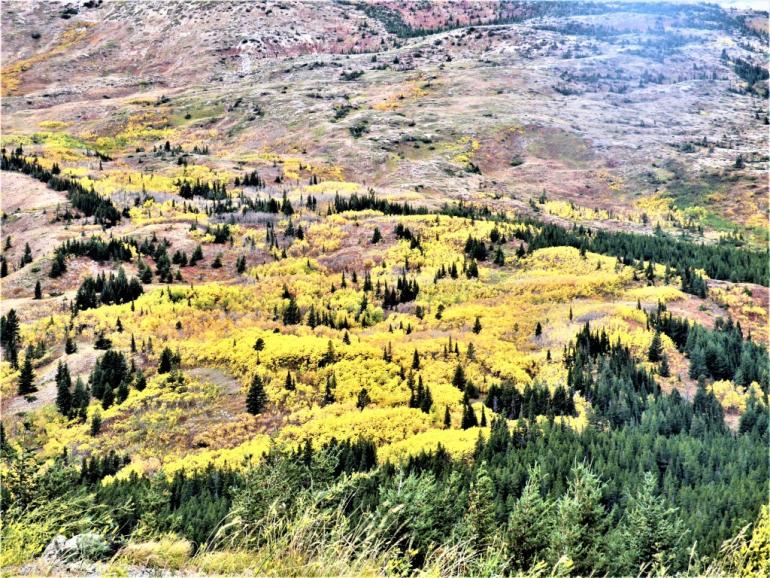 Local weather conditions, unfortunately, can quickly terminate an otherwise promising fall-foliage season, prevent it from achieving peak color, or even accelerate its progression. To illustrate these points, a winter storm of historic magnitude, one preceded by gale-force winds, bombarded the northern Rocky Mountain Front and east side of Glacier on September 27-30, 2019, dumping 41-52 inches of snow from Babb to East Glacier Park. By contrast, 2021 was marked by a prolonged, statewide drought, which normally would adversely affect the onset or intensity of fall color. In Glacier, however, the heat abated in early August and precipitation profiles improved so much that 2021 was, by all accounts, a banner year for leaf peepers. Incidentally, David and Shannon Biegel, authors of the website enjoyyourparks.com, state that the passage of just four hours can, under the right circumstances, occasionally trigger dramatic change in fall color, based on observations they made during two trips to Many Glacier on the same day.
 
These data underscore the critical importance of flexibility and timing…if you want to see Glacier at its very best in autumn. In the weeks immediately before your intended departure, carefully monitor foliage reports and weather conditions. If you can afford the luxury, tweak the timing of your trip accordingly. The opportunity to visit Glacier during this mercurial season may ultimately lead you to concur with Hal Borland's conclusion: "If ever there was a season for man to savor this earth and know it intimately, [late September and early] October is its peak and prime."