Horses have no need for makeup.  Beauty is their birthright. Nature has generously endowed them with delightful attributes  —  elegant long lines through fine bone structure, flowing manes and tails of splendidly colored silken threads, deep liquid eyes that draw you in while holding a mirror to your soul, and rippling muscles producing strength and speed as they dance with the wind and play with your heart. No, horses need not the hand of man to enhance their innate glory.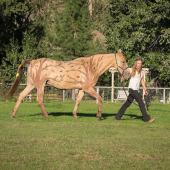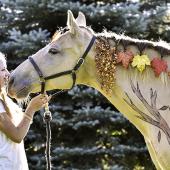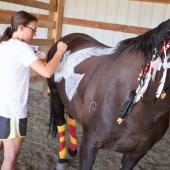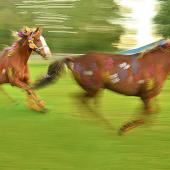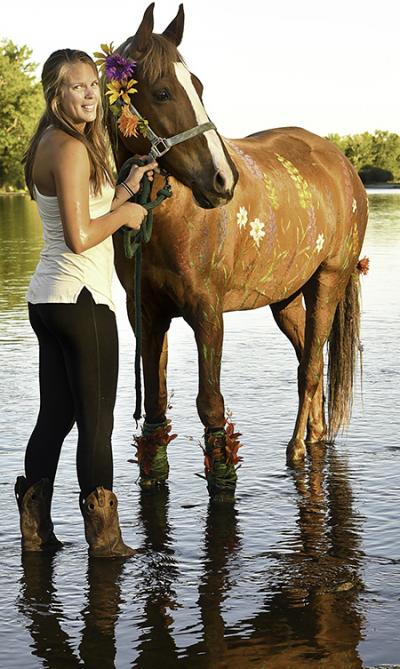 Man, however, feels the need to place his artistic hand on horses to honor their co-evolution. The history of the horse is, after all, the history of man. As John Trotwood Moore stated:  "Wherever man has left his footprints in the long ascent from barbarism to civilization, we find the hoof print of a horse beside it." Peoples across the world fete their union with horses by adorning them with decorations.
So too shall we here in Montana. This July 8, 9, and 10 at the Missoula County Fairgrounds, Dunrovin Ranch will partner with the Montana Festival of the Horse (www.mthorsefestival.com) to celebrate the human horse bond through the first ever Equine Art Extravaganza.  Montana is the perfect venue for this cross breed, cross sport, cross cultural celebration of the horse. Home to many thousand horses, seven Indian nations with strong equine ties, herds of wild horses, the first ever Human Animal Bond college degree program with an equine emphasis at Carroll College, and numerous professional horse sporting competitions from rough western rodeos to refined English dressage.  Montana is indeed horse country.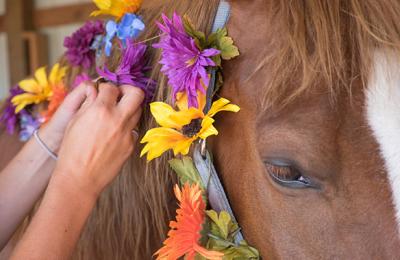 The Equine Art Extravaganza will feature noted Montana artists competing to transform  Dunrovin's  horses into living works of art. Spectators will decide the wining artist by making donations their favorites horse's name to nonprofits engaged in equine assisted therapeutic and research programs. Here are some of the nonprofits that will benefit: The Montana Horse Sanctuary (rescuing abused and abandoned horses), The Learning Center at Red Willow (that uses horse in therapy for veterans with PTSD), and the Anthrozoology Department of Carroll College (for research on the effectiveness of equine assisted therapy).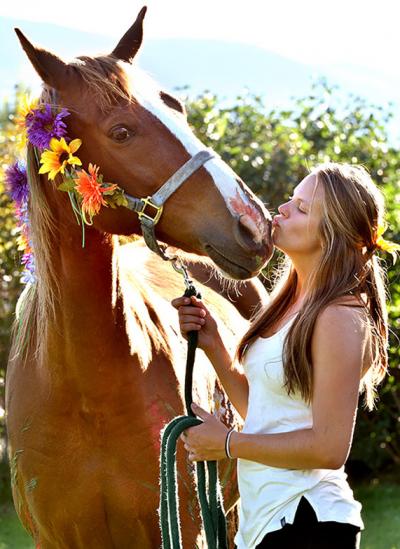 Dunrovin's long tradition of painting horses was started by a Lakota Sioux horsewoman who worked at the ranch. While it took some experimenting to learn the ins and outs, horse painting/decorating is definitely something that pleases everyone involved — horses love the extended grooming sessions, artists love the challenge of working on a live canvas, and spectators love watching the process unfold. 
Last summer, three young Dunrovin wranglers with considerable artistic talents documented the process in preparation for the 2016 Extravaganza. We wanted to establish decorating standards to guide artists in appropriate types of materials to be used, the amount of time and effort required, and how to effectively work with horses. Professional photographers John Ashley and Laura Childs captured their stunning results.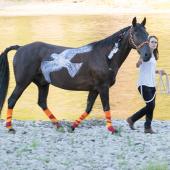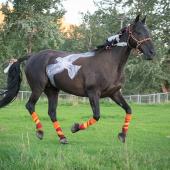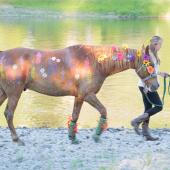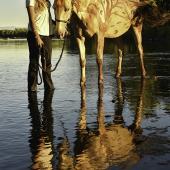 Clearly, the possibilities are endless. We can't wait to see what artists like Scott Miller, Crista Ames, and Stoney Sassar will produce. Be sure to join us this July in Missoula for the Montana Festival of the Horse with equine theatric performances by Ma'Ceo , horsemanship training demonstrations, parade of breeds, country music, horse poetry and storytelling, and as well as some extraordinary images from the Equine Art Extravaganza.