A freshly baked homemade pie stirs the senses and awakens the soul. The art of making pies is close to becoming another relic of days gone by, a piece of Americana relinquished to such technological and less-heavenly advances like freezer-ready and boxed-up imposters.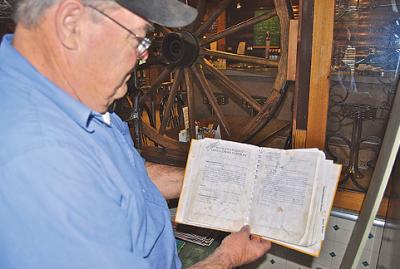 Lucky for us a pioneering spirit and pie making tradition lives on in Big Sky country. Three Montana pie makers from the Gallatin River to the base of the Rockies and deep in the heart of the Bitterroot carry on, mastering the secrets of a truly flaky crust, whipping to perfection a stand up meringue, creating mouthwatering combinations with the elusive Montana huckleberry and elevating the common green apple to tasty new heights. For these three bakers, pie simply makes life more delectable. Eating a hard-to-come-by perfect piece of pie is akin to consuming an all purpose elixir. Once found, with each bite the clock ticks a little slower, problems become a little smaller and smiles become wider. 
Though Marci Gehring has been baking pies for over five-years along the Gallatin Valley at the Coffeepot Bakery and Café, she's been crafting them for over 35. "I never get tired of making pies," said Gehring. "There's just something so comforting about putting them together." For Gehring, they're an expression of love and that, in a nutshell, is the only special ingredient necessary to make a really great pie.
Gehring bakes over a 100 pies and countless turnovers each week.  Her turnovers use the same crust and filling and are essentially a piece of pie "to go." Between the two, Gehring insures over nine varieties are available on any given day. Fruit flavors run the gamut from strawberry-huckleberry with a streusel crumb top, blackberry-pear, cherry-rhubarb, and just plain raspberry, toss in a collection of cream pies, including sour cream raisin, butterscotch cream, and chocolate cream, blend in a medley of seasonal pies, "this is what I found in the cupboard" pies and "hmmm guess what I made today" pies, and you might begin to divine the extent of Gehring's gift. 
For the five pie-guys, a group of Friday morning regulars, Gehring insures that their favorite—a toss-up between the near-forgotten custard pie and Gehring's colossal lemon meringue, is warm and ready to serve. Tom Keyes says, "We've been going there for over five years. We just like pie and her crust tastes like grandma used to make.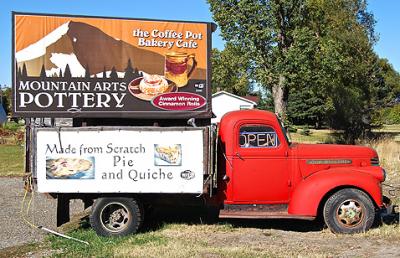 For most bakers, Gehring included, the perfect pie begins with the humbling experience of creating the perfect crust. "I'm kind of old-fashioned and I think pies are an old-fashioned dessert; a pie crust is not an easy thing to master." Gehring applied for her job with no previous professional experience. She had an interview, was told to go home and make a pie, and she's never looked back.
"The perfect piece of pie," said Gehring, "does this." Her fork pierced a strawberry-huckleberry crumb, and the jewel-colored center oozed out from between its flaky filo-dough-like top and delightfully tender bottom crust. 
Gehring's face lit up, "There's a 100 different ways to make pie. Everyone has their definition of what makes a good pie, but when someone comes in and says, 'that's the kind of pie I remember when I was little,' that's what makes it all worthwhile." 
Two-hundred miles to the north, nestled at the base of the Rocky Mountains in Choteau, David Maurer, head baker and owner of the Log Cabin Family Restaurant, has been making pies professionally for over 16 years. "I've made over 10,000 pies," said a grinning Maurer. "10,000 pies gives you 80,000 slices, so if Choteau is running around plump I guess that's my fault." That's a lot of slices for 2,000 people.
But it's not just the locals who gather at the Log Cabin for Maurer's pies. People travel from all over the country to indulge in one of his ample creations such as his trademark, four-inch-high peanut butter pie on graham cracker crust. This summer one of them sent word back to the kitchen, "Tell the pie maker I want to marry her.'"
Maurer grew up on a ranch along the Teton River, one of six children—all boys, which contributed to some blurring of gender lines when it came to helping in the kitchen. "It couldn't be beneath your dignity to wash dishes," said Maurer. "Or make pies." He made his first angel food cake in 1947 and a few years later at age 10 rolled out the dough for his first apple pie. Though he watched his mother make pies he can't say that he patterned his pies after them. "I've made a lot of my own techniques."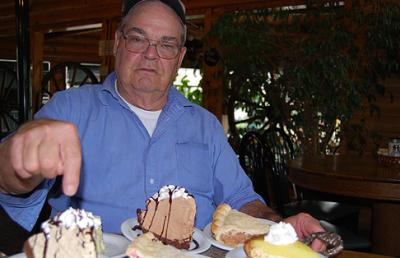 Maurer bought the rustic Log Cabin restaurant around 1995; it had been an institution in Choteau since the 1940s. Soon after, partly through necessity, he dove in and started making pies for the restaurant. "When you start something you try your best," said Maurer. He picked up a lot of tricks through the myriad of cookbooks sitting on a wire shelf besides his pie refrigerator, his favorite being the country bible, a Farm Journal cookbook. 
"Every week I make up to 35 varieties. I think I could make them in my sleep." His favorite pie to make is the lemon meringue, and you'll most likely find it available by the slice on any given day. The ingredients for Maurer's handcrafted pies are sourced locally as much as possible; he grows his own gooseberries and procures his eggs and fruit from the Miller Hutterite farm. 
Maurer's pies are not for the faint-hearted. He uses two pounds of fruit in each 10-inch pie. His trade secrets are hard to come by but he did confess to using a little bit of cayenne pepper in his pumpkin, peach schnapps in his peach, and bourbon in his pecan. Beyond that his lips were sealed.
Deep in the Bitterroot Valley, 45 miles south of Missoula in Hamilton, Montana, Nancy Garness has been quietly making pies at the Coffee Cup restaurant for over 29 years. This grandmother started out as a dishwasher but that didn't last very long. Less than a year after she started work she turned her magic hands to the task of rolling out dough into her signature golden-tinted pie crusts. Some people say there are angels on her fingers.
"The secret to my crust," said Garness, "is that there really isn't any secret. I've given the recipe to a lot of people but they never seem to turn out the same." Garness learned how to tame pie crusts at the age of five thanks to her meticulous grandmother. "She always said to do it right the first time." Hard to do when it comes to pie crusts. "You have to be gentle with your hands," Garness said. "Treat them like fine china." 
Making pies provides Garness with more than a spoonful of comfort. "Once I start making pies, especially when I'm having a bad day, it just picks me up and makes me feel good."  In turn she knows how to make her customers at the Coffee Cup feel really good with each toothsome bite into one of her innumerable pieces of pie—12 varieties available daily and all made from scratch and like all good pie-makers, her ingredients are sourced as locally as possible.
"The perfect piece of pie," said Garness, "is not too sweet, you need to taste the berries, and the crust isn't too thick but not too thin; it needs to melt in your mouth."
Where's that coffee? It's time for pie.