What to do in Montana...
You might think we're talking leisure here, something fun for when you ask what to do in Montana on a winter afternoon. We are! But the ample waters of Montana can also bring you healing.
And you must have ample waters, meaning a landscape with naturally occurring waters that you can access: lakes, rivers, creeks, ponds. Most of Montana's hot springs are located west of the Continental Divide; about a third are developed for commercial use.
Polar Bear Plunges 
An adventurous spirit is always a plus.
Rick Klin is 70.  Married with seven grown children, he's vegetarian, plays volleyball twice weekly, and dips daily into bone-chilling water. Today, he's president of the Libby Polar Bear Club.  There are 147 card-carrying members and every Sunday, October to April, they plunge.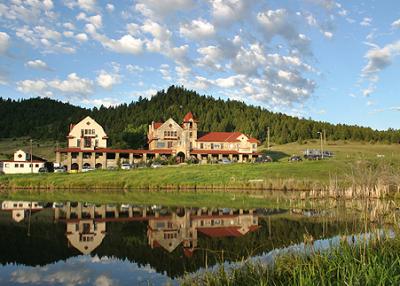 Well, some of them do. "I'm probably the only one," he says, "who enjoys the water. I don't care if the wind's blowing, It's raining or snowing. I just walk in, dive under, pop up, and start talking to people."
People "have to dunk their heads," he says. "They usually come out screaming or making noise. The most seasoned walk in, dunk under, and walk out." 
Veterans dunk twice. Rick's stays in…10, 15, 20 minutes. Then he dries off in the air.  His nickname is Polar Bear Rick.
"I don't leave the house without a nice long cold shower," he says. "If you drink your coffee in the morning, I take my cold shower. It's part of my life. I would get withdrawals if I didn't." 
An honorary member of America's first Polar Bear Club (Coney Island), Rick says, "When I came to Montana, I found this crystal clear water, and it's awful cold, but I started doing it and I found out that I could survive it. I used to shiver when I was younger, but now it has no effect on me."
He suspects the reason is "brown fat."  Found naturally in infants, rodents, and other critters that don't shiver, it's officially called Brown Adipose Tissue. And, unlike its muffin-top "white" cousin, it's active. One type of BAT actually appears more like a muscle cell and may consume white fat.  And then there's this:  cold exposure improves bone density and resistance to illness.    
This interests the healthcare industry. 
Most organized plunges here in Montana occur as a Special Olympics fundraiser.  (See sidebar).
TJ Stratton of Raven Brew Pub — sponsors of the New Year's Day Flathead Lake Polar Bear Plunge  — says,  "We do it just for fun."  Their motto: "Bring a suit, a towel, and a sense of humor." 
Scott Gill of the South Central Polar Bear Club in Bozeman says, "I like cutting the hole in the ice.  With the kids, it's a lot of fun." His wife, Susan Higgins, who founded the club out of nostalgia for "dunking camaraderie," remembers people showing up for many winter months wearing terrycloth robes, winter boots, and Speedos. 
A physician's assistant, Scott knows the value of bone-chilling water.  "Ice baths have long been used for strenuous workouts, to reduce inflammations," he says, "but that has nothing to do with a Polar Bear plunge.  It's just a great, robust way to start your New Year — plunging into ice cold water and getting your heart rate going, then eating chili and having hot cocoa. It's very social." 
Hot Springs Soaks
When in hot water, or cold, an open mind is a blessing.
Denise Moreth knows this better than most. The general manager of Quinn's Hot Springs Resort near Paradise, she suffers from disease.  Or she did, until she started working at Quinn's (and its sister company Jackson Hot Springs Resort) in 2001. 
"I was diagnosed with rheumatoid arthritis over 20 years ago, and diabetes," she says. "I started using the pools fairly regularly…and the inflammation and flare-ups started going away. It was from using the pools. The pools take away a lot of the aches.  It's very therapeutic."
The "treatment of disease by baths" is called balneotherapy, according to Webster's Dictionary.  In 1885, when Irish immigrant Martin Quinn ("fondly called Dr. Quinn") established his resort, it was called "taking the cure."
"People came from all over for extended holidays," Denise says, "Some would stay for two or three weeks."
Miners, too.  "They would sit with these big sheets around them and the sheets would turn black," she says, as the impurities leached out of their bodies. Believe it or not!!
The fact is the medical community is looking anew at the healing properties of mineral waters.  Visit the Web site of Quinn's, or the charming Chico Hot Springs & Spa in Pray, or the Alameda Retreat in Hot Springs, and you'll learn the names of these minerals and what they can do.  Sulphur, for example, is good for the liver, digestive track, and skin conditions, such as eczema.
Subterranean cracks in the earth are key.  They allow Montana's groundwater to migrate deep near its molten core and then surface again.  Experts say look for pools above 68 degrees Fahrenheit with high concentrations of mineral content.  Then use the water often.
"We have six chemical-free pools at Quinn's," says Denise. " Each with a different temperature."
Pregnant women, heart patients, and young children have restrictions, but the water is particularly safe for cancer patients, and the waters are constantly refreshing.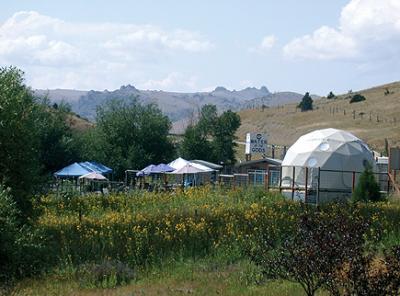 "It's basically fresh pools of water every eight hours," she notes. Plus, there's a cold water plunge. "There are huge benefits going from hot water to cold," Denise says. "It stimulates release of stress hormones and adrenaline, and that's invigorating.  It also helps with circulation."
"I've been trying to partake weekly," says Shelle Young, a registered nurse who lives near Boulder Hot Springs & Spa. "I believe it's calming…a way to alleviate daily stress in a healthful way." Shelle's a cold-water plunger, too.  "That's what I like, the difference between the two.  It really works on your capillaries."
It's called Contrast Therapy.  Heat therapy reduces inflammation and tissue congestion.  It helps with body pain, muscle spasms and joint stiffness.  Cold therapy does the same, but instead of increasing blood flow or circulation, cold restricts blood vessels, reducing swelling and cell death.  There's a "best" time for each approach, but the Institute for Integrative Healthcare Studies says Contrast Therapy works "on your body's pain gate mechanism."  Essentially, the pain signals "traveling to and from your brain" are "temporarily altered."  
Yeah!
Final note: don't forget your swim suit. The developed resorts require one.  And unless you're headed to a private springs or you're hiking into the backcountry during the middle of a snow storm, you're going to see people.
Montana Hot Springs
Quinn's Hot Springs
190 Montana Rt.135, Paradise
(406) 826-3150
Jackson Hot Springs
108 Jardine Avenue, Jackson
(406) 834-3151
Boulder Hot Springs
(406) 225-4339
31 Hot Springs Road, Boulder
Alameda Hot Springs Retreat
308 Spring St North, Hot Springs
(406) 741-2283
Chico Hot Springs Resort & Day Spa
1 Old Chico Road Chico Road, Pray
(406) 333-4933