Driving into town, the first thing you notice is a convivial spirit about Red Lodge: tall brick Victorian storefronts line the street, two ranchers in weathered Stetsons head into a restaurant, a vintage Yellowstone National Park bus comes around the corner, and the misty blue Beartooths rear their heads just down the road. For a moment you believe you've entered the Old West, and everywhere you discover traditions and people you thought were long lost. Oh, there's the occasional rhinestone cowboy and plenty of selfie-staging along Broadway, but every visit to Red Lodge renews the authentic brightness of the Rocky Mountain West.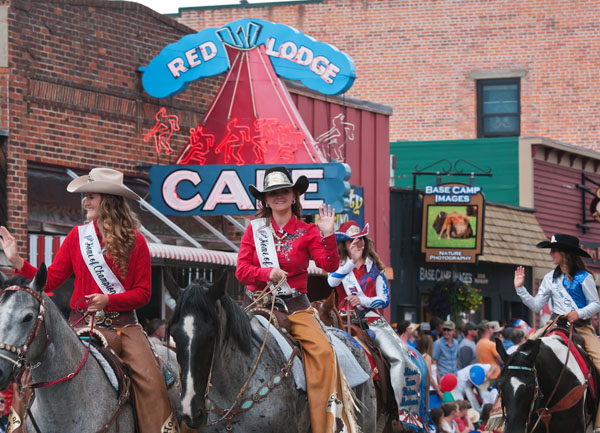 With its historic main street and mountain-town cachet, Red Lodge offers great scenery and plenty of seasonal activities, either beneath the sunny Big Sky of summer or the white cloak of winter. Founded in the 1880s as a coal mining town, the community now beckons travelers from all over the world who want to experience a broad array of cultural and outdoor experiences.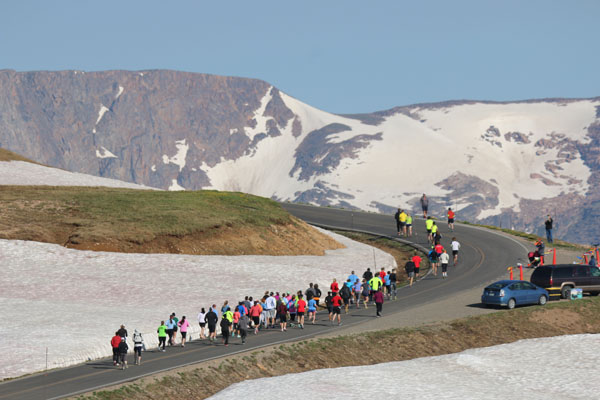 Red Lodge is perched at 5,555 feet at the threshold of the Absaroka Beartooth Range. South of town, Highway 212 ascends via scenic switchbacks, culminating at the Beartooth Pass (elevation 10,947) and leading directly into Yellowstone National Park. This highway, dubbed "the most beautiful highway in America" by journalist Charles Kuralt, will not disappoint. It's open from Memorial Day weekend, weather permitting, and closes for the winter around October 10. Spending the night in Yellowstone is highly recommended and allows visitors to learn about the Park's dramatic landscape and wildlife viewing. Call well ahead for lodging both in Red Lodge and especially Yellowstone National Park. 
Montana's premier music fest for 54 years, the Red Lodge Music Festival, is held in early June each year. Fine arts are well represented at the Carbon County Arts Guild and Depot Gallery—the summer art season is bookended by their Art in the Beartooths event in late June and a lively outdoor Arts Fair on Labor Day. Different locations throughout Red Lodge, notably Honey's Café, sponsor an Artwalk that kicks off on the first Friday of each month.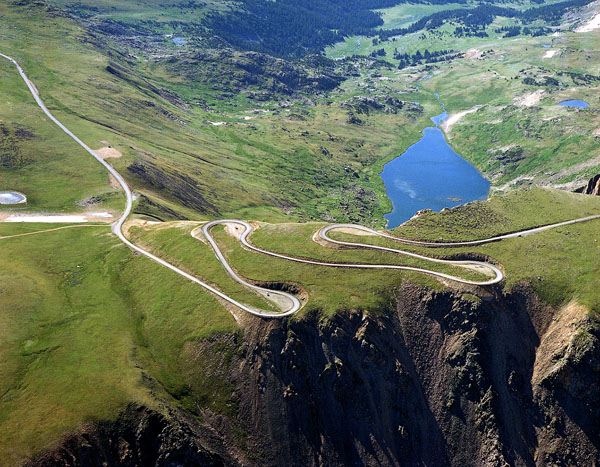 For the action-oriented, the traditional Home of Champions Rodeo (July 2-3-4), is world famous and now offers a $1 million purse. The annual Beartooth Rally in late July welcomes motorcycle enthusiasts from all over the world. Hundreds of hiking trails, from the easy Silver Run to the more daunting steeps of the Beartooths, provide opportunities for wildflower viewing, photography, glimpses of mountain wildlife (bring bear spray for possible encounters with bear or moose), and countless campsites for making memories. Sylvan Peak Mountain Shop on Broadway is where you'll find expert advice on the status of any particular trail, and additional information can be found online at beartoothtrails.org/trails/ or at the US Forest Services ranger station just south of town (6811 US Highway 212).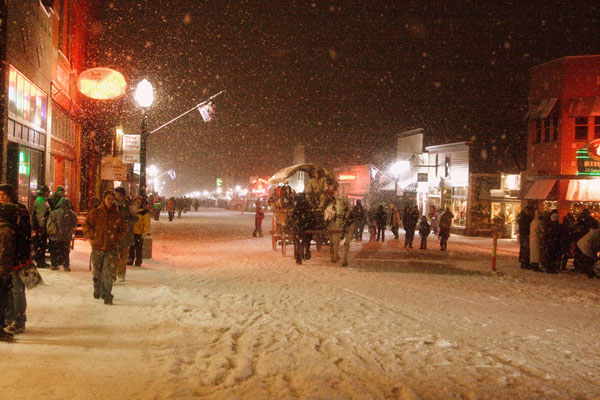 Winter in Red Lodge brings with it a romantic, Old World feel. The Christmas Stroll kicks off the holiday season the first weekend of December. Red Lodge Mountain Ski Resort opens late November and draws tens of thousands of visitors to its family-friendly variety of ski trails. With a summit elevation of 9,413 feet, its lift capacity is 11,000 skiers per hour—although you'll never see a crowd of those proportions. The Web site (redlodgemountain.com) offers an apt description: "no lift lines, no attitudes, no big prices." 
Nordic (cross-country) skiers will find, for a modest honor-system fee, miles of trails through meadows or aspen groves at the Red Lodge Nordic Center. Run by conscientious volunteers, this is an undiscovered gem where silence and sunshine refresh the spirit.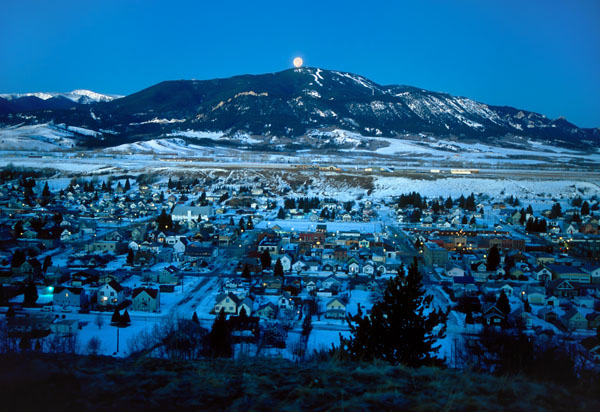 Skijoring is a winter sport where a skier is pulled by a horse, a dog (or dogs) or a motor vehicle. National Skijoring Finals are held in Red Lodge in March of each year. Visitors can observe the spills and thrills from bleachers and sip their favorite beverages. 
And, speaking of beverages, no description of Red Lodge is complete without an overview of restaurants and taverns. A few noteworthy dining options—almost all are located on Broadway, which is often referred to as Main Street—include:
The historic Pollard Hotel Restaurant and Pub; Pom Italian, Regis Café, a noteworthy new Bakery called simply "The Bakery," Mas Taco, Carbon County Steakhouse, Scoops Ice Cream, La Palmita Mexican, the Wild Table, Prindy's, the iconic Red Lodge Café, the elegant Ox Pasture, and many more.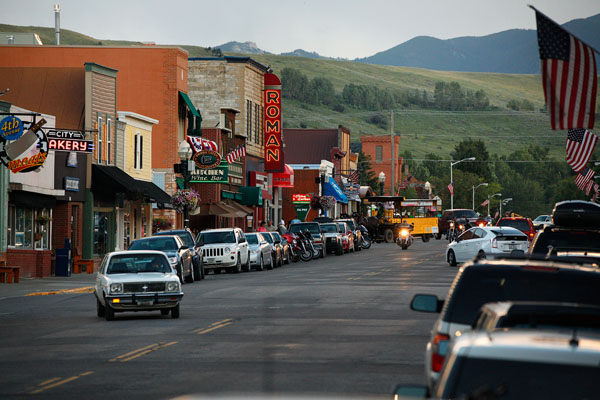 If you're looking for great breakfasts, the Regis Café specializes in home-style cooking, while hearty American morning fare is offered at The Red Lodge Café and at Prindy's. The chic gourmet specialty shop Babcock & Miles (one block off Broadway) has an impressive array of the finest wines, cheeses, teas, cookies, mustards, olive oil, and more. They're now serving sandwiches as well. 
In addition, the shops and galleries of downtown Red Lodge offer clothing, handmade pottery, jewelry, gifts, food specialties, teas and coffees, original art, technical sports clothing and equipment for the both the serious and novice explorer and skier / snowboarder. 
Health care options are surprisingly extensive. The award-winning rural access hospital, Beartooth Billings Clinic, has a full staff of primary care physicians and hosts visiting specialists each week. Radiology and CT scanning, along with an inhouse lab, make for rapid assessment of health issues, and the Emergency Department is an example of compassionate caring in times of crisis. An additional clinic, Mountain View (affiliated with St. Vincent Healthcare) offers highly respected primary care physicians as well as radiology and other services. 
Many lodging options include the historic Pollard Hotel downtown, rustic cabins through Web sites like Airbnb, clean and convenient hotels throughout town, and the popular wedding destination, Rock Creek Resort. Check with the Red Lodge Area Chamber of Commerce for more information.
For children of all ages, there is the Yellowstone Wildlife Sanctuary, providing lifelong sanctuary to non-releasable native Montana wildlife. The Sanctuary has everything from cougars to cranes, and strives for the most natural habitat possible. Also for children, the Red Lodge Carnegie Library (406-446-1905) has a children's story hour in Lion's Park on Wednesdays at 10:30, and a Lego Hour on Tuesdays at 3:45. 
Once you've visited Red Lodge, regardless of the season, chances are you'll be back. It's easy to see why the community has been nicknamed "Basecamp to the Beartooths." With so many activities to offer and a wealth of sightseeing and strolling options, this little mountain town becomes a vivid memory with a powerful magnetic draw. 
Coming to Red Lodge? Don't miss these events:
• Red Lodge Music Festival:  full week of music camps and performances, early June, rlmf.org
• Bear Creek Saloon and Pig Races: dinner and galloping porkers, Thurs. through Sun., all summer, redlodge.com/bearcreek
• Home of Champions Rodeo: July 2-3-4, with daily parade on Broadway, redlodgerodeo.com
• Buses of Yellowstone Historic Preservation: vintage tour buses at 124 N. Broadway, busesofyellowstonepreservationtrust.org
• Tippet Rise Concert Season: internationally acclaimed musicians,
early July through mid-September, tippetrise.org
• Red Lodge Fun Run for Charities: spirited run supports more than
70 charities, Labor Day weekend, www.rlacf.org/initiatives/fun-run
• Labor Day Arts Fair, sponsored by Carbon County Arts Guild and Gallery, Labor Day, carboncountydepotgallery.org 
• Oktoberfest at Red Lodge Ales: one of Montana's premier microbreweries, mid-September, redlodgeales.com
• Christmas Stroll: festive downtown weekend kicks off holiday season, early December, redlodge.com/red-lodge-christmas-stroll.asp
• Red Lodge Mountain Ski Resort: opens around Thanksgiving;
Winter Carnival on the mountain with Torchlight Parade in early March,
redlodgemountain.com
• National Ski-Joring Finals: watch from bleachers as horses pull daring skiers, mid-March. Visit redlodgeskijoring.com.
• ArtWalk: Various downtown venues, notably Honey's Café, month-long exhibits.