Riding the Memory Maker
a journey aboard America's historic, northernmost, transcontinental passenger train at Whitefish for a trip to Chicago.
Lisa Rogers, 37, is about to board America's historic, northernmost, transcontinental passenger train at Whitefish for a trip to Chicago. Keeping track of her two daughters, 12 and 6, she's traveling with her 70-year-old aunt, a train veteran, who wishes to ride the Empire Builder using the Vacation Package.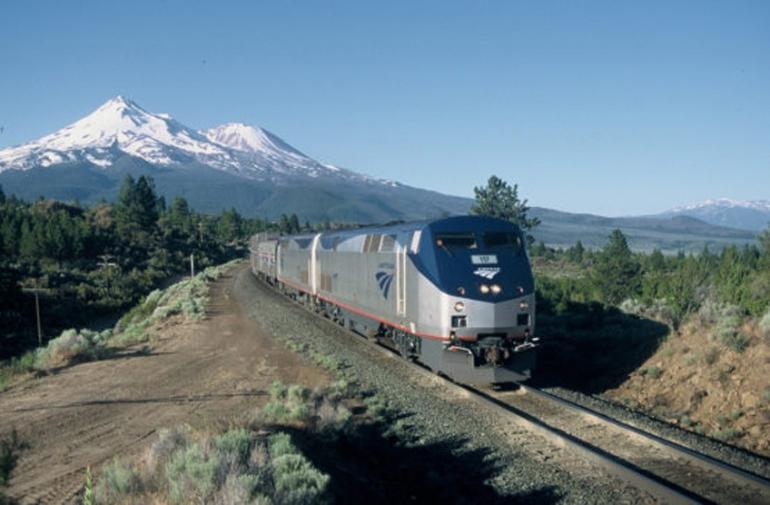 Lisa's never traveled by train, and is happy to share this adventure with her daughters, who ride for half-fare (kids up to 13 ride 50% off; it's free for infants under two). Told to expect delays (freight trains have right-of-way on America's railways), Lisa and her aunt anticipate spectacular views unseen by car or plane, a point even the most critical rider of Amtrak concedes.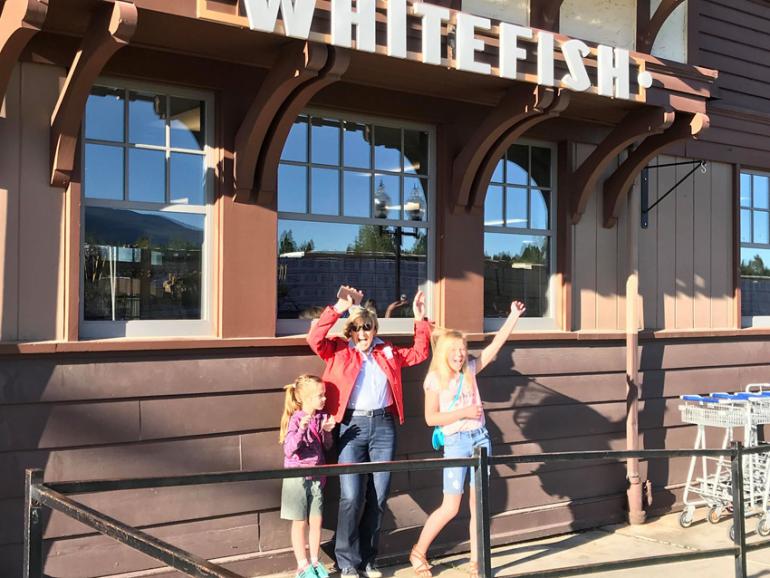 All Aboard
Built in 1928, and restored in 1990, the Whitefish depot building is impressive with its sharp Alpine-style dormers and dark timbers—particularly in winter, when the train rolls into Whitefish and the slopes of Whitefish Mountain Resort are lit up like a movie set.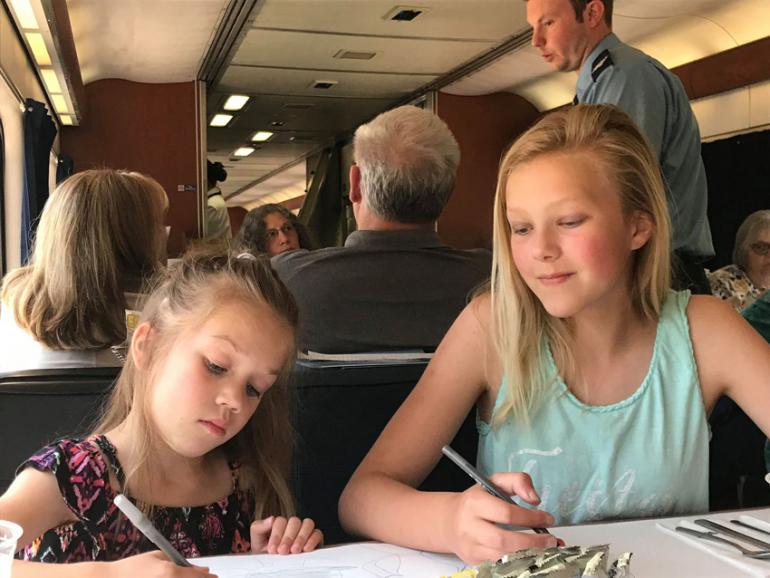 Skiers and snowboarders abound on the train in the winter. Many come from the Seattle and Portland areas, which are terminal West coast stations. The 2,200+ mile route originates in Illinois, and depending on what time of year, the trip includes long stretches of grasslands and mountain vistas bathed in light.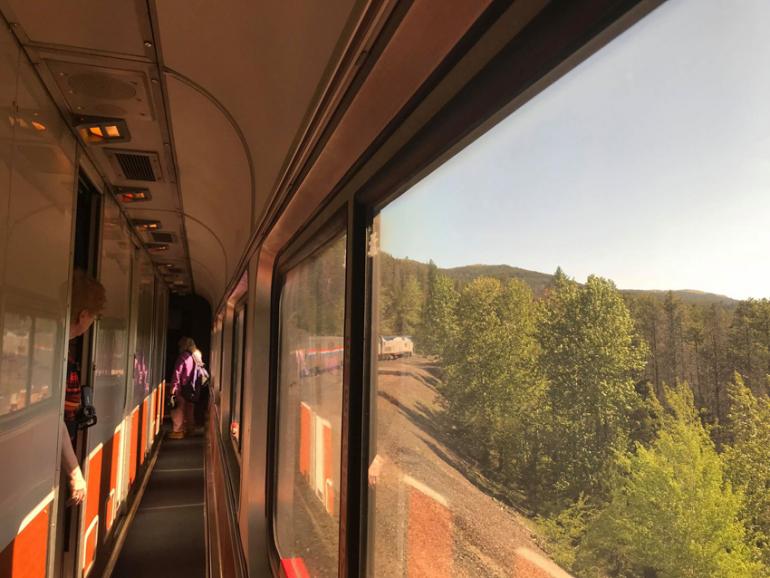 Flex Time
No matter your trip duration, most riders say this type of travel affords one the opportunity to slow down and go with the flow, or, more accurately, with the rolling rhythm of steel wheels. The trick to a joyful journey, say veterans, is flexibility—in all areas. Take the landscape. After miles of the same old, it's going to change, maybe deliver something unexpected. And, your timetable may change. The train may arrive on time, or not. Keep your expectations open. The Dining and Café cars offer food and beverages, but a stash from home is handy, should there be a lengthy delay.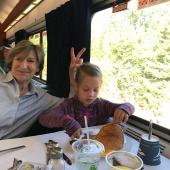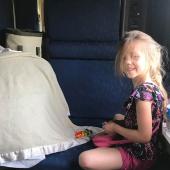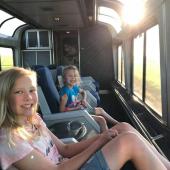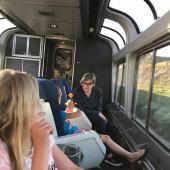 Also, there's no WiFi. Cell phones work for most of the journey and you'll find convenient plug-ins for mobile devices. So, download content for yourself and the kids before you board. Station stops are brief and you don't want to miss the call out for the train. Each passenger is allowed two carry-on items and personal items. You can also check up to four bags (two are free). 
One reviewer says he brought a stack of magazines and books, and didn't touch a one. He was absorbed by the scenery outside—didn't matter day or night. The grasslands and national parks of Montana were favorites.
Discovery Time
The girls are eager to see the Superliner's famous bi-level Observation Car.
A glass-bubble space with subdued lighting and a long passageway flanked by comfy seats that face large windows with footrests, the car is a social hub.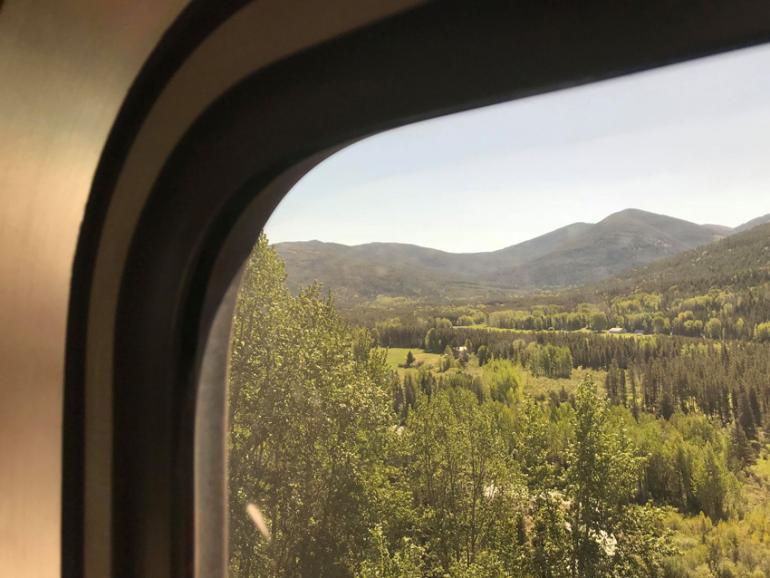 As a child, Melee Valett, 61, rode the train from Portland to Havre. The mining/farming community resides in the Hi-line, where train travel remains, even today, a crucial lifeline, particularly for medical reasons. Melee's grandmother lived in Great Falls.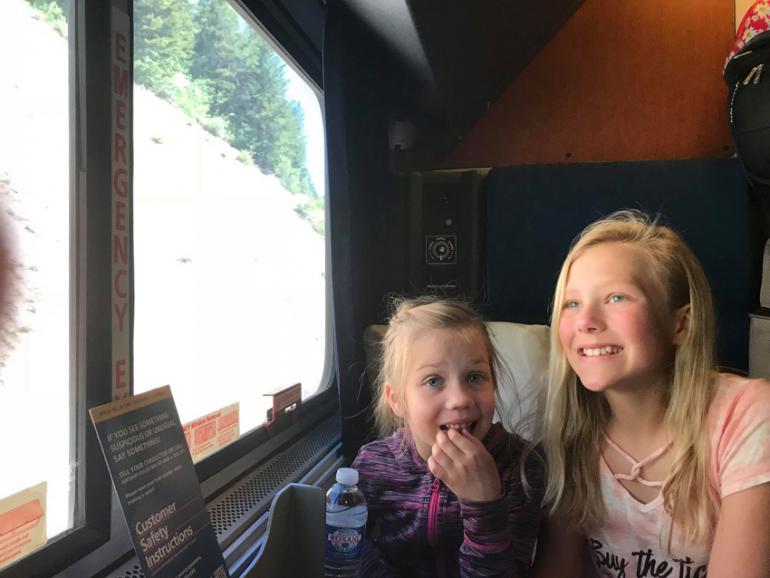 Other people have their own stories about why passenger rail service is important to them: some want to get from Montana to New York to see an oncologist, kids who travel to college or to see family, and the senior citizens who think it safer to ride Amtrak during the winter.
"Outside the Havre Depot, built in 1904, there's a statue of the Great Northern Railway's founder: James J. Hill. Legend pegs him as the original "Empire Builder," so called for his visionary (some said insane) quest to build a northern transcontinental railroad, across sometimes yet unpurchased land, not to mention the indomitable Rocky Mountains and the Continental Divide, near Glacier National Park—one of the train's destinations.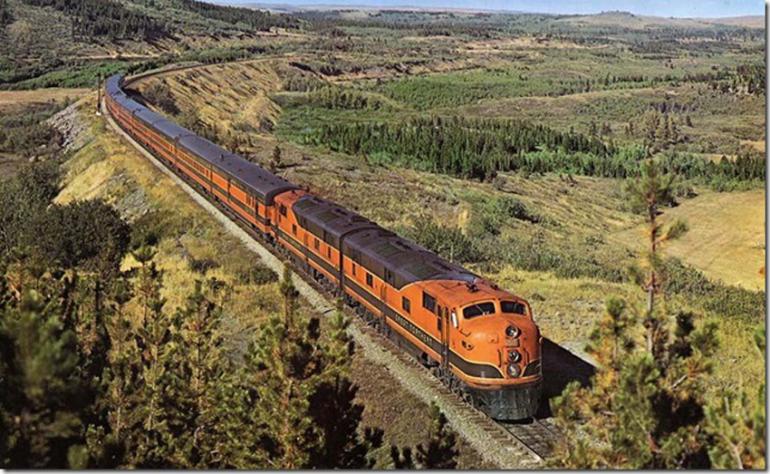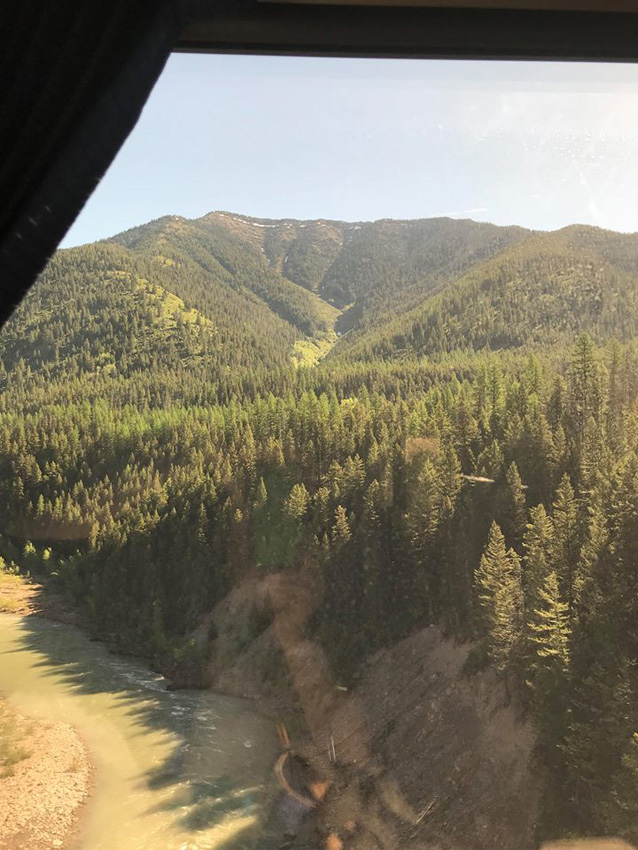 "It was always exciting," says Melee.
"I remember the station, the excitement of catching the train, getting on, it starting. Dad always made sure we got to see the whole train. He took us to the front, to the Dining and Observation cars, and the view from the back of the train."
She describes the original Dome Car (still running for Amtrak back East) as "magical" with uninterrupted floor-to-ceiling windows and the feeling of being in an aquarium. "I saw my first herd of elk from the Observation Car," she says.
More Flex Time
A train rider today, Melee offers more on the Science of Flexibility on Trains. "Keep your knees loose. Don't lock them up or you'll lose your balance." Lisa agrees. She compares the train's sway to sailing. "You need your sea legs."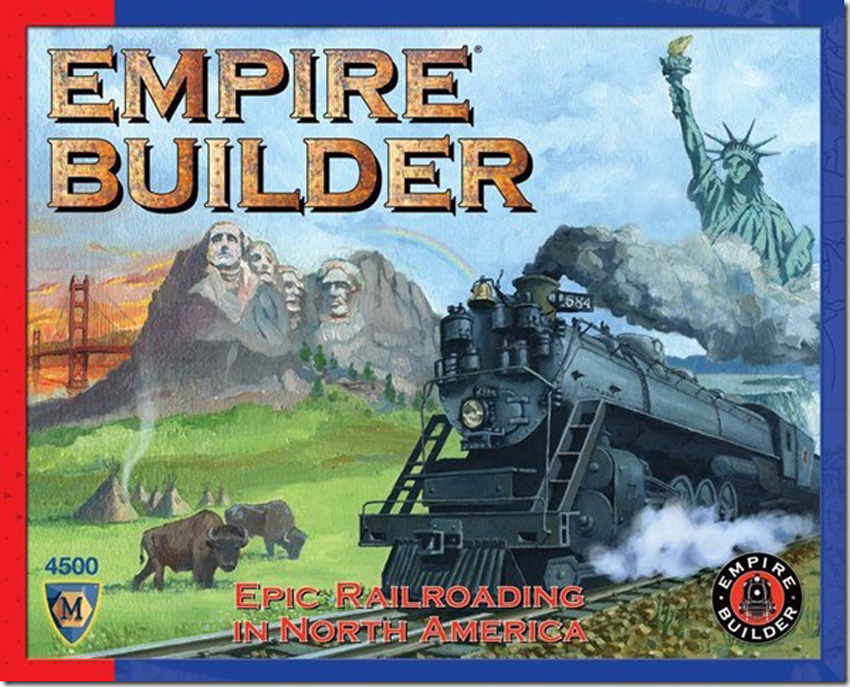 Marc Magliari, Amtrak spokesman, negates such thinking. "Trains are designed," he says, to "better accommodate people with disabilities." He speaks of Wheelchair Space (room to park your chair), Accessible Seats (space for passengers in leg casts, using walkers, or riding with a large service animal), and, lastly, an Accessible Bedroom (a sleeping area with "a private commode and sink, and a mobility device, like a wheel chair") that is available to the public if not booked a week before departure. 
First-time train traveler Merrill Bradshaw and his wife, Sunni, both in their 60s, also board the train at Whitefish. They've spent about $800 on a round-trip from and to Seattle. Cheaper than a plane, they thought. A long train ride could be interesting. "We had an overnight berth," says Sunni. "We really enjoyed the privacy. We also enjoyed the slow pace and not having to drive to Seattle, which we've done numerous times."
 "Merrill went to the Observation Car and sat there, under the stars, enjoying the night sky. Then we came down to the Dining Car and found it full of nice linens and full meals. When we went back to our room, the porter had pulled down the bed in our berth, and left cold water. It was like being pampered." Like others, she praises the crew: "Absolutely wonderful and caring and pleasant to be around."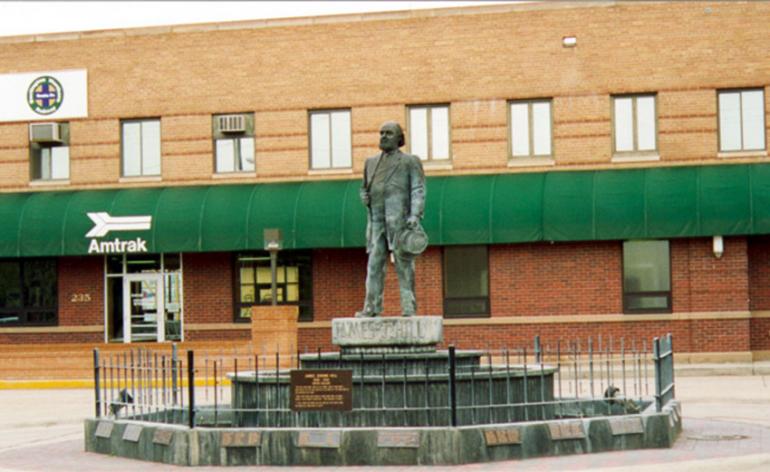 Sleepy Time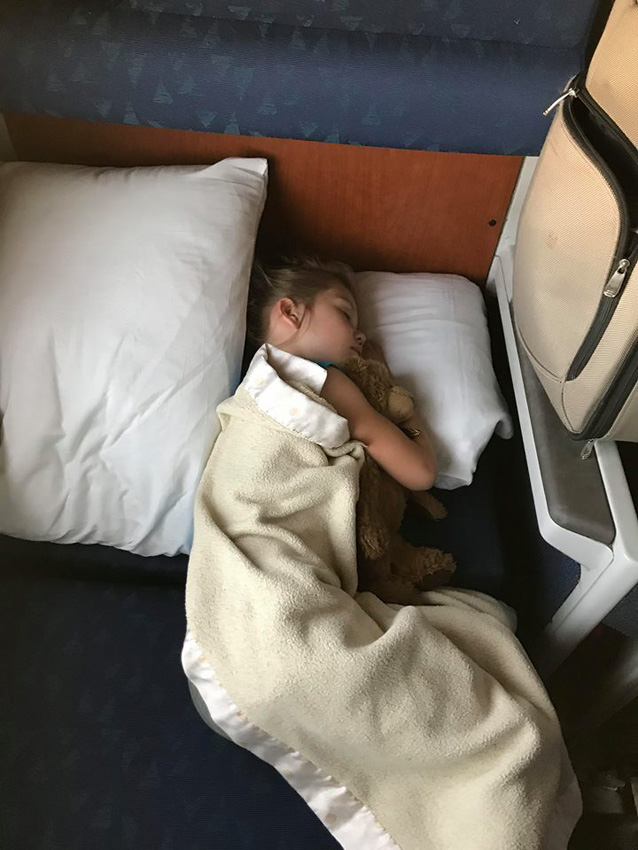 Because Coach Class Seating gets the same personal service (it's all reserved seating), one rider suggests Coach is the way to go: Save money without a lot of sacrifice. You get a fold-down tray, a reading light, electric outlets, extra leg room, foot rests, and even curtains. In 2014, USA Today confirmed that train seats are inches more spacious and adjustable than those on a plane. Small dogs and cats are allowed for a fee. 
The least expensive, called a "Roomette," sleeps two adults with day seating that transforms into a bed, and another wall unit. All rooms come with linen, towels and water bottles, but there is often a line for community bathrooms. One reviewer suggests packing moist towelettes. The "Bedroom" includes an in-room toilet and shower.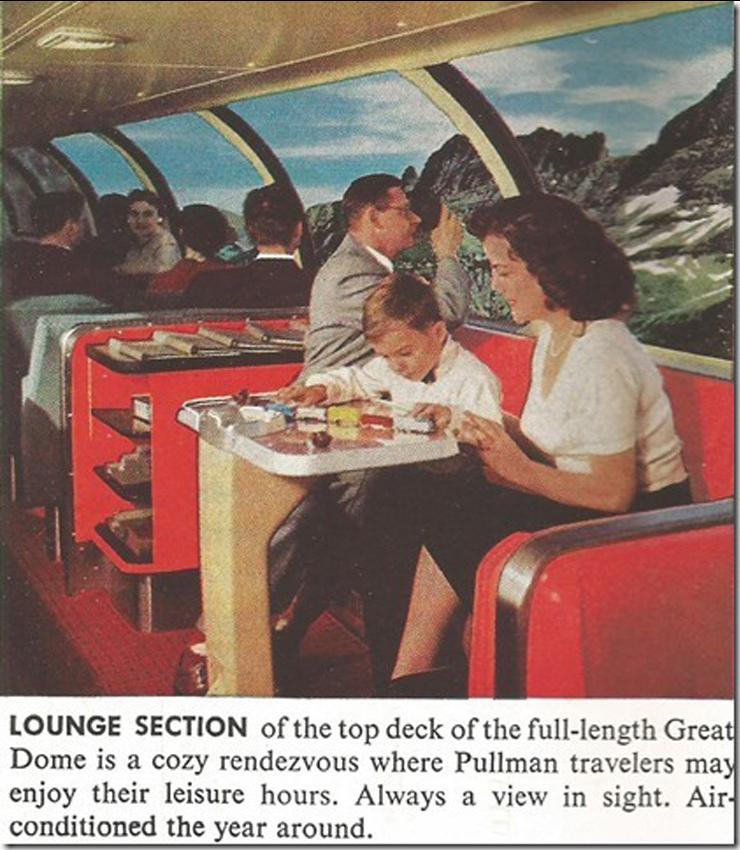 If you want to travel in James Hill style, you can double these amenities (four adults, two toilets and two showers) with the "Bedroom Suite." The Family Bedroom sleeps two adults and two children. As with the roomettes, toilet and shower are down the hallway. "Bring a robe and slippers," says Amtrak's Marc Magliari. 
In the sleepers, coffee is available each morning (7 -11 am), and meals are included, which can be quite a savings. And you're bound to meet new friends.
The Empire Builder makes 12 stops in Montana: Wolf Point, Glasgow, Malta, Havre, Shelby, Cut Bank, Browning, East Glacier Park, Essex, West Glacier, Whitefish, Libby. To learn specific costs, packages, and time schedules, contact Amtrak (1.800.USA-RAIL) or visit the Website www.amtrak.com. Of course, it's best to book your trip well in advance. You can reserve tickets online nearly a year ahead. Also learn about refunds and vouchers, should your plans change. You can book, cancel / get a refund online, or by calling 1-800-USA-RAIL (1-800-872-7245).