Suspended from a cliff on the wind-whipped Rocky Mountain Front, the rock climber looks over his shoulder at Mount Frazier – one of the boundaries of the Bob Marshall Wilderness. It's not the tallest peak in the area, but because it is closer than the rest, it's enormous.
The noisy, rushing Blackleaf Creek crackles below him as he secures himself to the limestone wall that stares back at him when he returns his attention to it. The rock towers some 800 feet above the creek bed.
A light breeze kicks off the Rocky Mountains, a sign that it could crank up to full blast any minute.  "The wind, which is an ever-constant companion up there, can change the weather 15 to 20 degrees in a matter of minutes when it comes off the mountains to the west," says Helena climbing legend Randall Green.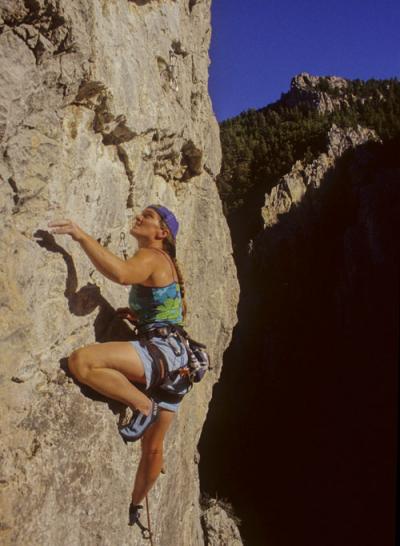 With each pitch, a new geology lesson -- the fossils embedded in the layers of limestone tell a story of the area that has always been more populated with animals than people. Some things never change.  You are more likely to see an elk, a grizzly bear or a black bear than a human sometimes," says Green of the remote canyon, which also serves as a major trailhead to the Bob Marshall Wilderness.
Green helped develop the Blackleaf Canyon rock-climbing area, which, he says, is unique to Montana climbing. There are some limestone multi-pitched sport climbing areas in the Canadian Rockies to the north, but there is nothing like this in the lower 48 states, he says.  "It's going to become one of the true rock climbing destinations in the state," Green adds.
Here are seven areas, including Blackleaf, that offer Montana climbing enthusiasts a little bit of everything. Of course there are many more. Contact local outdoor shops for detailed maps to these areas and others.  I recommend First Ascent Press's Big Sky Rock Climbing series. With two guidebooks already published – Butte's Climbing Guide and Central Montana Rock – look for three more before next spring.
BLACKLEAF CANYON
Overview: Located in the limestone of the majestic Rocky Mountain Front, Blackleaf's development began in 1999. This multi-pitched, sport climbing area is unique to Montana. Because the limestone leaves few cracks for climbers to put their protection into, each route has been bolted for repeated ascents so that climbers stay within a margin of safety. The sport climbing is amazing, with one route that is nearly 600 feet high. There are at least three dozen climbs on 75 pitches. New routes are constantly being put up. The canyon has a serviceable road into its heart, which can be reached by passenger car. 
Climbing season: The climbing season depends on the climbers' tolerance to wind and cold, but is usually June through early to mid-October. Most of the climbing is in the shade, which is good for summer, but makes it even colder in the fall.
General location: Blackleaf Canyon is located 20 miles west of Bynum, which is about 13 miles north of Choteau on U.S. Highway 89.
Other features: Because of the wind and weather, be prepared for anything.  There are two good, undeveloped camping sites near the parking area. Camping in the parking lot is prohibited.
They said it: "The climbing is very technical and gymnastic because of the rock." -- Randall Green, Helena climber, guidebook author and first ascents.
STONE HILL (Lake Koocanusa area)
Overview: Stone Hill has all the qualities of a premier sport climbing area. Climbers are attracted to this hidden area in the northwestern corner of the state because of the steep quartzite cliffs. The views of an open ponderosa pine forest and Lake Koocanusa make this undeveloped area stand out from the rest.
Stone Hill is both a sport and traditional climbing area. The majority of Stone Hill's more than 500 climbs are challenging, rating 5.10 and up, but there are also a large number of easy and moderate climbs. Climbers can start in the shade in the morning and end in the shade in the evening by crossing the lake.
Climbing season: Late February through late October.
General location: Stone Hill is on Highway 37 and the Koocanusa Reservoir. It is 51 miles from Libby, 16 miles from Eureka, and 65 miles from Fernie, BC. 
Other features: RV Camping is available at the Peck Gulch Campground right on the lake. Free tent camping is available at Camp 32. It is also a beautiful place to hike and offers world-class biking.
They said it: "You can go for the weekend and have so much to choose from and virtually no competition. There are 20 climbs (near the parking lot) that are being competed for, but there are 400 more available if you are willing to explore." – Ben Parson, Kalispell climber.
HUMBUG SPIRES
Overview: Humbug Spires is one of Montana's more famous rock climbing areas. The rock is high-quality, clean granite, and is known for its spectacular traditional climbing. There are more than 50 spires, but one rock stands out from the rest: the Wedge. Because it stands alone and is 450 to 600 feet tall on its west and southern aspects respectively, once at the top it almost feels as if the climber has reached a true alpine summit. Climbing the Wedge is more of an alpine experience and is harder to get to than the crags that are found closer to the roads.
Climbing season: July and August are the best times to climb the Humbug Spires. The weather can be good in May, June, September and October as well, but isn't as dependable. 
General location: In the Moose Creek drainage of the Humbug Spires Wilderness Study Area, which is about 26 miles south of Butte and 39 miles north of Dillon off Interstate 15.
Other features: An undeveloped camping area is located between the Moose Creek trailhead parking lot and the creek. There are also numerous undeveloped camp spots along the first 1.5 miles of the trail. There is also plenty of camping at the base of the Wedge.
They said it: "It has beautiful views and it's a little hike back, so you don't have the traffic and the cluster of other climbers." – Hannah Arm, Bozeman climber
BLODGETT CREEK CANYON
Overview: Blodgett Canyon is made of 1,500-foot granite cliffs, which not only offer climbers stellar climbing, but also breathtaking views. The cliffs, west of Hamilton in the Bitterroot valley, are graced with vertical cracks, dihedrals, and exfoliation flakes. The canyon offers many rock climbing options from 1- and 2-pitch, sport-type face climbs to multi-pitched and multi-day climbs on 500- to 1, 500-foot spires, walls and buttresses. The canyon has something for all climbers, with both easy and moderate climbs as well as difficult climbs ranging to 5.12.
Climbing season: The climbing season extends from late March through late October. Since most of the routes in Blodgett are on predominantly south-facing cliffs, the spring and fall months are the most comfortable to climb in. There are a few waterfalls in the area that lend themselves to ice climbing in the winter, as well.
General location: Blodgett Creek Canyon is located about 50 miles southwest of Missoula and 6 miles west of Hamilton off U.S. Highway 93.
Other features: There is a U.S. Forest Service campground at the end of Blodgett Camp Road with an outhouse. The trail down the valley also offers great hiking opportunities. Watch for wood ticks in the spring. 
They said it: "If the rest of the world knew how good the climbing was, there'd be more climbers there." – Jim Wilson, Pipestone Mountaineering owner and Missoula rock climber.
HELLGATE GULCH
Overview: Hellgate Gulch may be home to one of the most serene crags in the state. The fins, most of which have climbs on both sides, all slope down to the road, which runs along the Hellgate Creek. Literally, walk around the corner to find another climb. Hellgate Gulch is home of some of the best sport climbs in Montana, but it takes a confident climber to go there. There are more than 90 limestone pitches of mostly bolted routes. Most of the best routes are difficult and the bolts are spread out father than most climbs, but Hellgate cracks usually provide good gear placements. 
Climbing season: It is best March through October, but the rocks are usually dry and can be climbed on a hot winter day. 
General location: Hellgate Gulch is 30 miles southeast of Helena and 8 miles past the Canyon Ferry Dam and Visitor Center.
Other features: There are several campgrounds around Canyon Ferry Lake. Hellgate Gulch is also a popular ATV and 4-wheel-drive area. It is also home to many mountain goats, and it isn't uncommon to hear clatter of rocks as a goat makes its way up a gully.
They said it: " Hellgate has a lot of high-end sport climbs that are intermingled with some moderate sport climbs you can warm up on." -- Jake Mergenthaller, Helena climber, first ascentist and author of Central Montana Rock Climbs around Helena, Canyon Ferry and The Rocky Mountain Front. 
GALLATIN CANYON
Overview: The Gallatin Canyon is the heart and soul of Bozeman's climbing community, offering pitch after pitch of good climbing. The canyon has one of the longest histories in the state. Despite being located right off U.S. Highway 191 southwest of Bozeman, the canyon is relatively serene. Climbers can watch kayakers negotiate House Rock rapids in the Gallatin River below. The routes are hard for their grades, and require climbers to plan ahead as they ascend. Finding the route, even with a guidebook can sometimes be difficult. Most of the routes are traditional and can be hard to protect. 
Climbing season: The best climbing is generally from April through October.
General location: Gallatin Canyon is 30 miles south of Bozeman and 15 miles north of Big Sky.
Other features: There are several U.S. Forest Service campgrounds in the area. Montana Alpine Guides (406-539-5091) takes climbers to the Gallatin Canyon as well as Humbug Spires. The area is also home to world-class fishing, rafting and kayaking. It is also close to Big Sky Resort.
They said it: "If you can climb well in the Gallatin Canyon, you can climb good anywhere." -- Joe Josephson, First Ascents Press founder and publisher and Bozeman climber
SPIRE ROCK (Pipestone)
Overview: Sitting right the Continental Divide, Spire Rock is the classic crag of the Boulder Batholith, the geological formations that look like strangely-shaped boulders in the Butte area right off Interstate 90. 
Spire Rock is divided into two rock formations, named the King and the Queen, the King being the larger of the two. King has multi-pitched climbs, where Queen's are shorter routes. The climbs are mostly traditional, but there are some sport climbs, but the bolts are more spread out than the typical sport climb. There are climbs for beginners on up to climbs as difficult as 5.13.
Climbing season: The best time to climb is June through October. A warm, sunny, winter day when the wind isn't blowing can also be pleasant. 
General location: Spire Rock is about 21 miles east of Butte and 60 miles west of Bozeman just north of Interstate 90 near Whitehall. 
Other features: There is excellent camping slightly past the turnoff for Spire Rock. Make sure to use the same campsites to lessen the impact on the area. Bouldering, a fast growing sport, is popular in this area, as well. Moto-X is also popular.
They said it: "I like to climb Spire Rock because it has crack systems as well as face climbs. I'm better at crack systems because I'm old school." – Kurt Krueger, Missoula climber
~ Amie Thompson is a fifth-generation Montanan and a freelance writer and photographer. Her work has appeared in regional and national publications. Amie lives in Great Falls with her husband and two little girls.