Stephanie Gandulla is a Bozeman native who has sailed the waters of Ireland, Nova Scotia, Alaska, the Caribbean…and, of course, Montana.  She looks forward to sailing with her husband, Nick on Nereida for many years, or at least until they get a bigger boat.
* * * *
We picked her up in Indiana.  She had clearly been neglected. Her cabin was full of abandoned wasp nests and dusty cobwebs; her deck was cracked and caked with dirt.  As we drove back, curious folks along the way asked questions: "Where are you taking her?"  "Montana?" they exclaimed. "You can sail in Montana? But…where?" Well, that's exactly what my husband Nick and I spent the rest of the summer finding out: where to sail our new (well, new to us), 1974, 22-foot sailboat in the landlocked state of Montana. What we discovered is that whether you're just learning the ropes on a 10-foot dinghy, or sailing comfortably on a 42-foot blue-water cruiser, Montana has a body of water for you.
Sailors across the Big Sky state hoist their sails on Fort Peck Reservoir in the dusty eastern part of the state to the pristine waters of Flathead Lake in the northwest.  And, although there truly are many lakes in Montana on which to set sail, we focused on two of the largest—Flathead Lake and Canyon Ferry Reservoir. Both are deservedly popular among the sailing community.
Flathead Lake sits nestled among pine trees and cherry orchards. Only 20 minutes from Kalispell and within an hour of Glacier National Park, this glacier-fed lake is at the heart of some of the best outdoor recreation Montana has to offer. Picturesque in its surroundings, Flathead Lake is flanked by the Mission Mountains to the southeast and the Swan Mountains to the northeast.  According to many sailors, it's a mariner's dream. Owner of Dayton Yacht Harbour, Jim Lekander, confidently says, "Flathead Lake has the finest sailing on the North American continent." Lekander attributes these favorable conditions to the reliable and consistent wind patterns created by the surrounding landscape.  As the flat plains west of the lake heat up during the day, they pull the cold air from the eastern mountains across the large body of water. This consistent system creates easterlies (winds that blow from the east) that start about mid-morning and blow until around six in the evening, setting the stage for active sailing.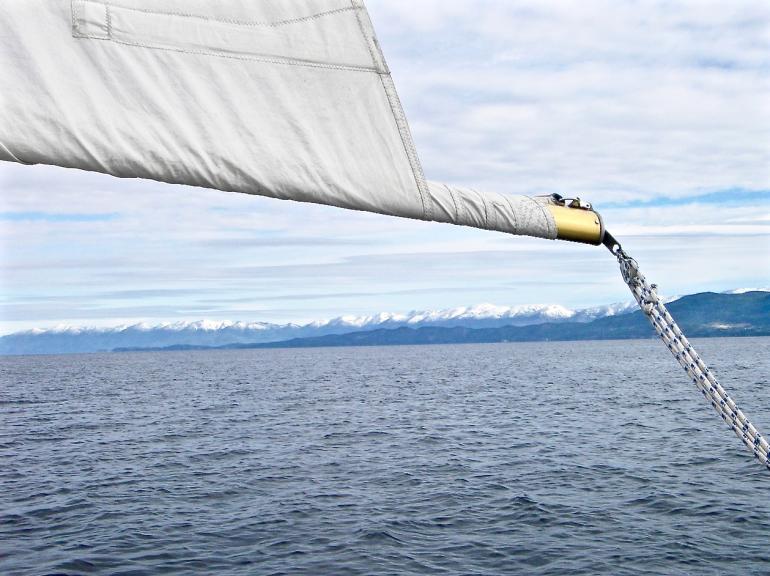 Dayton Yacht Harbour is a perfect place to take advantage of these terrific sailing winds, and it's where my crew and I began our inaugural season of Montana sailing. Nestled on the west shore just north of Big Arm, DYH is a central fixture in the tiny town of Dayton. Slips are available for rent; they offer a cozy clubhouse with showers and a welcoming communal area. At this unpretentious marina you can, depending on your ability, take lessons, charter a worthy vessel or launch your own. With our new sloop we chose the latter and like two proud parents we launched Nereida (Spanish for "sea sprite").  We eagerly began the lengthy but important procedure of checking, and double-checking, all systems on board. After ensuring that our radio worked and that our charts were handy, we got down to the really fun part: provisioning the galley. We had already stowed most of the staples from home, and we now filled the nooks and crannies of our vessel with Montana-made wine, chocolates, and fresh summer fruit and vegetables from the local markets.
While getting acquainted with Nereida actually in the water, and not just behind the truck, we stayed securely tied-up at the dock at DYH. An atmosphere of halyards clinking against masts and water lapping against the hulls made the Dayton docks an inviting place.  At a length of 802 feet, these docks were built on top of old wooden train trestles that used to serve the area's local sawmill, and they now served as an excellent staging area from which to visit the Mission Mountain Winery. This small winery with accompanying tasting room is within walking distance of the clubhouse and a pleasant way to spend the afternoon after an invigorating morning sail.
When it was time to break free of the easy life of sailing at dawn and wine tasting in the afternoon, we decided to cast off and anchor overnight at Skeeko Bay. This popular Bay sits on the north end of Wild Horse Island—Flathead's largest at 2,100 acres. A natural preserve, Wild Horse hosts an array of wildlife, including the few remnants of a wild Mustang herd, and amazing day hikes to summits that grant the best views of the lake and its surrounding mountains.
Flathead Lake is also home to Somers, the quaint sailing town that the North Flathead Yacht Club has called home since 1976. This private club has rows of pretty sailboats set against the charming backdrop of an old sawmill with rotting train trestles (part of the same antiquated rail system that makes up Dayton's docks). In the nearby Somers Bay Café, where the walls are decorated with interesting black and white photos of the old sawmill, hungry NFYC captains and crew enjoy a hearty breakfast.
Throughout our inaugural summer, Nick, Nereida, and I enjoyed exploring many of the little inlets and coves that this lake, known as the cleanest in the country, has to offer.  As we tacked and jibed around Flathead we came across islands to explore that appear as just a dot on the map and ancient petroglyphs that cannot be seen from the land.  Flathead Lake is indeed a sailor's dream.  It provided my fresh crew with the best conditions in which to learn to sail, yet also has a lot to offer any ol' crusty seaman.
Canyon Ferry Reservoir, located 50 miles downstream from Three Forks in southwest Montana, also has much  to offer both the rookie and the veteran sailor.  Montana's third largest body of water was created when the U.S. Bureau of Reclamation completed Canyon Ferry Dam in 1954, flooding what was once a small, rural town with the mighty Missouri River. The town's cemetery, which was the highest point, now serves as an adventuresome stop-off for boaters who want to climb to the top and catch a bird's eye view of the 25-mile long lake. If the mountain winds are just right, Cemetery Island is just a quick sail from the two marinas at the north end of the lake.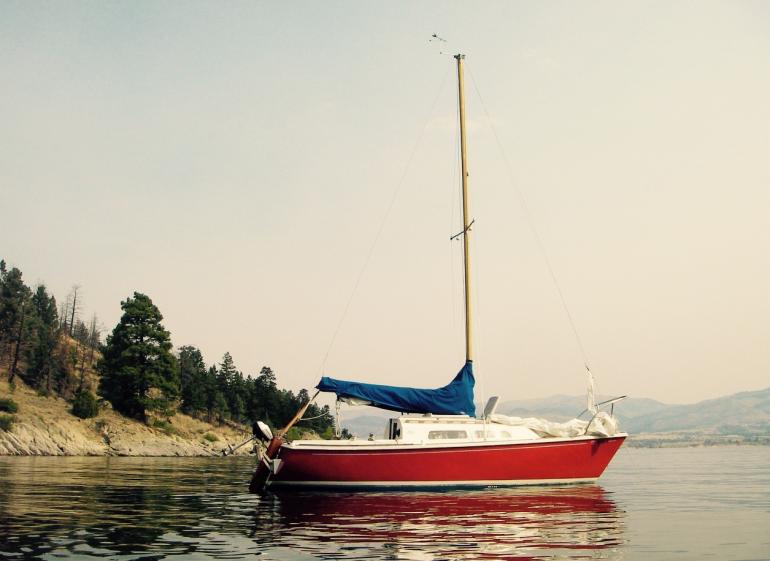 One of these marinas, Yacht Basin, is where our crew hailed from when sailing on Canyon Ferry.  With a number of slips for rent and a small store offering gasoline and other essential basics, Yacht Basin has a decidedly sailor-friendly environment. Two sailing entities, the Canyon Ferry Yacht Club and the True North Sailing Club, are headquartered at Yacht Basin. While launching Nereida, we weren't short on assistance, which, I admit, we needed, or advice. Fellow sailors were eager to share tips about the local winds and the coordinates of their favorite anchorages. We heeded their advice and enjoyed lunch at anchor just off shore from the Lorelei Day-Use site.  This is a perfect spot to partake in the usual lake activities. To escape the hot Montana summer sun, we set out the swim ladder and splashed in the cool lake. We swam, sunbathed, bird-watched, and fished.  But, with our sailor's perspective from the decks of Nereida, these typical summer activities were all the more full and rewarding. 
We spent one hot July night anchored in Mahogany Cove, a secluded spot along the west shore of Canyon Ferry. Our only guest was a curious young buck who came down to the shore to drink under a full moon. We shared a nightcap with him and considered life onboard. There's something about preparing a meal onboard a sailing vessel that is enchanting. Even baguettes and Brie taste that much better, as if infused with the rich flavors of the experience. To sail away from the dock—from civilization—in search of such a secluded cove as we had found in these beautiful Montana waters feels so freeing. With only the sounds of the sails filling with air and the smell of pine-scented breezes, Nick, Nereida and I had found a maritime paradise in landlocked Montana.
Montana sailing is indeed a challenge. Unpredictable mountain breezes sometimes make for intense situations, excellent opportunities for fast learning.  As Canyon Ferry sailor, Bruce Gagne, says, "Montana sailors have to work harder."  The sailors I've met across the Big Sky state are up to the challenge. These folks, and now Nick, Nereida and I, relish experiencing an aspect of Montana that not everyone sees.  We look forward to getting to know Montana a little better—from the pristine, ice-fed waters of its cool, blue lakes.
If you are planning on checking out Montana from the water, remember, you are still in the wilderness.  Let someone at home know your route, be familiar with your chart and keep a keen eye on the weather.  Make sure you have a PFD (personal floatation device) for everyone on board and be open to consulting with the locals: local knowledge is priceless!
This summer, the crew and I are plotting a course to Fort Peck Reservoir and other points east. Maybe we'll run into you.
* * * *
QUICK FACTS!
FLATHEAD LAKE:
Latitude

: 47°53'15"N

Longitude: 114°07'00"W
Largest natural, freshwater lake west of the Mississippi
162 shoreline miles
191 square miles
27.3 miles long
15.5 miles at maximum width
371 feet maximum depth
Where to launch: Dayton Yacht Harbor, Big Arm State Park
Nearby towns: Kalispell, Polson, Big Fork
History: Flathead Lake takes its name from the Flathead (Salish) Native Americans who live on the Flathead Reservation at the south end of the lake.
CANYON FERRY RESERVOIR:
Latitude: 46°38'54"N
Longitude: 111°43'36"W
Montana's 3rd largest body of water
96 shoreline miles
55 square miles
25 miles long
4.5 miles at maximum width
150 feet maximum depth
Where to launch: Yacht Basin Marina, Kim's Marina & Resort
Nearby towns: Townsend, Helena
History:  Located on the Missouri River, Canyon Ferry was one of three crossings that transported people across the river to and from Helena.  The manmade reservoir was created when the dam was completed in 1954.
Interesting tidbit: Canyon Ferry is known as one of the best spots in the U.S. to ice sail. Ice sailing boats can reach speeds well over 100 miles an hour!
FORT PECK RESERVOIR:
Latitude: 48°00'28"N
Longitude: 106°41'61"W
Montana's largest body of water
1,520 shoreline miles
390 square miles
134 miles long
 30 miles at maximum width - the longest side arm of the reservoir reaches around 30 miles (48K) southward
220 feet maximum depth
Where to launch: Fort Peck Marina, Hell Creek Marina, others – check road conditions and lake elevations beforehand!
Nearby towns:  Fort Peck, Glasgow
History:  Fort Peck Reservoir was created when the 3.8 mile-long dam was completed in 1937. It is situated entirely on the Charles M. Russell National Wildlife Refuge. 
Interesting tidbit: Fort Peck Reservoir is the fifth largest man-made reservoir in the U.S. The area is also recognized by scientists as one of the most fossil-rich areas in the world.