Standing in the crisp Montana air against a backdrop of snowbanks, horse trailers, and distant white-capped peaks, members of the crowd are dressed in two contrasting styles:cowboy boots and earth-tone Carhartts, or floppy beanies and bright synthetic jackets. The casual viewer would have to wonder what the two types of spectators could possibly have in common. The competition itself induces a double-take: every few minutes, a horse thunders down the snowy obstacle course, its rider lifted out of the saddle and crouched low over the horse's neck. A skier is towed on a rope behind the horse, swerving around slalom gates at breakneck speeds and over jumps created from mammoth piles of snow. 
Skijoring is a unique sport in many ways, in part because the skier-rider teams usually come from vastly different backgrounds. That, combined with the addition of a horse pounding the track at a dead gallop, means first-time viewers won't quite believe their eyes. Despite its niche vibe, skijoring is growing in popularity. If this is the first time you've heard of the sport, it won't be the last.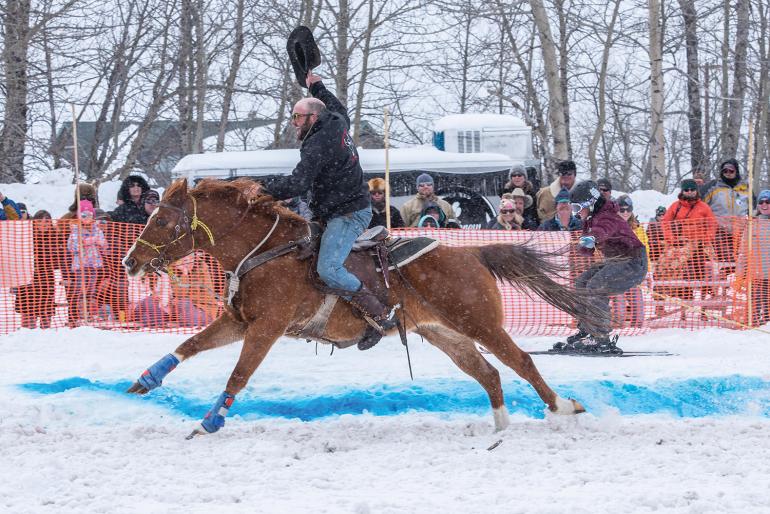 Skijoring originated hundreds of years ago in Scandinavia, with Laplanders using Nordic skis strapped behind reindeer as a way of moving across snow-covered terrain. From there, the sport underwent an evolution from necessity to entertainment. By the early 1900s, horse-drawn skijoring was a recreational occurrence in Europe and North America—mainly in New York and New Hampshire. The sport turned competitive as it migrated across the U.S. to Colorado, Wyoming, and Montana. Soldiers returned to their mountain towns and would host their own races in the street, tying a tow rope to the saddle horns of their friends' horses. They'd race at speeds of more than 30 miles per hour down snow-covered main streets in front of cheering crowds. This is as close to modern skijoring competitions as it gets, with the addition of curved tracks and obstacles popping up in Montana, where we do everything just a little bit extra. 
While skijoring is found across the country, the majority of U.S. skijoring competitions take place in Montana. Four out of the seven 2019-2020 major Skijoring America events are hosted in Montana, followed by one each in Idaho, Colorado, and Wyoming.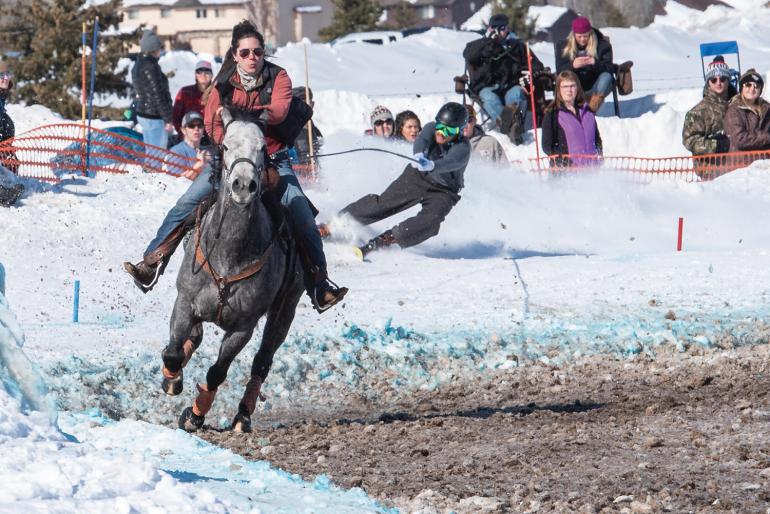 Montana is home to a variety of skijoring clubs and smaller events, including the Gallatin Valley Skijoring Association, the Red Lodge Skijoring Association, Big Sky Skijoring Association, Whitefish Skijoring, and Last Chance Skijoring in Helena. 
Skijoring competitions take place all over the state each winter, with two of the most prominent competitions being the Skijoring World Invitational in Whitefish, and the National Finals in Red Lodge. Rules vary somewhat between events, but collectively dictate that the skier must finish upright, with the rope in hand, and "at least on one ski," meaning the skier cannot be dragged across the finish line on their face. Additionally, the rider must be in contact with the horse as they cross the finish line, which means the horse cannot throw its rider and run the rest of the course riderless. If you're questioning that these rules even need to be in place, you've probably never been to a skijoring event.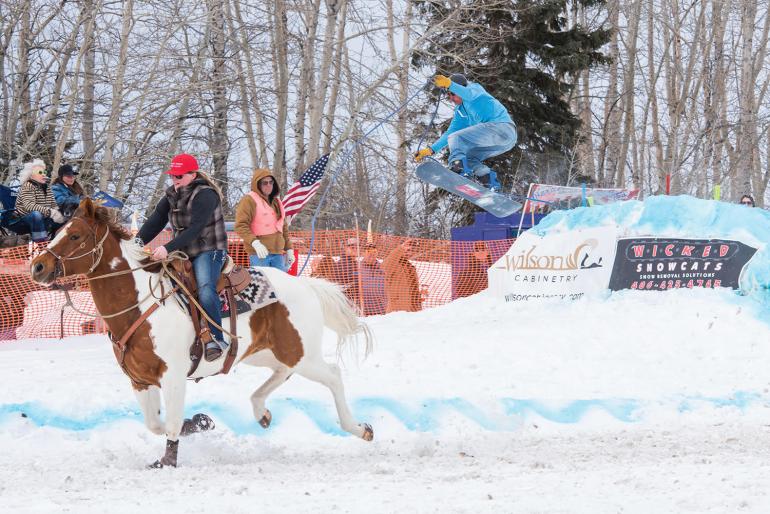 Each January, Whitefish hosts the annual Whitefish Skijoring World Invitational at the Whitefish Mountain Resort. Skijoring was a highlight of the Whitefish Winter Carnival beginning the 1960s, and after being reinstated in 2003, it has become a staple of this annual festival. Each year, between 60-80 teams from all around the Northern Rockies turn out for this event. Competitors enter into Open, Amateur, and Novice categories, with a costume category rounding out the playful aspect of the sport. "There's no qualifying races to enter," says Ron Behrendt, who has been volunteering for the event for over a decade. "They just show up with a check." Interested in competing? Get the details for upcoming events at whitefishskijoring.com.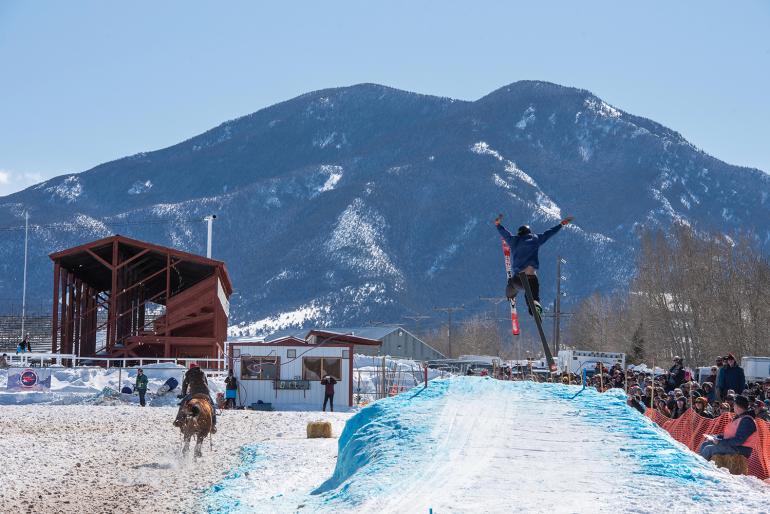 The Red Lodge Skijoring Association has been hosting the National Finals since 1980. This competition takes place in March at the Home of Champions Rodeo Grounds. Two days of races across multiple competition categories are supplemented with family-friendly activities and celebratory events in town. Red Lodge constructs a 700-foot course with over 20 slalom gates and four thrilling jumps, with competitors entering Open, Sport, and Novice categories. 
Last year, Red Lodge had over 140 teams entered—the biggest race in their history. Most prior years have brought in around 100 teams, making 2019 a significant increase. Competitors arrived from all parts of Montana as well as Colorado, Wyoming, Idaho, and parts of Canada. Like Whitefish, no qualification is necessary and Red Lodge prides itself on having a division for everyone.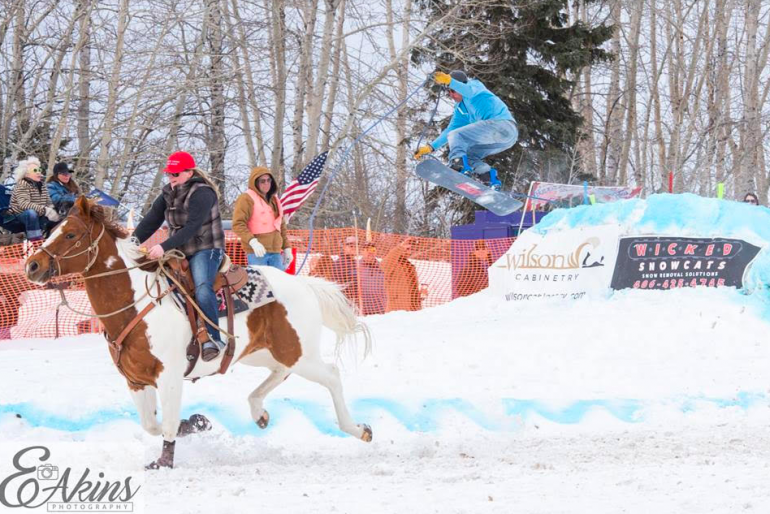 Kristen Beck is one of the head organizers at Red Lodge, along with Monica Plecker. The pair took over three years ago and run the event with a crew of dedicated volunteers. "Our name is the 'National Finals' because we have historically been the last race on the circuit," explains Beck. "Now that we are an official sanctioned race with Skijoring America we are the last race that you can compete and score points for the National title." 
The Red Lodge event takes place each year over the second weekend in March. Stay up-to-date at redlodgeskijoring.com. Other events throughout the winter include competitions and multi-day events in Lincoln, Bozeman, Helena, Kalispell, and Wisdom.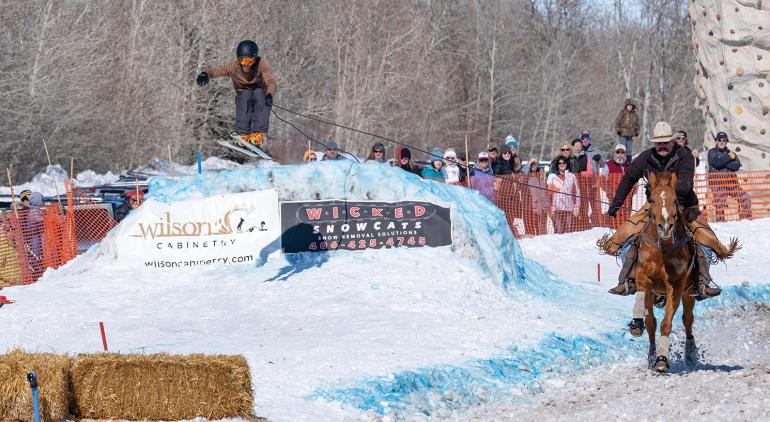 Despite the highly specialized nature of the sport and necessary equipment (fast horse, anyone?) skijoring is becoming more popular each year. This winter, head to Whitefish or Red Lodge for multiple days of thrilling races with incredible human and equine athletes, good company, rollicking afterparties, and experience one of the most unique athletic events in the world.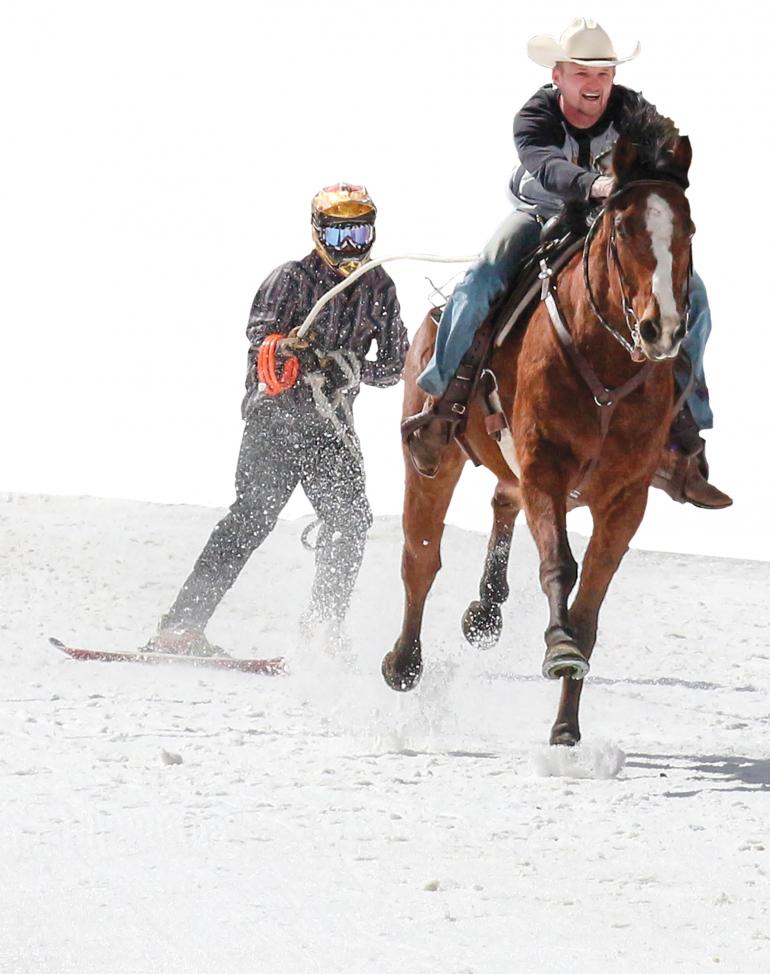 Don't Have a Horse? Use Your Dog! 
Looking for the thrill of getting pulled across the snow on skis, without going over 20 miles per hour over jumps behind an 800-pound animal? Skijoring with a dog might be for you. This is a simpler version of the sport, which can be thought of as combining dogsledding and horse-drawn skijoring. Skijoring with a dog can be done with one to three dogs, and simply requires a pair of Nordic skis and a sport-specific pulling belt and harness. 
There are many online resources and local groups and clubs to help get you started—you don't even need a special breed of dog. As long as your dog weighs over 35 pounds, loves to run, and is fully developed, it could be a good candidate. Making sure your dog is fully developed will help prevent undue strain and injury as you train them to pull. Huskies, German Shorthaired Pointers, and Golden Retrievers are all popular breeds seen at dog skijoring events. Adequate training, starting with short runs, and aiding the dog in pulling are all safe ways to start, and can add a fun new adventurous way to get outside with dogs and skis—two Montana staples. For more information and Montana events, check out montanamountainmushers.com.