You describe your work as "splashing, throwing and dribbling 2400 degree metal." "Hot paint" you like to call it. Now, that's an art form we have never run across.  Whatever prompted you to take up hot metal as art?
My gift as an artist has always been my ability to see the world differently than others. I suppose that is why much of my work literally pushes outside of the frame. I have considered myself a texturist for a long time. Feeling how the eye flows and follows the form is almost like cloud-watching to me.  My creations elicit fundamental responses from the viewer that would be difficult to achieve in other mediums. I have always gravitated toward the permanence of the metal crafts. Knowing that my work will be enjoyed for thousands of years is a powerful thought. While working in my shop several years ago a client stopped by and noticed a pile of left over slag on the floor from a previous pour. He commented on how interesting the textures and overlapping metal looked and in typical fashion, I cleaned it up and gave it to him. It got me thinking about the organic textures and whether I could somehow create a recognizable image in the chaos. I'm asking the metal to do something it really doesn't want to do, so it has taken several years of experimentation to create the effects I want.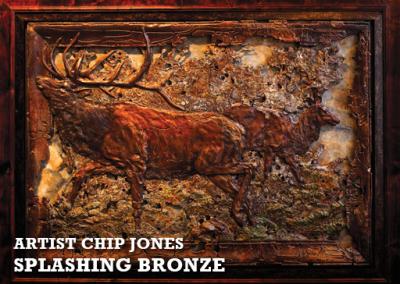 Tell us about the process. How do you create a splashed bronze piece?
As far back as I can remember, my parents encouraged my art. There weren't many coloring books in my childhood. I was told to draw the image first and then color it. Everything starts with a spark of an idea, which I draw out very quickly in thumbnail sketches using graphite or watercolor. Think of it as visual brainstorming. After the design and scale are established, I start to sculpt the piece in clay and wax which may take weeks, months, and in a couple of instances, years. This is the point at which most bronze artists take the piece to a foundry; however, I have owned my own shop since 1997, allowing me to complete the entire process myself. After creating up to four different molds using rubber, plaster, sand or ceramic shell, I place the final negative mold in a 12-foot long kiln and heat it to 1,200 degrees.  This is where the fun and chaos begins: the mold comes out bright orange and I quickly lay it on the floor close to the melting furnace, where I have organized 8-10 cast iron ladles of different sizes. There are a lot of variables to consider from moisture content of the mold, temperature of the metal, and the technique of throwing the metal, depending on the effect I want to create. I quickly select different ladles to drip and throw the molten metal using different techniques to create high detail areas and rough earthy edges, keeping in mind plenty of negative space. After cooling, the piece is cleaned and inspected and ready for a color patina. Think of it as rusting the metal using various chemicals and a blow torch to create rich, colors that complement the textures. I try to use frames from the 1800s to add another element of story and geometric shape that allows the eye to rest while viewing.
This seems like quite a unique art form, yet it feels like there is a vague historical precedent for this art.  Am I onto something?  
Yes, my hope is that the piece feels timeless, that it could have been found in an archeological dig. I was a consultant for National Geographic for many years so history and science play a leading role in my work.
Your choice of subject for splash bronzes is primarily wildlife.  Why is that?
I'm a product of my environment I suppose. Living in Montana and growing up on stories of five generations of family members has certainly influenced the topics of my work. I believe strongly in preserving and enjoying all the wild places I have known in my life.
What is a typical workday like in your studio?
Growing up on a small Montana ranch, the days started early. I am usually in the studio around 6 a.m. with a large cup of coffee and loud country or rock on the radio. It is my "happy place," where other artists and friends drop in all day long. Since sketching is so integral to any artist, I spend most mornings working out details of upcoming commissions and new ideas, while the metal is coming up to temperature. The afternoon is spent pouring and cleaning metal. Like most of my life, the shop is juxtaposed between a quiet, calm studio and a loud, fast-paced metal shop.
Your rustic hardware art is beautiful, and falls into the category of "useful" art.  How does the process for creating the hardware differ from the splashed bronze?
I use a large centrifuge spinner that forces the pewter into high-temperature rubber molds that I have designed. This allows me to produce rustic hardware and tiles that fit into any lodge or cabin décor. 
Are you experimenting with other approaches to your art, or other art forms at the moment?
I have been influenced by an eclectic group of other artists from Remington to Pollack and enjoy short vacations from my metal work. I currently have been working in sculpted paper and pallet knife oil painting. Each medium has its own textural qualities to explore. While metal will always be my focus, I enjoy experimenting and learning new ways of expressing myself.
When you're not working, what things in life bring joy to your heart?
The simple things in life give me the greatest pleasure. Good friends and family close by to enjoy an early morning horse ride or float a lazy river while casting a fly. There are so many wild places to enjoy all in the name of field research, of course. There is nothing better than sitting around a campfire with people I love, enjoying each other, wrapped in this amazing place we call Montana.
* * * *
Chip Jones is a fifth generation Montanan, who has been working in the arts most of his life. He had his first art show while attending Montana State University in Bozeman in 1980. After earning a degree in Art education he went on to teach at both the elementary and high school level. He built his personal bronze foundry "BigRock Bronze Works" in 1997 and has been creating his work there ever since. This place has allowed him to experiment with all methods of pouring bronze including the lost wax method, sand casting and open face plaster. He created a rustic line of hardware which has been sold in over 300 design shops and galleries across the country in 1998.  His work can be found in all 50 states and many fine lodges abroad. See www.cmjones.net
He is also an avid outdoorsman and feels it is his responsibility to give back to the charitable organizations that help to protect the wild places for future generations. He has donated over 40 works in bronze to organizations such as; the Rocky Mountain Elk Foundation, Trout Unlimited, Pheasants Forever, Federation of North American Wild Sheep and many others.
His studio is in Stevensville, MT, and he welcomes visitors.
UPCOMING SHOWS
Rocky Mountain Elk Banquet
Missoula, MT.
May 14th, 2016
Spokane Valley Art Auction 
Spokane, WA.
May 21st, 2016
Heart of the West
Coeur D' Alene, ID.
September 1st- 4th, 2016