Jeff Shapiro is a modern action sports renaissance man. A falconer and expert rock climber from Missoula, Shapiro flies hang gliders over the Missoula Valley and wingsuits in the Bitterroot Mountains. Wingsuit flying is an extreme form of aerial adventure, involving BASE jumping with a wingsuit, soaring at high speed across the terrain, then opening a parachute to land. BASE jumping takes its name from the different structure that some
parachutists jump from — Building, Aerial (Antenna), Span (bridge), Earth (cliff or mountain). Shapiro has some great videos on Youtube.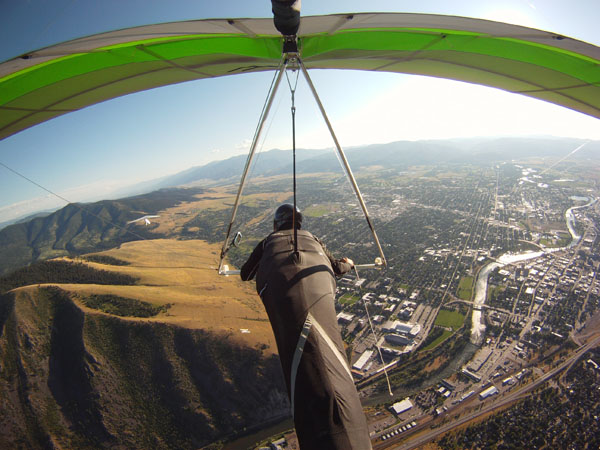 "With wingsuit flying", says Shapiro, "you're not flying something, YOU are flying."
While few would take is as far as Shapiro does, who hasn't admired the soaring flight of an eagle or hawk and dreamed of flying? 
Sport flying is surprisingly accessible and affordable in Montana, where endless skies offer adventure for anyone from neophyte thrill seekers to daring speed fliers. Hundreds of people take to the air over Montana every year via parachute, paraglider, and hang glider. 
If you have always wanted to fly the big sky, why not jump in (or out) and give it a try. Aspiring sport flyers should start by taking lessons with expert instructors.
SKYDIVING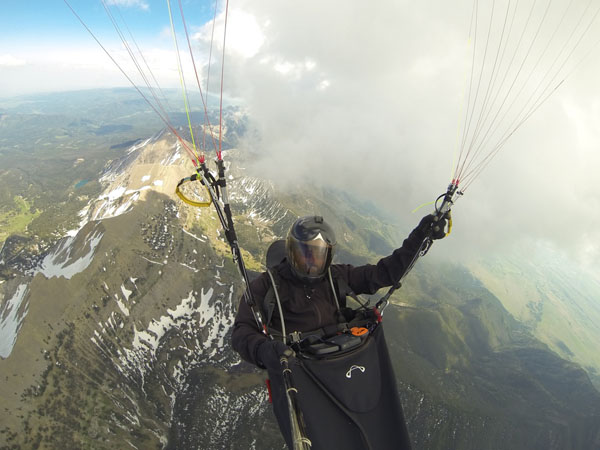 If you get a wild hair and want to try something rad, you can skydive right here in Montana. Start with a tandem jump harnessed to an expert instructor. Fly to between 9,000 and 13,000 feet and, yes, jump right out of a perfectly good airplane! After the adrenaline rush of free fall comes the joy of the parachute flight, high over
Big Sky Country.
Modern parachutes are similar to the curved fabric wings used for paragliding and are very steerable. They allow for pinpoint landings and easy touchdowns.
If you want to move beyond tandem jumps and learn solo, free-fall skydiving, take an AFF (Accelerated Free Fall) certification course to advance from novice to solo freefall jumper. There are seven levels to AFF certification and you must pass each one before advancing to the next.
These skydiving outlets offer beginning (tandem) jumps, AFF lessons, and the opportunity to earn your United States Parachute Association Certification:
DZONE Skydiving in Three Forks
(406) 586-JUMP.
A basic tandem jump costs $288.00 with additional fees for video and still photography.
Skydiving.com, Billings:
(406) 272-4028    
Sky Dive Lost Prairie
Marion, Montana.
HANG GLIDING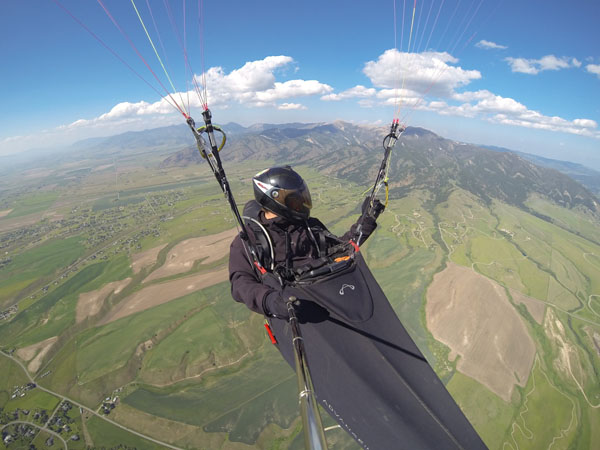 Hang gliding and paragliding are sister sports that give you the ability to fly without a motor or airplane. Pilots can launch from a hill or cliff and fly for hours, enjoying unparalleled views of the rugged Montana landscape. Pilots describe hang gliding and paragliding as extremely peaceful, unlike motorized flying. Paul Roys of Five Valley Hang Gliding says "There's no vibration, no noise." He calls the experience "magical" and "surreal." Don McCue, a Livingston-area hang glider pilot, says hang gliding is "not an extreme sport. It's peaceful and serene up there."
A hang glider consists of a rigid, delta-shaped wing on a triangular frame. Pilots ride in a prone position in a harness suspended below the wing. Some use a sleeping-bag-like compartment for warmth and comfort. Pilots steer by weight shifts and a steering bar. Experienced pilots can travel hundreds of kilometers in a single flight. The world record is a 475-mile, 11-hour flight. An average flight would be closer to one or two hours.
Hang gliders can be folded down to fit on a car roof and carried on foot short distances to launch sites. They typically weigh 50 to 100 pounds and are capable of faster flight than paragliders. 
Instruction is available from PAUL ROYS at Fivevalleyhanggliding.com, (406) 203 2695. Tandem flight packages cost $175 (where Paul controls the glider and you ride along), and a "flatland orientation" package (get the bare bones basics of the sport) is $250.
PARAGLIDING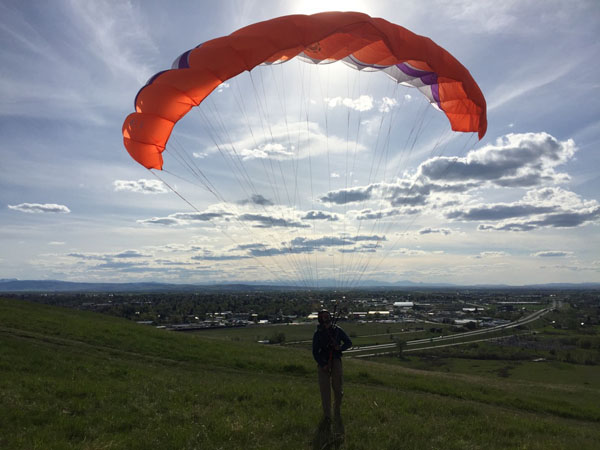 Paragliders are soft, packable, multi-cellular wings. Pilots hang in a sitting position in a comfortable body harness and steer using left and right hand controls. The wings are extremely maneuverable and user-friendly. Like parachutes, paragliders can make soft, precision landings.
Paragliders also launch from a hill or cliff. A paraglider can be packed on one's back so it makes a perfect craft for flying off mountains. Paraglider pilots have even flown off Mount Everest.
One of the biggest thrills for paraglider and hang glider pilots is to fly with birds of prey like hawks and eagles. Imagine looking a golden eagle in the eye while flying at 12,000 feet over the Bridger Range!
Cross-country paragliding involves flying distances with no definite plan for landing. Andy Macrae of Bozeman holds the current Montana distance record for a paraglider flight — 192 miles.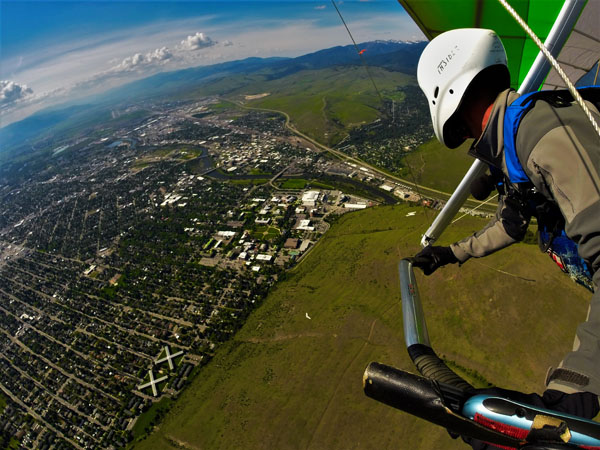 An even more advanced form of paragliding is speed flying. Speed flyers use a smaller wing which allows for only downward progress and no long-distance flights. But you can go 35 mph with a speed wing as opposed to 15-25 mph with a paraglider, and you can "terrain fly." Some speed flyers combine flying with skiing to ski extreme lines and fly off cliffs and over obstacles. Saddle Peak in the Bridger Range is a popular destination for this extreme sport. Speed flying lessons are available for free from Bozeman Paragliding for all paraglider pilots. Speed wings are also much lighter and easier to carry up a hill. A new speed wing starts at about $1,800.00
USHPA.org — US Hang Gliding and Paragliding Association — is a great resource for learning about these two related sports. Their Web site has links to instructors and lessons, regional clubs, flying sites, certifications, and equipment. 
WHERE TO FLY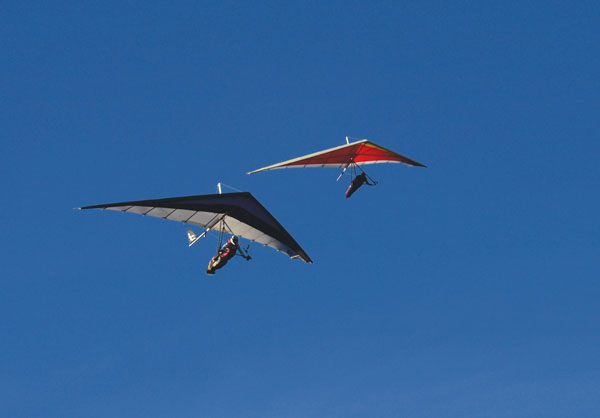 Missoula is a hot spot for hang gliding. Mount Sentinel in Missoula is the oldest registered inland hang gliding site in the US, offering great conditions and good seasonal access. Road access opens May 1, allowing hang gliders to drive there, whereas paragliders can hike up anytime. 
Mount Jumbo also has a launch site but it is foot access only, limiting the flying to mainly paragliders. Pilots are asked to call the Missoula Air Traffic Control Tower when flying in the Missoula area to avoid any problems with aircraft.
Other popular Montana launch sites include the Hogback near Livingston, the East Ridge above Butte, Waterloo and the Bowls near Whitehall, and the M Trail close to Bozeman.
Bozeman is a great place to learn paragliding. People come from around the world to learn from Andy Macrae of Bozeman Paragliding (406) 581-2955. Andy has been teaching paragliding since 2002, and he is an internationally competitive flyer.
 "Most of my students fly within an hour of meeting me," Andy told me. "Ninety-five per cent of my students complete the beginner program."
A full course of instruction leads to a P2 paragliding certificate that allows you to fly on your own. In the Novice, or P2 course, you can learn "glider handling, glider aerodynamics, meteorology, launching, landing, in flight skills, mountain flying, ridge soaring etc." In other words, you will learn to really fly. 
No matter how you fly, you can make it happen in Montana!
⬅  VIDEO: Montana Rooted: FLIGHT
Film by Elements Mixed Media |  Epic Montana

VIDEO DESCRIPTION: Jeff Shapiro is a world-class adventure athlete, but at heart he's a man of flight. An avid falconer and hang glider, Shapiro has found an "art form" in BASE jumping with a wingsuit. In this series debut of Montana Rooted, Shapiro takes a big step off the Bitterroot Mountains.