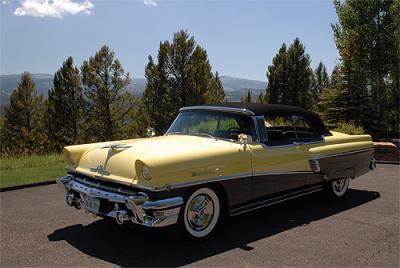 As a boy growing up in rural Indiana, Tom Gerrard had to force himself to be content with the same old secondhand station wagons his family always ended up with. He dreamed that someday he'd be able to purchase a brand new car of his own—something cool, with power windows. Pumping gas at an Amoco station while in high school, Gerrard's dream turned nightmarish as out-of-town customers rolled through in their fancy cars.
"There was some envy there, to say the least," says Gerrard. "Now I'm going back and getting even."
Gerrard, 61, is now the proud owner of approximately 90 immaculately restored American convertibles and pickups from model years 1953 to 1967. Fifty to 60 of those are housed in a private, climate-controlled underground conservatory in Big Sky, Montana.
An all-original, terracotta-colored 1960 Chrysler 300F convertible gurgles regally as it slowly reverses down a truck's ramp. This and several other cars are returning to the conservatory from Kalamazoo, Michigan, where Gerrard had entered them in the Kalamazoo ACA Grand National Competition and won in eight of the categories entered. In the far reaches of the conservatory, a 25-foot-wide trophy case gleams with the spoils of victory.
"Generally when we show up there's some long faces," he says. "I'm pretty meticulous, and pretty anal about the whole thing. I mean, it takes us a whole year to get cars ready for the show."
Gerrard demonstrates how the Chrysler's driver's seat releases and rotates out to welcome the driver. "You don't see that anymore," he says, explaining that the car, one of only 248 made, was purchased in mint showroom condition—no restoration was needed at all.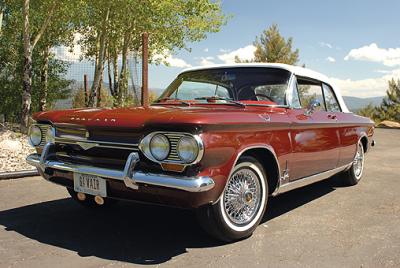 "It's the way I'd love to find them all, but that doesn't really happen," he says. When asked what the car's worth, he takes a guess: "Three-hundred fifty, four-hundred thousand. I don't know if there's a price you can put on it."
Only about a dozen cars of Gerrard's collection are discovered in showroom condition. For the rest, Gerrard employs a team of restoration specialists to transform the worn-out antiques, rescued from barns, family homes, and widows' garages, into sparkling creampuffs. Most of the work gets done near Gerrard's primary residence in Florida, but less-encompassing work takes place at the Big Sky conservatory. A self-described gear head, the construction and telecom tycoon admits that he no longer gets his fingernails dirty, but he oversees every detail of the work; if he's not able to supervise in person, he does so via microphone and remote-controlled camera.
"I'm not watching to make sure they go home early, I'm making sure that it gets done right," he says. "We talk to each other like doctors in an operating room."
Gerrard associates his attention to detail and his competitiveness to his success in business. There's little that escapes his gaze. As a 1957 Ford Skyliner, a convertible with a retractable hardtop, rolls off the truck, he notes a near-microscopic nick in the car's paint.
"This was an accident," he says, fingering the aberration. "This was damaged in transport."
Transport is really the only way the cars can get damaged; Gerrard considers the cars works of art, so they're never taken out on the road. Instead, the cars are "exercised" on a 1000-horsepower, computer-controlled dyno, which drives the car at 100 miles per hour for 15 minutes. The device simulates inclines and braking, and reads the temperament of the engine. Once a year, every car is exercised, its fluids are changed, it's made perfect in every way—then it's put back on the rack.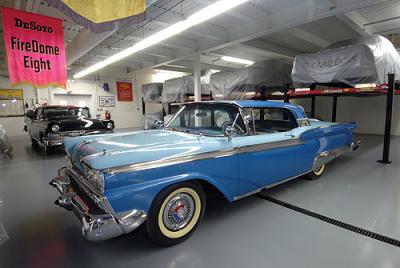 "You got to go through them all and check every little option: headlights, switches. Just because they're here doesn't mean they stay perfect."
When asked if he dreams of taking the cars out for high-powered joyrides along the twists and turns of the Gallatin highway, Gerrard confesses to being tempted.
"But can you imagine the value that would go down with a rock chip or something like that?"
This is a very serious business. To Gerrard, the cars are masterpieces from a by-gone era, and he takes a great deal of pride in returning them to their totally accurate, original factory state. He has a library of original dealer color and upholstery books, the kind found in dealer showrooms, which allowed customers to select body style, exterior, and interior colors. He has one for every car he owns. Detailed spec sheets list each car's year, make, model, engine type, transmission type, optional accessories, number produced, original cost, and noteworthy comments such as, "The car is regularly referred to as the 'Best '57 fuel-injected Bonneville' in existence. It is regularly judged with a perfect score." A parts room contains relics salvaged from basements, swap meets, inventories, buildings being closed and wrecked, and eBay.
"Where are you gonna find an original wiper blade for a 1954 Buick in the Buick container?"
Gerrard explains that Pontiacs used to come with blue air cleaners, but the air cleaners Pontiac sold individually as parts only came in black. For competitions, he says, only blue will do.
"So to find three factory-original air cleaners, like on the car when delivered, which they never sold as parts—quite a challenge."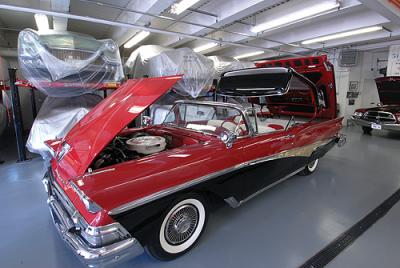 Needless to say, Gerrard's parts room has blue air cleaners.
What is it about these cars that's so special? All it takes is a look at the Chrysler's glowing amphitheater dash, the planet encased in clear plastic in the steering wheel of a '53 Olds Fiesta, or the chrome that gleams everywhere inside this subterranean sanctuary. Today's cars simply don't even come close.
"Everything is computer-designed, money-driven," Gerrard says of today's vehicles. "It's just a totally different game. Rent a Ford, a Chevy, or a Toyota. From a distance you'll have trouble picking out which car's yours, even though you know what make it is. They all look alike. They all pretty much now start to drive alike."
Wind coefficients and demands of efficiency and reliability have drained automakers of their creativity, he says. "The weight of the chrome on this car alone certainly wouldn't make it fuel efficient, but it sure adds a lot to its looks."
Gerrard waxes nostalgic for the 1960s' heyday of Lee Iacocca, then of Ford, and G.M.'s John Delorean, back when they were among Detroit's top designers and helped introduce America to the muscle car.
"These are guys of vision... these are car guys. The car wasn't designed from day one by a computer to produce a certain result. It was designed in someone's vision and sculpted in clay," he says. "Creativity was not stifled by the need to produce the bottom line back then."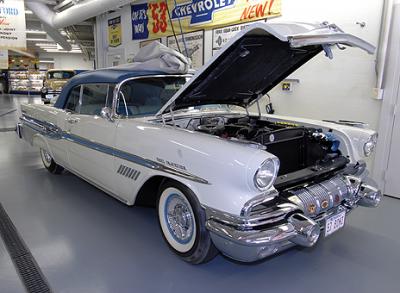 Case in point: the 1957 Ford Skyliner Retractable Hardtop Convertible, the first of its kind. Gerrard pushes a button. The car's roof folds up and off the top of the car. The rear window slides down, tucking itself away behind the back seat, while a panel of the trunk opens wide to swallow the roof.
"Can you imagine how much work that would be to design in 1957? No computers, no nothing. Someone told me it's like 26 different motors and 40-something relays to make this thing work."
With the roof back on top of the car, Gerrard pops the trunk panel and points to a steel outline in the center of the compartment. The empty square was designed as the spot where luggage would be safe from the invading roof. In 1959, he adds, Ford offered an optional factory luggage set, provided in a color that matches the car.
"My '59 has it," he says. "Three pieces." He adds that he knows of only two and a half sets of the luggage remaining in the world. "And the guy who has the half set, it's because his wife sold one of the pieces at a garage sale for five bucks." One gets the impression that the one-of-a-kind luggage is worth considerably more than five bucks.
With some prodding, Gerrard agrees to roll out the '59. After all, there's buried treasure in the trunk.
The car hasn't been started in months, but the interior light comes on when the door opens.
"That's a good sign," Gerrard says.
The car starts. Gerrard pushes the button and holds it as the roof lifts off and the trunk opens.
And there's the luggage. Three modular pieces: a big, flat-sided suitcase on the bottom and two smaller ones on top. They fit together, shaped precisely for the spot. Their blue matches the car.
Gerrard picks up one of the suitcases, opens it, and reads a tiny label: "Ford Spacesaver luggage for Ford Skyliner."
Original, of course. "Pretty neat," is all he says.
~ Bozeman-based freelance writer Ray Sikorski writes for Via, the High Country News, and the Christian Science Monitor. His play, Pandora's Box, was recently performed as part of the Equinox Theatre's One-Act Festival.