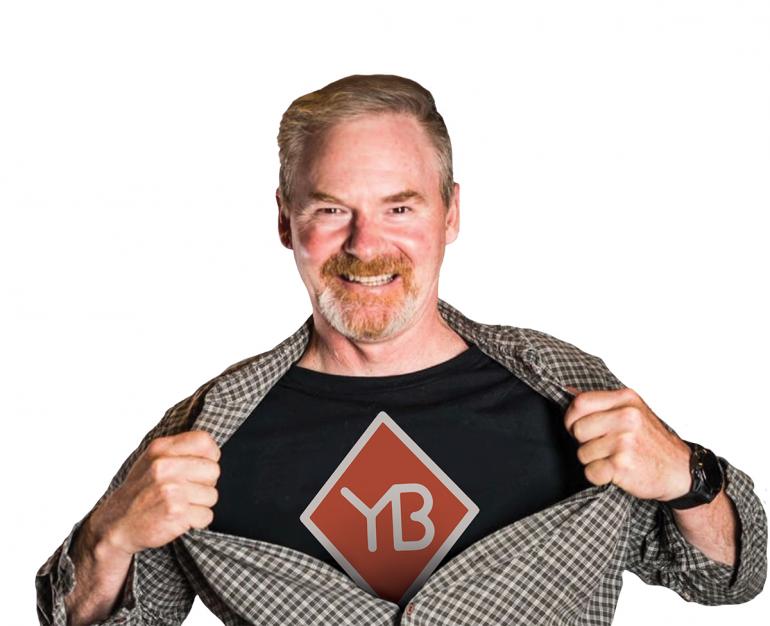 Like many Montanans, Chris Bruha loves the outdoors and is a bonafide adrenaline junkie. His motto is, and always has been, "moderation in everything, except for excess." 
Whether he is elk hunting in Paradise Valley, playing 18 holes at the Livingston Golf Course, hiking Pine Creek or floating the Yellowstone River, it seems this guy never sits down!  
Meeting Chris, he just seems like a normal, all-around good guy. But what you quickly learn is that he is a survivor and one hell of an inspiration, always with a smile on his face and ever ready to help a friend in need. Not defined by his life-changing accident, he nevertheless has a story to tell. Sometimes his story brings folks to tears, though not because it's sad. Rather, it tends to make those who hear it want to be a better, stronger person.
Chris was raised in Montana, which helps explain his love for the outdoors. But his love for helping people is what led him to become a firefighter and first responder. In his own words, "it was literally an accident how I decided to come to become a firefighter/EMT." He witnessed a horrific accident where a motorcyclist collided head-on with a car. Chris stopped to help the motorcyclist before emergency responders arrived.
"Nobody was holding his c-spine. I didn't know much but I knew the c-spine was important, so I held it in a neutral position, keeping his airway open." Chris stayed there and took control of the situation until paramedics and firefighters arrived at the scene. He helped the first responders load the man into the ambulance and probably saved his life. Chris was a firefighter/EMT in Livingston for many years. The experience and skills he learned as a first responder would ultimately save his own life.
Everyone in Livingston, Montana, knows Chris. He raised two boys there, was a firefighter/EMT, and later became an electrician. When the town heard about his accident, the whole community came together to help, just as Chris had helped so many of them.
Every year, in January or February, paragliders descend on Mexico to fly the thermals. One year, Chris joined a group of them, and someone proposed they extend their trip to Hawaii. Their plan was to paraglide right to the beach in front of the house in which they were staying, but the winds were too much. He was equipped with new wings and new lines (the "corvette of wings," he says), but says they were "pretty squirrely," and he discovered they had two tension knots. He decided that he should descend and fix the knots, but as he turned to the landing zone, half of his wing collapsed and he began to spiral, before colliding with a building at between 40 and 50 mph. He says he bounced back "about 20 feet."
The collision broke both of his ankles, his left eye socket and his back. He was rushed to the hospital, the impact crushed his body, causing toxins to be released into his system. He was told had he not been in such exceptional conditionhe adds, "I'd been training for a marathon before the trip,"—the toxins would have probably overwhelmed his system and killed him
After recuperating enough to be able to travel, he went to a hospital in Boise, where it was discovered he had a bone infection, and then to Australia, where a doctor performed surgery using recalled parts. Finally, his legs were amputated below the knee. 
Since then, Chris has undergone twenty surgeries over six years."I feel like I'm always in recovery now. It hasn't always been so happy and easy," he confides.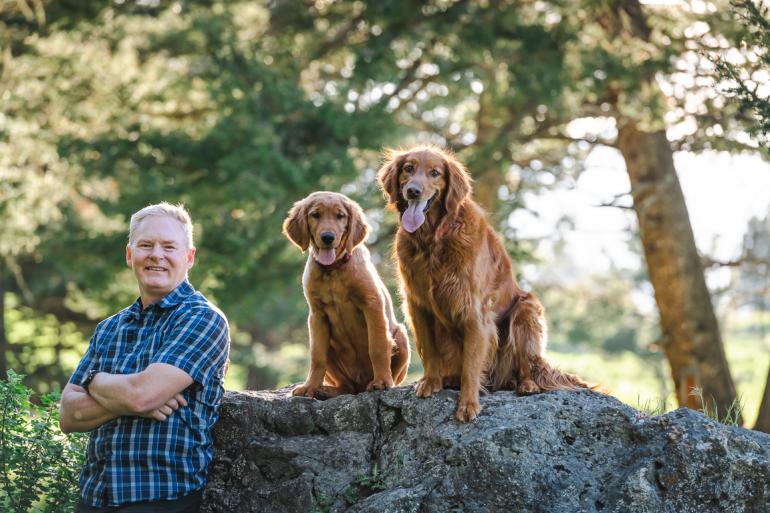 Never one to give in to despair, Chris decided to take up golf, giving him something he could do with his friends to keep active and stave off boredom. One day, the conversation turned to real estate and one of them proposed that Chris, who is nothing if not personable, likable, and magnetic, had the perfect qualities to make a great real estate agent. 
"But I've been an electrician for 36 years," he protested. 
Still, the idea appealed to him in some way he couldn't quite define. Months later, he announced to his golf buddies that he had taken a class, passed a test and became a real estate agent. Now all he needed was a job. 
Chris proved his mettle by making some deals "right out of the gate and having a lot of fun." With multiple closings and four years of experience, Chris became a successful real estate agent. So when his buddies, Trecie Wheat Hughes & Jackie Wickens with Yellowstone Brokers wanted to bring another agent on board, they immediately thought of Chris. 
"Bottom line is that we trust Chris. We know he is always going to do the right thing, and that to us is priceless. Plus, we think it is pretty cool to have our local superhero on board," says Trecie. 
"It's been a pleasant ride," he says of his experience with Yellowstone Brokers, known nationally for their HGTV program Mountain Mamas. "They crack me up. They're as funny as they are pretty!" 
We asked him his favorite part of being a realtor, or "joining the dark side," as Trecie jokingly calls it. 
He tells us it's "getting people there and getting to know people at their best and worst. These are the biggest purchases of people's lives, and you're going through these stresses together and you get to know the whole family. At the very end, when you hand them the keys to the house, you see the person come out from under the stress. It's a good moment, and I always look forward to those moments as a real estate agent." 
When he's not skiing, hiking, adventuring, or helping make Montana real estate dreams come true, he's likely to be hanging out with his pups. 
"I have Charlie and she's five. She's a golden retriever, but they think she's an Irish setter because of how red she is. I didn't get enough with Charlie and got another one Sullie—he's Clifford the Big Red Dog on steroids—clumsy, but good-natured. Having dogs in your life is a good way to brighten your day for sure." 
But the "pinnacle of my day," he says, is invariably seeing his grandchildren. 
"They're the ones who keep me going, without a doubt. I'm a very lucky Papa Chris, as they call me. I went on a short hike to Pine Creek with them the other day to spend time with them and play in the water." 
Through it all, Chris is grounded and humble. He'd still consider himself an adrenaline junky, but now he'll take his modest hit of adrenaline from the little pleasures in his life. 
"I always try to keep things positive and happy. I've had a few knicks in the armor, but I came out the other side and tried to look forward to the good and not look back to the negative—life's short." 
Chris Bruha has won his share of wisdom. So does he have any advice for us mere mortals? 
"People don't know how easy the life light can slip away so enjoy it."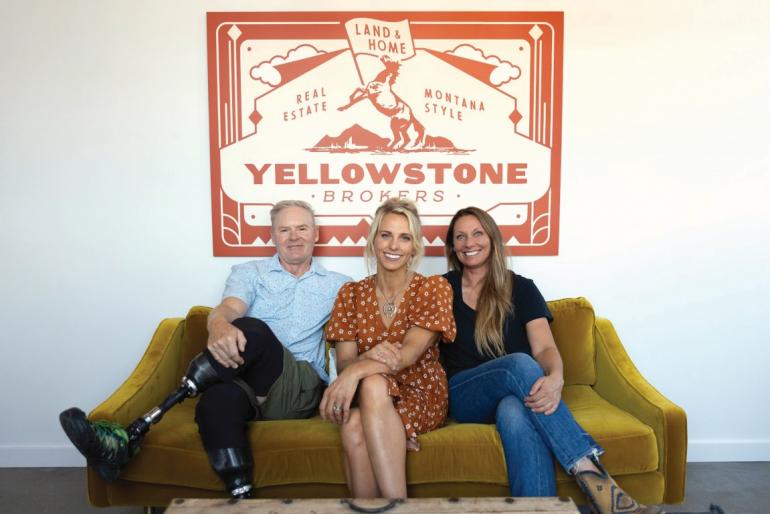 | | |
| --- | --- |
| Trecie Wheat Hughes | Jackie Wickens |
| Broker | Broker |
| (406) 579-5416 | (406) 451-3485 |
| | |