3 Musical Instrument Makers of Montana
Sean Kochel, Troy "Good Medicine" De Roche, & Michael Bennett
1. Sean Kochel Guitars: Designs Mirror his Birthplace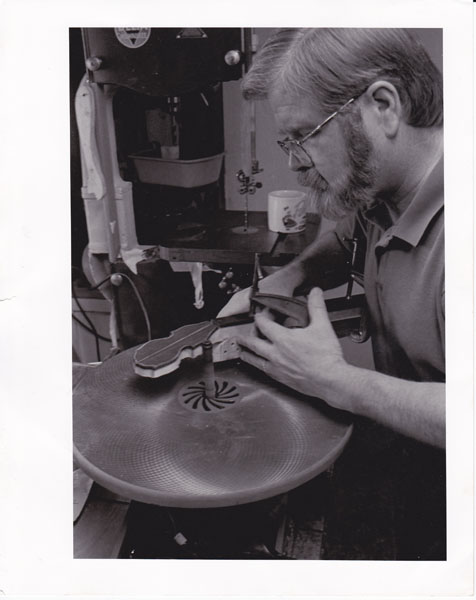 The merit of originality is not trendiness; it is sincerity. Sincerity is what distinguishes the guitars of Potomac's Sean Kochel from others made from machines or factory lines.
"They are not cookie-cutter stamped," says Kochel, born and raised in Shelby. "And there is definitely quirkiness to my guitars." Originality is what his customers clamor for.
"The thing that resonates for people who have bought a guitar from me is that, unlike buying a guitar from the music shop, one of mine, they say, feels as if it already has a soul inside of it." The soul of which is bred with a distinctly Montana tinge.
"I feel as if the guitar helps them be even better musicians, because it already has a soul and local character built in. That is a contrast to a 1972 Fender guitar, which takes decades to find its soul."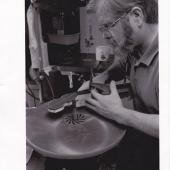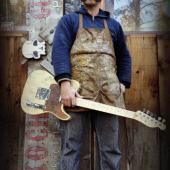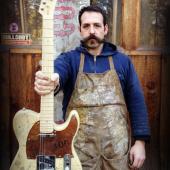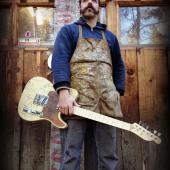 In Kochel's universe, innovation inspired by Montana is imparted to the instrument. It could be a guitar nut made from the boiled down bones of an elk; it could be a guitar neck that traces itself back to an old growth Montana poplar tree; or it could be wood salvaged from an 1860s immigrant-built homesteader barn or an 1890s railroad icehouse.
"People like to connect with something that is part of our history." Indeed, there are those who support Kochel because they like art and talent that is quirky, eccentric, provincial, and mirrors his birthplace.
"They support me because they know I'm shaping their guitar neck in my shop with a file, and that I'm doing it all by hand in my shop. They know I'm carving the guitar bodies with a chisel. There is no truer sound, and it helps give their music a distinct and unique sound."
Kochel has succeeded in originality because he, admittedly, is too stubborn, too entrenched in his ways to imitate or compromise.
"I just sent a guitar to Brazil," says Kochel. "I even made a guitar for the number one musician in Botswana. Things are good."
2. Playing from the Heart: A Life of Flute Maker Troy De Roche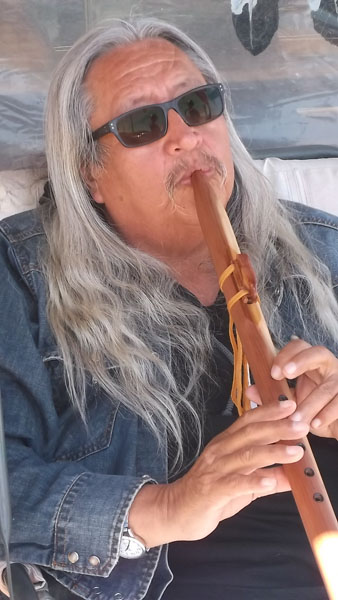 Troy De Roche has long equated the flute with the patina of positivity. 
The Blackfeet flautist, 63, was born on the Flathead Indian Reservation on the edge of a Heart Butte cattle ranch. In the spring, his grandfather would use his pocket knife to slice and yank the chips off of the cedar trees. He'd proceed to poke out holes in the bark, carving it like a whistle. 
"After they were dried out, they would last for a day or so as crude flutes," said De Roche. "That's what got me interested."
The flute re-emerged in De Roche's life many years later, this time materializing as the choice between self-creation or self-destruction. His life was at a dead end. In the late-1980s, De Roche, smarting from the effects of back surgery from a work-related injury and a broken neck sustained in a car crash, grabbed a shaving of western red cedar and carved his nephew a flute. He made himself one, too. Memories of willow bark flutes fashioned by his grandfather's hands abetted his recovery. 
 "I blew out three lower vertebrae working in construction on the Blackfeet reservation," said De Roche. "They were always sideways. By the time I'd take the one hour drive back home from the doctor's office, they'd be back out again. 
"I don't believe there is anything more healing than going through therapy with a flute or playing the flute. Once I'd had the flute back in my life, I quit drinking and doing drugs, and I am blessed that I got into flute. It has changed my life and changed my attitude on life." 
De Roche creates flutes inside a garage adjacent to his gallery in Hot Springs, Montana. There, with a routing tool, adhesive, clamps, and the dexterity of his hands, he takes a cudgel of wood and transforms it into the epitome of pure beauty in sound. Before one of his flutes is complete, he will wet-sand it three times with fine sandpiper; its maintenance requires no more than the occasional lathering of beeswax. 
"Cedar is one of the main woods I use because it's a soft wood and the grain is straight," said De Roche. "I split it and then carve it out and then glue it back together. Western red cedar has a softer, mellow earthy tone. Aromatic cedar, which is in the juniper family, is sweet with a perfume smell, and has a beautiful mellow tone."
Give with all your heart and you will receive: De Roche's performances at festivals nationwide and five albums of original compositions have secured his reputation as an authentic conduit of Native American people through music. Preserving tradition and the resonance of the flute are important to De Roche. So, too, is gratitude.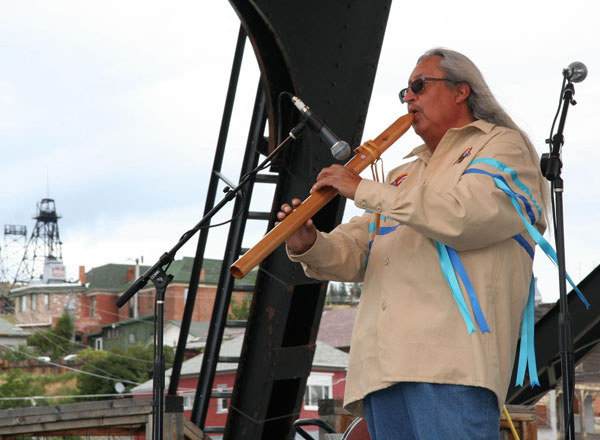 "The first professional studio I worked in was in England and to go from a construction worker to a studio where The Beatles recorded was one of those great moments." 
Ultimately, art has allowed De Roche to find rest in the light, the calm of a lake without ripples, to rise to another plane. Perhaps it's not exaggerated to say that in this case the flute has served as the instrument of divine will. 
"During the day, I will sometimes see the flute by my chair and I will pick it up and play it," said De Roche. "If I didn't have the flute, I wouldn't be around." 
3. Banjo Maker Michael Bennett: Bitten by the Banjo Bug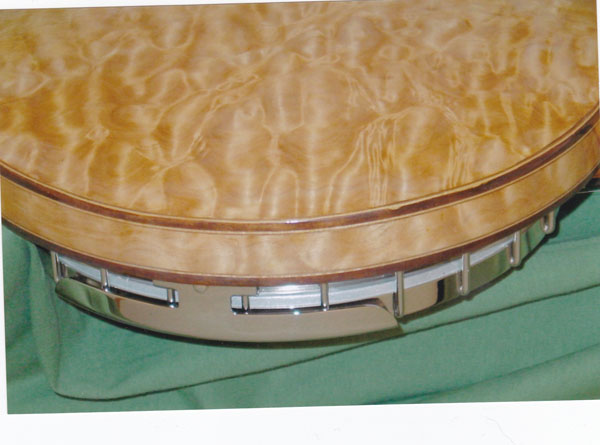 While Michael Bennett extols the banjo for its distinctive assembly method, he above all praises the instrument's simplicity and flexibility. Design modifications to his custom banjos are fairly basic. There are variances between light and dark woods and there is a question of whether to employ a fancy inlay or a much simpler style. Banjo dimensions are determined by the size of their mass-manufactured metal rim exterior, rendering simple options for the wood frame interior: 11 inches for bluegrass-style and either 11 or 12 inches for an instrument echoing more of the old-time banjo sensation.
"There is some woodworking that can be done to change the thickness and the depth of the (hand-carved) wooden rim, which then fits into the pre-set diameter of the metal rim," said Michael Bennett, who has resided in Missoula for approximately 25 years and operates a music rental and instruction studio in the city. 
When people come to Bennett to have a discussion about banjos, he always tells them "to pack a lunch," and indeed one must apportion ample time with Bennett to fully comprehend this peppy musical instrument. 
One of the earliest recorded references to the banjo dates to about 1620, when explorer Richard Jobson mentioned the "gourd with neck and strings" he had seen in Africa. 
The banjo would forever be associated with a song called "Feuding Banjos," recorded in 1955 by Arthur Smith and Don Reno. Its popularity grew exponentially after Atlanta native James Dickey published Deliverance, the acclaimed novel that was made into the profitable 1972 southern Gothic film. 
In addition to Deliverance, Bennett said that there are other "benchmarks" that have boosted the popularity of the banjo in American music: the movie Bonnie and Clyde, the television show The Beverly Hillbillies, and, more recently, the traveling banjo performances of comedian Steve Martin.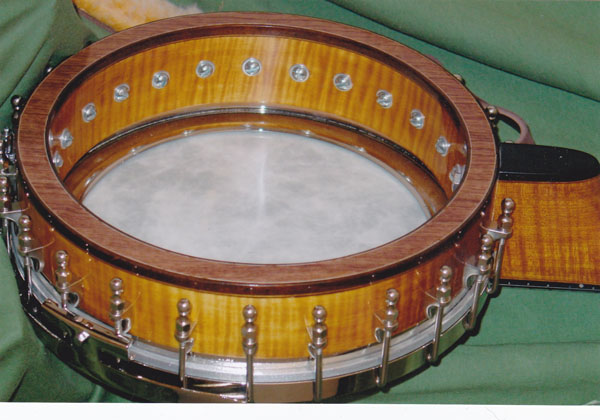 "I recall seeing Steve Martin when he was unknown in the 1970s, in southern California comedy clubs," said Bennett, age 70. "This was before he was famous, and he would tell jokes and then play the banjo. It was a part of who he was—and who he still is. He's really been an influence as far as getting the banjo out in front of people who might want to play."
For an instrument with such a large history, perhaps it's a bit surprising that the arsenal of tools necessary to create a banjo is small: a band saw; router; joiner; hand planes; drill press; compressor, spray finishes; oscillating spindle sander. 
"With banjo making, you don't have to be good at anything, but you do have to put it all together," said Bennett. "To me, actually, the most important thing in the shop is the sound system to play music as I work." 
Typically, he constructs a banjo out of one of four primary hard woods—flattened maple, walnut, cherry, or mahogany. Occasionally, Bennett will use a more exotic wood, such as rosewood or fiddleback maple. Each of the four wood varieties has a particular sound profile. Maple produces the brightest jingle; whereas the ever-stable mahogany provides the mellowest sound.  
 "It's hardly ever too late to start playing a musical instrument, no matter what it is, banjo included," said Bennett. "I say, find a teacher, interview the teacher, get comfortable, and start with a playable instrument. Then, jump in and go to it. You may also get bitten by the banjo bug."