You began as a self-taught artist before receiving formal training. Can you describe how your art has evolved over these many years?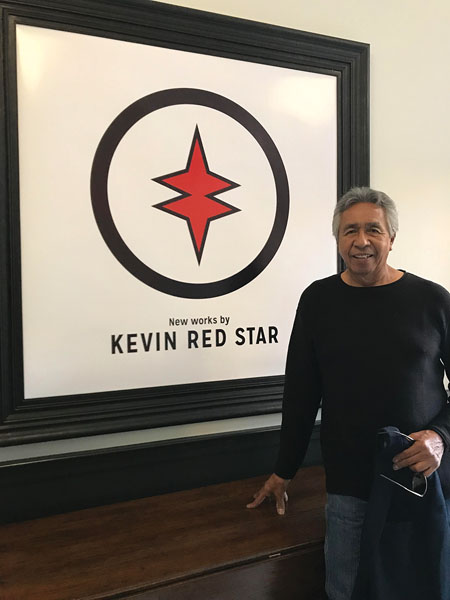 I have to give the credit to the Institute of American Indian Arts. They gave me the foundation and classical training of painting; the drawing, perspective elements, mixing of pigments, and the use of the various brushes etc. that as a boy I did not even know about. We studied with professional artists from various big cities, like James McGraph, Lloyd Kiva New, and Alan Houser. I was in art school as a young high school student. Over the past 50 years, my art has been a gradual and steady evolution of technique, color, form and intensity of emotion, a maturity of life experience.
The Crow people are central to your identity and success as an artist.  Is it fair to say that you are both telling their story and creating a legacy for all Native Americans?
Yes, that is the essence of my art and conveys the view of my Crow heritage and that of other Native American people. I could only hope that it be considered a legacy of worthiness and an identity of goodness and pride.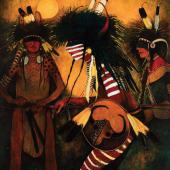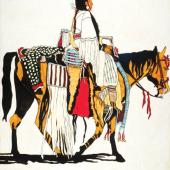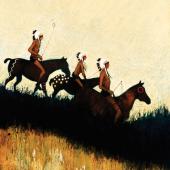 Both your parents seemed to have been important influences on your decision to become an artist.  In what ways did they encourage you?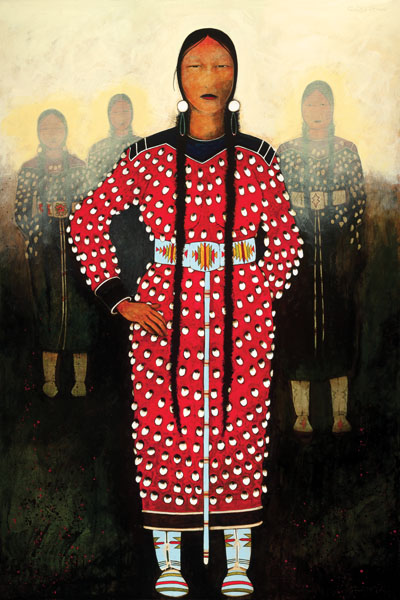 They were definitely encouraging in that Mother was always creating beautiful beadwork, sewing appliquéd dance shawls, and designing colorful patterns that intrigued me. My father was the chief of police,and game warden on the Crow Reservation; he was a fine musician and especially fond of Hawaiian music. He was always playing the guitar. I pursued music as well and studied violin, guitar, and ended up being a percussionist. Father loved art and we were surrounded by prints by Russell and Remington; he was also an avid reader of Western novels that had lots of cowboy illustrations that I would pore over.  At that time I would draw on anything with a surface.
What is a typical day like when you are working?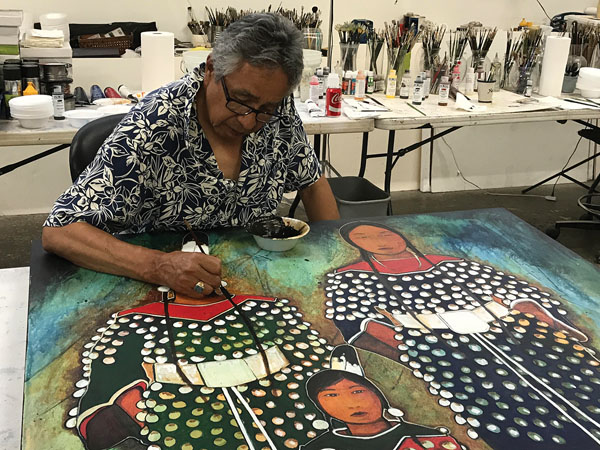 Each day would start with working on canvases from the night before and I will work on several pieces at a time.  Then around 2 or 3 in the afternoon, I will break and read mail, art magazines, and consult with my daughter, Sunny Sky, about our schedule coming up, deadlines etc.; any art business she takes care of.  A nap might be in order. I enjoy painting at night as this is a special time of quiet and inspiration for me.
What was the lowest point in your artistic career, and how did you deal with it?
When my oldest daughter, Merida, passed away was the most tragic period.  Luckily I had commissions to work on that carried me through a couple of years of very depressed and challenging times. My art saw me through this period and now I dedicate all my exhibits and museum shows to her.  We all suffered greatly—my daughter, son, grandson, her mother, and myself have slowly come back from this loss. Her love of art and the art world sustained us.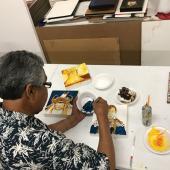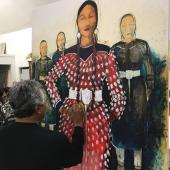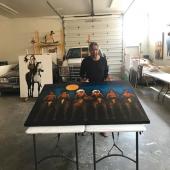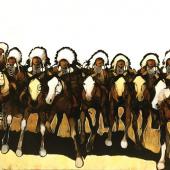 What is your favorite artistic subject today and what will you be working on in 2018?
We love horses as a family and they are paramount in my subjects for paintings.  As a Plains Indian the horse was a central figure in life and my art. The horse and the symbology of hunting, moving, and war were a part of daily life. 
This upcoming year 2018 I look forward to participating in the scheduled museum and gallery exhibitions. 
Could you walk us through your creative process from the time you start a painting through its completion?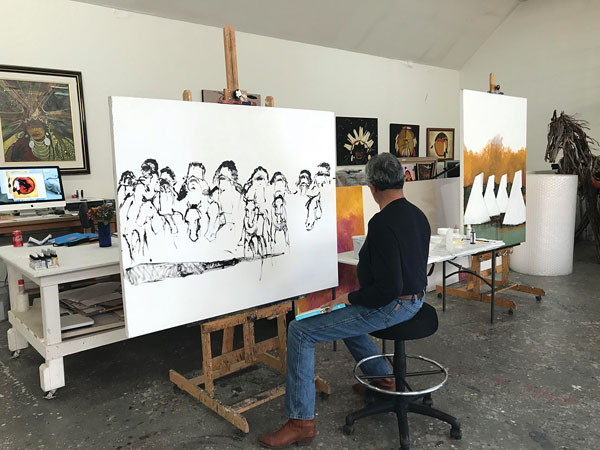 This is a personal experience.  The thought is transferred on canvas and evolves individually with each painting. They each progress at different stages. I work on several paintings at a time going from one to the other as they set in between the layers of paint applied. I love to work to music, inspirational talks or even a movie sometimes. When the flow is going, alive with movement from one painting to another, my chair on wheels is dancing with the creative spirit. My studio is fully furnished with many pigments, brushes, great lighting, and lots of room to move.
Everyone has some "down time." How do you most like to spend the time away from your easel?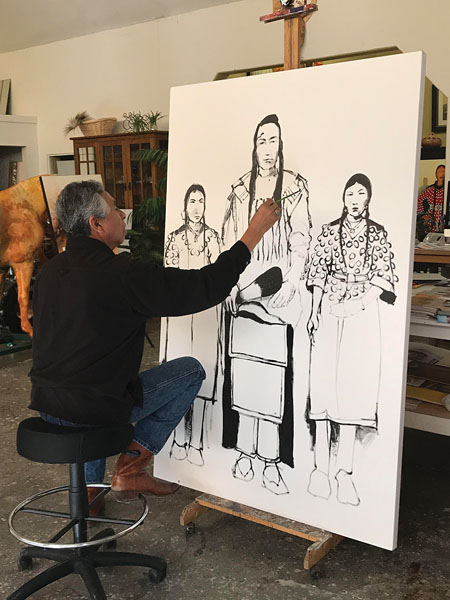 I will go to the Pryor Ranch to recharge and catch up with what's going on there with the family business. I love to do research going through old photos, talking to the old timers and watching videos involving the arts and artists' biographies. I also like to travel back to Santa Fe and visit with my artist friends there and peruse the other galleries as well as visit the staff of Sorrel Sky and trade out paintings. We go to all our galleries to check in and deliver new art, which also makes for a great getaway. I often enjoy going for walks with Chia, my white German Shepard and fishing the streams in the Pryors.
* * * * 
Kevin Red Star's art is honored throughout Native America for its vision of centuries-old Crow (Apsaalooka) culture through the eyes of a contemporary consciousness. In the world of museums and private collections, he is equally respected for his unique imagery, for his productivity, and for the enduring value of his work.
Kevin Red Star grew up on the Crow reservation in southern Montana, a member of a highly creative family. He was known as the go-to artist for all school projects. He was chosen to be in the first group of students at the Institute of American Indian Arts in Santa Fe in the late 60s.The school provided a learning environment of tribal tradition, world art history, and current trends. Open studios, well stocked with supplies, encouraged individual experimentation and collaboration. Kevin and his friends went on to the San Francisco Art Institute before embarking on their careers. They attracted immediate notice in New York and Paris, as well as established art centers throughout the United States. They went on to change the face of modern Indian art.
Kevin continues to evolve and refine his art every day in his spacious studio, located near the Crow reservation and Red Lodge, Montana. He also spends time in Santa Fe. He has received many major accolades and honors.
Kevin Red Star's Contact Information
Kevin Red Star Studios
19th South 1st Street
Roberts, MT  59070
Studio:  (406) 445-2549
Cell:      (406) 425-0055
Website: www.kevinredstar.com
Kevin Red Star's Upcoming Events
Many Blessings: Kevin Red Star
with his Daughter Sunny Sky Red Star
January 11 – February 8, 2018
Ryniker-Morrison Gallery
Rocky Mountain College
Billings
50th Annual Art Auction
at Yellowstone Art Museum
January 25 – March 3, 2018
Yellowstone Art Museum
Billings
Masters of the American West Show
& Sale at The Autry Museum
February 10 – March 25, 2018
Griffith Park, Los Angeles, CA
Out West Art Show and Sale
March 14 – 17, 2018
Best Western Heritage Plus Inn
Great Falls
One-Person show
June, 2018
Old Main Gallery
Bozeman
Montana Triennial 2018 
at at Yellowstone Art Museum
July 26 – October 14, 2018
Yellowstone Art Museum
Billings
37th Annual Buffalo Bill 
Art Show & Sale
September 21 – 22, 2018
Buffalo Bill Center of the West
Cody, WY
Action Abstraction Redefined
IAIA Museum of Contemporary Native Arts 
The exhibit will be up through 2018
Santa Fe, New Mexico