Carol Hagan discovered a passion for painting when she was twenty-five years old. Her striking Western-themed art is alive with vivid, kaleidoscopic colors and exuberant with the wild spirit of Montana.
Carol has been featured widely in galleries around the West, including Legends Santa Fe Gallery in Santa Fe, New Mexico, The Legacy Gallery in Jackson, Wyoming, and Visions West Gallery in both Bozeman and Livingston, Montana. She also has the distinction of being an ongoing member of the C.M. Russell Museum's "Russell Skull Society of Artists."
Your paintings are at once stunning and mesmerizing. Tell us about how you developed your distinctive style and how it has changed over the years.
Thank you very much for your kind words about my work. I appreciate them very much. I believe that my style emerged from my love for color, and the emotions that color instills in me. As a child, I remember being captivated with strong graphic patterns in everything from book illustrations to textiles to the patterns in a wood floor or a maple leaf. My earliest memories of a favorite children's book was one that was illustrated in black and white woodcuts. So, decisive lines, patterns, shapes, and colors have long played a role in my love for art.
I have immersed myself in exploring painting, and my style has changed numerous times over the years. These days, my paintings still possess a strong sense of color and linework; however, I find interest and inspiration to layer these more, and to make marks and meaningful brushstrokes that are more complex and abstract. Up close, my paintings look rather complicated, though from farther away they still possess strong lines and definitive, basic shapes.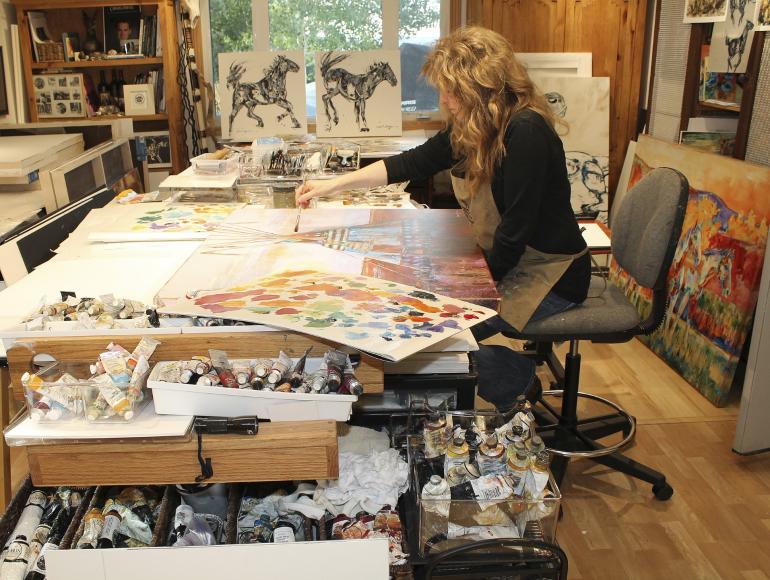 Please walk us through your creative process from inspiration, to approaching the blank canvas, to completion.
My creative process begins with simple inspiration from any experience: quietly standing amongst a group of horses, listening to the song of a meadowlark, or the sight of the crescent moon on a cold winter night. So, life experiences. I try and soak them all in, and pay attention to them. I believe they all play a role in fueling what emerges in my work.
I primarily work from my own photographs. There is a connection between taking a photograph and painting from it that cannot be established when using the photographs or life experiences of others.
I either sketch a concept to begin a piece or if I am feeling more abstract, I will take a palette knife loaded with paint and start making marks on a panel or canvas. That can be very liberating, to not
have any preconceived idea of where I'll be going before I start laying down the first knife marks. I learn agreat deal by letting them dictate what each next step should, or could, be.
Layers of colors, or simply textures, start to build, and I enjoy working with a variety of tools in addition to palette knives and brushes. Any tool can make an interesting mark. As the painting evolves, large areas of the color fragment into prisms of their complementary colors within their shapes.
This interests me. I want to be a soloist with my own voice in my work.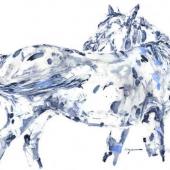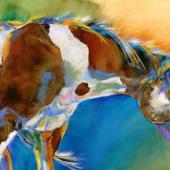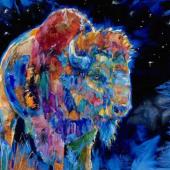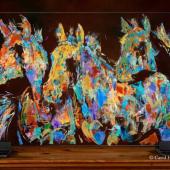 As fellow Montanans, we would love to hear more about how Montana has influenced and inspired your work.
I am in love with Montana. I have lived here since the age of six, and can't imagine living anywhere else. I am in constant awe of its raw, stunning beauty and grand vistas, its rolling grassy hills,and the animals that inhabit it. I want to record through my work these days and experiences I have been so blessed with, of what it is like to live and experience this extraordinary place, the "Big Sky Country" of Montana.
Your paintings are reproduced on an interesting variety of mediums. Tell us about the differences between them, and if you have a favorite.
I enjoy exploring different mediums for my paintings, as they are all canvases with "a story." I am currently in the experimental stages with a couple of new mediums that I have wanted to explore for years. The recent events this spring that have forever changed our lives have served as a reminder (for me) that even in the middle of uncertainty, I still only have right now. There is no time like this moment to starttrying everything I have dreamed of.
To date, my favorite medium to work on is thick glass. I love the strokes and marks that can be made on this surface, and how they completely change as soon as light bounces off or passes through them. Painting on this medium has challenged me to the core, as I find it extremely difficult. I want to continue to push myself as an artist, and to continue to create work that pushes me to keep asking questions. And I want this to show up in my work.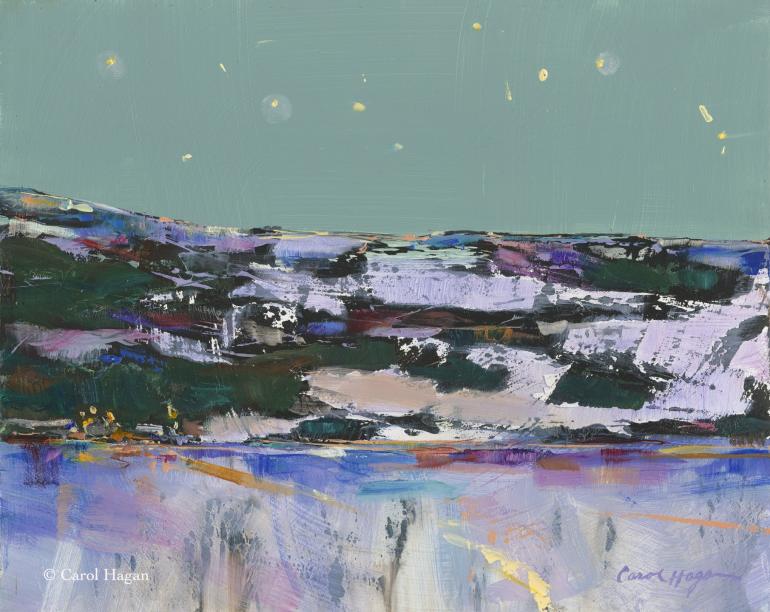 Horses are a prominent theme in many of your paintings. How have horses influenced and inspired your work?
I have loved horses for as far back as I can remember. They are a constant source of inspiration, and comfort, for me. I feel their energy when I am with them on a physical, emotional, and even spiritual level. I am grateful that I have the chance to spend time with them on a regular basis. I feel grounded when I am in their presence.
Horses are old souls. The quiet exchange of positive energy and communication that takes place just from standing next to a horse, or with a group of horses, is simply extraordinary. Within them is a silent calm, yet a very powerful sense of acceptance, grace, wisdom, and strength.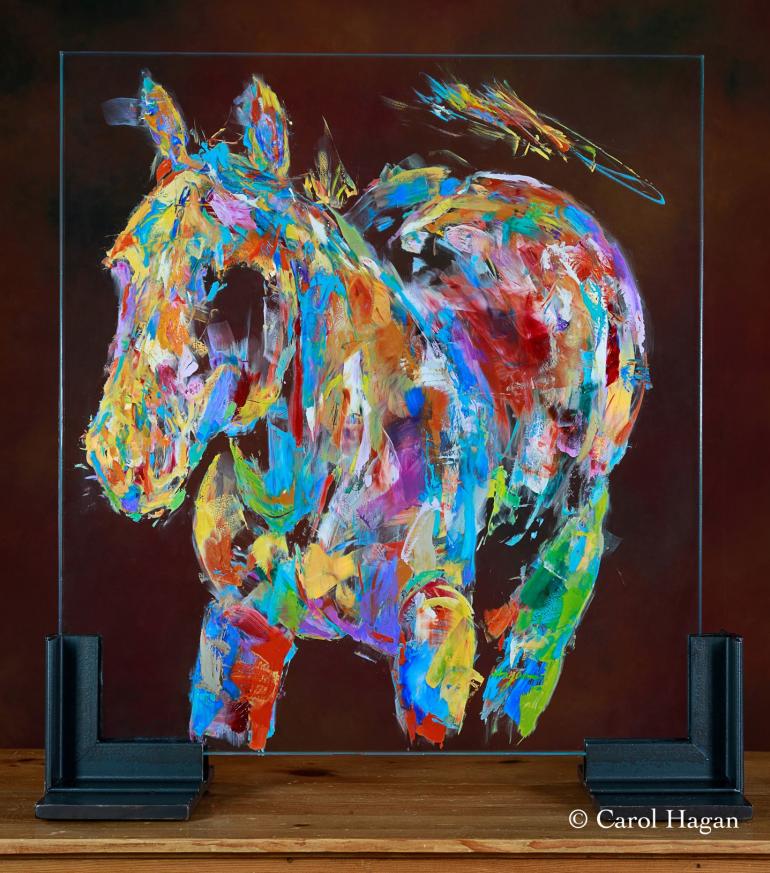 You've been referred to as a Contemporary Expressionist and a Colorist, but how would you describe yourself and your art in your own words?
I like both of those terms. I believe that my work is very contemporary and quite expressive. And I resonate to all colors! I would describe myself as someone who enjoys "creating outside the lines."
Your work does an incredible job of capturing the restless, wild spirit of the West. Tell us about how your relationship with the West informs your work.
I draw my inspiration from the incredible view, skies, colors, and landscapes of the West. I believe that my paintings are restless and wild, because having the ability to resonate to that wildness that a place like Montana possesses is essential to embrace the creative spirit within me.
What are you working on now, and where do you see yourself going with your art over the next few years?
I am working on exploring some new mediums, in addition to completing a large commission and focusing on bodies of work for upcoming show commitments. Life has slowed a bit with the "shelter in place" challenges we all face with this "new normal" due to the pandemic, yet my list of what I want to accomplish in the days that I hope to have continues to grow longer than I know I have time to do them all.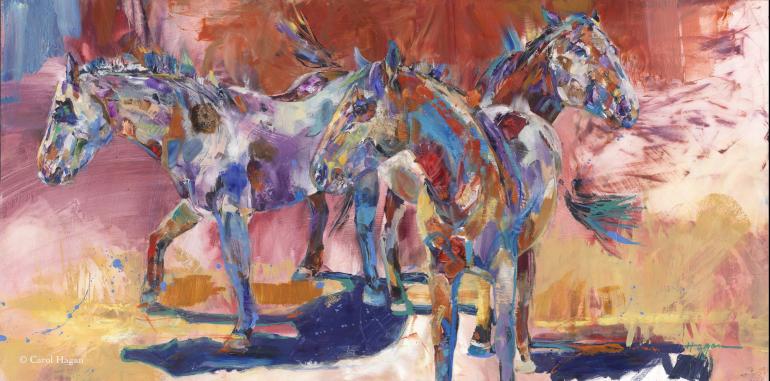 The world has changed a great deal in the last several weeks. What is it like to be an artist and make a living at this point in time?
I am grateful for the opportunity to make my living as an artist. As this pandemic has unfolded, it has been a time of great uncertainty, sadness, grief, loss...and also gratitude, and hope. I have felt life slow to an ebb and flow as I try to absorb all of this, and I am thankful for the people who are giving so much of themselves, and risking their and their families' health, to help us all. I am eternally grateful to these people, and the list is so long, from the doctors and medical staff in the hospitals to the first responders, to the people stocking grocery store shelves and putting letters in our mailboxes. To them, I say Thank You. If what it is that I do can provide anyone at all with a brief moment of comfort, or happiness, or peace,or even a time of rest to take them from somewhere else when they look at my artwork, then I am grateful for the opportunity to in some way contribute to their moment, through my art. To me, that is an honor.
Making a living as an artist has changed so quickly in the past decade, and again in the past several weeks. We are all in this together, I believe, as we all emerge to find our way of making a living once again. And I believe that we will. Art, in whatever form, is the very thing that creates captivating, engaging thoughts, memories, and emotions. It has a beautiful voice that will continue on, and provide comfort and healing, as we embrace the new days ahead.