Charged with Purpose: Eduardo Garcia's Mission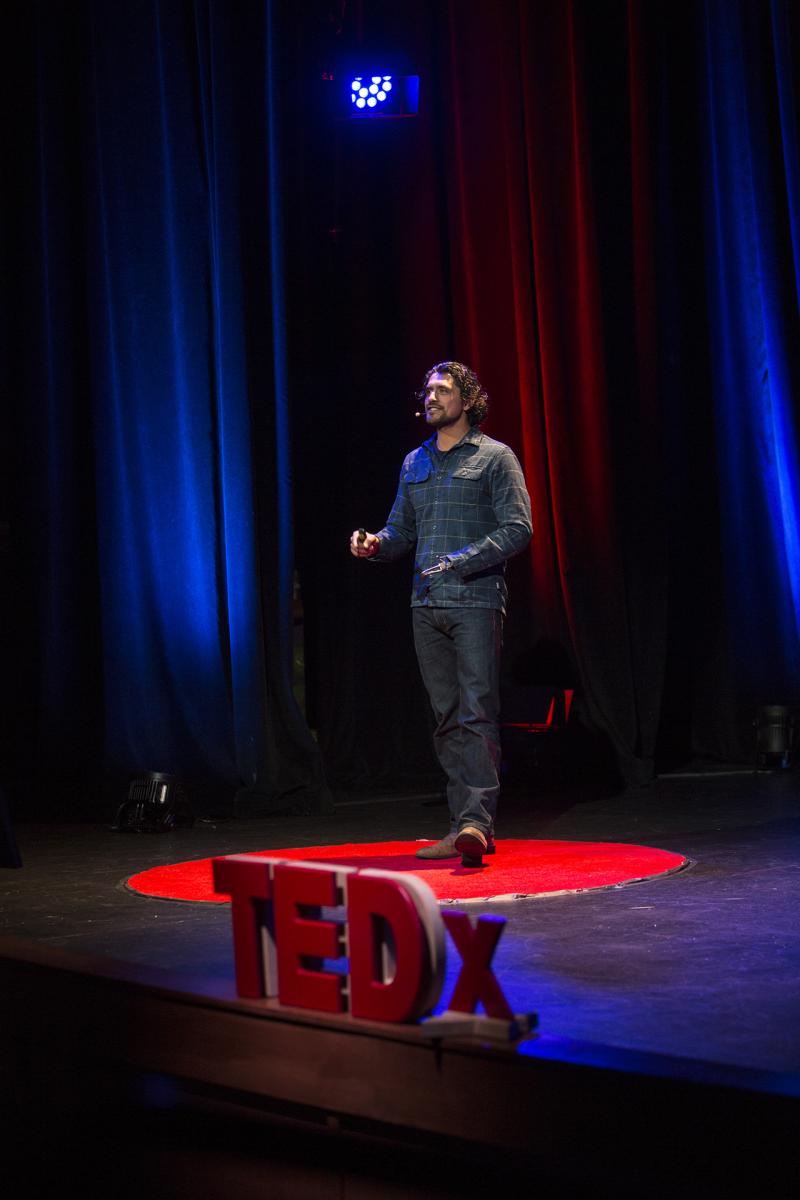 Eduardo Garcia is the living embodiment of the phrase "What doesn't kill you makes you stronger." Eduardo has endured levels of injury, pain and hardship that few people will ever experience. 
Eduardo did not sign up for this. On October 9, 2011, while enjoying a fall day bow hunting alone near Paradise Valley, Montana, Garcia was electrocuted by a hidden power line. He had found a dead bear and, curious about it, Garcia touched the bear with his knife.
The result was instantaneous and devastating.
Twenty four hundred volts blasted through his body, exiting through nine different wounds, including his hand, head and chest. He was thrown to the ground, unconscious and alone, in the middle of nowhere.
When he came to, "I didn't know where I was or what happened. I only knew I had to survive, had to walk out of there. It's like a newborn baby—it knows to breathe but it doesn't know why. But as long as we breathe, we have choice, power and free will." 
When I asked him where he found the strength to survive and walk out after his horrific accident, he told me "There's no real answer for that. You can't go buy a bottle that says 'this helps you walk out of the woods. There's no prescription for that." Somehow he managed to walk out three miles and found help.
Eduardo was shattered. "I was a bag of bones" he says. He was airlifted to the burn center in Salt Lake City. "I spent forty eight days in the ICU. For the first five days I was fighting for my life." On day nine doctors told him his left hand was infected and if left in place could kill him. He had to make the extreme choice to have his hand and forearm amputated. He also lost four ribs and several muscles in his torso, as well as a large part of his scalp.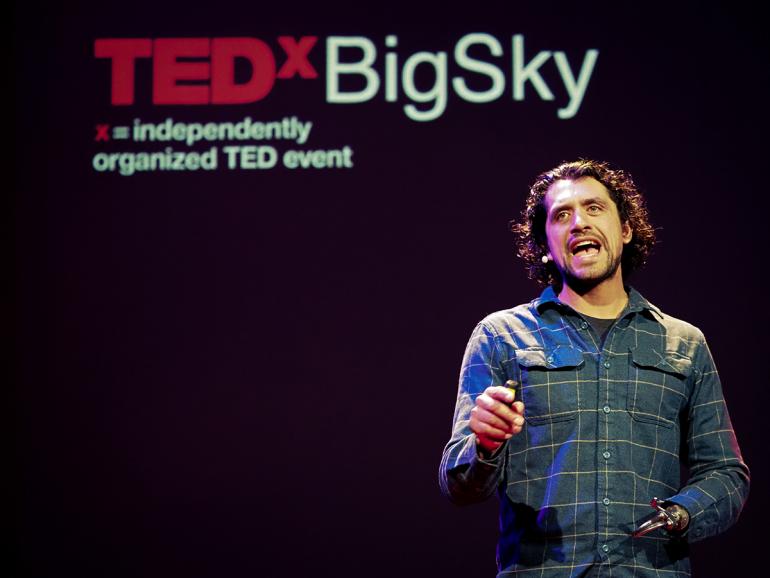 At the time of his accident, he and his friend and business partner, Jennifer Jane, were working on a celebrity chef show. When they started the Montana Mex food brand in 2010 Jen told Eduardo she would only be involved if he started a TV show about being a chef. They filmed a promotional video and got the attention of the Food Network, who planned to start producing the show. Eduardo and Jen got an agent and investors, and were on the brink of breaking out with their show, to be called Active Ingredient. It would star Eduardo as a celebrity chef, cooking gourmet meals in the outdoors, to support the Montana Mex brand. Their first production meeting with Food Network was scheduled for October 17, 2011. Instead, that was the day Eduardo had his left hand and forearm amputated.
Eduardo's ordeal has since been told in film, Charged: The Eduardo Garcia Story (see sidebar), released in 2017. It's a documentary survival story instead of a Hollywood-style drama, starring the real people instead of actors. This realism gives the film a lot of punch and power. It has also allowed Eduardo to begin reaching a much wider audience with his positive message.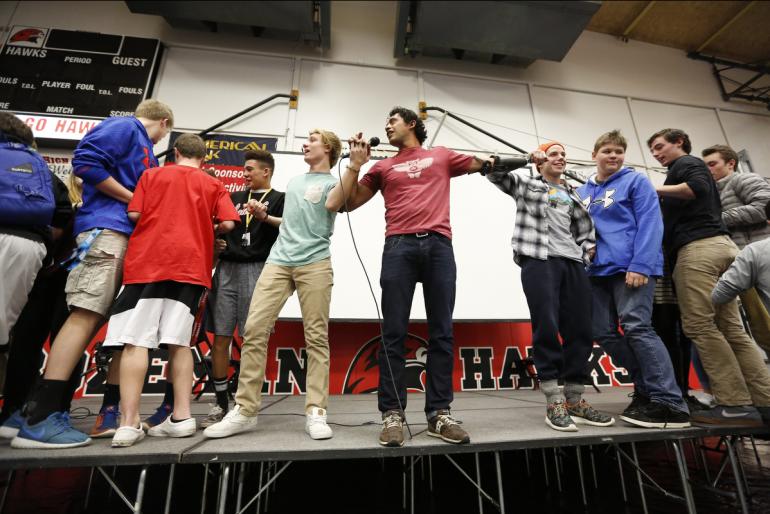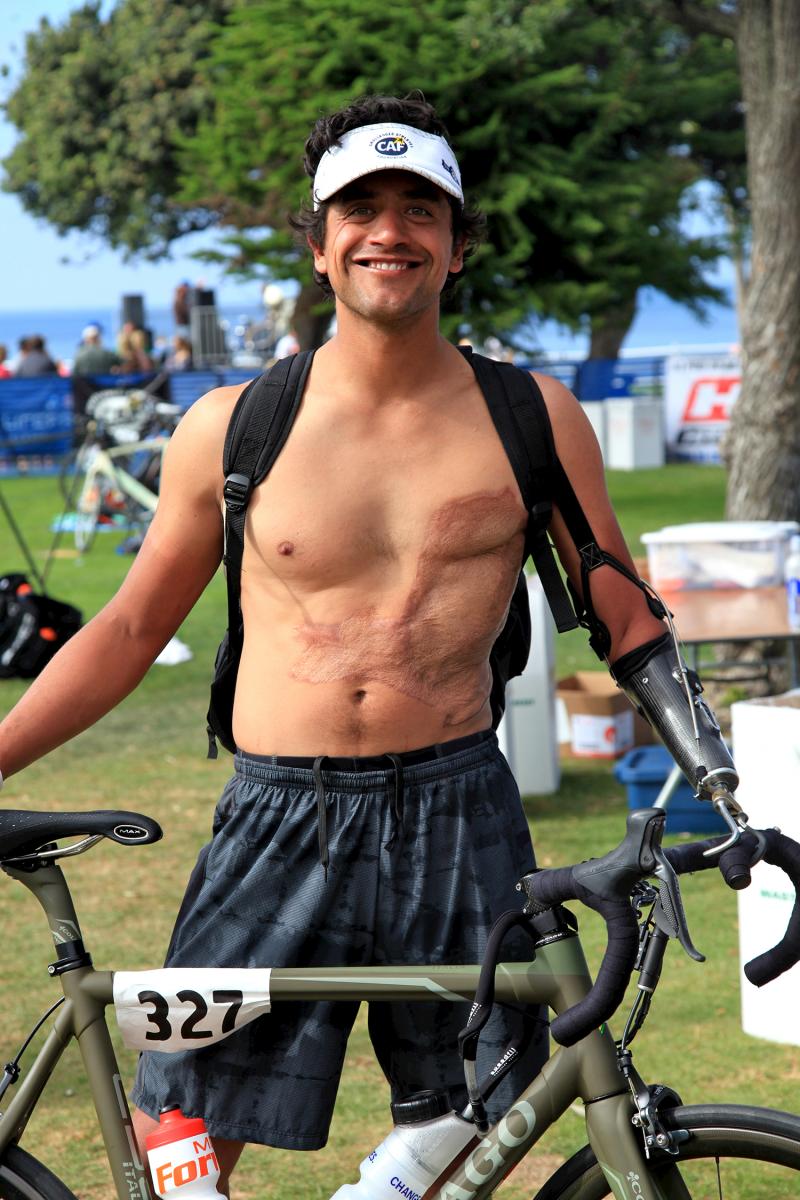 "We have to focus on self so we can be strong healthy humans in positions to help others" Eduardo told me. "You have to be pretty solid."
It's hard to imagine a person coming out of what Eduardo endured with a positive attitude. But Eduardo exudes positivity. "We all have the power to choose our attitude" he told me. "Life is the greatest gift on Earth."
Growing up in Montana, he says, gave Eduardo a thick skin. "Life can be textured and tough anywhere, but the outdoor elements and extreme nature of the Montana seasons lends it to creating calloused individuals both inside and outside. If you are from Montana you have an affinity for the outdoors and engaging with Mother Nature, and this gives you toughness."
Living in Montana's Paradise Valley offered Eduardo that outdoor lifestyle. He skied and snowboarded at Bridger Bowl and Big Sky and still does. He started out in the food industry working at Chico Hot Springs during high school. "I found I had a natural affinity for the job and the lifestyle. There has to be an ability to work under pressure." He went to cooking school at the Art Institute of Seattle and soon realized how important food really is. He began to see cooking as a way of life and a way to help people by providing healthy food. 
While in college Eduardo was offered the job as a chef on a yacht called Dorothea. He traveled the world for two and a half years on Dorothea, then worked on other yachts including one called Blind Date, owned by investor Peter Hochfelder, who became Executive Producer of the Charged film. He returned to Montana to start his cooking show and Montana Mex food brand of seasonings, sauces and cooking oils.
It all came crashing down on October 9, 2011. Eduardo endured twenty one surgeries over two years. To add insult to injury, during his hospitalization Eduardo learned he had testicular cancer. So in addition to plastic surgery and everything else he had to go through chemotherapy.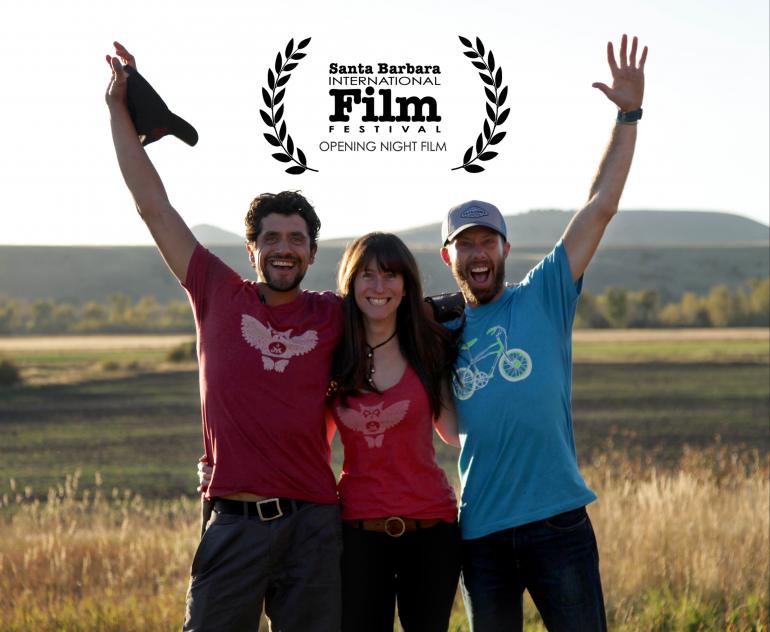 During his time in the ICU, Jenny Jane stayed by his side. They were longtime friends and former lovers, having met on one of the yachts. They'd been through hard times in their relationship including cheating, lying and mistrust. Eduardo is now engaged and Jenny recently married, but they remain extremely close.
"Love and care can be expressed in so many ways" Eduardo told me. "Our relationship now is built on admiration and genuine care and friendship." And on building a food brand.
Jenny told me "I was visiting my parents in England when Eduardo was injured. I booked a flight right away, but in (London's) Heathrow Airport I talked to Eduardo for what could have been the last time." Jenny sat on the plane for eight hours with no way to get any news, wondering if he would survive. She decided on that flight, if he did survive, to keep filming him.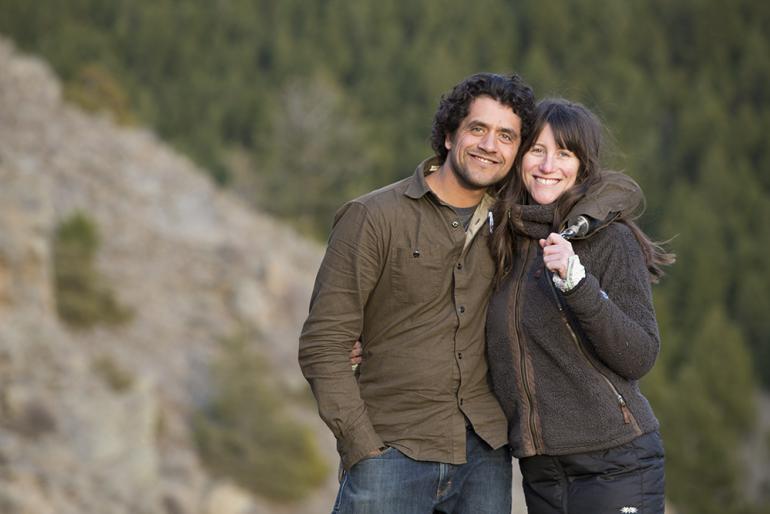 Once at the hospital, Jenny realized he needed her. Jenny had survived her own trauma at three-years-old. "I had toxic shock syndrome—basically extreme blood poisoning—and was in ICU for a couple of months. I remember everything. Most people don't recall much from that age." She recalls her mother, Corrine, being there and how very comforting that was. For Eduardo to have Jenny there when he was so severely injured was similarly comforting. "You wake up in hospital with wounds all over your body, not knowing if you will survive. Imagine how scared you would be."
Jenny started filming Eduardo in the hospital. She knew there could be a story there, but she also realized filming was a great way to advocate for him in hospital. "He was on seven kinds of painkillers and major decisions were being made by him or others, such as amputating his hand. I filmed as much as I could so he would know later what happened."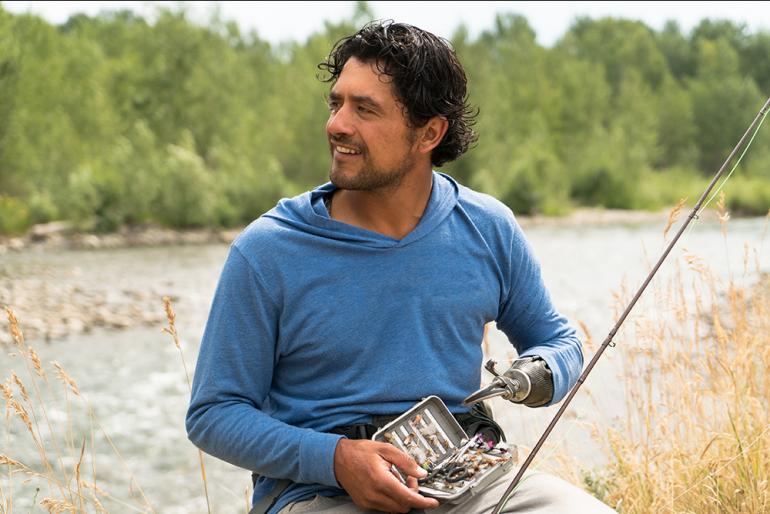 Jenny told me it was no problem to stay by his side in the hospital for 48 days. She is from England, and during university was the only woman in her section (eight people) of the UK Infantry. "We did field exercises all over Europe and Africa. It was cold, with bugs crawling on you, sleeping in a hole you dug—sleeping in a chair in a warm room does not compare with freezing cold sleeping out on Salisbury Plain."
Jenny is a force of nature herself, with a budding career as a stand-up comic and artist as well as working with Eduardo building the Montana Mex brand and starting a cooking show.
Inspired by Jenny, Eduardo decided while he was in the ICU that his job was to heal and provide a positive attitude, to help the people that were helping him. "Everything is a chance to grow stronger. Here was my chance."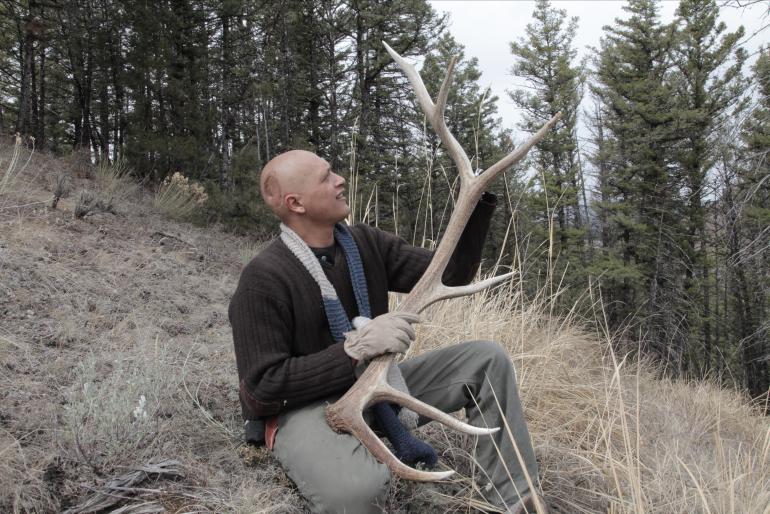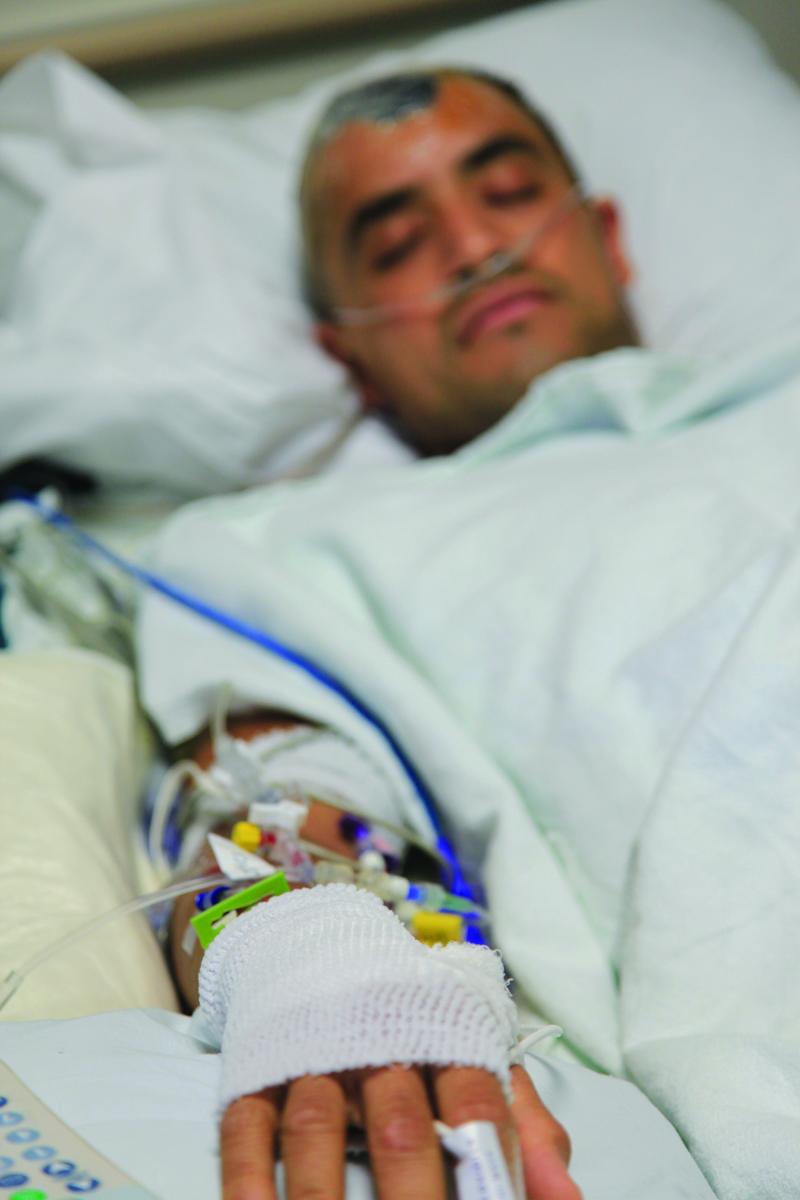 He credits his successful healing—he is cancer free—with a healthy, active lifestyle and positive outlook. Eduardo bicycles, surfs, goes hiking, rides skateboards, and skis and snowboards. He has also resumed bow hunting. He likes to challenge people on hikes. "Every time I think I'm pretty tough I get out-hiked by someone else and five days later I will out-hike them."
Eduardo has a bionic hook. He was fitted at one time with a bionic hand but found he worked better with the hook. "I have superpowers" he says. "My hand never gets cut or burned, which can be an advantage for a chef." 
Eduardo Garcia has more going on that most people could keep up with. In addition to running the Montana Mex brand with Jen, he is a motivational speaker, both live and via podcast, an outdoorsman and adventurer, and now works with the Challenged Athletes Foundation, mostly on triathlons and half or full marathons.
"I work with people of all ages, challenges, and abilities."
And, to come full circle, Eduardo and Jenny have finally launched a cooking show. Now known as the Bionic Chef, Eduardo has created, with Jenny, a show called "A Hungry Life." Five episodes have been bought by Yeti Coolers and will show this summer on Yeti Presents. They are shopping the show to larger networks .
He has not backed off one iota from his kick-ass attitude.
"I want to be healthy and strong and I want to be challenged.
I want to give max effort as often as I can so that when I need max output it's not the first time I've tried to do it."
People are often intensely affected by the Charged documentary and by Eduardo's ongoing motivational speeches. "I hear from 20 people a day" he says. One individual wrote to him "I recently watched Charged and your TEDx talk (January 2018) and your story changed the way I think about life. I have always suffered from depression and find it hard to appreciate life. You have given me a different outlook in your thinking. I am going to start thinking more positively and be glad I have a good healthy life."
"My food brand is somewhere I can really have a positive impact on someone" says Eduardo. "College kids that don't know how to cook yet, Moms that don't have a lot of time, Dads that want to be a bad-ass on the grill so I can back them up with some great sauces."
"Cooking is so much more than making a burger. There's a lot of opportunity to make a connection with a person by cooking them a meal. That's probably the only reason I still cook—the connection with people. I'm a community and tribe-based dude."
"Basically, I'm a Montana hunter and outdoorsman who wants to inspire people to live better lives." Eduardo says. "We are forged by fire."
Links: Chefeduardo.com; Jennyofthejane.com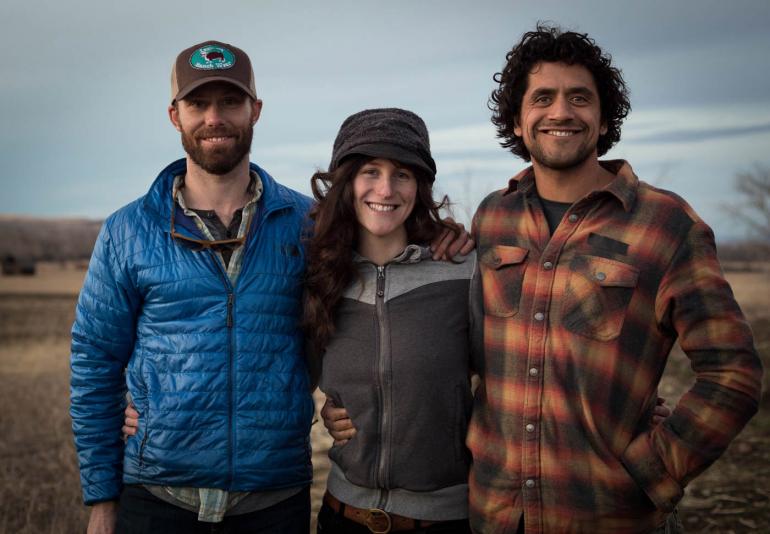 Charged: The Eduardo Garcia Story on film
The film about Eduardo's remarkable survival and recovery was released in 2017. MSU School of Film and Photography graduate Phillip Baribeau directed the film, working along with his former professor Dennis Aig. 
Phil Baribeau (Implement Productions) had just finished work on another film, Unbranded, when he realized the potential of Garcia's story. Peter Hochfelder, the Executive Producer, employed Eduardo as a chef on his yacht Blind Date. He sees Eduardo as "an adopted son, business partner, and inspirational force of nature." 
Jenny Jane, one of the main characters in the film, also did some of the early filming that showed Eduardo's survival and Eduardo's grit and comeback. "Phil (Baribeau, Director) and Tony (Hale, Editor) turned it into so much more. They made it a love story and story of friendship and forgiveness." She told me that spreading Eduardo's positive message was one of the primary goals of the film.
You can view the film on iTunes, Amazon or Vimeo, or rent it from Movie Lovers in Bozeman. See Chargedfilm.com
Get Charged | Eduardo Garcia | TEDxBigSky
VIDEO DESCRIPTION:
"Bag of bones with a heartbeat" The description given by the Doctor on call when Eduardo Garcia was admitted to the burn trauma ICU after being electrocuted by 2400 volts. In a stirring and emotional talk Eduardo Garcia digs into the human experience with pain. He proposes a scenario where by we rethink positive or negative experiences and instead utilize all of life's experiences as fuel towards being continually forged into stronger representations of who we are. Eduardo Garcia is a chef, outdoorsman, athlete and motivational speaker & the co-founder of a national food brand, Montana Mex. During a Montana backcountry hike in October 2011, Eduardo was electrocuted by a buried high voltage power source, where he suffered extensive, life-threatening injuries and had to have his arm amputated. Today, five years after his experience, Eduardo is the subject of the award winning feature length documentary "Charged" and is working on a number of media projects including "A Hungry Life" - a TV concept which follows him into the wild places of the world as he creates exceptional food over a campfire - and is on a personal mission to help those who are dealing with trauma. He is a spokesperson and athlete for the Challenged Athletes Foundation, a NGO that provides support to people with physical disabilities so they can pursue active lifestyles. To unwind Eduardo spends his time at home in Montana, tending to his garden, collecting fresh eggs from his chickens and roaming the hills with his family. This talk was given at a TEDx event using the TED conference format but independently organized by a local community. Learn more at https://www.ted.com/tedx