Fine Western Historical Art by Artist Jerry Crandall
A passionate collector, an intense historian and a talented artist, who produces thrilling, rich expressions of history
MEET MONTANA ARTIST JERRY CRANDALL
"A passionate collector, an intense historian and a talented artist , who produces thrilling, rich expressions of history."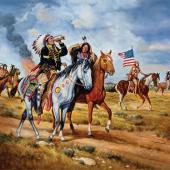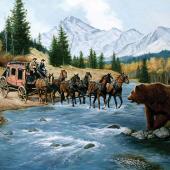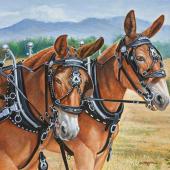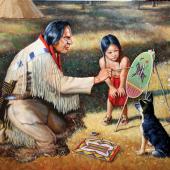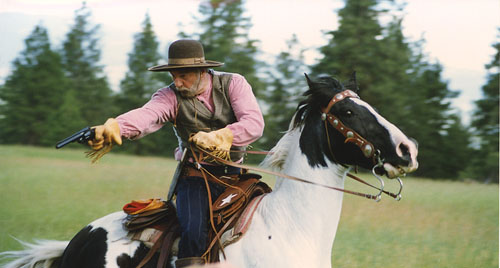 "Born in La Junta, Colorado, near historic Bent's Fort and with my father's love of the old west, it was natural for me to fall in love with history. On weekends when I was young, our family would explore the historical sites around Colorado including the vacant field that was once Bent's fort. There I would crawl around on my hands and knees looking for any type of artifact. One day I was rewarded when, by examining an ant hill I found several seed beads that had been brought to the surface by the ants. Those early beads became a treasured part of my collection.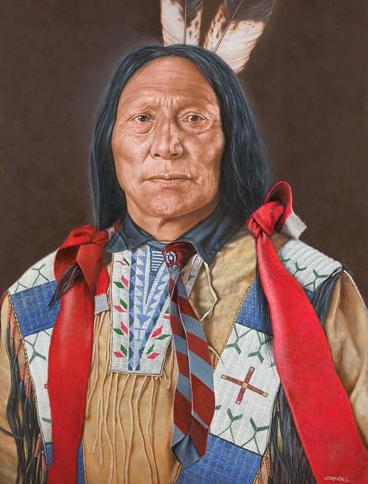 "While in Jr. high, instead of doing my homework, I would spend time reading firsthand accounts and diaries by Kit Carson, the Bent brothers, Jim Bridger, among others. I would pretend to see the tipi camps of the Southern Cheyenne, Kiowa, and Arapahoe that would come to trade at the fort. Thus the foundation for my love the old west was established. By continually studying and researching pre-1900 western events, I formulate paintings that not only tell stories, but capture the essence of historical personalities. A technically well executed piece that tells a story and is historically accurate is my goal for each painting.         
Crandall has been an avid re-enactor in Cavalry re-rides, mountain man rendezvous, cowboy round-up events and more, all in accurate period clothing plus the appropriate horse gear and firearms. He portrayed General George A. Custer during the 100th anniversary of the Battle of the Little Big Horn in 1976.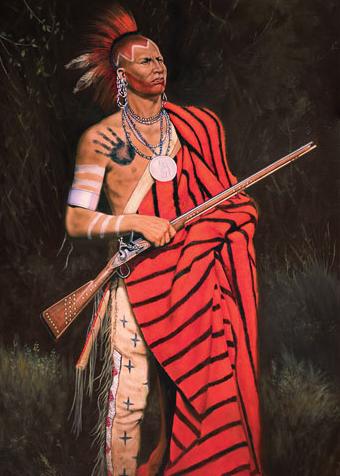 "I consider it my obligation that if I'm going to do a painting of a cowboy, cavalryman or mountain man, I must experience their lifestyle," states Jerry, "which all helps in portraying the look and feel—the reality—of my paintings."
Jerry Crandall's award-winning artwork has been enthusiastically sought after and has sold worldwide for over 45 years through galleries, private commissions and group showings. He is listed in Who's Who in American Art, The International Who's Who of Contemporary Achievement, Who's Who in the West, plus Contemporary Western Artists. His pieces can be found in many private as well as museum collections worldwide. Jerry Crandall is a member of several significant historic research circles including Wild West History Association.
Because of his expertise on the American West, he served as Historical Consultant for early segments of the television series "Centennial" and for the Charlton Heston movie, The Mountain Men.  He appeared in the movie, Tombstone, as one of the cowboys and has been a guest on multiple radio and television talk shows including the NBC Sunday show in LA twice, the Mike Douglas show, and numerous TV and radio stations across the country.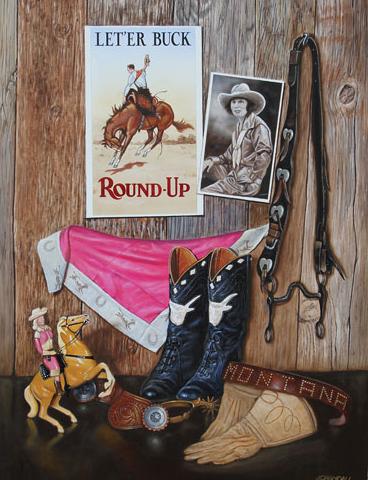 In addition he has served as actor and consultant for various shows that have appeared on the A&E Network, Discovery, and The History Channel. Feature articles about Jerry and his work have appeared in numerous publications including Southwest Art,
Art Voices South, True West, Western Art Collector, Cowboys & Indians, Man at Arms, Portfolio and Prints.
Over the past two years, Jerry has been working on a private commission consisting of 20 American Indian Chiefs who were participants in the Battle of the Little Big Horn. Each portrait is an amazingly detailed image, 40" X 30" of notable Native leaders including Two Moon, Shot in the Eye, Gall, and many others. This project has evolved into a historically significant anthology for both Jerry Crandall and the owner.
Jerry Crandall's astounding creations sparkle with clear realism, are painstakingly rendered, possess underlying technical accuracy and strive for historical authenticity. Original paintings, prints and Giclée editions are available. More can be found on Jerry's Web site, www.eagle-editions.com.  Commissions welcome.
---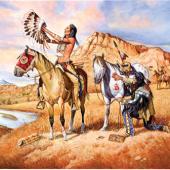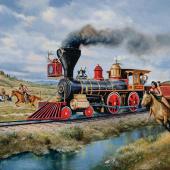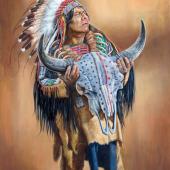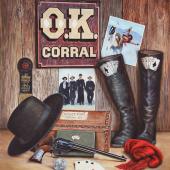 CRANDALL STUDIOS AND EAGLE EDITIONS LTD. LLC
Jerry and Judy Crandall formed Crandall Studios in 1974 following a successful two-man show at Petersen Galleries in Beverly Hills in April of that year. In 1983, after relocating to Sedona, AZ, the Crandalls created Eagle Editions Ltd. to produce and market limited edition prints and posters of Jerry's paintings. Today Eagle Editions continues to promote Jerry Crandall's original historical western  paintings, prints, and Giclée editions to discerning collectors worldwide.
Visit the Website, www.eagle-editions.com for more information and to view additional pieces by Jerry Crandall.
---
Jerry Crandall's Fine Western Art is also available in Montana through:
BEARTOOTH FINE ART GALLERY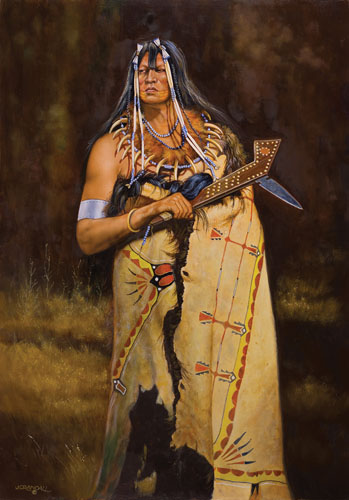 Address: 110 S. Broadway, Red Lodge, MT 59068.
Tel: 406-446-1292.
---
CONTACT INFORMATION
Jerry and Judy Crandall make their home in the Bitterroot Valley of Montana.
Mailing Address: P.O. Box 580 / Hamilton, MT, 59840
Tel: (800) 255-1830
  or (406) 363 5415.
---
UPCOMING SHOW
Out West Art Show and Sale Heritage Inn (GREAT FALLS, MT)
March 15 – 18, 2017
Room #274