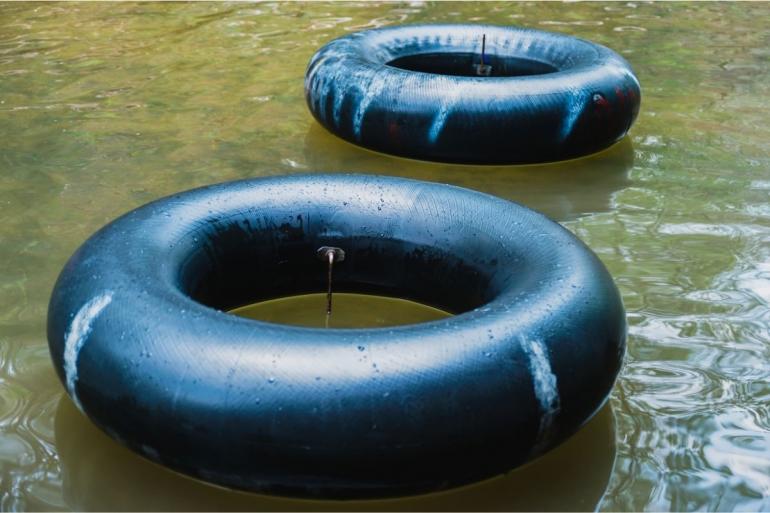 Floating the Upper Missouri River Breaks National Monument can seem a daunting proposition. Throw a few kids into the mix and this trip becomes an off-grid escape to challenge even the most adventure-seeking child. 
The longest river in the US, the Mighty Mo's history is a key player in Lewis and Clark's 1804 search for the Pacific. It became a working river from 1817 with paddleboats plugging up and down bringing travellers, traders, troops, and supplies. Tales of shipwrecks survive, and in 1987 an excavation was done on the Missouri Packet, which was reported to have been carrying $250,000 in coins.
The money was never found, but stories still abound.
For beginners, the 42 miles of the Upper Missouri River between Coal Banks and Judith Landing are the perfect introduction to wild camping. These white cliffs and idyllic wetlands are part of the 149-mile National Wild and Scenic River System.
You don't need a permit to travel down the river but advance planning is necessary. Once on the water you are not accessible by road and there is no cell phone reception: perfect for parents who want to show their kids that life can be fun without a device at their fingertips! The first step is to contact the Bureau of Land Management who will give you vital information and waterproof maps (crucial). Their Web site is: www.blm.gov/pgdata/content/mt/en/prog/nlcs_new/UMRB_NM.html
Several companies provide guided tours, but with some organizing and willing accomplices you can do the guiding yourself and save money. Our party consisted of four adults and four children (aged 8 to 12). We rented three canoes from Mike at Missouri River Outfitters who also picked us up after the float and drove us back to our vehicles. He is full of knowledge and can be found on 1-866-282-3295. His email is [email protected] and his Web site is www.mroutfitters.com
Once you have the basic information, gather your fellow travellers and start planning. Here are 15 helpful tips to keep the youngsters — and therefore the adults — happy on a three-day float down the glorious and historic Missouri River: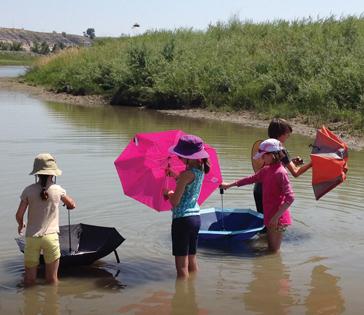 1. Hold a planning party. 
Space is limited and you don't want to end up with five tubes of sunscreen and no bug spray. Make a list and put names beside who is bringing what. 
2. Don't overpack. 
Games for the kids might seem like a good idea, but there is more than enough to keep them busy. Making up tents, building fires, and setting up the kitchen are fun and keep the kids feeling part of it all. Binoculars are a good idea to keep tired eyes happy and alert as they focus on golden eagles' nests and beaver dams during the float.
3. Do bring rain gear! 
Even if you are packing in 90-degree heat, it is crucial to have protection from wet weather. My husband and I unpacked our raincoats at the last minute thinking it couldn't possibly rain. How wrong we were. We narrowly avoided hypothermia. Have one set of warm clothes. Daytime temperatures can soar into the 90s; evening temperatures can dip into the 40s. Be prepared as storms can come on quickly.
4. Keep essentials dry and to hand. 
Make sure each adult has a small dry bag (if you rent canoes, you can often rent these as well) close at hand for phones, cameras, wallets, matches and any other precious belongings.
5. A camping clothesline is a bonus. 
You are on a river all day and things will get wet. Having somewhere to dry your clothes overnight makes for a more comfortable trip and a much lighter load.
6. Bring a first aid kit. 
There will be scrapes and cuts, so you need antiseptic cream, wipes and Band-Aids. Adults might want to pack a small showering towelette. After a long, hot day of paddling this is a wonderful luxury. 
7. Pack an umbrella for each child. 
This may sound strange but we found these a godsend. On the river they were used as Huck Finn-style sails and as protection from both rain and sun. At the campsites, they were turned into spinning tops on land and water.
8. Listen to the Bureau of Land Management advice about water. 
You need at least one gallon per day per person. Not only is water needed for drinking, but for doing dishes, washing hands, brushing teeth, and cooking. Bring food that doesn't require much water in its preparation (see number 9).
9. Food, glorious food. 
For the three-day float, you need two suppers, three lunches, and two breakfasts. For the first night, bring a frozen dish like chilli, home-made hamburgers, or pulled pork. It will have defrosted just in time for supper. For the second night, choose something that won't spoil in the heat. If you boil some pasta in advance for 2 to 3 minutes less than the time stated on the package, cool it, and pack it into Ziploc bags (see number 10), you can heat it up with pesto, pine nuts and parmesan for an easy supper that doesn't require any of your precious water (and only one pot). Dry salami, hard cheeses, bread, and fruit keep well for lunches. Trail mix with M&Ms is a good on-board snack — the M&Ms provide energy and entertainment for the kids (swapping green for yellow or counting how many reds in each handful). Mornings can be chilly, so instant oatmeal is the perfect breakfast. Dried milk is handy as it's light and doesn't go off.
10. You can't have enough Ziploc bags. 
They were invented for this trip! They keep dry food dry. Bring extra.
11. Kayaks to the rescue. 
One of our friends brought along his kayak. The kids loved it for its speed and closeness to the water. It also helped prevent blisters by giving small hands a break from canoe paddles. Because kayaks use a whole different set of muscles, the kids also found it gave them a bit of a rest.
12. Factor in an extra night. 
We did the 42-mile trip in two nights and three days according to BLM guidelines. But paddling with small children is slower and the distances take longer to cover. Having two nights in the same spot means you can do some hiking and exploring on land. 
13. Bring the Lewis and Clark diaries. 
We read these out as we went. For the kids to hear descriptions of the cliffs and scenery they had just paddled past unchanged from 200 years ago really brought history to life. 
14. Gather firewood as you go. 
Many of the campsites have very little, if any, firewood. You will appreciate the wood when it comes to s'mores time. If you find a long stick, hang onto it. You can use it to pat down any long grass before pitching your tent. This ensures you don't accidentally lie on a rattlesnake. 
15 Discuss the dreaded 'poop tube'. 
This National Park has a strict 'pack in, pack out' policy. If you camp at a primitive campground with no latrine, make sure you arrive prepared. Our group of kids loved the idea of the 'poop tube'. We didn't have to use it in the end as we chose campgrounds with toilets. The adults won that one!