In Helena, there are so many prestigious riding areas that the International Mountain Biking Association (IMBA) designated the area as a bronze level ride center. Helena is the only ride center in Montana and joins only 16 other locations internationally. "It means that IMBA has designated our trail system to be 'world class' and destination worth," said Patrick Doyle, community outreach director for Helena tourism.
According to IMBA's Web site, "The designation represents IMBA's model trail recognition for communities with large-scale mountain bike facilities that offer something for every rider." These communities, the Web site continues, take care of riders both on and off the trail by being places where mountain bikers are welcome. The Helena area was evaluated for the types of trails offered, services available to riders, community involvement, tourism and marketing, and special conditions that go above and beyond. Helena's scores in each category landed them in the bronze level of ride centers.
"In addition to a beautiful setting with some rich history, we found that the capital has a really cool bike scene," said Leslie Kehmeier, IMBA mapping specialist. "The mountain biking is excellent, and the best singletrack is well connected to town. One would have to plan a number of days to ride everything, a feature that is essential for an IMBA Ride Center."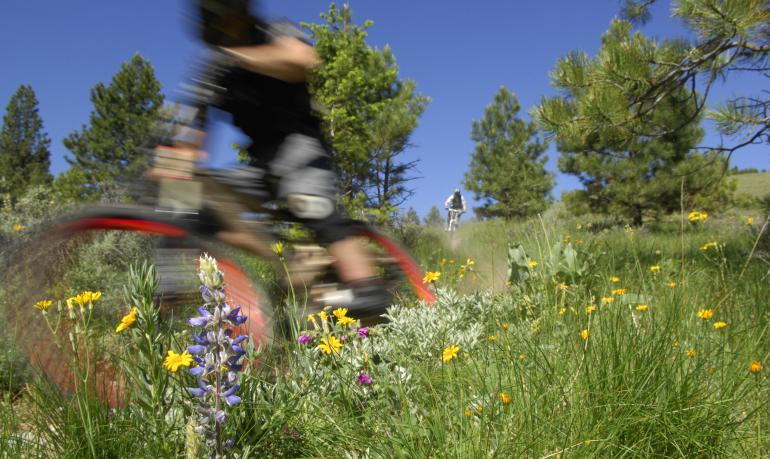 Mount Helena City Park
Mount Helena City Park is one of Helena's most noticeable and iconic landmarks. With a peak elevation of 5,468 feet above sea level, it offers amazing views of the valley and mountains. Across its 630 acres, an abundance of trails for mountain biking lie in wait to be explored. Riders can make several fun and technically challenging loops around the area and take in the sights of Helena from a whole new perspective.
1906 Trail/Hogback Trail/ 
Prospect Shafts Trail (Loop)
Level of Difficulty:Moderate
Length: 3.2 mile loop
Trailhead: Mt. Helena Trailhead (Drive up through the subdivision on Reeder's Village Drive to the dirt parking lot.)
The 1906 Trail has been the most direct route to Mt. Helena's summit for over 70 years. Along the 1.6 miles to the top, riders pass a cave known as Devil's Kitchen and along the base of picturesque limestone cliffs. After reaching the summit, riders begin a steep and rocky descent southward on Hogback Trail along the exposed Hogback Ridge. Hogback connects with Prospect Shafts Trail, halfway along which riders pass by old mining shafts for which the trail is named. Wrapping around all sides of the mountain, this loop offers spectacular views in all directions.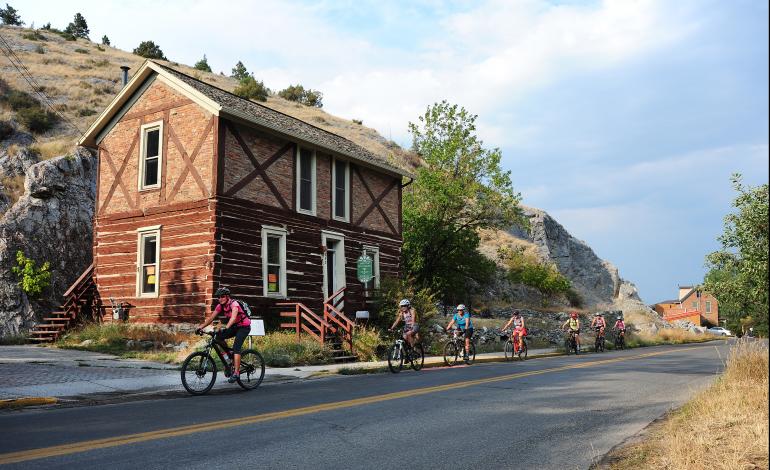 Ambrose Trail/Swaney Trail/
Lower Prairie Trail (Loop)
Level of Difficulty: Moderate
Length: 2.7 mile loop
Trailhead: Mt. Helena Trailhead (Drive through the subdivision on Reeder's Village Drive to the dirt parking lot.) Or Tubbs Trailhead on Le Grande Cannon Boulevard.
This loop features mostly contouring trails that are more forgiving for the beginner mountain biker. The Swaney Trail offers a less-traveled access route to Mt. Helena's trail system. Swaney wraps around the north side of Mt. Helena and connects with the Lower Prairie Trail or Diretissima. The Prairie Trail was named for the prairie wildflowers that bloom in summer along its length, including patches of Montana's state flower—the bitterroot. This trail is also one of the best routes to see the mountain's cliffs and north-slope landscapes.
Mt. Helena Ridge Trail
Level of Difficulty: Moderate – Hard
Length: 7.0 miles one way
Trailhead: Mt. Helena Trailhead (Drive through the subdivision on Reeder's Village Drive to the dirt parking lot.) Or Mt. Helena Ridge Trail Trailhead in Park City.
This is a classic ridge crest trail with extensive views. In late spring the area is scattered with big yellow arrowleaf balsamroot flowers. The trail contains several sections of rocky, technical terrain and a couple of short but tough climbs in either direction. On the weekends during the summer the Trail Rider shuttle also transports riders for free to the Mr. Helena Ridge Trail trailhead.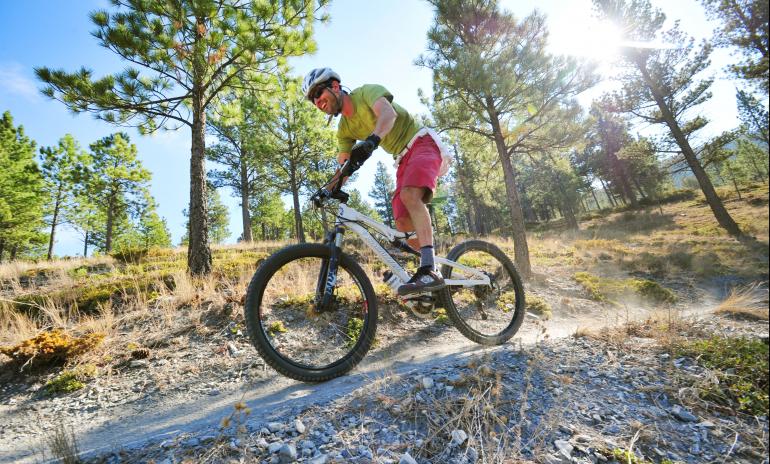 Wakina Sky Area
Mostly on Helena National Forest Lands, the Wakina Sky area offers some of Helena's most forgiving hiking and biking trials. The area is highlighted by the Wakina Sky Meadow that was protected by the Prickly Pear Land Trust in 2003.
Wakina Sky Trail/ Stairway to Heaven/Wakina Ridge (Loop)
Level of Difficulty: Easy
Length: 4.0 mile loop
Trailhead: Dump Gulch Trailhead
From the Dump Gulch Trailhead, head south on Grizzly Gulch road for ¼ mile to Wakina Sky Road. The first 1.2 miles is a gradual climb on a road that turns into single-track. Once in the Wakina Sky Meadow, turn right after the Prickly Pear Land Trust sign, then right again and climb up Stairway to Heaven trail. This trail traces the ridge before descending and offering great views of Helena.
Mount Ascension Natural Park
Located in the South Hills, Mount Ascension's 40.4-acre property offers several smaller loops for riders to explore with a variety of terrain and levels of difficulty. At 5,281 feet, Mt. Ascension offers just as many great views as Mt. Helena. Mt. Ascension Park has been the Prickly Pear Land Trust's pinnacle project in securing additional public open space for riding, including its summit and ridgeline areas.
2006 Trail/Entertainment Trail/Archery Range Trail (Loop)
Level of difficulty: Hard
Length: 4.0 mile loop
Trailhead: Beattie Street Trailhead
Getting to this trail is a little difficult. Go to the Beattie Street Trailhead and take the Prickly Pear Trail. Then veer off on the Pay Dirt Trail and take Easy Rider to Pale Rider. This will get you to the base of the 2006 Trail. The loop continues on to the Entertainment Trail following a rolling ridgeline to the south through a hillside that is often covered with wildflowers in summer. Archery Range Trail offers a smooth, rolling jaunt back to the start. This loop is a strenuous ride with prolonged climbs and a steep, fast descent.
DeFord Trail
Level of Difficulty: Easy
Length: 1.0 mile one way
Trailhead: DeFord Trailhead on Davis Street just after it turns to dirt.
This is the perfect trail for beginning mountain bikers breaking into the area. It is known as the "woodchip trail" for its soft surface. It is a wide, forgiving pathway along Davis/Dry Gulch Road and provides an easy route up Dry Gulch to the Old Shooting Range Trailhead
Rodney Ridge
Rodney Ridge has something for everyone: rugged climbs, flat contour trails, beautiful views, forests and meadows. Lots of small loop opportunities are available.
Waterline/Don't Fence Me In/Rodney Ridge Trail/T.R. Trail (Loop)
Level of Difficulty: Moderate
Length: 3.0 mile loop
Trailhead: Waterline Trailhead on Orofino Gulch about 1/3 mile south of the Grizzly Gulch "Y"
This loop has the perfect blend of climbing and flat trails. After climbing switchbacks from the trailhead, riders began ascending the Don't Fence Me In Trail. Once on top of the ridge, the trail descends down to the Rodney Ridge Trail, an old two-track road. This trail branches out at Rodney Meadow where there are several trail options. Take the second right (west) on the T.R. Trail into the woods where the trail climbs up to a stony overlook. The trail then descends through limestone outcrops and takes you back to the south end of the Waterline Trail.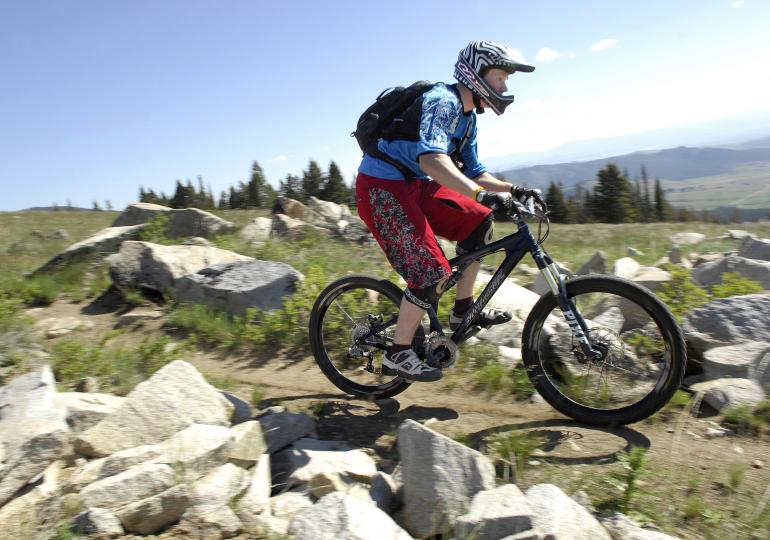 East Side Trails
East of Montana Avenue, bikers can enjoy several new trails, some of which connect into the South Hills Trails system. The trails offer easy access to the woods from some of Helena's newest neighborhoods, like Nob Hill, and vary from easy loops to challenging switchbacks.