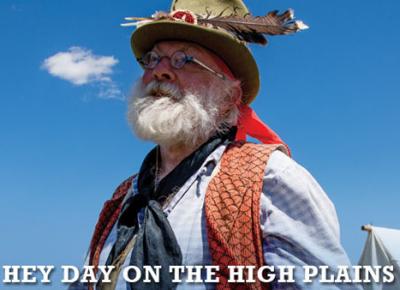 photos by Donnie Sexton
I receive an invitation to join Donnie Sexton and her cohort Molly Ambrogi to join them and three journalists on a jaunt "to semi-secret prairie lands" in June.  Donnie, head of Media Relations, is also the (excellent) photographer for the Montana Office of Tourism. Molly works at Mercury Communications. I leap at the chance as I don't know much about eastern Montana.  Here at the magazine we always want to include more articles about eastern Montana, so this is an excellent chance to get ideas.
The bright threads of this trip are genial people, Lewis & Clark spots, the meanderings of the Yellowstone & Missouri Rivers, and Montana's historical past blended with its present.
BILLINGS
We rendezvous at the Billings airport.  Monica Bennett comes from Seattle.
She has a colorful Web site, www.just5moreminutes.com. She and her family travel often in an Airstream. Also enthusiastic RV-ers are Kay and David Scott from Georgia; they've authored a complete guide to lodges in our nation's parks.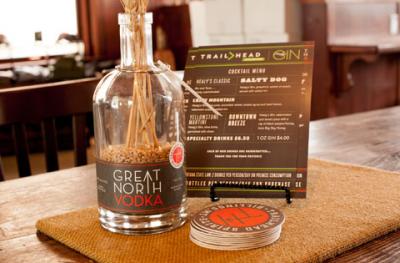 Our first evening starts in downtown Billings.  
• We walk around the Depot area and take in the musical sounds of "Alive at Five," starring the Clinton's.  A woman with a stogie in her mouth catches my eye; she wears short shorts and her back is tattooed.  
• We sit down at the spacious Trailhead Spirits Brewery owned by Casey McGowan. He gets his wheat (3,600 bushels a year) from his family's farms.  The distillery section consists of vast vats controlled by push button technology made by Bavarian Breweries.
• Delicious Dinner at the Lilac Café is hosted by Nick Mann (VisitSoutheastMontana.com) and Alex Tyson (VisitBillings.com).  Nick orders Wild Boar with pasta and pronounces it "delicious."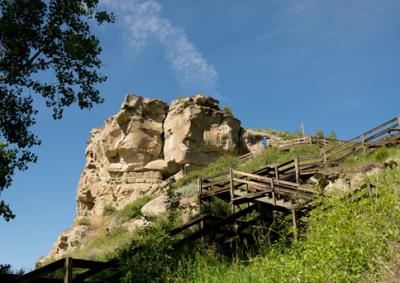 POMPEYS PILLAR 
•    Here William Clark etched his name and date into the sandstone cliff in 1806, the only record of the famous expedition. He named this spot after his Native American guide's son, "Little Pomp." The Yellowstone River flows nearby amidst thick cottonwood trees waving in the breeze.  
•   Long before L & C, Crow Indians engraved a sacred mountain lion and other animals (now hard to see).
MILES CITY
The town is quiet without the Bucking Horse events but a colorful atmosphere persists.  
• Lunch is at the double-roomed 600 Café, where I have chicken fried steak. 
• Local friendly man, Jerry, sits with us and tells us about his two "wife-times."
• Miles City Saddlery, established before 1894, is the home of famous custom-made saddles (with their stamp of quality), 1,600 tooled boots, including
"mucking" boots, bits & spurs, clothes.  I buy a gray silk cowgirl scarf.  
• Kick Ass Hatter, Ken Hess, talks to us about how his hats are ordered from around the world.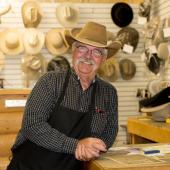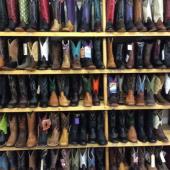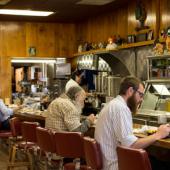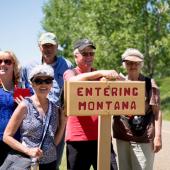 TERRY 
We visit the Evelyn Cameron museum. Evelyn was a well-bred English woman who visited here in 1889 on her honeymoon.  Inspired by the openness and wildlife, the couple stayed in order to breed polo ponies and send them back to England. In order to save their struggling horse farm, Evelyn took up photography, creating photographs in her kitchen, while often singlehandedly running the ranch.  Her journals and photographs are filled with images of friends, strangers, weddings, sheepherders, railroads, wildlife, along with women doing men's work such as branding, plowing, roping. After her death, the photos were discovered and published by Time Life Books. The photographers among us are especially impressed.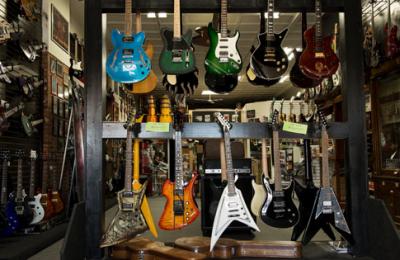 GLENDIVE
• Hell Creek Music Store, one of the top 100 in the country as deemed by the National Association of Music Merchants.  We see a $25,000 guitar, hand-carved guitars, and on the ceiling a Michelangelo-inspired art work of God's finger reaching out to a guitarist. If Evelyn Cameron's work was a photographer's inspiration, this store is a musician's mecca. 
• Doug Smith of the Sheridan County Planning Office joins us.  He's tall, lanky, quiet, and informative.
MAKOSHIKA STATE PARK
We get here before sunset Friday night so we can walk in the strange and beautiful landscape, created by erosion and mineral-laden soft sedimentary rocks intermingled with pines and junipers.  "Makoshika" is a Lakota word for "badlands."  These rock layers are older than those in the Dakotas.  Relics from 10 species of dinosaurs have been found here.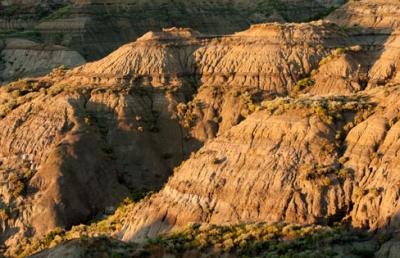 Saturday we drive through the easternmost part of Montana and see oil rigs near the road as well as trains pulling oil cars.  We also see large trailers, called "man camps", and threaten to leave our man there if he misbehaves.  I am glad to see for myself the apparent effects of this new "boom" (Montana has known five or six).
I have heard only negatives but locals tell us that they have a favorable impression because of money spent on infrastructure.  True, one can see small new "settlements."  Yet, analysts think the oil boom is on an unstable trajectory and wonder what would happen to this agricultural area in a bust?
A half-mile east, just into N. Dakota, I see where the beloved Yellowstone River ends, blending into the Missouri River.  I find it particularly moving to see the way these rivers flow, for in Three Forks we have the Madison, Jefferson, and Gallatin joining the Missouri.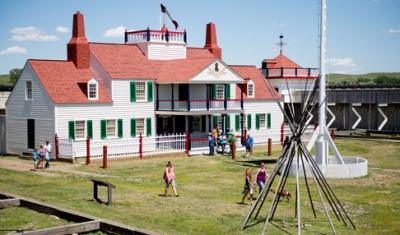 FORT UNION TRADING POST
RENDEZVOUS
A large square representation of the exact settlement constructed for trade between 1828-1867 lies on the Upper Missouri River. Tribal leaders offered buffalo robes, furs of beaver/fox/otter in exchange for beads, knives, guns, and metal pots. At this year's Reenactment no actual Indians show up but the whites include potters, blacksmiths, bowmakers, gunsmiths, cooks, and beadwork. In the past, natives negotiated with the settlers in a private room.  Then the goods were passed through a window, like money in a bank.  George Catlin, John James Audubon, Karl Bodner, and Jim Bridger came here.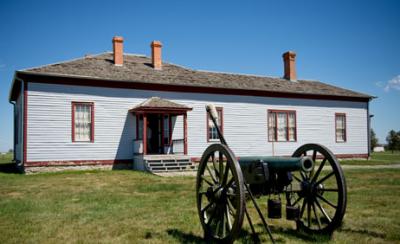 FORT BUFORD
MILITARY RESERVATON
When Fort Union was demolished, this fort was built (1866) and closed in 1895; it housed six companies of military and cavalry.  Here is where Sitting Bull surrendered. We walk around the cemetery noting deaths by murder, suicide, and disease at young ages.
WOLF POINT
Red Bottom Powwow, accompanied by Carla Hunsley (Exec. Dir. Missouri River Country).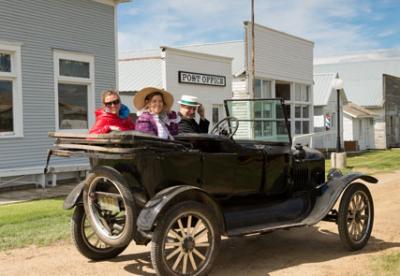 SCOBEY'S PIONEER TOWN
Sunday begins with a drive over an undulating road along green fields and under a saucer-blue sky to Scobey.  (See Daniels County Museum on Facebook).  Here 35 structures from an old town are maintained as well as a vast collection of vintage cars.  I ride in a 1924 Model T, but it has to be pushed to start.  The theatre is large, with old-fashioned charm, and houses a huge projector that was used for silent movies.  Plan ahead to visit the last weekend in June in order to see the Dirty Shame Show. "Dirty Shame", a term which originated here, comes from a man being caught under floor boards with liquor during Prohibition.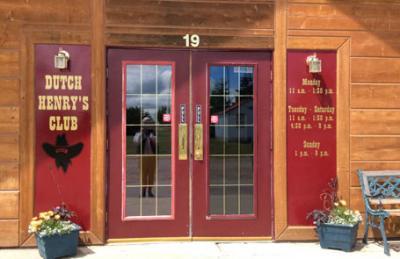 PEERLESS
Tiny town, pop. 23, is one of my favorites.  Here sits the handsome Dutch Henry's Club, named after a notorious horse thief.  Owned by Taryn Hauk, the club has many square tables and great western art (42 prints) on the walls.  Two pictures show thieves' dens; one explains how thieves would enlarge wolf dens as hiding places.  A gentler claim to fame is the town's brand of potato chips.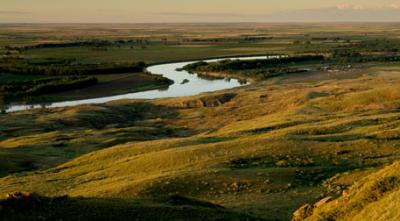 FORT PECK
Onward to Fort Peck Lake where huge paddle fish can be found (the biggest this year is 85 pounds!) as well as a variety of walleye, smallmouth bass, Chinook salmon, and Northern pike. I take a tour through the two monumental powerhouses of the dam, which were built by 10,000 workers in 1930.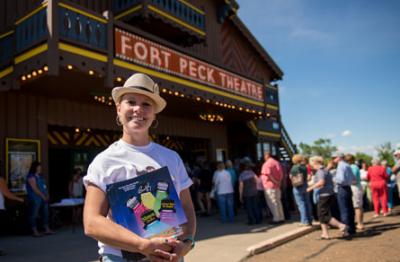 FORT PECK THEATRE
We get to see a rollicking performance of  "The Buddy Holly Story," a musical with dance and the best early rock n' roll songs.  Hundreds of people flock to this charming red theatre with professional actors. 
GLASGOW
We hastily drive to Glasgow in order to get to the top of a cliff for sunset at the Milk River, so named by William Clark because it looked "cream colored."  
FLIGHT ON PLANE
Monday we fly back to Billings on a prop plane piloted by a young woman.  I see what the "big open" means as we fly over vast swaths of flat land.  
The whirlwind trip ends.  Are you ready to plan your next road trip in eastern Montana?