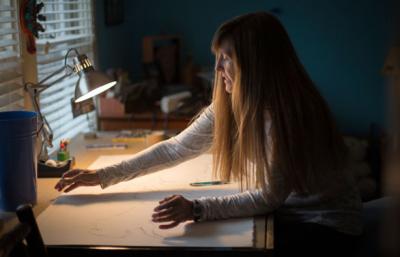 Jennifer Lowe has combined the landscapes, animals, and the people of her native Montana with a unique approach to painting. Born in Missoula, she spent parts of her childhood working in the fields of her grandparents' homestead property. She uses livestock markers to render in vivid color the whimsical images of her imagination. Lowe constructs her own frames and decorates them with a folk art quality, each of which carries an element of the painting that it is made for. Jennifer began using the oil paintsticks in 1985 while a student at Montana State University. Since then her work has been shown alongside such well-known artists as Thorn Ross, Howard Post, Larry Pirnie, and Donna Howell Sickels.h5
Jennifer or Jenni?
Jennifer Lowe-Anker is my name, Jenni my nickname but I sign my artwork as Jennifer Lowe.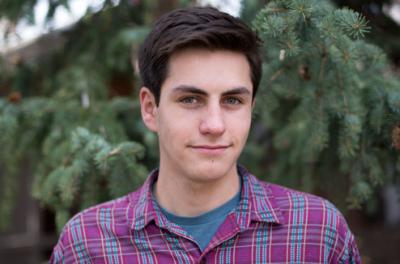 Your artistic approach is wonderfully striking — colorful, fanciful, and vibrant. What does that say to you about yourself as an artist?
I love color and light and my work reflects the bright clear light that we have here in our dry mountainous Montana climate. I simplify my images of wildlife, birds, or landscapes with the bright color of livestock markers, and I like to emphasize shadows and contrast. I have a proud affection for Montana as my great-grandparents settled here as ranchers in the 1870s. The open space, diversity of wildlife, and rural lifestyle in Montana are unique and precious. My grandmother who was born and grew up on the ranch loved every wild creature. Wild places like Montana are disappearing around the planet. I want to celebrate them.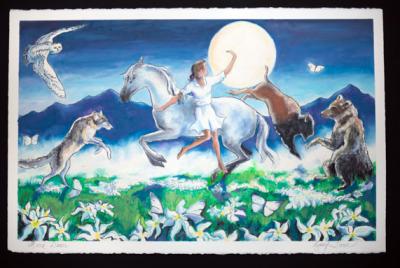 Your work often teeters between the whimsical and sublime. Is this a conscious effect you are trying to produce?
Yes. I love to portray the ideal or impossible with regard to wildlife and western myth but some of the images have serious messages about saving species or caring for what we have. As a kid, I liked to daydream that I could go live in the wilderness and tame the wolves and ride on a moose or a bear instead of a horse. I render those innocent dreams sometimes. I did ride horses, explored on foot, skied, and climbed mountains, fished, and rode bicycles along rivers and over passes. As a teen, I bucked bales, drove tractors, herded cows, and later worked for the forest service in seasonal jobs, surveying roads, and thinning timber. Then, becoming a mountaineer, I continued to be out in nature. I still love to be out, to hike and ski and ride or even garden.
Wildlife, especially Montana critters, seem to be your major motif? Why is that?
Growing up in Montana , I believe that the animals and birds we have here are truly amazing and important. I don't think people value other species enough. Humans are very egocentric, thus the state of our beleaguered planet. One aspect of my work is that there is a bird or animal in every piece. There are a few with people and they are usually on a horse.
One cannot visit your artwork without wondering how the death of your husband (alpinist Alex Lowe) has informed your work. What can you tell us about that?
I lost Alex in 1999. I don't know that his death really changed the evolution of my work but perhaps there is more emotion present than there once was. The imagery has become more detailed than it was 20 years ago. I sometimes portray cowgirls doing daring tricks or women in the wilds with animals around them. These images have a feeling that I think empowers women. It evokes the carefree and confident feeling that I had racing my horse across a field at the age of 15 or standing on top of a mountain at 25 or facing life as a widow.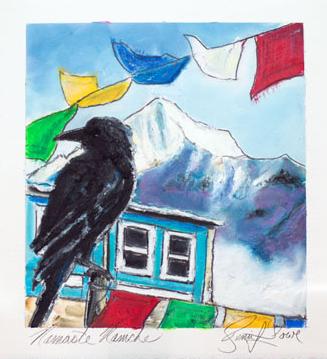 How do you hope your artwork impacts the viewer?
My hope is that my work will bring some joy to people or make them smile but I also want them to think about what is important in the image. There is so much sadness, despair, and loss in the world I want to portray something that is beautiful, fun, or happy. I try to create an image that people might want to live with or that might inspire them in some way to care for our wild places. The human footprint on Earth is a large one. We could be better stewards of this planet.
Who in the art world has had the most influence on your work?
As a teen, I was greatly influenced by the artist Walter Hook in Missoula. He was an amazing watercolorist who embraced the whimsical and rendered images such as bison in a field with colorful kites flying overhead. I also paid attention to Monte Dolack, another fabulous Montana artist with a sense of humor and a point of view. Of the great masters, I loved Van Gogh and Gauguin.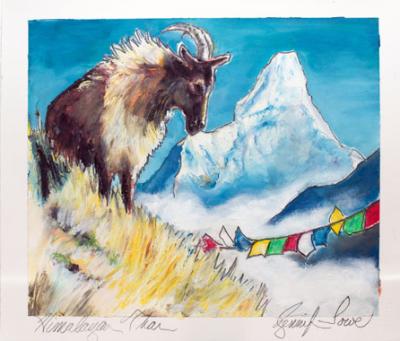 What are you currently working on?
I've recently been working on some images inspired by time spent in Nepal. Like Montana, the colors in Nepal are vibrant and beautiful with high clear air, sharp shadows, and distinct values. There are wonderful birds and animals, such as yaks, snow leopards, and donkeys, and of course, mountains. I showed the paintings in Santa Fe in November and will show them in Telluride in May and then NYC in June. So, I guess you could say that I am expanding my subject matter a bit but in the same style, where animals and birds are the key players.
Where is your artistic instinct taking you next?
Well, our youngest son, Isaac, is heading off to college next autumn. I am still painting but I'm also excited to do more writing. My first book, Forget Me Not, was a success and I enjoyed the process of writing. I have three different books that are in the planning stages. One is an illustrated children's book. The second is a collaborative with a Sherpa friend, and the last is another memoir of life growing up in Montana, 
50 years ago and 100 years ago.
OK, who is Jenni Lowe… in seven words?
A Montana girl and proud of it! Thank You!
CONTACT INFO
www.jennilowe.com
Her work is carried by Visions West Galleries in Montana and Colorado; it is also available at the The Kneeland Gallery in Ketchum, ID, and Rare Gallery in Jackson, WY.