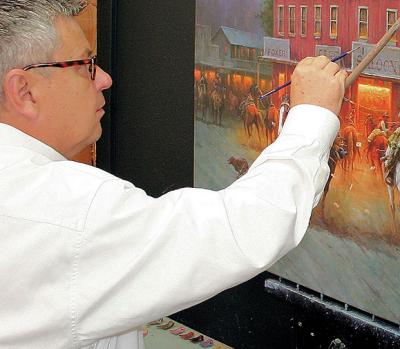 Gary Lynn Roberts, a storyteller, welcomes you into his canvas. Carrying on the tradition in oils, Gary Lynn is a third generation artist, his major influence being his father, Joe Rader Roberts. Gary Lynn started winning awards at the age of 14 with a piece at the Houston Livestock Show and Rodeo. Since then his paintings have continued to win awards, grace the cover of magazines, and hang in prestigious collections. Gary Lynn's paintings are primarily displayed at the Legacy Gallery in Bozeman,  Jackson, WY, and Scottsdale, AZ.
Upcoming shows include a one-man show at the Legacy in Bozeman on August 12th and the Buffalo Bill Art Show & Sale in Cody, WY, on Sept. 23 & 24.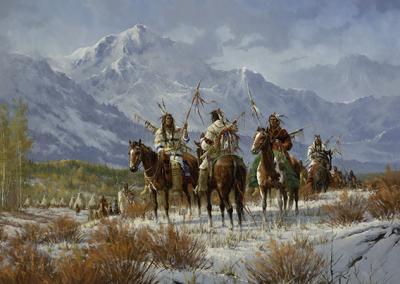 Tell us about your fascination with the Old West of the late 1800s, and how it inspires your art.
My fascination with the Old West began with my love for horses.  Growing up in Texas, my friends lives' and mine seemed to be revolve around horses. I have many fond memories of riding, camping and participating in rodeos. Match this with the love of art and it only seems natural that western art is where I would settle. I was fortunate to be raised in an era of western movies with stars like Roy Rogers and John Wayne.  The Old West of the late 1800s depicted a time where my imagination could run wild. It was a time in history filled with adventure, a simpler time when a man's handshake was his word of honor. I enjoy capturing the stories and spirit of the Old West on canvas while giving the characters a world to live in.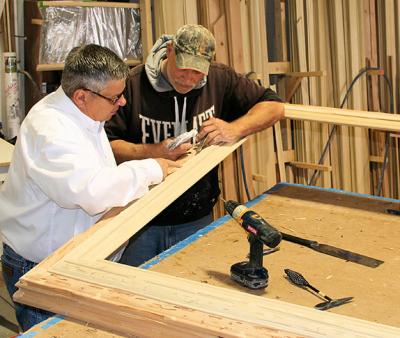 Your father was a great influence on your approach to art as a passion and profession.  What was it like to have your father as a mentor?
Having my father as a mentor was a blessing.  In my early youth he instilled in me a strong work ethic and we both shared a passion for art.  When people asked him how long his son had been painting, he joked that he used to wipe his brushes off on my diapers when I crawled by. My father took art seriously and believed in learning the fundamentals first.   For several years he pounded them into me.  A lot of people don't know that I got my start in this business painting signs. By the time I was fourteen I was for all practical reasons a professional sign painter, lettering windows and trucks.  My mother would drive me around town with my paint box to grocery stores and furniture stores where I would paint windows with weekly specials or Christmas scenes. This experience taught me to design and create a mood.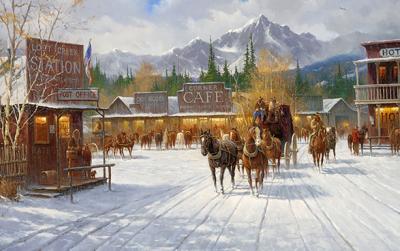 Who were your other artistic influences and how did they contribute to your success?
Because my father was famous, he had a lot of other recognized artists in his studio. It was priceless for me to hear them talk about their ideologies in art  or what they were trying to improve. I really admired American illustrators.  Andrew Loomis had a book called Creative Illustration that showed how every facet of art applied to illustration. Over the years I have developed a style in my painting in which a design is created to bring out an intended message. I try to do that in my paintings not only from a commercial aspect but from a feeling aspect. With the original personalized giclees that I am painting
I learned how to put a person's name in the painting where it is important and subliminal.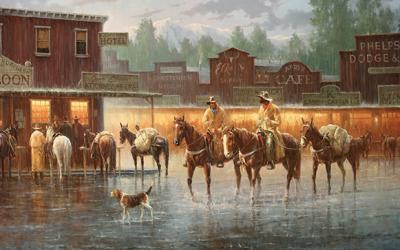 The creative ideas for your art include iconic western scenes and themes, but what is your reference point for these imaginings, and how do you execute such realistic portrayals?
I believe my biggest blessing from God is my imagination.  It just never seems to let me down. I feel very fortunate for the people who have influenced me over my lifetime and grateful that I can always fall back on my old school ways.
Another part of my gift is the support team I have around me — my wife helps with the research of paintings and office responsibilities; my partner in Bitterroot Frames, Zach Cheetham, helps in the design and manufacturing of my picture frames;, he also manages the shop so I need not worry about crating and shipping of paintings. I know things will be well taken care of and this gives me great comfort and eases my time to create.  
My paintings are historical in content not to document an event or location but to create emotion and feeling by being a "storyteller".  
My father also left me an extensive library to which I have added. This enables me and my team to authenticate the wardrobe of Indian tribes and how the rustic cowboy lived. 
What is the most difficult part of the creative process for you and your work?
Currently I don't have a difficult part of the creative process, but for a lot of artists I would say it would be preparation.  Getting ready for an art show can sometimes be a little overwhelming.  The logistics of framing and shipping, painting supplies, the brushes, the canvas and all the tools needed, the list is quite extensive.  There again I am grateful for the support team I have around me. 
What is a typical workday like for you?
A lot of artists think you can do what you want to when you want to.  I don't feel that way,
I try to work steady hours.  Yes, some of the time I'm more creative than other times and that does influence me.  More than once I have been known to arrive at the studio very early in the morning when the phone isn't ringing and my creative juices are flowing.  A little later in the morning
I take a break and have a cup of coffee with my wife, Zach, and his wife. We enjoy visiting about the previous day and what we want to accomplish for the day at hand.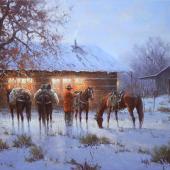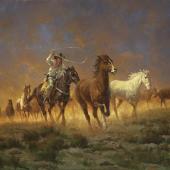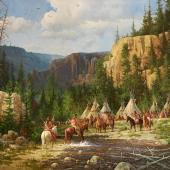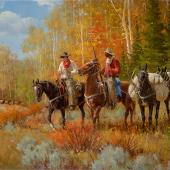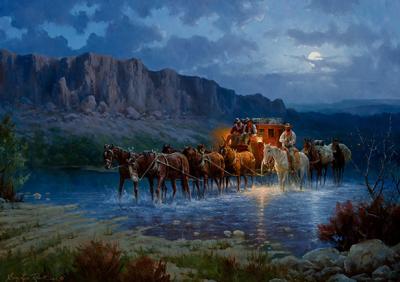 When you are not working how do you spend your free time?
Since I love what I do for a living, I generally spend most of my time painting. I also enjoy Bible study, walking, or playing golf here in the Bitterroot Valley. When attempting to fish, I'm usually distracted by the majestic river scenes and the beauty of nature.  My career has enabled me to travel to some of the most beautiful places in America where I meet new and exciting people. This summer my extra activities will be cut short due to my one-man show with Bozeman's Legacy Gallery in August. 
* * * *
With "Bitterroot Frames" and "Bitterroot Publishing," we now offer what is known as an "Original Personalized Giclée." In this concept, I take one of my giclée street scenes and personalize it with the customers' names of their businesses and family members. Recently we did one of these for the Out West Art Show and Young Masters in Great Falls. I was able to take the names and logos of the sponsors and embellish them into one of my giclées, New Beginnings. Such giclées can be given as corporate gifts or as affordable art for individuals who have found my originals to be out of reach. I have enjoyed the process of painting these original personalized giclée's because I get the chance to hand-letter signs and logos.  It brings back fond memories of where it all started.  
About giclée. Pronounced gee-klay, it is a French term meaning to spray.  The "giclée" process uses archival inks that resist fading and is usually printed on canvas. The result very accurately represents the colors and details of the original painting.
To reach Gary Lynn Roberts, write to the following mailing addresses:
PO Box 1300
Hamilton, MT 59840
150 Sheafman Creek Road
Victor, MT 59875