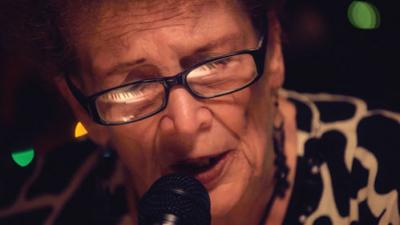 PIANO PAT aka Patricia Y. Sponheim was born in 1934 in Havre and grew up in Rudyard on the Hi-Line (a great place!)  She had one brother; her mother was a teacher, her father the owner of a parts store and gas company.  She loved them dearly and attributes her success to her mother who made her take piano lessons and practice.  Pat was married and had three children.  Now she has five grandchildren and one great-granddaughter for whom she babysits.  She gave piano lessons for many years.  At age 14, she played in bands and orchestras.  She started playing at the Sip n Dip in 1963 and has been there ever since — a great gig!
Q & A WITH PIANO PAT
When I started playing at the "Sip 'n Dip" in 1963 it was because…  I went in to play for a musician who went on vacation and never came back.
The wildest night I can remember when playing was when…  the airlines who stayed at the motel for years had their farewell party.
The first time I remember being called "Piano Pat" was…  when I made my first CD.
Most people don't know that I like to… read.
The last time I had a weekend off… was July, 2016.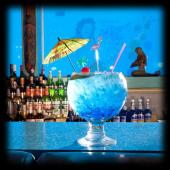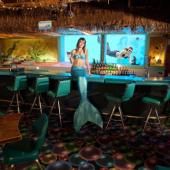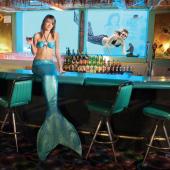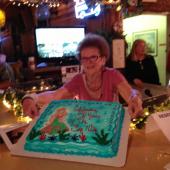 If I wasn't playing the piano I would probably be… relaxing, baby-sitting, teaching music.
The one song I most like to play, even today, is… "Try a Little Tenderness."
When it comes to music, I don't have much use for…  rap or hip-hop music.
The one lesson I learned from my mother was… practice hard, be kind.
My favorite drink at the bar these days is… a Cosmopolitan.
Yes, it's true.  I really do have a weakness for… sweets.
Growing up on the Hi-line, it never occurred to me that…  I would be where I am today.
If I could go back in my life and change just one thing, it would be…  get more education.
The one memory that still makes me laugh today is…  my life in general.
My tip jar's biggest night was when…  several patrons felt extra "generous."
I don't think I'll ever understand…  all my blessings.
At this point, I'll probably never get to…  travel as much as I would have liked.
If it was up to me, I would…  keep playing and singing forever!
If there is one thing that really aggravates me it's…  getting old.
When I do stop playing at the "Sip 'n Dip" my final song will be…  "Can't Help Falling in Love with You."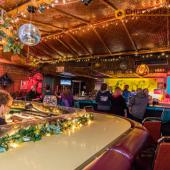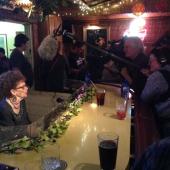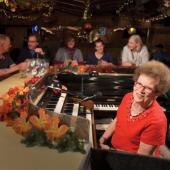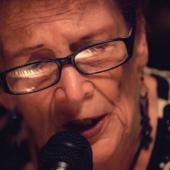 FEATURED VIDEO: Keyboard virtuoso Piano Pat rocks the Sip 'n Dip Lounge (via CBS Sunday Morning)
Video Description: She's a living legend, having played the same venue in Great Falls, Montana, for 50 years. Bill Geist visits Piano Pat, a 79-year-old great-grandmother considered the main reason that the Sip 'n Dip Lounge has been called one of the best bars anywhere.