photography by Tamar Kasberg
Hollywood was hanging in the air when seven-year-old Libba Lauchnor first laid eyes on "her" horse. Having just seen Disney's 101 Dalmatians, Libba was convinced that the spotted Appaloosa foal produced by her mother's "plain Jane" bay mare was most certainly a Dalmatian. The frisky stud colt was named Tanimara, Tani for short.
When Tani had an accident, Libba refused to put him down, opting instead for a serious operation and dedicating herself to bringing him back to health.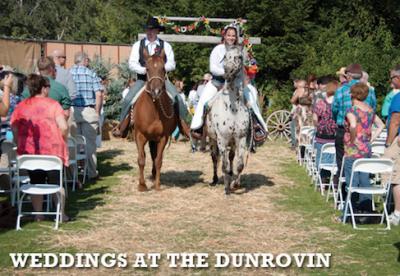 Tani served as Libba's artistic muse, dominating the many drawings and designs that flowed from her like water from a stream. Totally absorbed in both her horse and her art, Libba conjured a Hollywood style daydream of her future wedding when she would ride astride Tani, wearing special white leather chaps down a straw strewn aisle to meet her groom. They would ride off together to forge a life centered on family, horses, and art. 
When Libba's fiancé Andy Chilcote proposed, she was quick to say yes and just as quick to explain that theirs would not be a traditional church wedding and hers would not be a traditional wedding gown. No, Libba would bring alive her childhood fantasy of a horseback wedding.
She immediately set to work with a leather carver to craft a magnificent pair of white leather chaps accented with silver conches inlaid with turquoise stones and with their wedding date tooled on the belt. Each leg was capped with turquoise, white, and black leather fringe, and finished with a tooled horse head along each foot. They contacted Dunrovin Ranch, knowing that the ranch would welcome a horseback wedding and would happily accommodate Tani as a guest horse.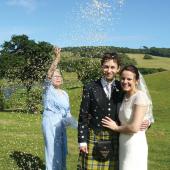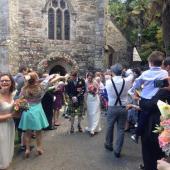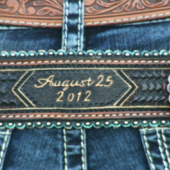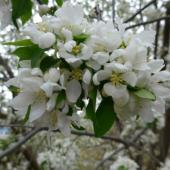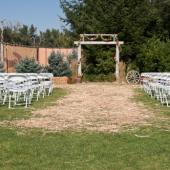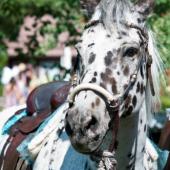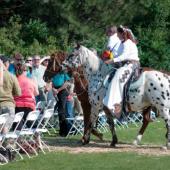 Their wedding was straight from Libba's imagination and could not have been better had it been produced by Cecil B. DeMille. Since riding together down that straw strewn aisle as husband and wife on that beautiful sun-filled afternoon, Andy and Libba have shaped a life of family, horses, and art. Their new son, Preston, recently rode for the first time with his mother on her special horse; he proudly wears a shiny pair of brown leather chaps Libba designed and made especially for him.  (See Libba's art at www.ShadowMountainArtStudio.com) 
It seems that some Hollywood daydreams do come true.  
DUNROVIN TO CORNWALL
Annabel Goodden's aunt and uncle own Montana's Dunrovin Ranch, so, naturally, she and fiancé  Billy Headdon stopped to visit during a USA tour they took in route home to England after their medical residencies in Australia. They arrived just in time for the flowering of Dunrovin's many fruit trees. When Annie remarked how lovely it would be to have such beautiful blossoms thrown over them at their next year's wedding, the Millers took note. The following spring  found the Millers capturing the petals, drying them, and pressure packing them to stow in Sterling's luggage as he headed for Cornwall to attend their nuptials. The blossoms proved to be the perfect accoutrement to Annie and Billy's fairy-tale Cornish wedding held at the 13th  century  St. Just in Roseland Church. What a great pleasure to have carried a little of Dunrovin across the ocean for such a festive family event!