Jeannette Rankin has been all but deified by many historians, dazzled by the fact that she was the first woman ever elected to the U.S. Congress. And also because the Montana girl was a dedicated dove, casting her very first vote against America's entry into World War I in 1917 with 50 of her House colleagues, and the only member of Congress to vote "No!" again on our entry into World War II.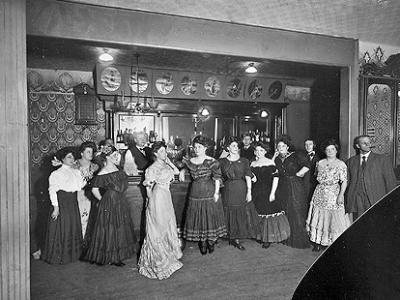 She remains so admired there are bronze statues of her at the Montana state capital in Helena and in Emancipation Hall in Washington, D.C. 
So why, you might ask, are there odd blanks in her personal history that still provide the basis for intriguing rumors nearly four decades after her death?  And why did Rankin choose to live the majority of her long life outside of her home state?  
The Missoula girl was born in 1880, the first of John and Olive Rankin's seven children, and her wealthy father's favorite. A builder by trade with a gift for investment and ranching, he taught her carpentry, and animal husbandry but also expected her to fill in for her perpetually pregnant mother as a homemaker.  To please him, young Jeannette ably shouldered the load, which included helping Rankin run his hotel and serving as cook for a lumber camp in which he invested.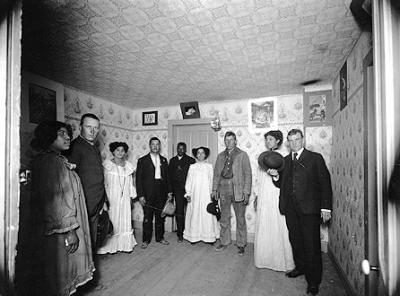 "If you can take care of Jeannette, I can take care of the rest of the children," the former schoolteacher promised her husband.  But even that became too much.  Sick with some undefined malady (probably thyroid), Olive developed a laissez-fair attitude toward childcare and Jeannette took over the management of her bickering but precocious siblings with a dedication that sometimes seemed harsh.
Jeannette sewed their clothing, helped with their homework, took care of her complaining mother and nursed her father when he was dying of Rocky Mountain Spotted Fever in 1904.  Then her brilliant brother Wellington, just 20 and a student at Harvard University, took on their father's role while Jeannette became his Montana arm in addition to her other family duties.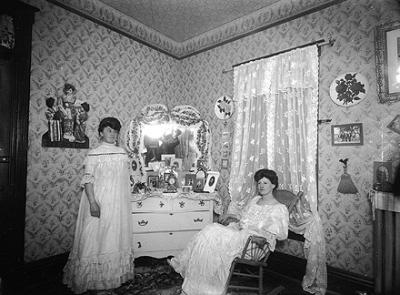 Meanwhile, the girl struggled to create a life of her own.  No scholar, she put partying ahead of her studies in biology at University of Montana, barely scraping by to graduate with a major in which she had no interest.  A willowy, chestnut haired beauty, she had plenty of beaux but declared early on that she had no intention of becoming a baby factory like her mother and refused to marry.
Teaching seemed to be her only option but she hated her first job in a one-room school next to the family ranch.  A similar assignment in Whitehall, a bustling railroad town in 1903, proved more entertaining because she fell in with a crowd of young professionals who organized delightful parties, concerts, literary presentations and theatricals. However she apparently got into serious trouble of a romantic nature there—something her brother Wellington referred to mockingly as her "embarrassment"—and her teaching contract was not renewed.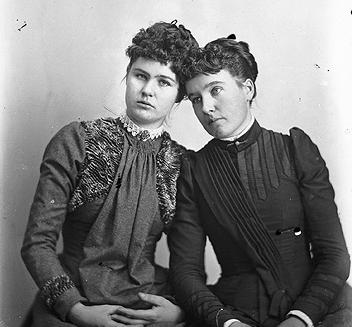 Some insist Jeannette survived an unwanted pregnancy or at least had fallen in love with a married man.  There are hints of a lesbian affair.  However, shortly thereafter, a tornado took out the Whitehall school with all its records, and the experience made the young woman so cautious that we know virtually nothing about her personal life from that point on.
In 1907, having gotten her siblings through early childhood and suffering a near-nervous breakdown, she visited friends in San Francisco where she began working in a settlement house.  Then, motivated by social conscience, she graduated in very good standing from the New York School of Philanthropy and worked briefly as a social worker. Denied field assignments because of her sex by the Washington State agency with which she had contracted, she found herself consigned to babysitting children destined for foster homes from which they "could be returned like puppies," and angrily resigned.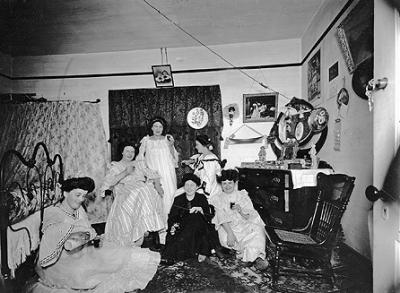 Since her family money was under the control of her financially astute but tight-fisted brother, she signed up for courses in economics, political science and public speaking at the University of Washington, supporting herself as a seamstress.  But it was an advertisement for volunteers to promote women's suffrage that changed her life.
After working hard on a campaign that won women the vote in Washington State, she was hired by the New York Women Suffrage party, and was soon recognized nationally for her outstanding work in Oregon, Kansas, Arizona and her own home state.
Following her successful campaign for suffrage in Montana, Jeannette realized she could count on women's votes there in a public election. Her brother Wellington, now a highly successful lawyer who was entrenched in Republican politics, figured that winning a congressional seat wouldn't be enough for her. However he noted, Montana's population had increased to the point that the state suddenly qualified for two representatives, with candidates for both seats to run at large.  All Jeannette would have to do was come in second. Brother and sister teamed up to make it happen.
The press focused on Jeannette's good looks, high energy, luminous charms and extraordinary skill in public speaking, ignoring whispers of a Whitehall scandal and rumors that she was gay. Her coverage was mostly on the society page, but it was effective. With her Congressional win in 1916, she also became the first woman in the world elected to a national legislative body.  Thus, she was beholden to no man. 
Wellington correctly predicted that his sister's vote against entry into World War I would kill her chances for a second term, but despite her unpopularity as a dove Jeannette worked hard to promote better welfare for women and children as a Congresswoman.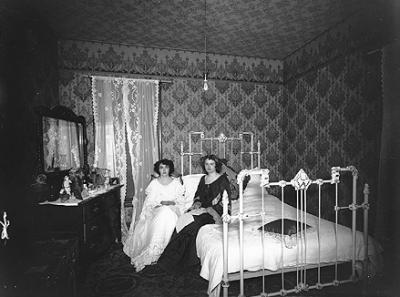 "I saw that if we were to have decent laws for children, sanitary jails, and safe food supplies, women would have to vote," she had maintained while campaigning for suffrage.  And, while most of the legislation she introduced was not passed during her term, it soon would be.
This stint in Congress also produced evidence that at age 36, Rankin was still game for romance.  Fiorello LaGuardia, a fellow freshman Congressman and eventual mayor of New York, was so much taken by her that he made it clear to her family he would marry her if she would have him.  And she apparently adored him.  But married women in that day had few rights, and Jeannette was determined to control her own destiny.
After losing a second bid for Congress, she moved to Georgia, and worked independently for peace organizations and women's rights.  She would have a second chance when Montana sent her to Congress again in 1940, only to lose reelection because of the unpopularity of her vote against declaring war in the wake of Pearl Harbor.
Feeling unwelcome in Montana, she maintained her Georgia residency, while devoting herself to lobbying and travel. She lived long enough to see American thinking go her way.  
In 1968, she marched with 5,000 demonstrators to protest the war in Vietnam under the banner of the Jeannette Rankin Peace Parade.  But when she died a California resident five years later, she was as much of an enigma as she always had been, leaving only scattered, disorganized papers to accompany her legacy as an independent woman.
The women who headed west in the late 1800s earned their living and independence by becoming entrepreneurs as well as prostitutes, the oldest and most profitable profession of all.  Montana's "women of the night" led lives both grim and lively.
~ Lael Morgan is the author of Wanton West: Madams, Money, Murder and the Wild Women of Montana's Frontier, which explores the lives of uniquely independent women during an era when most had few rights and virtually no real freedom.