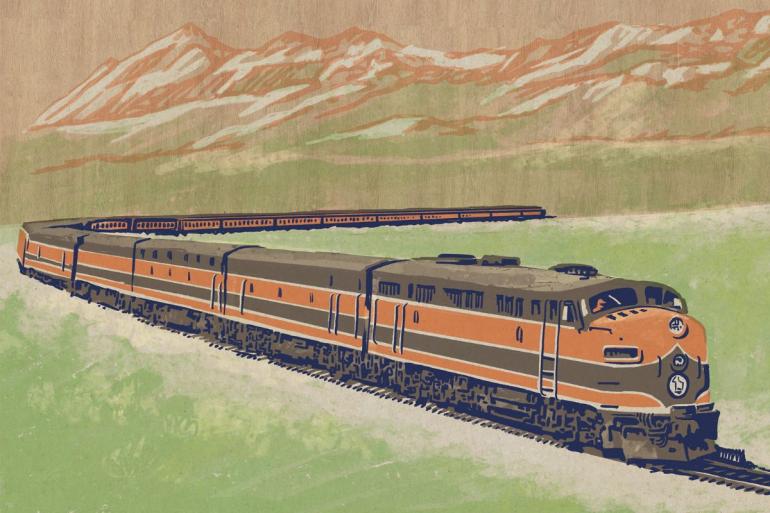 Some of us were born looking backward—dyed-in-the-wool nostalgists, always convinced that the grass used to be greener. I'm one; maybe you are too. 
Time, as far as we can tell, only goes forward. But memory, like a train driven by the powerful engine of nostalgia, can take us backward. 
Personally, I find old advertisements to be potent nerve centers of wistful sentimentality. Ads of the 1950s and early 1960s have none of the ironic distance affected by so many of their latter-day counterparts. Vintage ads can feel almost heartbreakingly earnest. 
An ad from 1957 rapturously praises the Great Northern's "tempo of... progress in providing the ultimate in fast, comfortable passenger service across the scenic top of the nation." The ad pays special attention to GNR's new Great Dome Cars, not the first in the country but regarded as the most beautiful, with four full-length dome cars adding 150 passenger seats to the Empire Builder. Three of them were coach seating, and the fourth Great Dome was a lounge car with seating on the top and bottom levels. There, as the train wound through the mountains and wilds of Montana on its way to Chicago, thirsty travelers could drink in the view. 
And, of course, the booze. 
At the appointed time, passengers would convene in the dining car, where "noise is banished and comfort built in." Glass panels in the car featured representations of, among other things, the Cascade Mountains and Douglas firs. According to a brochure, the tables had shelves for purses but, in some arcane feat of engineering, "no awkward legs to straddle." 
Travelers selected from a menu, wrote down their order and had it delivered to them as in a restaurant. With all due respect to the culinary capabilities of today's Amtrak, this was on a whole different level. Diners on the 1962 Empire Builder could choose from items like "Saute Rocky Mountain Trout [with] lemon butter," "roast young turkey," complete with dressing and cranberry sauce, and "breaded veal cutlet" served with "Italienne sauce." Any of those entrees came with the choice of candied sweet or whipped potatoes, buttered corn, corn muffins, salad, chicken okra soup, and, for dessert, pie, cheese and saltines, or ice cream. The most expensive entree was the Empire Builder Special, which included a New York cut sirloin steak at $4.95. If that weren't enough, you could add "iced celery and green olives" for 40 cents, herring in wine sauce for 75 cents, or a Pacific crab meat cocktail for 90 cents. Fascinatingly, children didn't fare as well on this car; one of the menu's sole concessions to "little folks," as the menu refers to them, is that they offered "popular brand sieved vegetables and fruits," "prune juice," and "jello." To be fair, they did offer a peanut butter and jelly sandwich to diners of any age for 65 cents.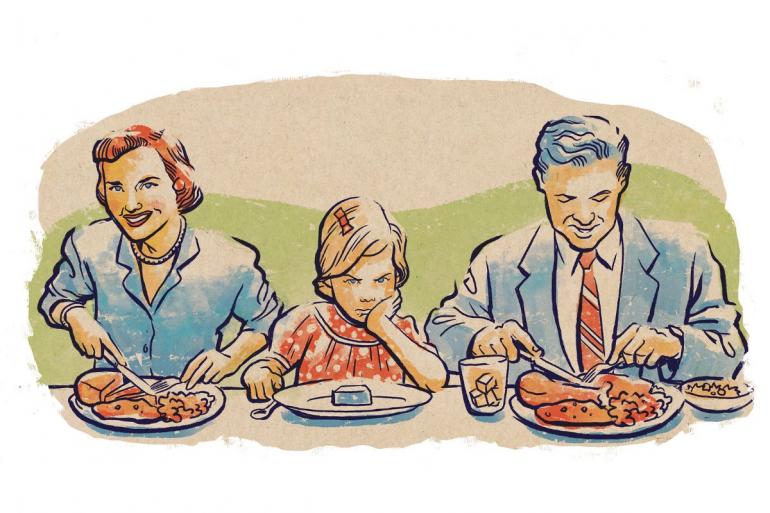 The dining room may have been more elegant, but the Ranch car probably had more character. Described as the "happiest corral on rails," this less formal, cowboy-themed car was designed to look like an old Western cookhouse, serving lighter fare such as the Hitching Post Sandwich (chicken, ham, & swiss) or the Chuck Wagon Beef Stew - En Casserole. To drink there was milk, malted milk, milkshakes, Postum, Sanka, coffee, cocoa, or tea. 
In its promotional materials, the car was described as being thankfully free of "jarring modernist touches." 
"The equipment for present-day luxury is all here but changed to traditional styling. Even the coffee dispenser assumes the shape of a big chuckwagon coffee pot, though the brew is the finest that modern methods can produce," reads a brochure they handed out to diners and visitors to the Ranch. "Instead of shining aluminum and stainless steel we have reverted to forged iron, Montana copper and bronze for the distinctive ash stands... Real Western red cedar makes the corral posts and ceiling beams. Oak planks of random width...just as in the old hand-carpentered ranch houses...is used for the wall paneling and table tops."
In further homage to the area through which it passed, the brochure says, "[s]ince Indians have always been an integral part of the Northwest some of their designs and colors are introduced. The floor covering and drapes use motifs adapted from those of the Blackfeet, whose reservation borders the Empire Builder route near Browning, just East of Glacier Park."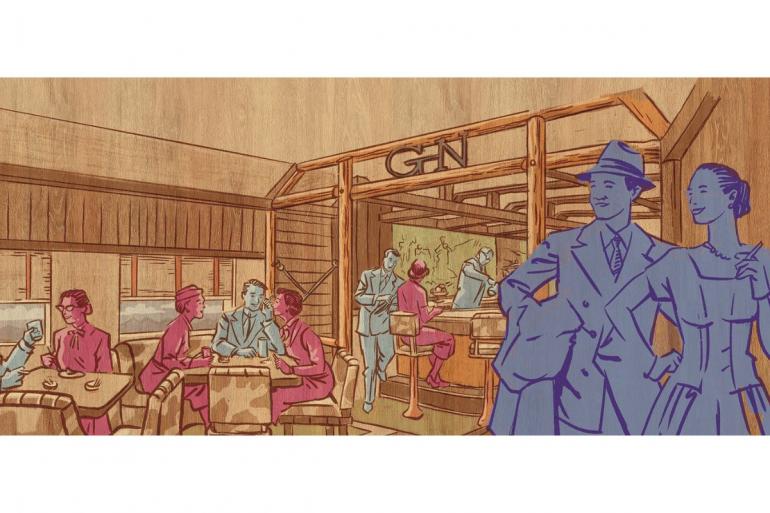 Somehow, the brochure is additionally poignant because it, too, is infected with nostalgia. For every mention of the modern amenities and comforts of mid-century train travel, there are far more references to C.M. Russell, Grant Kohrs, E.T. Broadwater, and others. It even includes a list of actual brands historically used in Montana's ranch country. 
Another highlight was a Nick Engenhoffer mural of "an early round-up in Northern Montana" in which eagle-eyed and well-informed viewers would recognize the "Circle L" of Sheriff Tom Clary of Choteau County, who arrested Kid Curry. The Ranch car was beloved, a triumph of design. When the car was removed from the train during the 1955-1956 winter, there was enough outcry that Great Northern restored the car and wouldn't remove it until the train was again redesigned in 1967. 
Inevitably, the accumulated weight of all the herring, veal, and cocktails would begin to drag you down, and you'd retire to your quarters. Depending on how much you wanted to spend, that could have been anything from a small berth up to a large "drawing room" accommodating two families, with plenty of room for reading, looking out of the window, or playing cards. The drawing room also came with its own "toilet, washstand, and dressing facilities." Let the hoi polloi sweat and toil over who got to soil the regular facilities next; you could sit in your own private bathroom all day long if you liked. At night, the room would be converted into two bedrooms with a double bed and upper berth each. 
Less luxurious but perhaps no less cozy were the roomettes, and duplex roomettes. On the economic side were the berths, narrow but offering the comfort of being entirely horizontal. Failing that, the seats in the day-nite car could at least recline sufficiently to keep your chin from lolling on your chest while the engineer negotiated the curves of the track.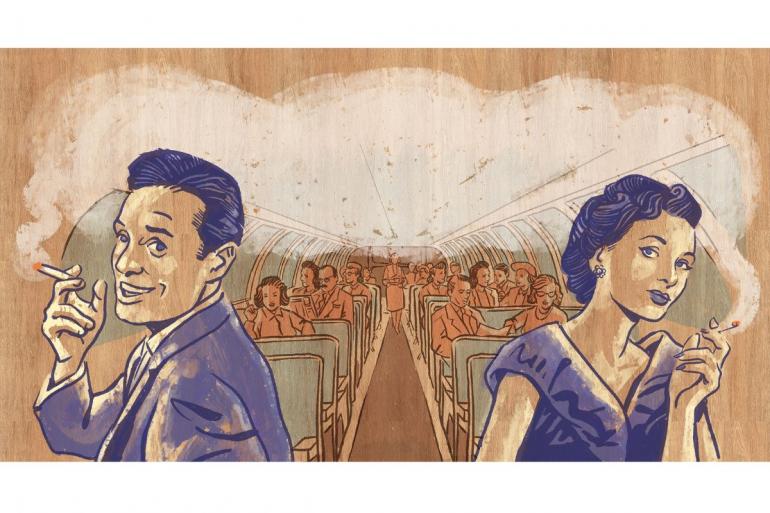 (It goes without saying, by the way, that there are ashtrays everywhere. Smoking isn't just condoned but encouraged. The lovely little illustrated people in the brochure, all trim and smiling and dressed to the nines, unanimously hold cigarettes. Not the children, of course, but you can tell they can't wait until the day they get to try their first. It's easy to imagine that, as dawn began to stream through the windows, hundreds of Zippos snapped open to ignite Pall Malls, Virginia Slims and Lucky Strikes.) 
After performing their ablutions, passengers would once again seek repast in either the dining car or the Ranch. The Ranch offered wheat cakes, eggs, and sausage in various combinations, as well as the requisite milk, juice, coffee, Sanka, and Postum. The dining car offered much the same but with more refinement, with the notable addition that, for at least a while, it also provided fresh fish and lamb chops for a hearty breakfast. Follow that up with half a pack of cigarettes and a Bloody Mary just as soon as the lounge car opens, and repeat for as many days as your journey lasts. Some businessmen were lucky or brave enough to take the Empire Builder both ways. 
Yet, for better or for worse, post-war America was fast becoming a car culture, and the dominant image of vacation fun became, and arguably remains, a car full of screaming children and frustrated adults. As the interstate system expanded and flooded with cars, the train declined in popularity. 
Today, of course, you can still ride the Empire Builder, and you should. It remains an experience you won't forget, with privileged views of some truly stunning vistas. But you can't ride the mid-century Empire Builder. You can't smoke like a chimney for the duration. You can't order veal, there's probably not a single green olive anywhere on the train, and if there is, you'll have to barter for it. Put simply, it is no longer, as one 1965 ad put it, "a luxury hotel on rails." If it is true, as author Dale Martin says, that "many would assert that the high era of train travel was in the two decades after the Second World War, when multicolored, streamlined, diesel-powered, air-conditioned, sealed-window  dominated the main lines," then none were more luxurious, or cut a more beautiful swath through our continent, than the Great Northern mid-century Empire Builder. 
Maybe we can only go forward, and our speed is set. But with the benefit of nostalgia, we can temporarily arrest that fearsome momentum, or at least ignore it for a while. In other words, I'll see you on the mid-century Empire Builder. You can find me in the Ranch car smoking and having a lettuce and tomato salad with french dressing (45 cents).