What to do in Montana...
Granted, it has been a while since Mark Twain expressed his famous observation that golf is simply "a good walk spoiled." But it's still easy to understand why he came to that harsh conclusion. The golf of his era—and of his region—was still catching on as an American pastime. For most curious observers, it probably was a good walk spoiled. You've seen the pictures: It's a Saturday morning, and you're dressed up in dinner party attire. If that's not ridiculous enough, you might also don a pair of knickers just to look the part. The flat, featureless fairways before you look similar to the rough. Save for the flagsticks, the greens would be hardly discernible from the fairways. A monster drive in the 19th century would net you about 180 yards.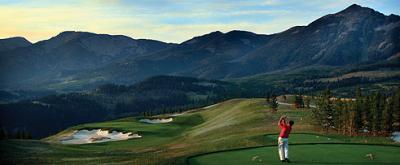 Now imagine what poetic descriptions Mr. Clemens would apply to the American golf scene of 2008. To be sure, he'd find plenty of modern improvements in his own neck of the woods, but nothing compared to the natural grandeur and expert sculpting of golf tracts throughout the beautiful Northwest.
Over the past few decades, golf community development has moved along at a steady clip for most of the western U.S., but a few key areas have made some dramatic strides. The perfect case in point is right here in Big Sky Country and its five-star facilities with all the requisite features of the finest establishments in the country, including many that carry heavyweight design signatures with names, such as Nicklaus, Faldo, and Weiskopf. To say the least, golf is exploding here, not only as a popular sport, but as an all-encompassing lifestyle. Looking for some proof in the pudding? Read on...
The Ranch Club
(406) 532-1000
For several decades, the bustling community of Missoula has served as the proud home to some great golf courses, including the venerable Missoula Country Club and the fine layout at the local university. Then a few years ago, the golf scene here received a significant boost with the addition of a modernized links-style layout now known as The Ranch Club.
This course offers a nice mix of relative seclusion interspersed with panoramic views of the local countryside. Designed by Robert Trent Jones Jr. disciple, Les Furber, it plays from 5,096 to 7,020-plus yards over rolling hills and an inventive potpourri of creative design elements. Like many links courses of yore, this one offers up a number of risk/reward shots across a broad spectrum of player abilities. Simply stated, there is plenty of challenge for the scratch golfer and ample accommodation for the novice player. 
As you might expect, Furber's design philosophy is influenced in part through his long association with Robert Trent Jones Sr., recognized as the "father" of modern golf course architecture. His firm's reputation has been built on designs where golf strategy and shot values are paramount. 
Beyond the course itself, The Ranch Club offers 126 custom home sites, 41 town home/condominium sites and 95 cabin sites. Cabins and town homes/condominiums offer finished residences, club-maintained grounds and complete exterior maintenance. 
Black Bull Golf Community
(800) 788-2372
Ask any die-hard golfer about his or her vision of the ultimate "dream" venue. Ultimately, one detail in the description will be, "You don't even have to reserve a tee time." It sounds like just a minor perk, but it speaks volumes about the level of service and style one might find throughout the facility. Enter Black Bull, an upscale golf community overlooking the Gallatin Valley.
The 378-home premier development covers 485 acres of the historic Leachman Angus Ranch, which is situated just a few miles west of Bozeman. The centerpiece of this golfer's Shangri La is its namesake championship course, designed by Tom Weiskopf. It has all the native elements of the southern Montana countryside with water features and breathtaking backdrops. The course is mapped out at 7,200 yards and further characterized by undulating fairways, three to five sets of tees and no shortage of bunkers.
According to Black Bull spokesperson, Arin Megenity, the new layout will see its first rounds played around mid-summer. "We are only selling a total of 350 golf memberships, so it is obviously very exclusive," she said. The community also offers a swim and "professional grade" tennis facility, as well as a beautiful clubhouse with locker rooms, a 30-by-75-foot pool, hot tub, and food and beverage service. According to development literature, nearly 200 single-family custom golf course home lots are currently available, with costs ranging from $195,000 to $650,000. Megenity notes that of the 105 "Club Home" units and 270 custom lots, most will serve members as seasonal second homes. 
The Club at Spanish Peaks
(877) 995-3100
This high-end recreational retreat is self-described as a "3,500-acre private enclave." It is that and so much more. Cradled near the heart of Yellowstone Country, Spanish Peaks is the brainchild of Jim and Patty Dolan, who hand-picked a "dream team" of veteran resort development professionals to bring their vision to life.
One of the more notable professionals—especially in the Bozeman area—is Tom Weiskopf. Also the proud parent of another signature facility in the valley, he outdid himself with the Spanish Peaks project.
As with numerous other projects, Weiskopf took great care to build an environmentally- conscious track that utilizes the area's naturally rolling terrain in dictating the twists and turns of this stunning par-72, 7,102-yard layout. Unlike other projects, however, this one is more devoid of home sites lining the fairways. Weiskopf's deep affection for alpine landscapes is evident throughout the Spanish Peaks landscape.
Suitably enough, the course has a stunning clubhouse overlooking the 18th green. Inside you'll find first-class dining, a full bar, pro shop, locker rooms, a conference area, wine cellar, and a string of seven guest rooms. 
Sure, the world-class golf will keep you occupied most of the time, but as a member here you'll soon find plenty more to do. For wildlife viewing and river trips, the club has an exclusive outfitter to help you make the most of your time. 
Wilderness Club
(866) 846-8095
Like the prospectors of yesteryear, Montana golf nuts will likely be yelling "Eureka!" when they come across the latest upscale golf community in the state's northwest corner. Just outside of Eureka itself, the 545-acre Wilderness Club is taking shape. In fact, its core feature—a 7,000 yard layout designed by Nick Faldo—is slated for opening this season.
"For architects, this place is a 10 out of 10," Faldo told a media group touring the site in 2006. "To be able to walk into a mature forest like this that's all set on top of a sand-based soil is pretty unique. This is an absolutely fabulous project to be involved in."
According to club directory Barry Cole, the idea of this high-end golf community made immediate sense. "When you hear people talk about getting away, you often hear them mention Montana as the last best place—it's about the Montana mystique." The intent of the course and the surrounding development is to bring that mystique alive, he said.
So far, so good.
By design, this signature course will attract experienced and inexperienced players alike, and the key to that has been making the course playable enough for high handicappers, while also making it very challenging to better players. 
According to Cole, the club is now offering a special "Family Legacy Membership," which extends club privileges to six generations. This membership entitles members to enjoy the course as well as the club's Glacier Springs Aquatic Center and Sagebrush Spa & Wellness Center.
Upon completion, the community will encompass 271 home sites and a total of 47 luxury cabins. On-site amenities will include a golf clubhouse, spa and other features.
Eagle Bend Golf Club
(800) 255-5641
Some terrains can be transformed into beautiful golf courses. Other locales need no such transformation. Eagle Bend Golf Club—nestled near the scenic shores of Flathead Lake—is certainly one of the latter.
This 27-hole masterpiece near Kalispell offers a pleasant mix of difficulty levels. As a semi-private resort course, it has plenty of friendly bounces to accommodate higher handicappers. And as a championship-level layout, it can also test the best of us. 
When the course first opened up nearly two decades ago, it was widely touted as one of the best new golf facilities in the country, let alone the region. It's now a well-regarded work of art, and has helped put the valley on the map over the past decade. Back in 1994, for example, it hosted the prestigious USGA Amateur Public Links Championship, a breakthrough for Eagle Bend and Montana golf as a whole. 
According to recently published figures, the non-equity membership deposit will run in the neighborhood of $24,000. The cost of this deposit will increase to new memberships, over time, to $30,000. These are family memberships, by the way, including both parents and all children under the age of 23 years and living at home. Of all the clubs and communities discussed here, Eagle Bend may well be the best bang for the buck. Last year, members and their families enjoyed unlimited rounds of golf for a monthly fee of $183. 
The Reserve at Moonlight Basin
(800) 323-9212
If you are an aficionado of Golf Digest's Top 100 Courses, any layout co-branded "Nicklaus" and "Signature" should be at the top of your list. Fortunately for those of us already charmed by the outdoor offerings of Southwest Montana, Nicklaus and Co. are setting up shop right here, right now. The name to remember is The Reserve—the new architectural and recreational centerpiece of Moonlight Basin.
"This is a true signature course, meaning Jack Nicklaus himself is the lead designer," says Karen Lum, Moonlight's managing director for golf sales and service. She adds that Nicklaus has made numerous visits to the site, making key decisions at every turn.
"We started selling memberships about two and a half years ago, before even breaking ground on the course," Lum said. Members and guests can look forward to a partial opening later this season and a full opening of the par-72 layout in 2009. 
At this time, property is required for membership, which includes a whole range of activities. "Moonlight Basin offers the setting for families craving more time together, grounded in activities that are fun and memorable," Lum says. In addition to golf, there are a number of activities and special programs available, ranging from summer trails to skiing, river floats and wildlife viewing—all within a stone's throw of the community of Bozeman.
Thus far, feedback on the 8,000-acre development has been phenomenal. "The 360-degree view sells itself," she says. Thanks to a high 7,500-foot elevation, you can expect to hit some monster drives in the thin mountain air. 
~ A certified golf nut, Steve Smede has been writing and reporting on pasture pool for the better part of 20 years. When not hitting the links or casting a fly somewhere in Yellowstone Country, he can be found at the desk of his day job as editor of Mountain West Golf, a quarterly publication for players throughout the region.