What to do in Montana...
I remember all of my friends back home in New York wondered why I would want to move so far away.  None of them had been here or knew anything about the state. Yet, I recognized from the first time I visited that Montana had magic...with enough scenery, wilderness, and wildlife to wear out a few cameras.  With lakes and reservoirs mirroring the vast blue of "the big sky," Montana is aptly nicknamed, "The Treasure State."  East to west, water can be found at high and low elevations, motorized or quiet, with vistas of meadows and mountain ranges or alpine forests.  There is just no escaping the natural, wild beauty of Montana –  paddling its waters is a wonderful way to experience it.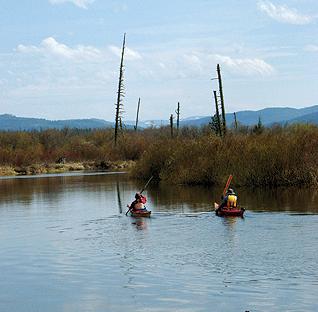 I spend most of my paddling time among the ponderosa pine and lodgepole forests, west of the Continental Divide.  Here, canoe trails and mild-tempered rivers, for example the Bitterroot River, are found within miles of the favorite places of whitewater pros, who brave the steep and rocky Kootenai Creek in the Bitterroot Mountains or Brennan's Wave park in downtown Missoula.  Rolling hills sideline every valley, lying at the feet of sharp, snow-laden peaks that poke through the clouds.  The snow claims them most of the year, sometimes clear into August, when the dry heat of summer calls everyone to water.  
It is paddling on alpine lakes, away from traffic or even glimpses of a civilization, where I feel the true magic of Montana.  The forests and mountains of the region have a quiet and mysterious life all their own, and one can't help but listen to them, beyond the paddle's silent splashing.  Yet, I also enjoy summer excursions to the Seeley-Swan valley and its chain-of-lakes, where tourists flock to have lively paddling adventures.  Even though I live two hours away, I sometimes feel like I am away on vacation, skirting the edges of Seeley Lake, gliding past the summer homes and barbeque parties.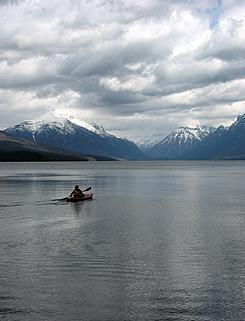 Nothing could be more opposite, however, than the territory east of the Continental, where the vastness of the open land brags of an unreachable horizon.  A recreational paddler floating alongside sagebrush and pelicans might feel humbled while envisioning buffalo herds of old (or dinosaurs), roaming across the prairie.  From spring to late fall, the reservoirs welcome paddlers. Slow-moving rivers such as the great Missouri River and Madison River are perfect in summer for recreational and family excursions.  By August, no river is lonely for tire-tube-floaters and kayakers, fishermen, rafters, and canoers. 
Stunning contrasts between mountains and plains, wild rivers in spring and slumbering summer rivers, invite a paddler to take a moment to take in the diversity of the landscape, and the plethora of paddling destinations.  In any combination of terrain, and no matter which liquid avenue you prefer, you are sure to catch a glimpse of some of Montana's other precious treasures.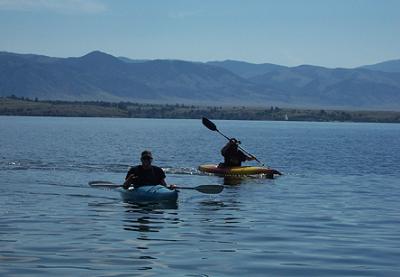 Last summer I traveled to one of my favorite lakes in western Montana.  Although morning still lingered, the heat had settled and Lake McDonald already had visitors.  The people there were gathered on the beaches for picnicking, fishing, and swimming in the Caribbean-like water.  I was fortunate this day, for as far as I could see, no one else was drifting in a craft anywhere upon the water.  I intruded upon the beach-goers with all my gear, and launched my kayak as quickly as possible.  With their eyes upon me, I quickly entered the cockpit and paddled away from shore.  It took no time at all to glide away, and in no time at all I become one with my boat and paddle, the scenery, and the joy of 'leaving it all behind.'  
Paddling alone in the quiet of a forest, my body enters into "auto–paddle."  There in the Mission Mountain wilderness I was the ultimate observer, contemplating the remarkable quiet.  Glancing back toward the beach, I realized I had already reached the middle of the lake, where the walking trail disappears into the dense forest and the sandy beach becomes sharp rocks scattered beneath large pines and cedars.  In a few spots, I found that my ten-foot kayak could float alongside rock outcroppings where I could exit for sunbathing and picnicking, undisturbed.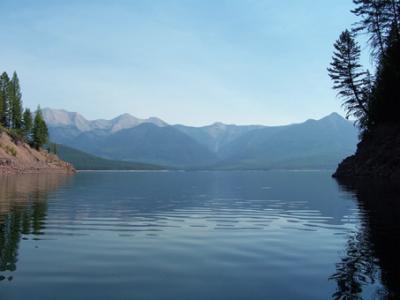 The breeze was barely audible, yet as I rounded the first bend I heeded the distant, roar of a waterfall.  Scanning the mountainside, I caught sight of this hidden wonder, and paddling a few strokes further, I saw its end, trickling into the lake.  
A bit further down the shore, I heard another, and in front of me caught wind of its final plunges, swirling and joining me in the open water.  I then heard another stream flowing somewhere close to me, but its whereabouts remained a mystery in the thick, mossy undergrowth.  Nothing else could have held my attention, as I drifted on toward the end of the lake with ears-full of the sounds of rushing water.  
As the August sun beat down, I decided to rest and rehydrate myself.  Reclining my seat back and letting the sun drench my skin, I heard a rock tumble down the steep bank and land on the rocky shore.  Sitting up to look in that direction, I immediately caught sight of a young black bear trudging carefully above the shoreline.  The young one was so close that I could see its eyes searching the ground.  My breath halted,  likewise my paddling, while I looked all around for a mother bear.  I saw no one else, and continued to watch my new companion.  It appeared to be looking for food — climbing a small tree, tousling its branches, and licking its paws.  I was still for what seemed like minutes and began to wonder if the bear had even seen me.  Sliding back down the tree, it then trod into the water, swam a few strokes, and climbed back out onto the rocks.  As the bear moved up the shore, I moved along, pushing on as quietly as I could.  At that point I did not think the bear had seen me.
But then a careless stroke of the paddle made a splash.  Suddenly we both stopped.  It located me in the water and stared, immobile, for an immeasurable amount of breathless time.   My heart pounded with excitement, for my encounters with bears had been few in the nine years I have lived here.  The bear then made the first move; as if shrugging its shoulders in acceptance, it continued leisurely on up the shore and back up the mountainside.  I paddled on in the same direction, determined to watch this young creature for as long as I could.  A bald eagle soared over head landing on a tree on the opposite shore.  It held my appreciation for a moment, but could not compete with the presence of the bear.  Minutes later, the little black bear wandered further up the mountain and was lost in the protective labyrinth of the forest.
Laughter and disbelief overcame me once I absorbed what happened.  My camera would have been a bumbling distraction, I thought, had it been within immediate reach.  Just as well, for nothing could replace the real connection between myself and that bear.  No lens or amount of film could recreate that meeting; no motorized boat would have allowed me the quiet opportunity to experience such a thrill in one wild place.  
Engaging in rhythmic motions — the cadence of my paddle touching water, often combined with the pulse of waves in rough lake conditions — I find myself in synchronicity with all that is around me.  Paddling has become a soulful and physically fulfilling experience.  Among the various sports and outdoor activities I have tried – hiking, biking, and backpacking – all have their benefits, for sure, and  I have enjoyed them all throughout the years; yet, none offer me such a peaceful and mindful exploration, as paddling on the wet and wild. While I have seen much of Montana from roads, trains, and bicycles, the landscape seems different from my kayak.  Ensconced in its hub, I can drift along shorelines in stealth mode, floating into small spaces no other craft could fit into. Although that favorite watering hole may be an hour's drive or more, the sheer size of our state allows paddlers years of exploration.  
WHERE TO PADDLE AROUND MONTANA
Looking for Lakes...
Flathead Lake (northwest MT)
Whitefish Lake (northwest MT; accessible at Whitefish)
Lake Como (southwest MT; south of Hamilton)
Seeley Lake (western MT; west of the town of Seeley Lake)
Salmon Lake (western MT, south of the town of Seeley Lake)
Ennis Lake (southeast of Bozeman)
Canyon Ferry Lake (east of Helena)
Hebgen Lake (northwest of West Yellowstone and Yellowstone National Park)
Fort Peck Lake (northeast MT, near the Fort Peck Indian Reservation)
Where the Whitewater is...
Clark Fork River in Alberton Gorge (western MT; west of Missoula)
Clark Fork River at Brennan's Wave Whitewater Park, downtown Missoula
Blackfoot River (western MT)
Yellowstone River (southwest MT)
Gallatin River (Gallatin County)
For Slow-River Family Fun Trips...
Bitterroot River (western MT; Missoula and Ravalli counties)
Missouri River (northeast MT; most notably by Fort Peck Lake)
Madison River (south-central MT; Gallatin and Madison counties)
~Sheila Cornwell lives in Florence, MT with her husband, three children, and loyal dog.  Aside from family life, writing, photography, and outdoor adventures keep her busy.